Discover the splendors of 25-day Southeast Asia tour package as
Indochina Tours
take you on an awe-inspiring journey to learn about the distinct culture, history, people, landscape, and cuisine of this incredible Southeast Asia. Visit the top attractions and experience the essence of Southeast Asia's beauty in-style and in-depth with our exciting Indochina tour!
Tour Code:
Duration: 25 Days/ 24 Nights
Start/End: Bangkok/ Siem Reap
Tour Route: Bangkok – Chiang Mai – Mandalay – Inle – Indein – Bagan – Yangon – Hanoi – Halong Bay – Hue – Hoi An – Danang – Ho Chi Minh City – Mekong Delta – Siem Reap
Tour Type: Natural and Landscape, History and Nature
Tour Categories: Southeast Asia tours
Tour Customizable: Definitely! (Tell us your specific requirements in the inquiry form)
Guides: Local Guide (English Speaking Guide, Other Languages upon Request)
Transportation: Private first-class air-conditioned vehicles
Accommodation: Listed below or equivalent. Rooms with private bath or shower, hotel taxes, porterage, tips, and service charges
Brief Itinerary
THAILAND
Day 1: Bangkok Arrival
Day 2: Bangkok City (B, L)
Day 3: Bangkok – Flight to Chiang Mai (B)
Day 4: Chiang Mai City (B, L)
Day 5: Chiang Mai Elephant Safari Tour (B, L)
Day 6: Chiang Mai – Flight to Mandalay (B)\
MYANMAR
Day 7: Mandalay Excursions to Amarapura, Ava & Sagaing (B)\
Day 8: Mandalay – Flight to Inle (B)
Day 9: Inle – Indein (B)
Day 10: Inle – Flight to Bagan (B)
Day 11: Bagan Temple Tour (B)
Day 12: Bagan – Popa – Fly to Yangon (B)
Day 13: Yangon City – Night Flight to Hanoi (B)
VIETNAM
Day 14: Hanoi City Tour (B, L)
Day 15: Hanoi – Halong Bay Overnight on Cruise (B, L, D)\
Day 16: Halong Bay – Hanoi – Flight to Hue (B, L)
Day 17: Hue ancient citadel – transfer to Hoi An (B, L)
Day 18: Hoi An – Farming and Fishing Tour – Walking Tour (B, L)
Day 19: Hoi An – Danang – Flight to Ho Chi Minh (B)
Day 20: Ho Chi Minh City (B, L)
Day 21: Ho Chi Minh – Mekong Delta (B, L)
Day 22: Ho Chi Minh – Flight to Siem Reap (B)
CAMBODIA
Day 23: Siem Reap to Visit the Temple with Khmer Style (B)
Day 24: Siem Reap – Rolous Temple – Kampung Plukk (B)
Day 25: Siem Reap Departure (B)
Full Itinerary
Price & Inclusion
Accommodation
Photos
Day 1: Bangkok Arrival
Upon arrival, meet & greet at the airport then transfer to the hotel. After check-in, free and relax on your own.
Overnight in Bangkok.
Day 2: Bangkok City (B, L)
After breakfast in the morning, meet our guide and driver to visit two of the most special Buddhist temples in the city. The Buddha in Wat Traimit weighs several tons and is made of solid gold. Visit the famous Reclining Buddha at Wat Po, where the blind are trained to become masseuses. Then in the afternoon, continue to visit a site that Thai people consider the most sacred: The Royal Grand Palace. This is one of the most beautiful examples of an ancient Thai court with several halls in the same compound. You also visit Wat Phra Kaew or the Temple of the Emerald Buddha (officially known as Wat Phra Sri Rattana Satsadaram) which is regarded as the most important Buddhist temple in Thailand.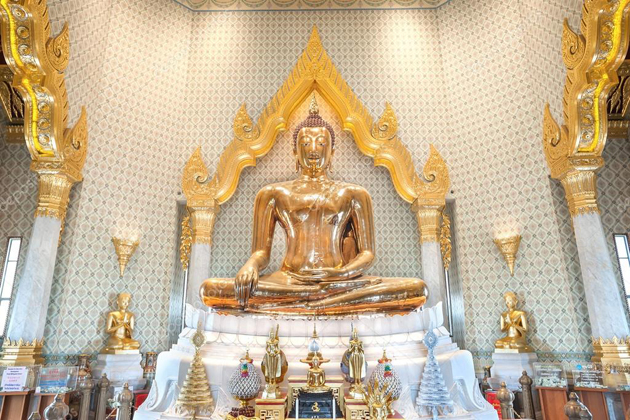 Located in the historic center of Bangkok, within the grounds of the Grand Palace, it enshrines Phra Kaew Morakot (the Emerald Buddha), the highly revered Buddha image meticulously carved from a single block of jade. The Emerald Buddha is a Buddha image in the meditating position in the style of the Lanna school of the north, dating from the 15th century. After that, we visit Wat Arun, perhaps better known as the Temple of the Dawn, is one of the best-known landmarks and one of the most published images of Bangkok. After that, get back to the hotel to relax.
Overnight in Bangkok.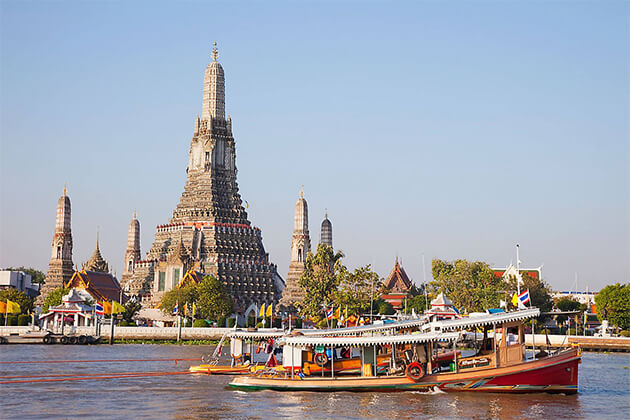 Day 3: Bangkok – Flight to Chiang Mai (B)
You are free to relax until we transfer you to the airport to fly to Chiang Mai. Upon arrival, you will be picked up and be welcomed and transferred to the hotel. The rest of the day is at your leisure.
Overnight in Chiang Mai.
Day 4: Chiang Mai City (B, L)
After breakfast at the hotel, head to the mountain temple of Wat Prathat Doi Suthep, the most famous landmark of Chiang Mai. It houses the exquisite golden pagoda that can be seen all around the city with 6 kg of pure gold at its peak and the rest plated with gold shines. The sound of temple bells fills the air, and the view down over the city makes an irresistible photo opportunity. Then visit Wat Chedi Luang (Temple of the big stupa) is a Buddhist temple in the historic center of Chiang Mai, Thailand. The current temple grounds were originally made up of three temples — Wat Chedi Luang, Wat Ho Tham, and Wat Sukmin. Then continue to visit Wat Chiang Man, the oldest wat in the city. Next, continue to explore the Wat Phra Singh, one of the most impressive temples in Chiang Mai and home to the city's most revered Buddha image. Have lunch at a local restaurant.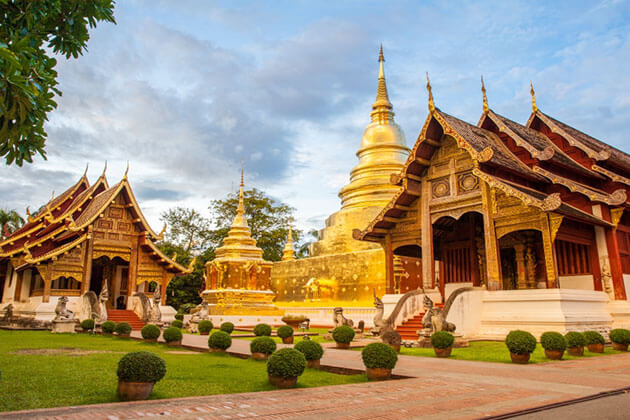 In the afternoon, you can hop on a tricycle (samlor) – an unmotorized three-wheeler vehicle to travel around the Old City including a visit to City moats and gates. Stop along the way to visit the Three Kings Monument to pay respect to the First King of Chiang Mai, King Mengrai where the histories of Chiang Mai begin. Then, pay a visit to the City Art & Cultural Center (closed on Monday, and also the former palace of King Kawiroros Suriyavongse). You have the chance to learn about every aspect of the city from its history to the present. See how people of different cultural origins and ethnic backgrounds have melted together to form a beautiful local culture that lies at the heart of the magic fascination of Chiang Mai.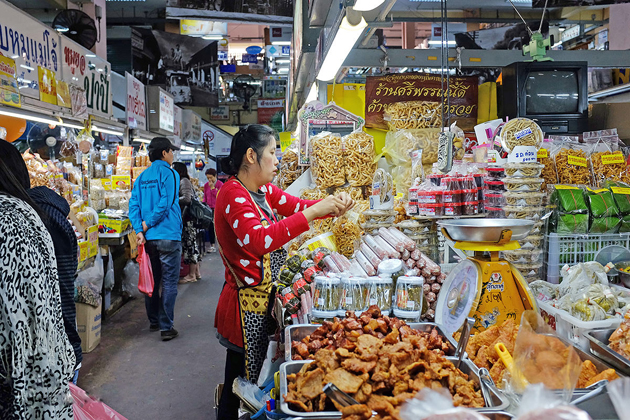 Continue to visit a local market called "Warorot Market", the lively market in Chiang Mai where you can explore fresh fruits, vegetable, food, necessary items for daily life, etc. Then return to the hotel for a rest.
Overnight in Chiang Mai.
Day 5:  Chiang Mai Elephant Sanctuary Tour (B, L, D)
Start a new day with a pick up from our hotel and then transfer to the Chiang Mai Elephant Sanctuary, where you can create memorable moments with friendly and remarkable elephants. Upon arrival, we will change into traditional clothing before spending time with amazing elephants. It is a great chance for you to witness how the elephants are trained to work with human and get a deeper understanding of their daily lives and behaviors. Interestingly, We will prepare fruits for our elephants and then feed, observing, playing with them.
In the lunchtime, we will enjoy a special lunch and have a short break. Afterward, you can observe and allow the elephants to enjoy each moment of their freedom, scratching, rubbing, throwing dirt. The rest of the day, we have ample opportunity to enjoy the stunning views and take a lot of beautiful photos. We leave Kanta Elephant Sanctuary with a warm tea and coffee.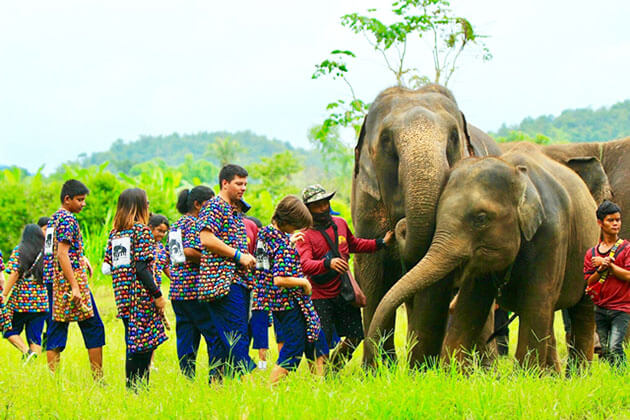 As the sun begins to set, we take a ride about fifty munites to return to Chiang Mai. Drop off at the hotel for dinner and overnight accommodation.
Day 6: Chiang Mai – Flight to Mandalay – Amarapura (B)
You are free to relax until we transfer you to the airport for your flight to Mandalay. Upon arrival in Mandalay, we spend the whole day sightseeing – visit the second most sacred image in Myanmar next to the Shwedagon Pagoda – the Mahamuni Pagoda. Next, visit the Golden Palace Monastery, which is famous for its intricate woodcarvings. Continue to the Kuthodaw Pagoda, which is known as the world largest book due to the Buddhist scripture carved on 729 marble slabs. Before sunset, visit a 200–year–old teak bridge, the most photographic site in Myanmar.
Overnight in Mandalay.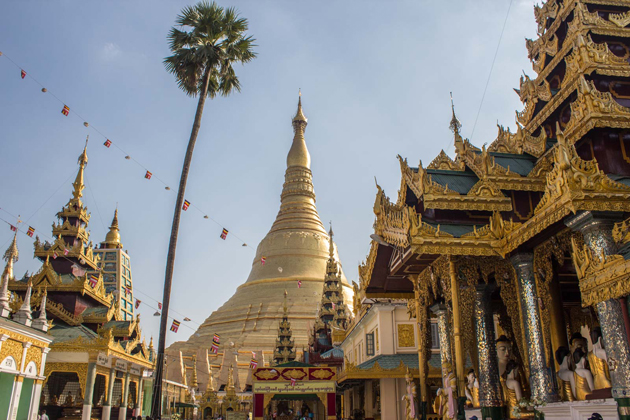 Day 7: Mandalay – Mingun – Saging (B)
After having breakfast at the hotel, you embark on a scenic boat cruise on the magical Irrawaddy River, watching river commerce and villages established centuries ago. Mingun is about 11 km upriver from Mandalay and home to the impressive Mingun Bell, the world's largest intact bronze bell, the unfinished Mingun Paya, and lanes filled with art galleries and bullock taxis. Visit Ava and then the cross the Ayeyawaddy River over Ava Bridge and visit the Sagging Hill where there are about six hundred Monasteries. Stop by the silverware cottage industry, clay pot making, and Nunnery to learn about the daily life of Buddhist nuns. Watch the sunset from the top of Sagaing Hill.
Overnight in Mandalay.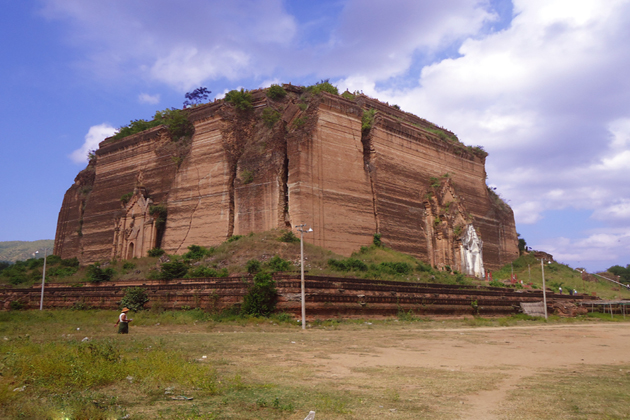 Day 8: Mandalay – Heho – Inle Lake (B)
After breakfast, fly to Heho, the gateway to Inle Lake. Known as the most beautiful lake in Myanmar, Inle Lake's calm waters are surrounded by high hills and dotted with floating gardens and stilted villages. Then drive to NyaungShwe – pick up boat & transfer to your hotel for check-in. Enjoy the full-day tour by boat on Inle Lake. The five Buddha images of Phaung Daw U Pagoda are the holiest in Inle Lake. Next, visit the unique monastery on the Lake Nga Phe Kyaung, near Ywama village where the local monks have trained the cats to jump through hoops, it is now affectionately known as the jumping cat Monastery. Proceed to Nampan village and see local cigar [cheroot] making and canoe carving.
Overnight in Heho.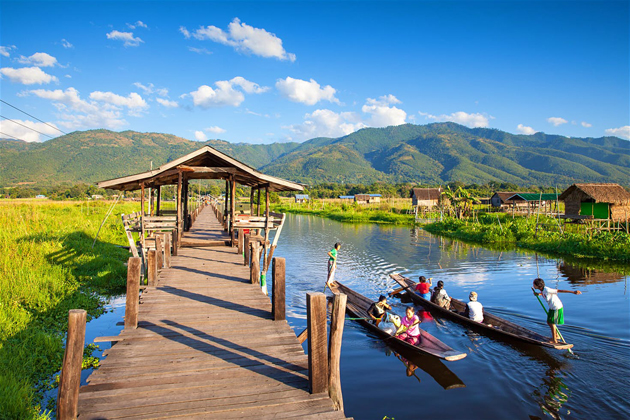 Day 9: Inle – Indein (B)
Continue sightseeing in Inle Lake, maneuvering by boat through long, scenic channels where you can watch the farmers cultivate their produce in "floating gardens". You will visit the fascinating village of Indein, with its complex of ancient shrines and stupas and walk through exotic colonnades of stairways and shop stalls. You'll visit the "long neck" tribal women, and weaving and craft villages perched on stilts. See the lake's unique "leg rowers" – the Intha people row standing up with one leg wrapped around an oar. It is a feast for the senses and a photographer's dream.
Overnight in Heho.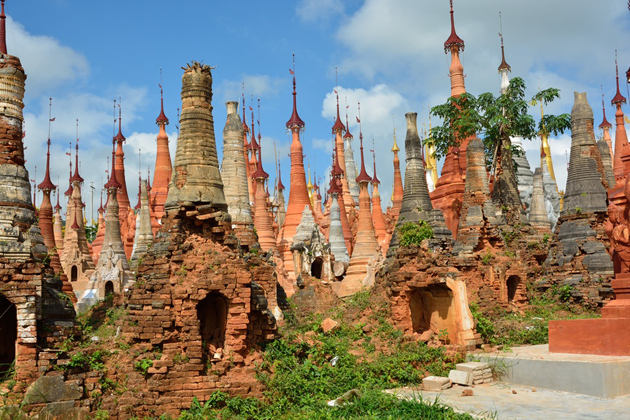 Day 10: Heho – Flight to Bagan (B)
Take a morning flight to Bagan. Begin your exploration of Bagan by visiting a busy local market and gain an insight into the bustling market atmosphere here. You will spend the day exploring the architectural masterpieces of this amazing town by visiting a diverse selection of the most important pagodas and temples. Also visit a local lacquerware workshop, where we watch men and women ply their craft using traditional methods. We end our tour for the day by climbing to the top of the temple for stunning sunset views. Sit back, relax, and be amazed by the beauty of Bagan as you watch the sun slowly set behind the ancient pagodas.
Overnight in Bagan.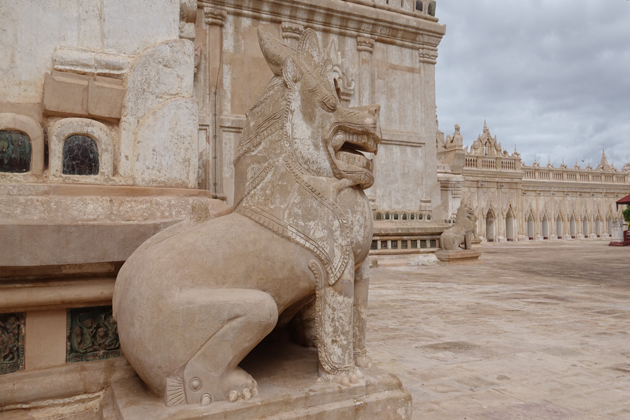 Day 11: Bagan Tour (B)
Today, see the real way of life for most Myanmar people by visiting Phwar Saw Village. This village is a perfect example of how locals live, but most importantly you will be able to see the intimacy of the villagers toward one another and any foreign guests. In the afternoon, explore Bagan from a different perspective as you explore the area by pony cart. The cart can explore areas that cars are unable to reach, giving a different feel of Bagan.
Overnight in Bagan.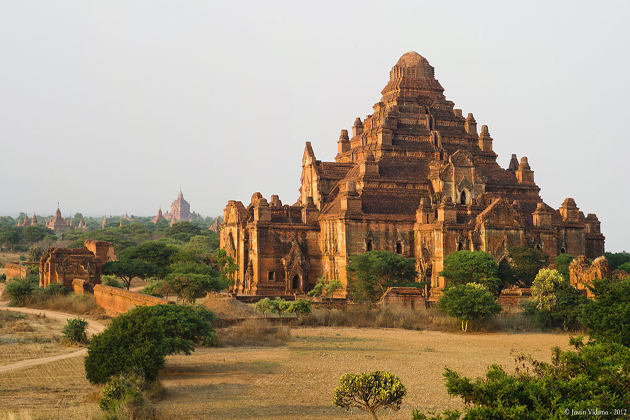 Day 12: Bagan – Mt.Popa – Fly to Yangon (B)
In the morning, drive 45 km to Mount Popa, an extinct volcano with spectacular views of 4981 feet above sea level. Conquer 777 steps leading up to the Buddhist shrine placed on the top of the Popa peak. On top of the mountain, there are monasteries, pagoda, and shrines in different styles. In the afternoon, head back to Bagan and transfer to the airport for a flight to Yangon.
Overnight in Yangon.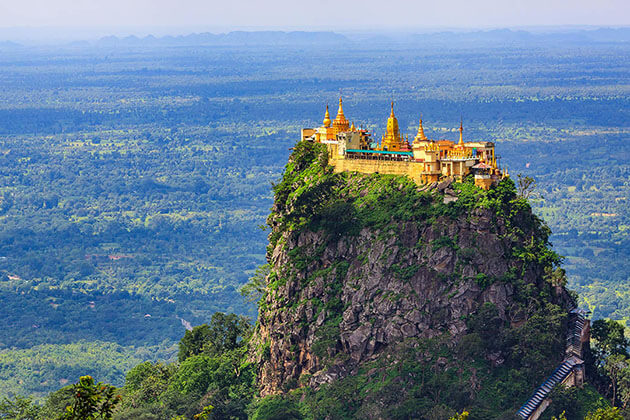 Day 13: Yangon – Flight to Hanoi (B)
After breakfast, relax until transfer to the airport for an international departure flight to Hanoi. Upon arrival in the capital city of Hanoi, we transfer to hotel for check-in.
Overnight in Hanoi.
Day 14: Hanoi City Tour (B, L)
Today, we will venture out to explore Hanoi. First up, we will drive to the Ho Chi Minh complex where we will spend time at Ho Chi Minh's mausoleum, his former stilt-house, the Presidential Palace, the Ho Chi Minh Museum and One Pillar Pagoda. After that, visit the Temple of Literature, which originally built as a temple to Confucius.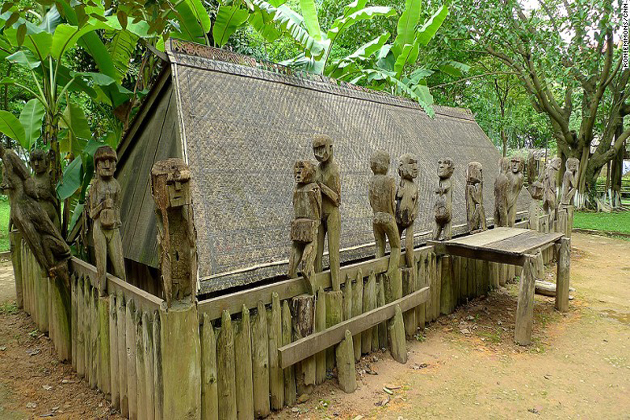 After lunch, we visit the Museum of Ethnology, which is widely acknowledged as the best in the country and has an extensive display dedicated to Vietnam's 54 ethnic minority peoples and the infamous Hoa Lo Prison Museum. Hoa Lo is also known as the ''Hanoi Hilton'' and was where former US presidential candidate John McCain was incarcerated for over 5 years.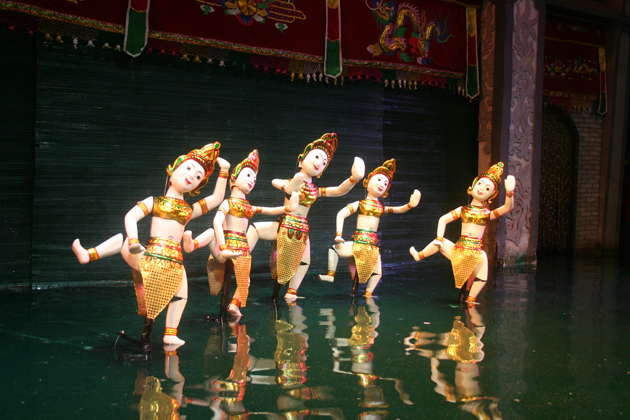 Later this afternoon, we enjoy a 1–hour cyclo tour of the French-inspired "old quarter". We will be free for shopping in the old quarter ranges from markets, designer boutique stores to amazing contemporary art galleries. We sit down to enjoy the performance of the city's famous Water Puppets.
Overnight in Hanoi.
Day 15: Hanoi – Halong Bay Overnight on Cruise (B, L, D)
After breakfast, embark on a 180-km ride to Halong Bay – The Bay of Descending Dragon. Located in the Northeast of Vietnam, Halong Bay has been recognized by UNESCO as a World Natural Heritage thanks to its universal values of landscape, geology, and geomorphology, respectively in 1994 and 2000 and is one of the most beautiful bays in the world. Upon arrival, spend about 20 minutes freshening up before boarding. Welcome drink – cruise briefing, safety instructions, and check-in cabins. Cruise and program commence.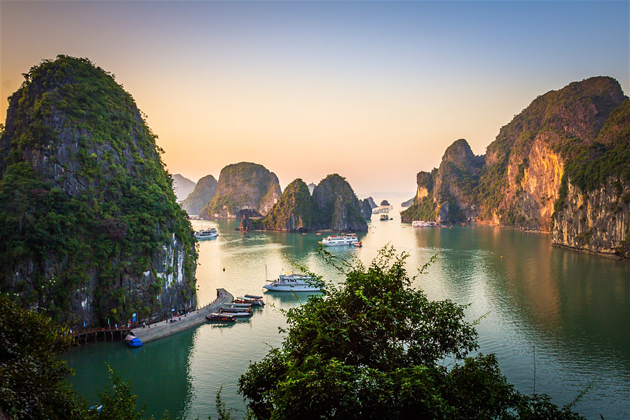 A special lunch will be served on board as the cruise pass Dong islet, Fighting Cock islet (symbol of Halong Bay), Hoa Cuong fishing village, and Swan islet. After having lunch, continue the exciting exploration of Halong Bay, passing by Soi Sim Beach, Coconut Three Island. Anchoring the vessels at Frog Pond area.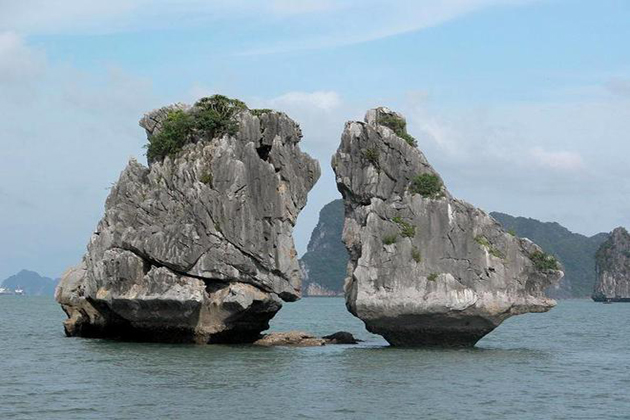 In the mid-afternoon, we explore this beautiful area by paddling through mysterious scenery and swimming in the emerald water. Enjoy a sunset party on the romantic sundeck with relaxing music, delicious tropical fruits, and best local wine. After that, attend our unique cooking demonstration with the Chef to discover the Vietnamese cuisine of traditional spring rolls and flower décor art or refresh yourself in our big hot Jacuzzi.
In the evening, enjoy a specially prepared evening meal in a romantic atmosphere. Our free evening activities including squid fishing or taking a hot Jacuzzi…
Overnight on board.
Day 16: Halong Bay – Hanoi – Flight to Hue (B, L)
Get up early in the morning and enjoy Tai Chi session on the sundeck. After that, we will have coffee & tea with assorted homemade pastries, fresh juices served.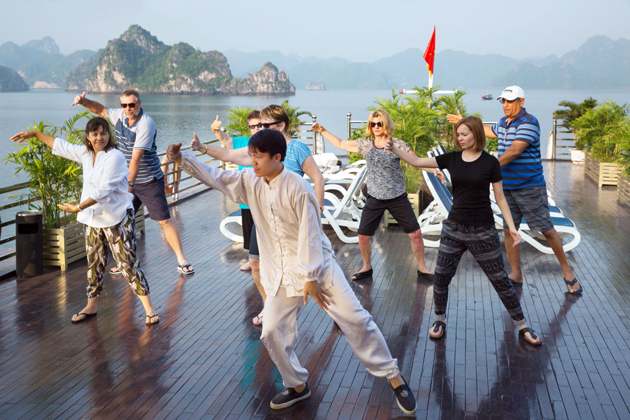 We then visit Sung Sot Cave – hiking up and down 600 steps to the magnificent limestone formations of the most beautiful and biggest cave in Halong Bay. We then check-out cabins, settle bills and enjoy brunch while cruising back to the pier. Stop at the Oasis Bay Lounge and find our car is waiting and taking us directly to the airport for our flight to Hue. Upon arrival, check-in and spend the night in the poetic city of Hue.
Overnight on board.
Day 17: Hue Ancient Citadel – Transfer to Hoi An (B, L)
Pick up at the hotel at 8:30 AM, we will board the Dragon Boat on the romantic Perfume River heading out for the countryside. Being the ancient capital, Hue is surrounded by ancient tombs of emperors past, and a visit to the most beautiful tombs will be on the itinerary for today. The charming Lady Pagoda (Thien Mu Pagoda) will be the first stop of the day. We will enjoy a great view of the Perfume River and the surrounding area. Thien Mu Pagoda is considered the symbol of Hue, and of Buddhism in Vietnam. From here, we rejoin our van and go visit King Khai Dinh's Tomb and King Tu Duc's Tomb.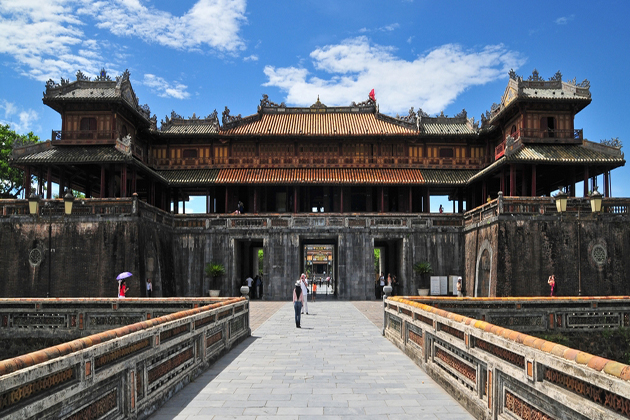 In the afternoon, we visit the Imperial Citadel where the Nguyen Dynasty ruled between 1802 and 1945, after exploring the ruins of this wonderful monument. We will then depart to the Hue Royal Fine Art Museum, which is housed within the former Dien Long An Royal Palace. We will finish our day with the local Dong Ba Market to see the daily life of local people before transfer to Hoi An.
Overnight in Hoi An.
Day 18: Hoi An – Farming and Fishing Tour – Walking Tour (B, L)
We have an early start this morning as we head off to our Farming & Fishing Life Eco Tour. Starting at Tra Que Village, we will get a personal insight into the local farming communities. We set about joining the farmers in preparing their land for sowing, helping to fertilize the garden using seaweed from the local river and watering it in using huge tin cans strapped to our backs. Following this, we will begin our leisurely cycling tour through the countryside witnessing local Vietnamese rural life first hand. Later in the morning, we will board our Hoi An Ecotour boat for a river cruise. Here we will meet and witness local fishermen working their craft, before enjoying a hands-on experience of traditional net fishing. We then transfer to a Vietnamese bamboo basket boat for a quick race and ride down a coconut palm-lined waterway. Lunch today is on board our boat, which is prepared using vegetables picked earlier at Tra Que Village.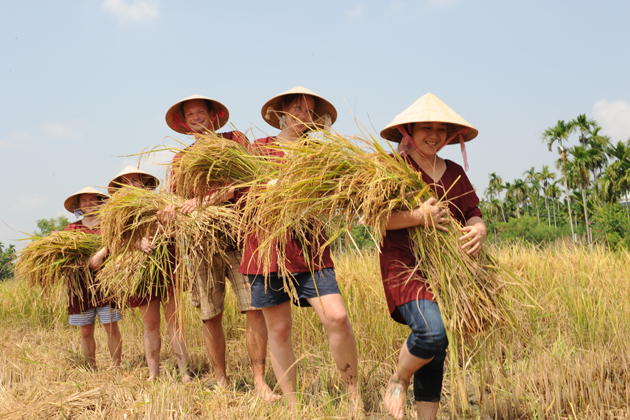 After lunch, we have some free time to wander around Hoi An town center before heading back to the hotel. In the afternoon, we walk down to downtown for our walking tour. We will start our walking tour around the ancient town to visit the Japanese Covered Bridge, the Pottery Museum, Tan Ky old house, the Cantonese congregation, the silk street of Hoi An, the temples and pagodas of Chinese appearance. Then we are back at our hotel.
Overnight in Hoi An.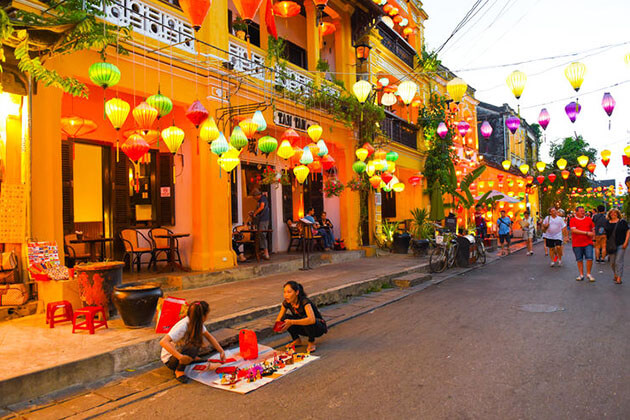 Day 19: Hoi An – Danang – Flight to Ho Chi Minh City (B)
You are free to explore Hoi An in the morning until our driver picks you up for your flight to Saigon. After arrival, check-in and relax.
Overnight in Ho Chi Minh City.
Day 20: Ho Chi Minh City (B, L)
Today, we visit all the highlights in Ho Chi Minh City such as the Reunification Palace, a palace once belonged to the President in the South of Vietnam during the American war; the War Remnants Museum where there is a poignant display of the futility of war; Notre Dame Cathedral and Old Post Office, the two sites that we can't ignore when we visit the city.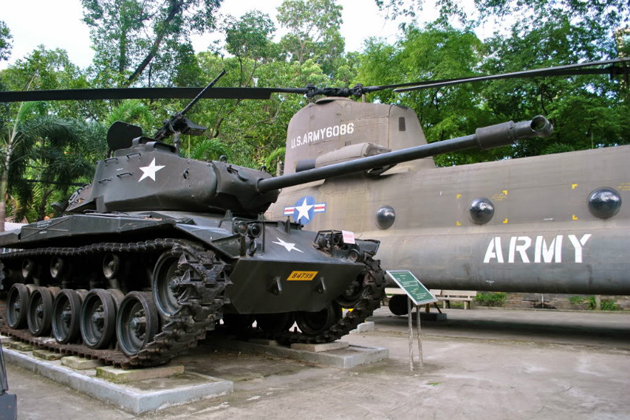 After lunch, we travel to district 5 to visit Cho Lon (China Town) and Thien Hau pagoda. We then head back to the center to go shopping at the famous Ben Thanh market which is very popular with tourists, primarily due to its central location. It has a wide selection of goods ranging from fake Nike shoes to beautiful silk Ao Dai. Before dinner, we have one hour to enjoy the Water puppet show in the Golden Theater.
Evening activities include: walking around at the night market in Ben Thanh market area; explore the highest building in Saigon, Bitexco….
Overnight in Saigon.
Day 21: Ho Chi Minh City – Mekong Delta (B, L)
At 08:00 am, we transfer to Cai Be to visit the floating market and island. The program will start with the visit of Cai Be colorful floating market cruising among local barges full of fruits and vegetables. Then, an optional stop can be made at local workshops where we can see how rice paste, coconut candy, and pop-rice, popcorn is made. The rowing boat will take us deeper into the countryside on smaller canals and enjoy a peaceful time. It is so interesting to see traditional houses made of wood and palm tree leaves and see some activities of the local farmers with an opportunity to make contacts with them and see how they catch fish…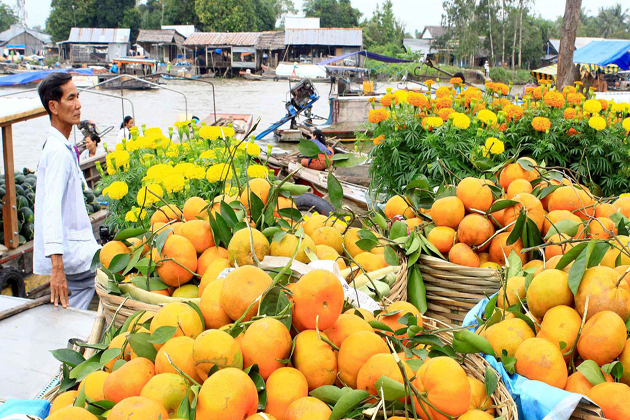 Lunch will be served at a local home. After lunch, we can walk around and then we will enjoy some exotic fruits when listening to traditional music. One more thing to do on this trip is biking! It will be so amazing to bike on village paths to see the local farms, houses, real-life and the ancestral ways to pick up fruits in the Mekong Delta… The cruise will end at Vinh Long city where we take our own vehicle back to Ho Chi Minh City.
Overnight in Ho Chi Minh City.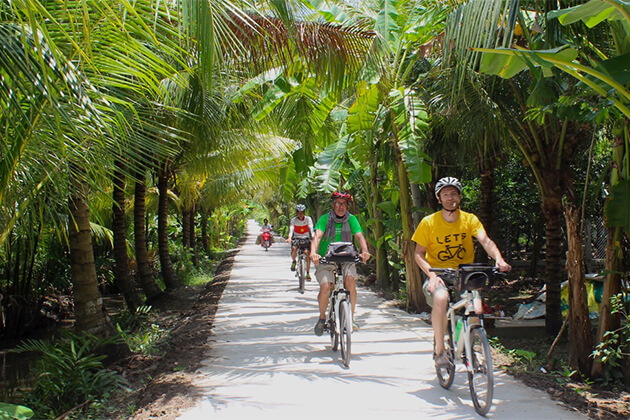 Day 22: Ho Chi Minh City – Flight to Siem Reap Angkor & Sunset (B)
The time is yours to relax until our driver takes you to the airport and take a flight to Siem Reap. Upon your arrival at Siem Reap International Airport, receive a warm welcome by our local guide and driver who will transfer you to your selected hotel for check-in (Early check-in depend on the availability, official time is 14:00). Today we will proceed to visit the amazing Angkor Wat temple that is surrounded by a gigantic man-made moat, which is the symbol of Nirvana. As the day ends, catch a spectacular sunset view at Angkor Wat.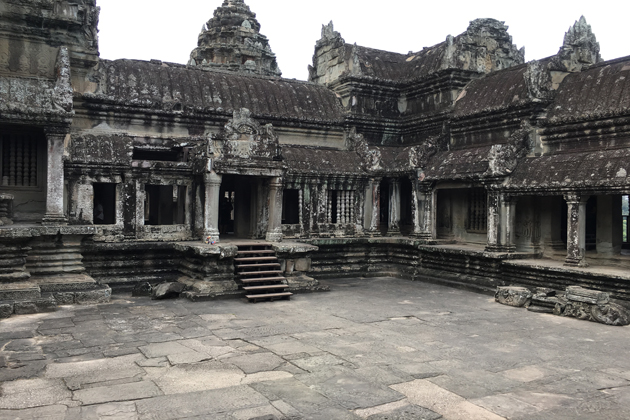 Accommodation in Siem Reap.
Day 23: Siem Reap – Discovery the "Heart of Angkor" (B)
After breakfast at the hotel, enjoy a drive through the lovely countryside to visit Banteay Srei and Banteay Samre, which many consider Bantaey Srei to be the prettiest temple. On the way back, we have a short stop at a traditional village for a demo about the collect and taste of the sugar palm juice and the making of the palm sugar (October to April for the collecting season).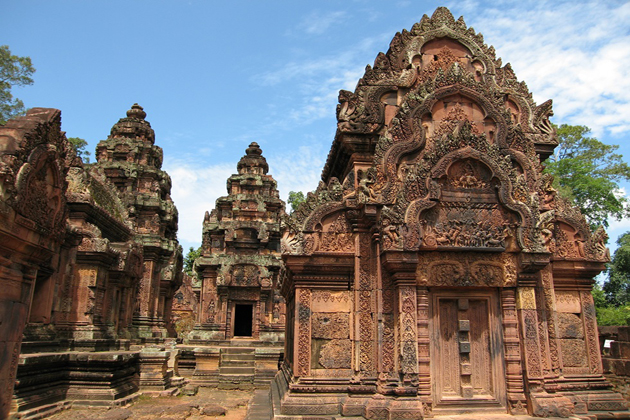 This afternoon, we head to visit the wondrous Angkor Complex with the jungle-covered temple of Ta Prohm. There are enormous fig trees and gigantic creepers which embrace themselves in the stone foundations of this structure giving the impression of man's creation being reclaimed by the powerful forces of nature. Continue to explore Angkor Thom, which was the last capital of the Khmer Empire. Entrance will be from the Western Entrance, where the four faces of Buddha and the flanking statue of gods and demons can be seen. The exploration continues from the Terraces of Elephant and the Leper King to the Baphuon temple just re-opened to the public on 2011 June after 50 years of restoration.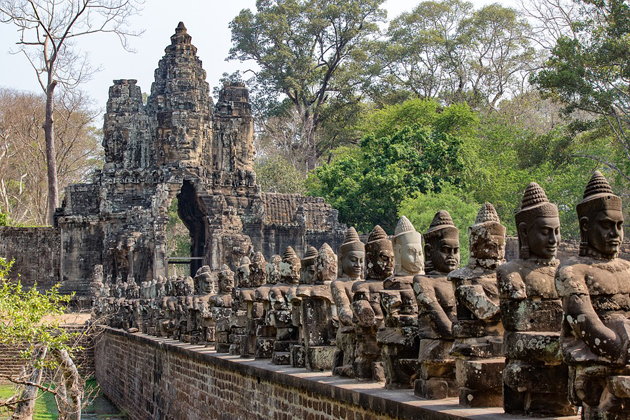 The day will be finished by visiting the main temple of Bayon, who has similarities of the 216 gigantic faces of the temple's towers to other statues of the king, which has led many scholars to the conclusion that the faces are the representations of Jayavarman VII himself, and others have stated that the faces belong to the bodhisattva of compassion called Avalokitesvara or Lokesvara. End the day with the climb to the summit of Bakheng Mountain to view a spectacular sunset.
Overnight in Siem Reap.
Day 24: Siem Reap – Rolous Temple – Kampung Plukk (B)
Rise early this morning and be rewarded with views of the sunrise against Angkor Wat revealing its timeless beauty, harmony, and grandeur.
Return to the hotel for breakfast before continuing to visit the Roluos Temple Complex. The complex displays the remains of the first major capital of the Khmer empire and contains several significant monuments including Preah Ko and Lolei. End the day by watching the sunset over the temples. This afternoon we are moving in tune with the rhythm of the great annual flood of Tonle Sap, we take a boat ride to the village of Kampung Phhluk on stilts. Explore this great ecosystem by way of canoeing and hear the calls of the macaque monkeys while observing the forest beneath the lake's surface. We will see the Buddhist temple is standing on the island with some beautiful Buddhist life painting on the ceiling.
Overnight in Siem Reap.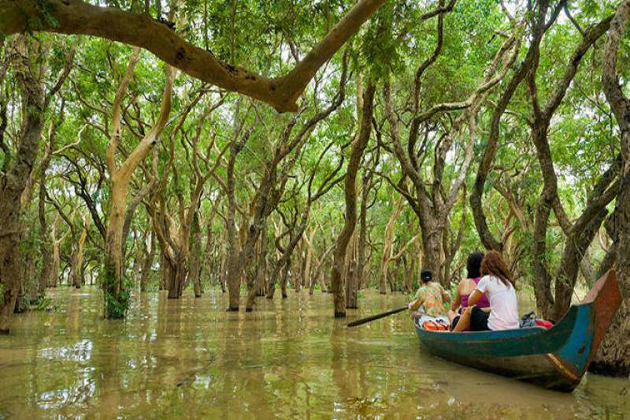 Day 25: Siem Reap Departure (B)
Breakfast at hotel, today will be free at your leisure till we transfer you to the airport for your departure flight home.
What's included?
Transfers between airports, hotels and scenic spots while sightseeing by private air conditioned vehicle with a driver and English-speaking guide
English speaking tour guide will be provided in each city and will remain with you throughout your time in that city. He or she will provide you with the best local knowledge available.
Accommodation with daily breakfast as per detail itinerary
Entrance fees & permits (if have)
All meals as specified in the itinerary with authentic local food. Western food is available (upon request) (B = Breakfast, L = Lunch, D = Dinner).
Boat excursions
Bottle of drinking water
Domestic air tickets in Thailand – Vietnam – Myanmar
English speaking local tour guide in each city
Entrance fees and zone fees for places mentioned in the itinerary
Transfers and sightseeing by private air-conditioned car
What's excluded?
International flights and airport taxes (Chiang Mai – Mandalay, Yangon – Hanoi, Ho Chi Minh – Siem Reap)
Visa
Travel insurance
Other meals which are not indicated above
Surcharge and Compulsory dinners (if any)
Beverages in the restaurants where meals are included
Gratuities to guides and drivers
Personal and other expenses such as porterage, bar bills and laundry not stated in the itinerary.