Be ready to immerse in the beauty of Vietnam and Cambodia with stunning natural landscapes and spectacular heritage sites in this 8-day luxury tour. Get a glimpse into the magnificent temples of Angkor Wat, discover ancient capital Hanoi, taking a luxury Halong Bay cruise to explore a myriad of lime karsts. Discover hidden gems of charming Hue and Saigon through historical sites and superb destinations. At last, just relax and enjoy your trip with the pristine nature of Mai Chau as well as Pu Luong Nature Reserve. From luxury hotels, delicious meals, local transportation to travel consulting, guiding and process handling, Indochina tours could serve you a perfect smooth luxury experience.
Tour Route: Hanoi – Halong Bay – Mai Chau – Pu Luong Nature Reserve – Hue – Ho Chi Minh City (Saigon) – Siem Reap
Duration: 16 Days/ 15 Nights
Date: No fixed departure dates. You may go whenever you wish.
Start/ End: Hanoi/ Siem Reap
Tour Type: Landscape, Nature, History, and Culture
Tour Category: Vietnam Cambodia Tours
Tour Customizable: Absolutely! (Tell us your specific requirements in the inquiry form)
Active Level: Regular itinerary, Moderate walking & Trekking
Brief Itinerary
Day 1: Hanoi Arrival (D)
Day 2: Hanoi Textile Tour (B/L/D)
Day 3: Hanoi Walking Tour – Life along the railway (B/L/D)
Day 4: Hanoi – Hai Phong (B/L/D)
Day 5: Hai Phong – Mai Chau (B/L/D)
Day 6: Pu Luong Excursion (B/L/D)
Day 7: Mai Chau – Fly to Hue (B/L)
Day 8: Hue City Tour (B/L)
Day 9: Bao Vinh ancient town and rural cyclo tour (B/L)
Day 10: Hue – Fly to Ho Chi Minh city (B)
Day 11: Retracing the past (B/L)
Day 12: Full day at leisure
Day 13: Ho Chi Minh City – Fly to Siemreap (B/D)
Day 14: Angkor Thom and the Bayon (half day) (B)
Day 15: Dawn at the temple (B/D)
Day 16: Siem Reap Departure (B)
Full Itinerary
Price & Inclusion
Accommodation
Photos
Detailed Itinerary
Day 1: Hanoi Arrival (D)
Welcome to Hanoi – the capital of Vietnam. Upon arrival, local tour guide and driver will greet warmly and escort you to the hotel for check-in and refresh.
In the evening, you will be served a delicious dinner at the nice restaurant.
FYI: Tonkin Show, Daily operated (Tuesday, Thursday, Saturday), The Quintessence of Tonkin Show is one of the most interesting shows in Hanoi at this stage. The Show lasts from 7.30 PM to 8.30 PM and draws inspiration from the spiritual history of the nearby Thay Pagoda telling the story of the pagoda's founding by venerable monk Tu Dao Hanh, and explains the ancient union between religion and the monarchy. Years in the making and with hundreds of performers, an interactive stage, state-of-the-art technology, and a stunning setting, this live spectacle is an unmissable highlight of any trip to Hanoi. Buffet dinner is included before the show.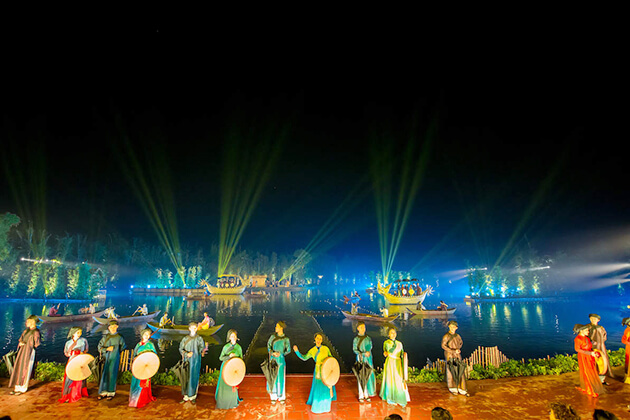 Day 2: Hanoi Textile Tour (B/ L/ D)
Wake up and enjoy breakfast to start to visit the Vietnamese Women Museum which offers a good view of the lifestyles, cultures, and textiles of 54 ethnic minorities as well as more than 25,000 items and documents illustrating the achievements, contributions, and creativity of Vietnamese women.
Afterward, we transfer to Van Phuc Silk weaving village which acquired a reputation for its traditional sericulture, silk weaving and silk ware. One of the unique feature things for you to explore is the silk is still being made by traditional techniques.
In the lunchtime, you enjoy special local cuisine and have a short break before taking part in the textile workshop and demonstrations and try hands-on natural dyed experiences. It shows you the silk-making processes from dyeing, weaving, decorative concepts. Also, you can learn more about the myriads of natural colors, how to make them.
Overnight in Hanoi.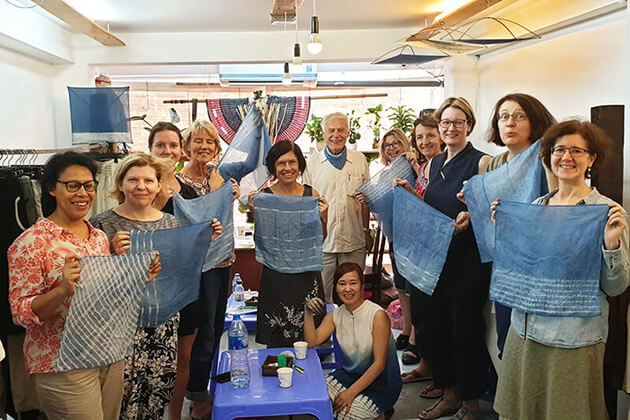 Day 3: Hanoi Walking Tour – Life along the railway (B/ L/ D)
After the hearty breakfast at the hotel, our local guide and driver will come and pick up for the city tour. The first destination for us today is the Ho Chi Minh complex where we will spend time at Ho Chi Minh's Mausoleum, his former stilt-house, the Presidential Palace, the Ho Chi Minh Museum and One Pillar Pagoda. Then, go further to pay a visit to the Temple of Literature, which originally built as a temple to Confucius.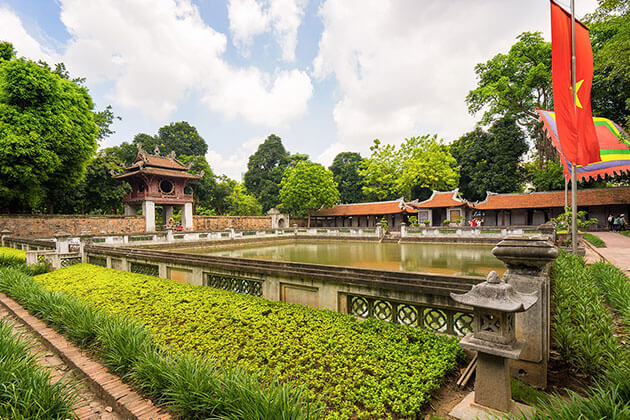 In the lunchtime, we will enjoy lunch with local cuisine before visiting the Museum of Ethnology, which is widely acknowledged as the best in the country and has an extensive display dedicated to Vietnam's 54 Ethnic minority peoples. After that, we will take you to the rails a few meters north of Hanoi's main train station. Stroll along the very narrow streets hosting the rails sometimes not even a meter away from the entrance door of the houses!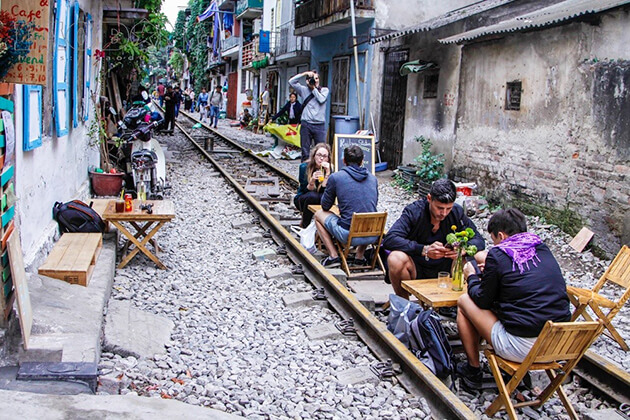 Enjoy this original and photogenic scene walking along the Phung Hung street where you go back down to the road and follow the street's sidewalk. Walk past the funeral home where you will probably see a group of people mourning and wearing the traditional white fabric around the forehead, which is equivalent to the western tradition of wearing black clothes. Continue walking toward Long Bien train station. From Long Bien, train station starts to cross the bridge and stop halfway to go down the stairs onto the urban island. Have a rest and visit the orchards.
Continue crossing the bridge and meet the car which will transfer you to Gia Lam train station. Take your train ticket and jump in to cross the bridge the other way, riding with the locals in the hard seater wagon. On weekdays you will stop at Long Bien as the final station and on Saturday and Sunday, you will stop at Hanoi Station.
As the sun begins to set, we transfer back to the hotel for dinner and good sleep.
Day 4: Hanoi – Haiphong by road, Orchid Cruise ( B/ L/ D)
Refresh yourself up with a hearty breakfast. Stay eager as the tour guide will come and drive you to Hai Phong on the new highway to Got Ferry Terminal – Cat Hai Town, Haiphong City. You will have a great chance to experience the longest and newest bridge in the South East Asia area. More interestingly, do not forget to enjoy special tea at Orchid Cruise's lounge by warm welcome. Later, transfer to the Orchid Cruise. We will be welcomed warmly and then check-in, enjoy a drink and receive safety instructions and cruise briefing. Start cruising and explore beautiful Halong Bay – one of the New Seven Wonders of Nature. You can witness a lighthouse built by the French over 100 years ago from Da Chong islet.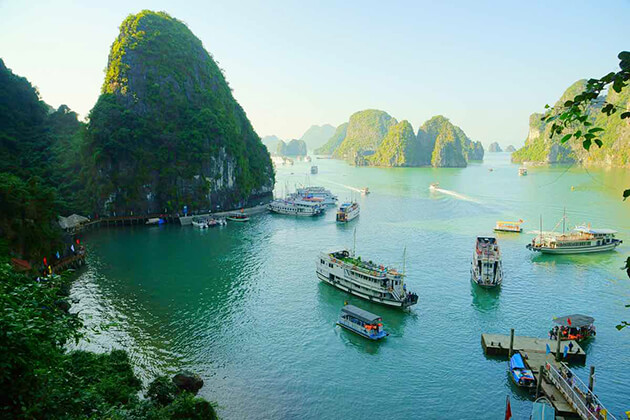 Have an International Buffet Lunch while passing via the islets of Con Vit area. These amazing limestone karst formations rise up out of the sea in an impressive manner. This area is untouched, as not many cruise ships use the route via the Cat Ba Island – Thoi Quyt area – Coc Ngoi islet – through Gia Luan area where is belong to Cat Ba National Park.
Afterward, we transfer to Trung Trang Cave by our bus on Cat Ba island which is located in the middle of Cat Ba National Park with Kim Giao forest around the cave. Trung Trang Valley is the largest valley on Cat Ba Island. The valley covers an area of approximately 300 hectares, has a depth of 10m to 30m and is around 15km in the middle of Cat Ba National Park. Trung Trang Cave measures 300m lengthwise through the mountains. The cave was carved by nature for more than 2000 years. The cave has many stalactites that take on various shapes that will awe and inspire visitors to use their imagination. Orchid Cruise gets in the less populated area at Tra Bau where is located in Lan Ha Bay. You will enjoy the green emerald and cool water by swimming. Returning ORCHID CRUISE, you can watch the magnificent sunset over the Gulf of Tonkin. Onboard you may join a traditional cooking class. Our chef will instruct you in the making of some Vietnam dishes.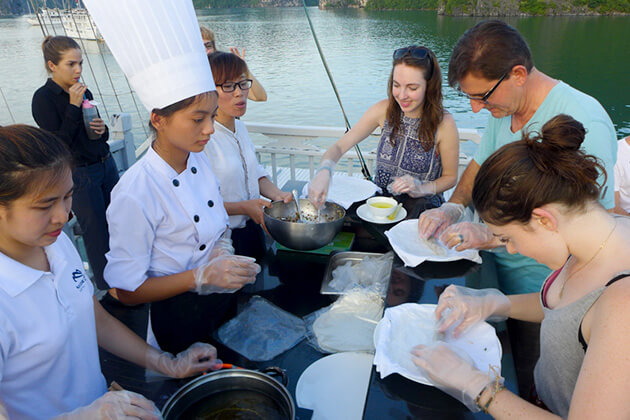 Option: Massage service available. Please book with Cruise Manager directly (please see massage menu)
Enjoy delicious local food prepared and served for you by our wonderful onboard catering staff. After dinner, you have a great chance to admire the landscape of the bay at night up on the top deck. Relax and enjoy drinks from the bar or try the hands-on experience with joining squid fishing, watching a movie in the restaurant. End of Day One program
Overnight on the cruise. How interesting it is!
Day 5: Orchard Cruise on Lan Ha Bay – Mai Chau Ecolodge (B/ L/ D)
Why not wake up early to witness the bay at its very best whilst enjoying an invigorating Tai Chi session on the sundeck after having breakfast and drink. Later, we continue our journey and transfer to Ao Each to explore the bay in the area. You enjoy on your own for kayaking at Ao Ech area to discover the hidden charm of Lan Ha Bay. Orchid Cruise welcomes you back on board and it is time for checking out. While cruising back you can enjoy a delightful brunch.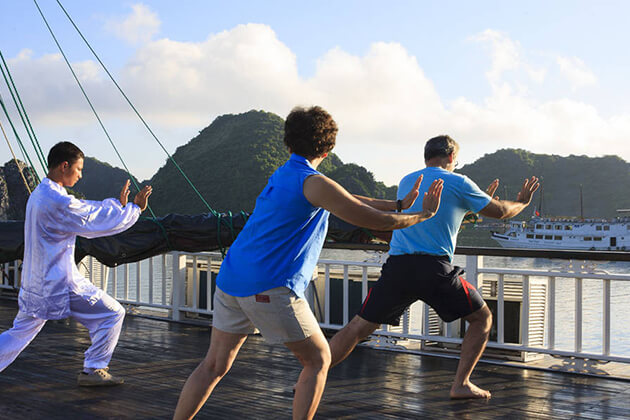 Tea Ceremony is served at the restaurant. You will learn how to enjoy Vietnamese tea and Vietnamese cultural at this ceremony. Joining Tea Ceremony with our crew's team and have great fun with us. Afterward, we return to the quayside in the south of the bay, where our visitors disembark.
The private guide and driver are ready to pick up and transfer you to Mai Chau.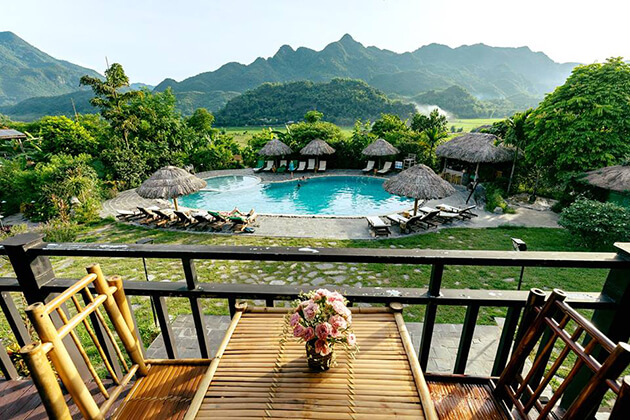 As the sun begins to set, we transfer back to the Mai Chau Ecolodge for dinner and overnight accommodation.
Day 6: Mai Chau Ecolodge – 
Pu Luong Retreat Exploration 
(B/ L/ D)
Start your new day with a delicious breakfast before taking about 2 hours-drive from Mai Chau Ecolodge to Pu Luong. Upon arrival at Don village, we begin to uncover an amazing trekking tour. Passing some tribal villages (Ươi village, Lan village…).
We can have a panoramic view of Uoi village from the road on the top side.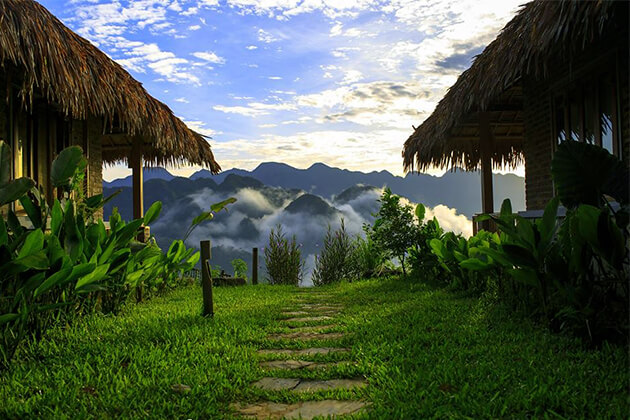 This is a common and easy walk around the most beautiful valley of rice terraces in front of the Retreat. We start to descend into the beautiful valley facing the Retreat where you walk around tumbling rice terraces. Then we will walk through small paths shrouded in vegetation to slowly reveal a picturesque Uoi village sitting at the base of a towering mountain.
Continue to walk downhill to a local home, where you can take rest then take a cycle to go cycling around Lan village. If time permits, we will visit a local family where we can learn about their traditional brocade weaving (not guaranteed). Cycling through the rice paddies and another village to explore more the landscape surround. Ride back to the local home, where the car pick-up point. You will be transferred back to Pu Luong Retreat for lunch.  You will have a great chance to try local cuisines, which bring a really traditional flavor with special dishes like bamboo-tubed rice, grilled pork paste, domestic chicken, glutinous rice… It is certainly a fun time when you not only enjoy hearty lunch but also talk with friendly local people to get a closer insight into their culture and life.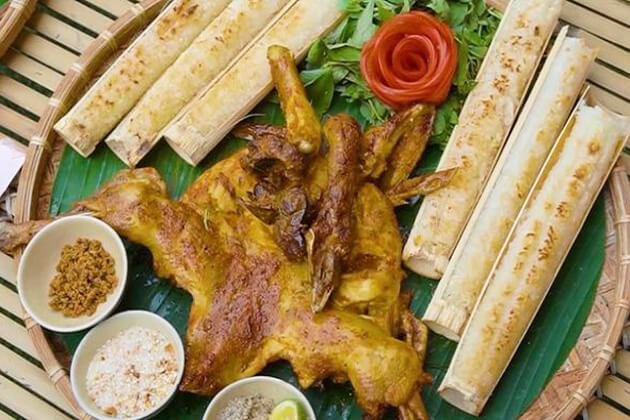 Late afternoon, we join the car back to Ecolodge to catch a stunning view of picturesque giant bamboo water wheels
End of the program today. We transfer back to Mai Chau for dinner and relaxation.
Overnight at Mai Chau Ecolodge.
Day 7: Mai Chau – Hanoi- Fly to Hue (B/ L)
After having breakfast, you have leisure time until noontime. Then, our driver and guide will take you to get back Hanoi.
Arrive in Hanoi, we enjoy scrumptious lunch before transferring to Hue. Welcome upon arrival by local tour guide and driver then we transfer to the hotel for check-in.
Overnight at the hotel in Saigon.
Day 8: Hue City Tour (B/ L)
Wake up early in the morning and refresh yourself with a hearty breakfast. Then follow the tour guide to board the Dragon Boat on the romantic Perfume River heading out for the countryside. Known as the ancient capital surrounded with ancient tombs of emperors past, a visit to most beautiful tombs will be no doubt on the itinerary of today's discovery in Hue.
Enjoy a great view of the Perfume River and the surrounding area before reaching the first stop of the day – the charming Lady Pagoda (Thien Mu Pagoda). well then rejoin our van to pay a visit to King Khai Dinh's Tomb and King Tu Duc's Tomb. Wander around the pagoda which is considered as the symbol of Hue, and of Buddhism in Vietnam.
After savoring lunch, the afternoon tour continues with the Imperial Citadel where the Nguyen Dynasty ruled between 1802 and 1945.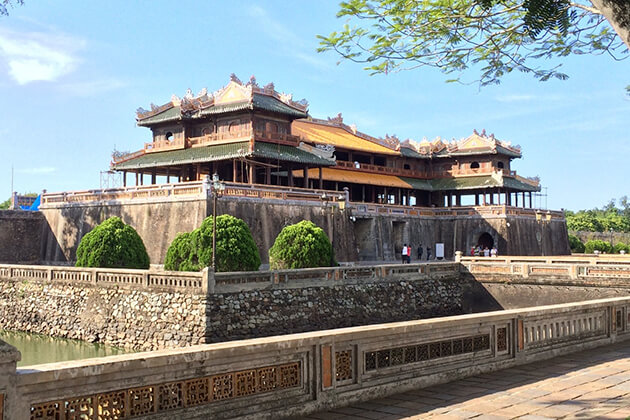 Spend time leisurely exploring the ruins of this wonderful monument then visit the Hue Royal Fine Art Museum located within the former Dien Long An Royal Palace. Catch a glimpse of local daily life in the Dong Ba Market before transferring back to the hotel for a good rest. Stay overnight in Hue.
Day 9: Bao Vinh ancient town ( B/ L)
Fulfill your energy with a tasty breakfast served at the hotel to get ready for a new day of exploring. This morning we will take a 2-mile (4km) bike ride through the imperial city. Departing from Hue, the tour guide will let you pedal along the small paths to Bao Vinh which was once the very busy and important trade center of the Central Region during 17th- 19th century.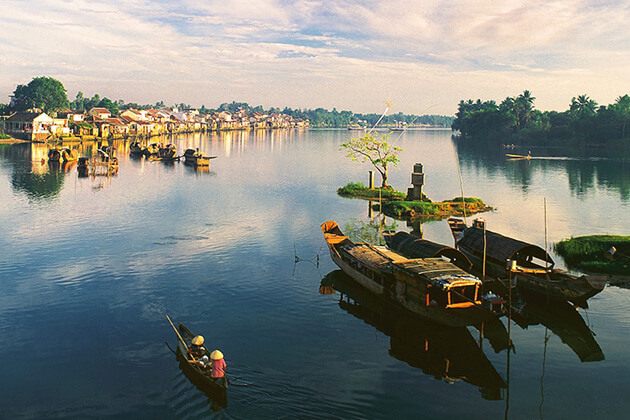 You will have a great chance to communicate with the friendly locals while having lunch then continue the ride to the Dieu De Pagoda whose entrance is on the banks of the Dong Ba Canal. It was one of the three Hue pagodas to be declared as the "national pagoda" by Emperor Thieu Tri and was directly under the patronage of the Nguyen Dynasty. From here, tourists will take a leisure boat trip along the Perfume River and enjoy some drinks while taking in the picturesque scenery of the sunset on the river before back to Hue.
Stay overnight in your comfortable hotel room.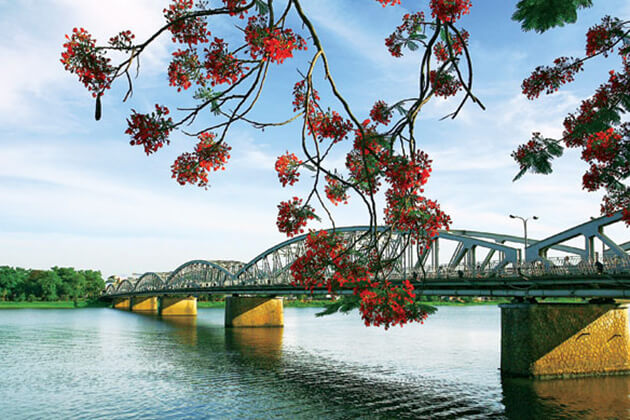 Day 10: Hue – Fly to Ho Chi Minh (B)
After breakfast, we will be free until your driver arrives to take you to the airport for your departure flight to Ho Chi Minh.
On arrival at Tan Son Nhat airport in Ho Chi Minh City, we will be greeted and driven to our hotel in the city center. After check-in, we will be free to wander around the hustle and bustle city and spend the night in Ho Chi Minh City.
Day 11: Saigon War Site (B/ L)
After breakfast, the tour guide will come and pick you up. This morning, we will visit the shrine outside of the US Consulate before taking a glance of the former CIA building – 1st war site at 22 Ly Tu Trong Street where helicopters evacuated the remaining US citizens in 1975. The building is a very important landmark in one of the most cataclysmic historical event – the fall of Saigon.
Then continue to explore the 2nd war site – the Independence Palace with the Reunification Front Gate, which was the former headquarters of South Vietnamese Government as well as the residence of the presidents. Visit and listen to the historic moment changing the country's path forever, when the tank carrying the North Vietnamese flag crashed through the front gate.
The wheels of the cars keep turning to take us to the next destination- the Venerable Thich Quang Duc Monument. As its name suggests, this 3rd war site is to honor Thich Quang Duc – a Vietnamese Mahayana Buddhist monk who burned himself to death in the effort to protest the war. We will also have the chance to catch a sight of the statue of Thich Quang Duc in the intersection between Nguyen Dinh Chieu and Cach Mang Thang 8 where this event happened.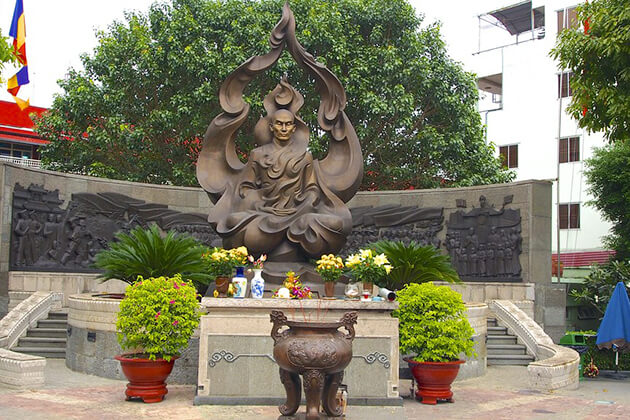 Later, head to the historic venue for a special lunch with "pho" at Pho Binh restaurant which was the secret headquarters of Viet Cong in Saigon. It is the place where they planned the attacks on the US Embassy as well as other Saigon target during the 1968 Tet Offensive. Walk upstairs and gain insights into this historic period through the family's photo collection before enjoying a well-deserved bowl of "pho" downstairs.
Afterward, transfer to the 4th war site located on 197 Ngo Gia Tu, 10 District where witness the Viet Cong soldier Nguyen Van Lem being condemned for war crimes and executed. Then pay a visit to the War Remnants Museum and learn more about the American war through the eyes of locals before being escorted back to the hotel. Relax and have a good night.
Day 12: Full day at leisure
The day will be free for exploring a beautiful city, shopping or whatever takes your fancy.
Overnight at the hotel in Ho Chi Minh City.
Day 13: Ho Chi Minh City – Fly to Siemraep (B, D)
Wake up early in the morning and enjoy breakfast to get ready for exploring Siemreap.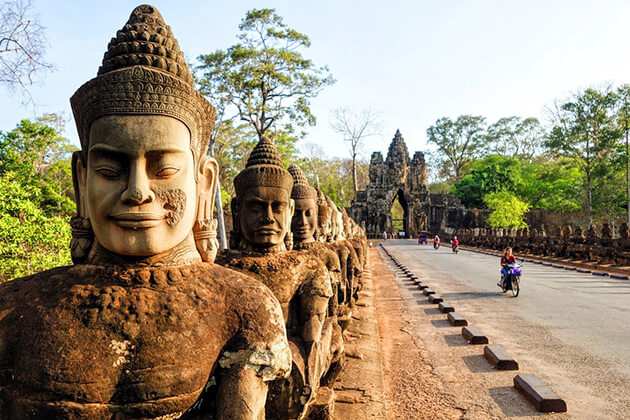 Upon arrival, our guides and drivers will warmly greet and transfer you to the hotel for check-in and refresh. Interestingly, on the way, our friendly tour guide will tell you a little about the rich history and diverse culture of Cambodia.
In the late afternoon, we drive back to the hotel to enjoy welcome dinner with Apsara Dance Performance show followed by welcome cold towel & glass of Kannel signature drinks also snacks.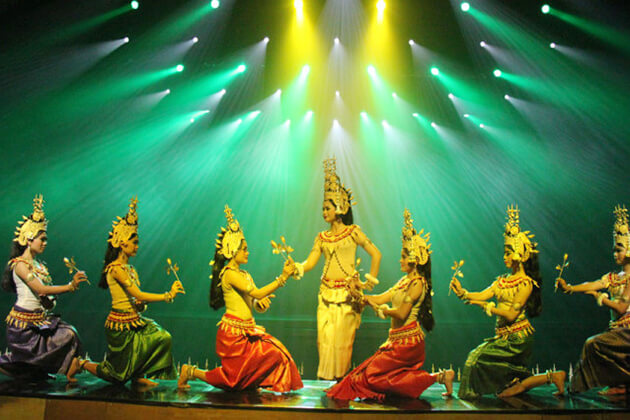 Day 14: Angkor Thom and the Bayon (B)
After having breakfast at the hotel, we will take you to the last capital city of the Khmer Empire "Angkor Thom". It was a building for administering the kingdom and officials of the military and palace.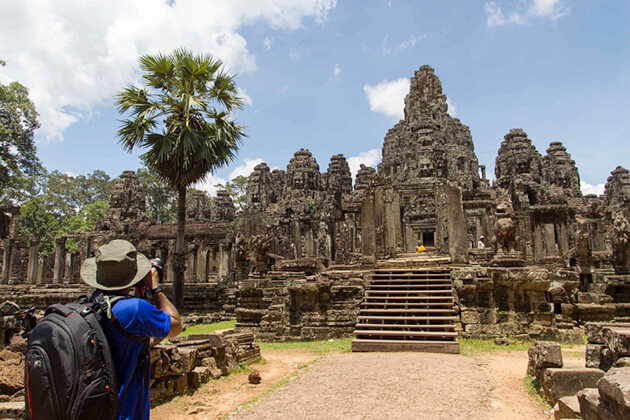 Be ready to immerse in amazing things at Angkor Thom from the South Gate, Bayon, Baphuon, the Terrace of the Elephants and the Terrace of the Leper King. After that, we move to Ta Prohm Temple, where you can see a jungle temple overgrown by balsa wood trees and vines.
Afterward, we transfer back to the hotel to relaxing and stay overnight.
Day 15: Dawn at the Temple (B/ D)
Wake up early in the morning to admire the sunrise over the five towers of Angkor, then, enjoy special breakfast at the hotel. Start with a visit to the famous Angkor Wat, which is the best-preserved of all the Angkor monuments. It is the only one to have remained an important religious center—first Hindu, then Buddhist—since its foundation.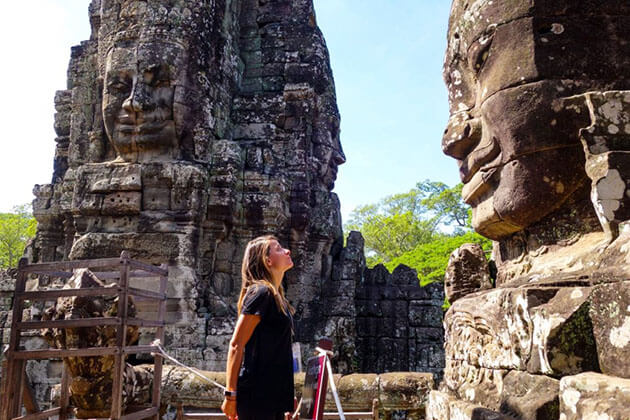 Once finish, transfer back to the hotel to relaxing and enjoy dinner.
Day 16: Siem Reap Departure (B)
Having your breakfast at the hotel then you have some free time to relax or discover the little Siem Reap town on your own arrangement to Old Market or Angkor Silk Farm. If your time permits, it's good if you are able to experience with Khmer traditional massage.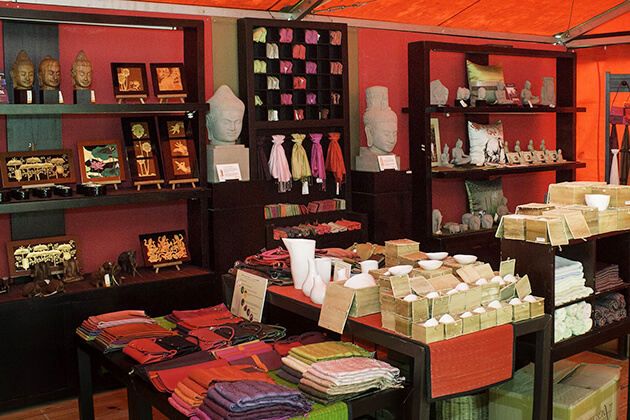 Your hotel checks out at mid-day, based on your departure flight time the guide and driver are ready for transfer you to the airport for taking a flight home. The 16-day journey discovery enchanting Vietnam – Cambodia comes to an end. Goodbye and hopefully we will have the chance to accompany you in the future trip.
What's Included?
Transfers
Private transfer with professional driver for airport transfers and tours, van 7 seats
Flights: Hanoi – Hue, Hue – Ho Chi Minh, Ho Chi Minh – Siem Reap, economy class of Vietnam airlines
Guide
We offer the local speaking guide during the trip to take care of you very well.
Accommodations
Cruise 5* in Lan Ha Bay, Orchid Cruise with kayak
Hotel 5* with daily breakfast as per detail itinerary
Show
Aprasa Show in Siem Reap
Tonkin Show in Hanoi
Amazing Sub-Tour
Biking in Hue
Trekking to Pu Luong
Meals:
Buffet breakfast at hotels
Meals: Lunch and dinner are mentioned clearly on each day in the program (B=Breakfast, L=Lunch, D=Dinner)
Entrance Fees
All sightseeing entrance fees on the program
Drinks
Bottle of drinking water on bus and room (other drinks on meal excludes)
Visa
Vietnam Visa: VietVisionTravel will offer free of charge for Vietnam Visa
Cambodia Visa: VietVisionTravel will offer free of charge for Vietnam Visa
What's Excluded?
International flights and airport taxes
Travel insurance
Other meals which are not indicated above
Surcharge and Compulsory dinners (if any)
Beverages in the restaurants where meals are included
Gratuities to guides and drivers
Personal and other expenses such as porter, bar bills and laundry not stated in the itinerary
Notes
Please be aware that hotels and all other logistics, services and days of travel are subject to availability. Where flights are canceled or delayed Viet Vision Travel will endeavor to secure alternative arrangements of similar value as noted in our booking conditions.
The traveling times mentioned within this dossier are approximations only. These times will vary according to weather, road, traffic or any other prevailing conditions.
This itinerary and supplementary information has been compiled in good faith and was accurate at the time of writing. However, it DOES NOT form part of a contract between the client and Viet Vision Travel.