It can be said that Indochina is one of the cradles of oriental civilization with ancient cultures, distinctive customs, spectacular structures, and unique cuisines. Let's discover this awesome land by our 21-day Indochina trip. This amazing
Indochina tour
will bring you to the gorgeous destinations in Vietnam, Laos, and Cambodia, from traditional but still modern cities like Hanoi, Saigon to the ancient capital Luang Prabang or the land of hundreds of famous temples-Siem Riep and so on, all of them will definitely impress you.
Tour Code:
Duration: 21 Days/20 Nights
Start/End: Hanoi/ Luang Prabang
Tour Route: Hanoi – Mai Chau – Halong Bay – Hue – Hoi An – Saigon – Can Tho – Chau Doc – Phnom Penh – Siem Reap – Luang Prabang
Highlights: Exploring the daily life of ethnic groups of Northern Vietnam, Cruising along Mekong River, Visiting Angkor Complex, Experiencing the Ancient Capital Luang Prabang.
Tour Customizable: Definitely! (Tell us your specific requirements in the inquiry form)
Tour Categories: Indochina tour packages
Guides: Local Guide (English Speaking Guide, Other Languages upon Request)
Transportation: Private first-class air-conditioned vehicles
Accommodation: Listed below or equivalent. Rooms with private bath or shower, hotel taxes, porterage, tips, and service charges
Brief Itinerary
Day 1: Hanoi Arrival
Day 2: Hanoi City tour
Day 3: Hanoi – Mai Chau
Day 4: Mai Chau – Buoc Village – Hanoi
Day 5: Hanoi – Halong Bay – On-board ship
Day 6: Halong – Hanoi – Hue by flight
Day 7: Hue city tour
Day 8: Hue – Hoi An Ancient Town
Day 9: Hoi An Walking tour
Day 10: Hoi An free day
Day 11: Hoi An/ Danang – Saigon/ Ho Chi Minh City by flight
Day 12: Saigon – Ben Tre – Can Tho/ Mekong Delta
Day 13: Can Tho – Cai Rang Floating Market – Chau Doc
Day 14: Chau Doc – Phnom Penh by speed boat
Day 15: Phnom Penh – Siem Reap by flight
Day 16: Siem Reap – Angkor Temples
Day 17: Sunrise Watch – Banteay Srey – Rolous Temples – Tonle Sap boat trip
Day 18: Siem Reap – Afternoon flight to Luang Prabang
Day 19: Luang Prabang City tour – Boat trip to Pak Ou Caves
Day 20: Luang Prabang – Kuang Si Waterfall
Day 21: Luang Prabang Departure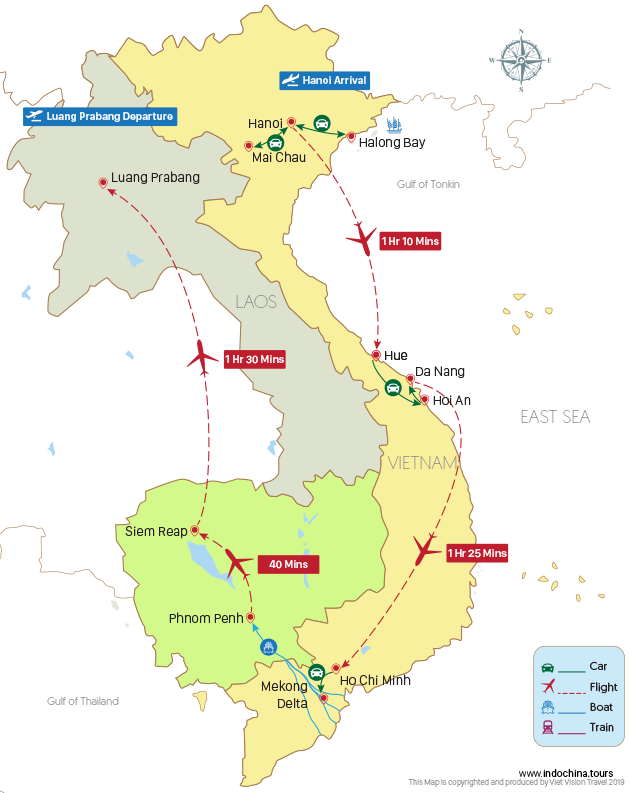 Full Itinerary
Price & Inclusion
Accommodation
Photos
Day 1: Hanoi Arrival (D)
Check into the hotel, the rest of the day is free for you to relax or go out to explore the city. If possible, we will have a cyclo tour around Hanoi Old Quarter in which you can taste some great street food, then purchase lovely souvenirs or take several photos of the hustle and bustle here.
Overnight in Hanoi.
Day 2: Hanoi City Tour (B, L, D)
The whole day is to explore Hanoi, seeing Ho Chi Minh Mausoleum and his own home, then visit One Pillar Pagoda nearby.
The next stop is optional, choosing one of the following museums: Women's Museum, Museum of History or Army Museum.
Having lunch at a traditional restaurant before dropping by the Temple of Literature (Confucius Temple), the 1st National University of Vietnam and Hoa Lo prison, "the hell on the earth" during Vietnam war.
Afterward, walk around Hoan Kiem Lake, come over Ngoc Son Temple and then enjoy a traditional water puppet show, a particular type of art in the rural north of Vietnam.
Overnight in Hanoi.
Day 3: Hanoi – Mai Chau (B, L, D)
At early morning, you are taken and driven to Mai Chau – a stunning mountainous district and enjoy a wonderful homestay trip. We may drop in the local market in Hoa Binh to taste the original savor of Vietnamese coffee and take photos of spectacular mountains by the way.
Check into the homestay upon arrival, then take a rest after a long drive in order to discover the next interesting things.
The half-day is to explore some ethnic villages, communicate with the locals, witness their daily activities. The dinner will be a cozy meal cooked by the host.
Overnight in Mai Chau.
Day 4: Mai Chau – Buoc Village 
– 
Hanoi (B, L)
Today, come over another famous ethnic village – Buoc Village, where a lot of White Thai people dwell. You will have the chance to watch paddy fields, stilt houses on the way. Pay a visit to a local family, see how they work, learn about their typical customs and then having a traditionally cooked lunch.
Back to Hanoi and take a rest in the hotel.
Overnight in Hanoi.
Day 5: Hanoi – Halong Bay – Onboard Ship (B, L, D)
Today's included a boat tour around Halong Bay. Having a seafood lunch right on the boat. The rest of the day is to voyage the various gorgeous small islands with many different shapes. Next, discover some caves and then take a kayak or go swimming in the cool, fresh water if you want. The dinner is served on the ship. The schedule may change a little based on cruise ships.
Overnight on board.
Day 6: Halong 
– 
Hanoi – Hue by Flight (B, L)
Morning is a good time to see the majestic beauty of Halong. We can enjoy the scenery, welcome the very first rays of sunshine and have a delicious breakfast on the deck. In the afternoon, drop over the main harbor and then back to Hanoi. In return, we will drop in the Ancient Pottery Village of Phu Lang.
After the visit, catch a late flight to from Noi Bai Airport to Hue, check into the hotel and relax.
Overnight to Hue.
Day 7: Hue City Tour (B, L, D)
Begin the day with an adventure Dong Ba Market, a famous local market for foreigners, displaying a variety of products. The next destination is Imperial Palace which has the same structure as the Forbidden City of China. Also, it has been recognized as a World Cultural Heritage for its historical value.
Afterward, go to the suburb to see several of the most famous royal tombs of kings in feudal history including Ming Mang, Tu Duc, and Khai Dinh. Having a Buddhist lunch at a monastery where we will converse with the nuns there and also have the opportunity to get the knowledge about Buddhism.
On this afternoon's included a Huong River ( Perfume River) trip and then come over Thien Mu pagoda. End the day by returning to the hotel and relax.
Overnight in Hue.
Day 8: Hue – Hoi An Ancient Town (B, L)
Leave Hue, we depart to the ancient town, Hoi An. Via Hai Van Pass, we can enjoy the magnificent scenery of the sea. On the journey, also stop to encounter My Khe Beach and Marble Mountain so as to watch old pagodas.
Check into the hotel upon arrival. The rest of day is leisure time.
Overnight in Hoi An.
Day 9: Hoi An Walking Tour (B, L)
Start the day by wandering around small corners of the town, dropping by Chua Ong pagoda, Assembly Hall, the 200-year-old Tan Ky house, and the Japanese Covered Bridge. Having lunch and go on the boat to visit Thanh Ha village, learning how they create a pottery.
This evening is optional: relaxing or taking part in a cooking class to learn several local foods.
Overnight in Hoi An.
Day 10: Hoi An Free Day (B, L)
This whole day is up to you, enjoy the free time or discover additionally the town.
Overnight in Hoi An.
Day 11: Hoi An/ Danang – Ho Chi Minh City by Flight (B, L)
This morning, we are far Hoi An taking the flight to Saigon (Ho Chi Minh city) from International Da Nang airport. First stop is Cu Chi Tunnel, a very complicated system of tunnels built in the Vietnam war. There we will watch a short video introducing the Tunnel. Also, many of the traps and weapons in the war are illustrated for visitors.
Later, we transfer to Saigon, check into the hotel and have a tasty lunch at a local restaurant. The afternoon's included an interesting trip, visiting the Reunification Palace, the War Remnants Museum, the Notre Dame Cathedral, and the General Post Office. After that, you will take a rest in the hotel and then explore Ben Thanh night market for shopping.
Overnight in Ho Chi Minh City.
Day 12: Saigon – Ben Tre – Can Tho/ Mekong Delta (B, L)
First stop today is the Mekong Delta, the rice bowl of Vietnam. We will visit Ben Tre Town, cruising along Ben Tre River, digging into the daily life of the locals. See the process of making bricks, sleeping mats and products made from coconut. Then a motor cart will bring us past spacious fresh vegetable gardens. This is the most significant thing about the trip.
Subsequently, we have lunch at a native restaurant, then go on the journey. Goodbye Ben Tre, we together discover the beautiful city – Can Tho, called the capital city of Mekong Delta.
Check into the hotel in the evening. Enjoy yourself in the room or step on the streets and see sank the night beauty of the city.
Overnight in Can Tho.
Day 13: Can Tho – Cai Rang Floating Market – Chau Doc (B, L, D)
Breakfast is well served then we hire a local boat to investigate Cai Rang Floating Market. Next, take a walk into nearby villages in order to learn the way the local people produce rice paper mill as well as rice noodle. One of the most exciting things to do in the southwestern is experiencing to pass Monkey Bridge, a typical kind of bridge here which is made from small and thin trees. Your heart will not stop pounding when crossing it the first time. Additionally, you can choose to ride a bicycle, spinning throughout the peaceful and watch the quiet but stunning views.
After Can Tho, we depart to Chau Doc, another interesting site. Check in the hotel and rest.
Overnight in Chau Doc.
Day 14: Chau Doc – Phnom Penh by Speedboat (B)
First, have breakfast and come to the wharf and have a trip lasting approximately 5 hours to begin the journey to discover the beautiful country, Cambodia. Until the afternoon, we reach in the capital Phnom Penh, check into the hotel room.
Enjoy a memorable lunch at a special restaurant cooked by adorable kids who used to be poor street ones. You will definitely be impressed by their skillful hands.
Then, spin around the city, come over the National Museum of Khmer art, where a huge amount of spectacular works of art in every period of Cambodia history. Other remarkable destinations are which is, as its name, made from a lot of silver. The rest of the day is free.
Overnight in Phnom Penh.
Day 15: Phnom Penh – Siem Reap by Flight (B)
Enjoy the breakfast in the room then check out. You will be taken to the airport to come to the next stop – Siem Reap. Later, check into the hotel. In the rest of time, you can relax in your room or jog over this enchanting city.
Overnight in Siem Reap.
Day 16: Siem Reap – Angkor Temples (B)
The whole day is to explore the renowned Angkor complex. The order can be flexible, depend on your interest as long as you feel comfortable. Start with the ancient city, Angkor Thom. Discover every corner of this place, from Bayon – a structure with 54 towers featuring countless lively faces carved on it, the Terrace of Elephants and Terrace of Leper Kings.
After that, return the hotel, have a delicious lunch. In the late afternoon, go over to a gorgeous here – Ta Prohm. It is considered as a brother of famous Angkor Wat due to the same structure. However, because located deep in the forest, covered by layers of trees, not too many tourists come here. Besides, the special is many of scenes of the blockbuster "Tomb Raider" were shot. At the end of the day, we leave to drive to Pre Rup and enjoy the stunning owl-light.
Overnight in Siem Reap.
Day 17: Sunrise Watch – Banteay Srey – Rolous Temples – Tonle Sap Boat Trip (B)
Today, wake up early to keep up the majestic dawn moment from Angkor Wat. Then, step on Banteay Srey Temple, which was built with the largest number of pink sandstone compared to any temple in the Angkor complex. Next, drop in Tonle Sap and take a boat to get an excursion of this Southeast Asia's largest freshwater lake. The lunch is prepared carefully at the hotel. Take a rest before continuing the journey in the half day.
This afternoon visiting-place is Roluos Temple Complex. Here you can admire some of masterpieces leftover of a glory period of Khmer Empire such as Bakong, Preah Ko, and Lolei. The evening is a relaxing time.
Overnight in Siem Reap.
Day 18: Siem Reap – Afternoon Flight to Luang Prabang (B, L)
The total time of this morning is to feel yourself in the hotel. Check out in the middle of the day.
Later, take a flight to the extremely attractive land, the ancient capital of Laos, Luang Prabang. It has been considered the religious center of the whole country for hundreds of years. Also, it is recognized as a World Heritage by UNESCO for its unique value. After check-in, you can freely enjoy the rest of day in the room.
Overnight in Luang Prabang.
Day 19: Luang Prabang City Tour – Boat Trip to Pak Ou Caves (B, L)
First to come is the National Museum and the bygone Royal Palace. Here is the place displaying the famous Prabang Buddha as well as a diversity of gifts from foreign dignitaries. Next, dwell in Wat Visoun which is the living witness of the invasion of Black Flags from southern China. At that time, this place was almost re-constructed. Besides, Watermelon Stupa with its special shape is an interesting thing to watch when coming here. Some other places are Wat Aham in which was set the altar of Luang Prabang and Wat That where kept the skeleton of King Sisavang Vong.
After the noon, an excursion along Mekong River is well-planned, discovering mystic Pak Ou Caves standing on the side of a dramatically beautiful rock cliff. After that, call on Ban Xanghai, where is popular with traditional rice.
On the way back Luang Prabang, drop in Ban Xangkhong, that is very famous for the tradition of paper craft and silk weaving.
Overnight in Luang Prabang.
Day 20: Luang Prabang – Kuang Si Waterfall (B, D)
This morning's included a tour of a local market for tourists can buy some souvenirs. The highlight today is to see Kuang Si Waterfall, a gorgeous 3-layer waterfall located 29 kilometers to the south of the city. This is the most famous natural destination in Luang Prabang. Tourists visiting this place usually fond of a jump into the fresh water, cool off the body as well as the soul and enjoy the stunning natural wonder.
Lunch is served right close the fall. After that, we turn back the city. On the departure, we may come by Ban Na Oune, a peaceful village of Hmong people, and Tha Pane village where the Khmu people inhabit.
The final activity of the day is climbing Mount Phousi in which tourists can admire the marvelous scenery of the gloaming. The remainder of the time is for relaxing.
Overnight in Luang Prabang.
Day 21: Luang Prabang: Departure (B)
After breakfast, we check out and spend the day for yourself and wait to be taken to the airport.
What's Included?
Accommodation with daily breakfast at selected hotels
Private Vehicles and Drivers
Private English Speaking Guides (Other languages if available, upon request)
Meals as mentioned in the itinerary (B= Breakfast, L= Lunch, D= Dinner)
All domestic flights
Airport Taxes and Fuel charges
Entrance fees for all mentioned sights visited
Service Charge & Government Taxes
What's Excluded?
Your International Flights Vietnam, Laos and Cambodia entry Visa Fees (contact us for further information)
Personal Expenses (such as laundry, telephone, drinks, etc.)
Any bank fees or charges at your end
Meals other than those mentioned in the itinerary
Personal Travel Insurance
Tips for guides and drivers
Other Notes
Our rate is quoted in US dollars per adults based on twin/double room and applied for private tour for private own group.
Availability: Please note that if a certain hotel is not available at the time of booking, then we will gladly make alternative suggestions in the same category. We will advise you accordingly with the surcharge if any. As a result, we would highly appreciate it if you could advise us to block rooms soonest possible to guarantee the rooms and rates in a period of high and peak season.
All the above points of interest are open for a visit based on current updates. In case of closure for construction or any other reason, we will replace with a similar point of interest.
The itinerary and schedule are subject to change due to weather, road condition, flight, type of class and operating conditions.
Recommended Accommodation List

| | | | | |
| --- | --- | --- | --- | --- |
| Location | Boutique Option | 3* Standard | 4* Standard | 5* Standard |
| Hanoi | Hanoi Charming 2 Hotel | Gondola Hotel | La Siesta Hotel & Spa | Hanoi Hotel De I'Opera |
| Mai Chau | Mai Chau Valley View Hotel | Local Homestay | Sol Bungalows | Mai Chau Eco-Lodge |
| Ninh Binh | Ngoc Anh 2 Hotel | Ngoc Anh 2 Hotel | Legend Hotel | Emerald Resort |
| Halong | Dragon Pearl Junk | Image Cruise | Glory Legend Cruises | Aphrodite Cruises |
| Hue | Serene Hotel | Asia Hotel | Moonlight Hotel | Best Western Indochina Palace |
| Dong Hoi | Nam Long Plus Hotel | Nam Long Hotel | Muong Thanh Quang Binh Hotel | Sun Spa Luxury Resort |
| Hue | Serene Hotel | Serene Hotel | Moonlight Hotel | Best Western Indochina Palace |
| Hoi An | Via Boutique Hotel | Betal Garden Hotel & Villas | Vinh Hung Resort | Hoi An Sunrise Beach Resort |
| Ho Chi Minh City | Little Saigon Boutique Hotel | Signature Sagon Hotel | Eden Saigon Hotel | Hotel Majestic Saigon |
| Can Tho | Kim Tho Hotel | Kim Tho Hotel | Ninh Kieu 2 Hotel | Victoria Can Tho Resort |
| Chau Doc | Nui Sam Lodge Hotel | Trung Nguyen Hotel | Victoria Chau Doc Hotel | Victoria Chau Doc Hotel |
| Phnom Penh | Anise Boutique Villas | Anise Hotel | River Palace Hotel | Intercontinental Phnom Penh |
| Siem Reap | Central Boutique Hotel | Soria Moria Hotel | Saem Siemreap Hotel | Sokha Angkor Resort |
| Luang Prabang | Le Bel Air Resort | Villa Chitdara Hotel | Villa Santi Hotel | Xieng Thong Palace |
Room type is based on Double bed or Twin-shared rooms by 2 people
Inclusive of Daily breakfast & taxes