General Information
Duration: 20 days/ 19 nights
Start/End: Ho Chi Minh City/Luang Prabang
Tour Route: Ho Chi Minh City – Can Tho – Mekong Delta – Nha Trang – Hoi An – Hue – Hanoi – Halong Bay – Vientiane – Vang Vieng – Luang Prabang
Tour Categories: Vietnam Laos tours
Tour Type: Explore and Experience
Tour Customizable: Definitely! (Tell us your specific requirements in the inquiry form)
Guides: Local Guide (English Speaking Guide, Other Languages upon Request)
Transportation: Private first-class air-conditioned vehicles
Accommodation: Listed below or equivalent. Rooms with private bath or shower, hotel taxes, porterage, tips, and service charges
Brief Itinerary
Day 01: Ho Chi Minh City Arrival
Day 02: Ho Chi Minh City – Full-day City Tour
Day 03: Ho Chi Minh City – Can Tho – Mekong Delta Discovery
Day 04: Can Tho – Ho Chi Minh City – Nha Trang
Day 05: Full-day Nha Trang Excursion
Day 06: Four Island and Snorkeling Trip
Day 07: Flight to Hoi An | Hoi An Ancient Town
Day 08: Hoi An Culinary Tour and Cooking Class with River Cruise
Day 09: Mountain Coastal Road to Hue
Day 10: Hue Imperial Citadel and Purple Forbidden City
Day 11: Hue – Hanoi | Water Puppet Show
Day 12: Hanoi – the 100 Year Old City
Day 13: Hanoi | Cruise along Halong Bay
Day 14: Halong Bay | Back to Hanoi Airport | Flight to Vientiane
Day 15: Vientiane City Highlights
Day 16: Transfer to Vang Vieng | Boat Trip on Nam Song River
Day 17: Transfer to Luang Prabang
Day 18: Luang Prabang: Buddhist Ancient City and Temples
Day 19: Boat Trip to Pak Ou Caves | Kuang Si Waterfall
Day 20: Luang Prabang Depart
Day 01: Ho Chi Minh City Arrival
Welcome to Vietnam! Our guide will greet you at the airport and then transfer you to the hotel for check-in. Rest is your own leisure.
Overnight in Ho Chi Minh City.
Day 02: Ho Chi Minh City – Full day City Tour (B)
In the morning, you will be driven to the amazing systems developed by the guerrillas fighting in the Vietnam War, Cu Chi Tunnels. You will have an opportunity to see the various weapons used in the war on display. Then you will learn about the innovative ways the soldiers survived and fought back in the war. The impressive underground system reminds you of fascinating stories about the Vietnam War.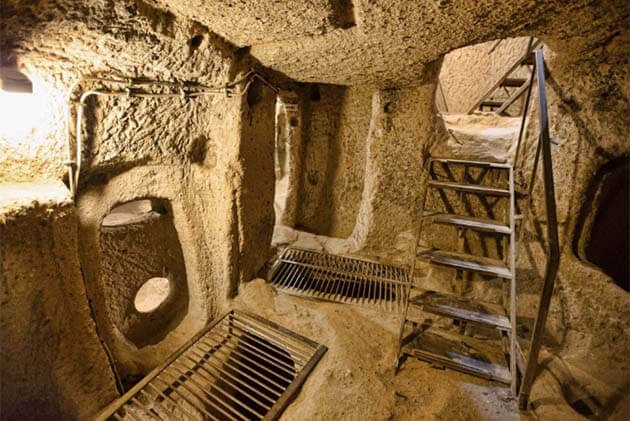 In the afternoon, you will back to the Ho Chi Minh City to see the highlights of the bustling city and learn the history of these iconic landmarks. Start to visit the Notre Dame Cathedral which was built by French colonists during their settlement, discover its significance as the largest cathedral in Southeast Asia. Next, you will head to the Old Saigon Post Office, a neoclassical architectural building and one of the main attractions in the city. Pay a visit to the Reunification Palace, home to South Vietnam's President during the war. Stop at Cho Lon (Binh Tay Market) to explore the local lifestyle and sample unique Vietnamese Chinese delicacies. You will end your day by visiting the Emperor Jade Pagoda, also known as Tortoise pagoda, this figurine-filled place of worship is considered to be Saigon's finest.
Overnight in Ho Chi Minh City.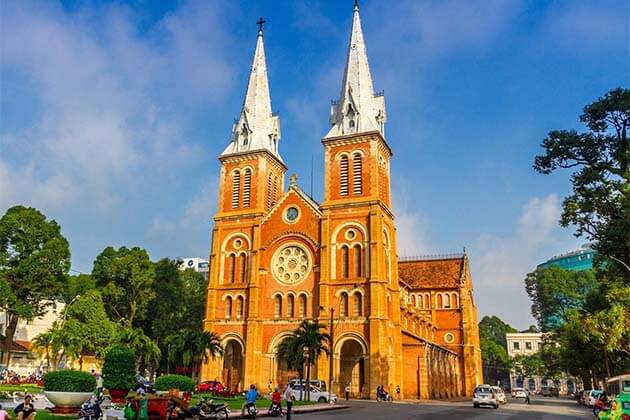 Day 03: Ho Chi Minh City – Can Tho – Mekong Delta Discovery (B, L)
Following your breakfast, your private tour guide and driver will take you to My Tho. This burgeoning capital rests in the Mekong Delta and is surrounded by beautiful countryside considered "the rice basket of Vietnam". First, you visit Vinh Trang Pagoda which is decorated with mosaics made from broken pottery. Overlooked by a high white Buddha, it sets amongst lovely gardens packed with flowers, shrubs, lotus pool and tombs. You then take a boat ride along the river to soak up the stilt houses, fruit plantations, and fishing villages. Lunch will be served in an orchard at the Tortoise Island.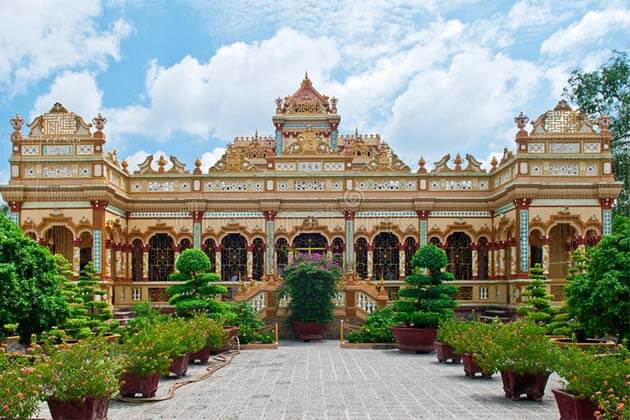 After lunch, you will visit An Khanh, a small village that specializes in fruit orchards and coconut sweets. If time permits, you can pedal through the island and stop at a local family to enjoy seasonal fruit, honey tea, and delicious coconut candies while listening to Southern Vietnamese folk music. After that, you will be driven to Can Tho, check in and have a rest. In the evening, you may wander around the night market in the center of a small town, or enjoy some drinks at the riverside bars.
Overnight in Can Tho.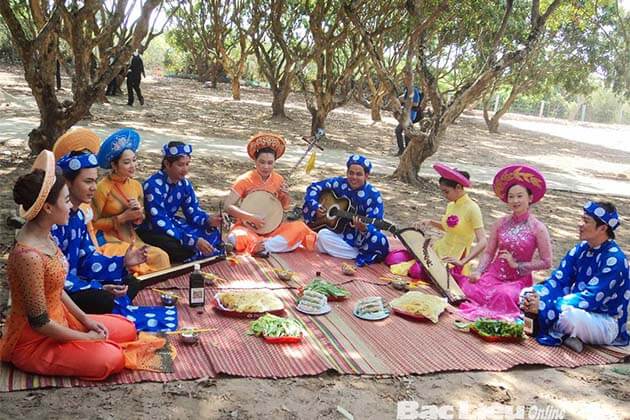 Day 04: Can Tho – Ho Chi Minh City – Nha Trang (B, L)
After breakfast, your driver and tour guide will escort you to the pier of Can Tho for an exciting adventure on the river. The captain of the motorboat will greet you and help you on board. You will admire the largest floating market in Can Tho, Cai Rang floating market, where local farmers bring their bulk products for sale. Feast your eyes on colorful scenery of fruits, vegetables, flowers, and other local products, all are traded in bulk.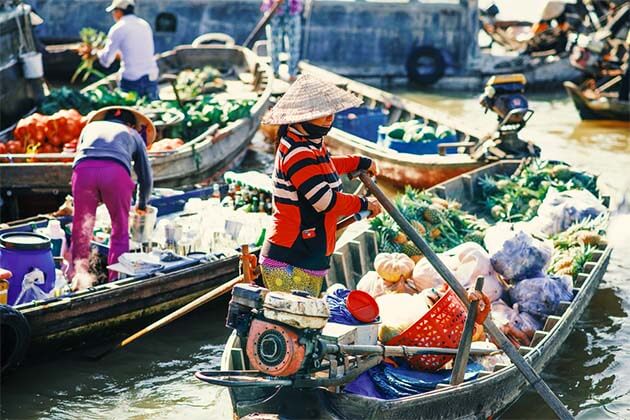 Then, you will venture up narrow canals fo find a local fruit farm hidden in the natural landscape of the creek. You will see a wide range of local fruits including mango, limes, jack fruit, durian and more. Before returning town by boat, let's sample these fresh cut fruit in the farm.
As you arrive at the hotel, take some time to relax and check out. Your driver then transfers you to Ho Chi Minh Airport for onward flight to Nha Trang. Upon arrival, you will check in the hotel and free at your leisure.
Overnight in Nha Trang.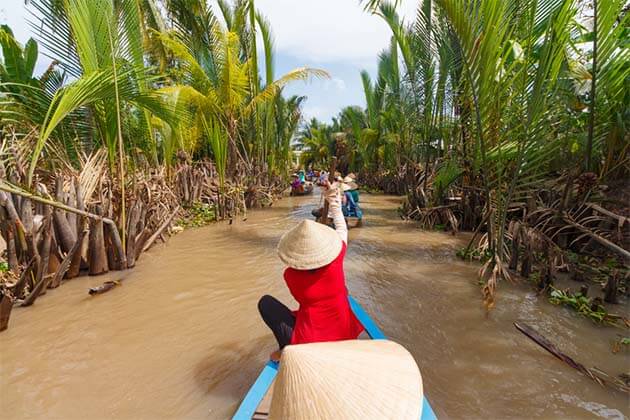 Day 05: Full Day Nha Trang Excursion (B)
Today you will explore Nha Trang, offering a six-kilometer stretch of beautiful coastline with white sandy beaches, clear water with an abundance of marine life. Moreover, Nha Trang also houses breathtaking structures that date back to the Champa Kingdom, Buddhist temples, and gothic-style Catholic churches. Start at the top with the 8th-century Po Nagar Cham Towers on Mount Cu Lao, a temple named after a Hindu Champa princess and still used nowadays for worship. Continue on to the Long Son Pagoda with its 80-foot tall Buddha. You then visit the Cathedral, a reminder of French colonialism that is visited daily by many Catholics.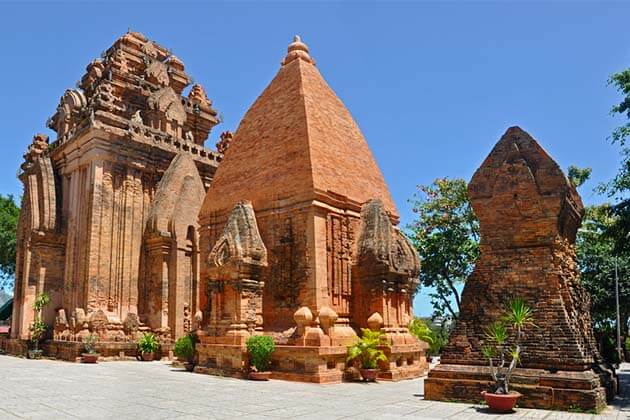 Obviously, no tour to Nha Trang would be completed without a visit to the Dam market, the largest market and trading symbol of the coastal city. It is usually a place for tourists to look for Nha Trang dried seafood or spring rolls as their gifts. In recent years, Dam Market has been voted into the top 10 shopping destinations satisfying tourists coming to Nha Trang.
Overnight in Nha Trang.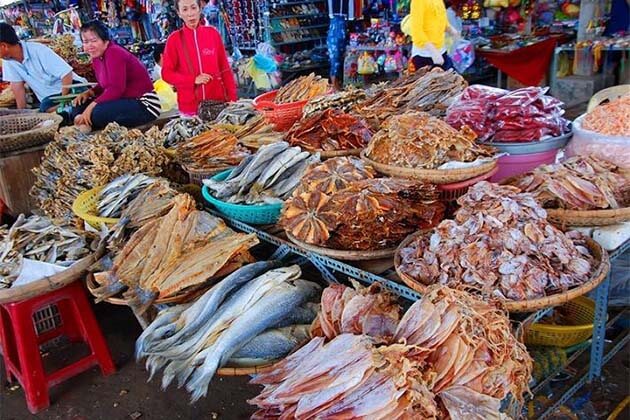 Day 06: Four Island and Snorkeling Trip (B, L)
After having breakfast, your driver will take you to Cau Da port. The first stop is Tri Nguyen Aquarium on Mieu Island, you will have a chance to explore the ocean bottom and contemplate marine life. Setting foot on Tri Nguyen Aquarium, you will actually feel like being lost in a palace with extremely attractive and abundant flora and fauna.
Then, you continue to Mun Island where you can see lots of colorful coral and fish.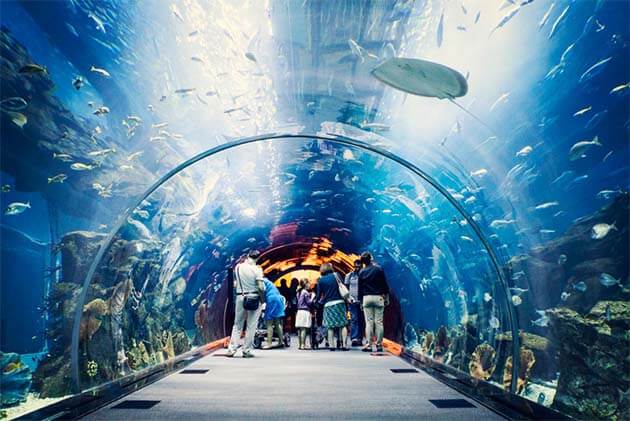 Also, you can caves in which the sea swallows make their nest. It is named Mun Island because it has high-rise cliffs with dangerous wattles forming caves and grottoes in the southeast of the island. Especially, its rocks are as black as ebony, which could rarely be found in the other areas. Afterward, you will spend time relaxing, swimming, and enjoying water sports after having fresh lunch at Mot Island. On the way back, you stop at a fishing village to learn about their daily lifestyle.
Overnight in Nha Trang.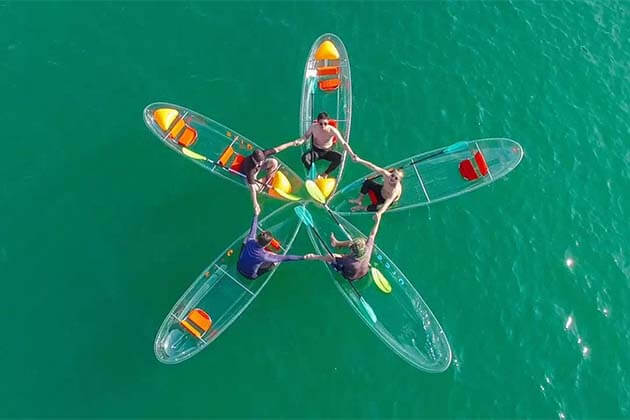 Day 07: Flight to Hoi An | Hoi An Ancient Port Town (B)
In the morning, you will be free until your driver picks you up and transfers you to the airport for your onward flight to Nha Trang. Upon arrival, your local guide will greet and escort you to the hotel for check-in.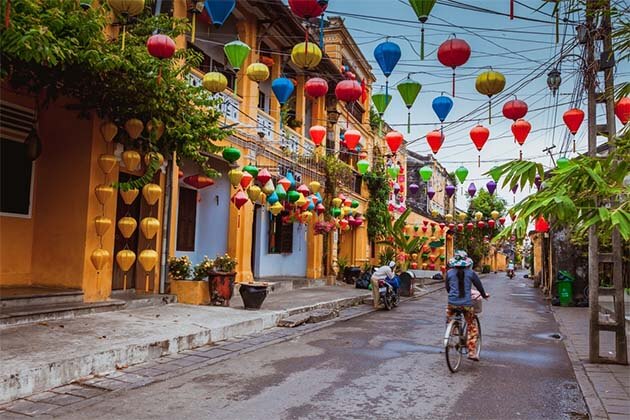 Your afternoon's journey will be spent to explore the tranquil, beautiful and cozy Hoi An Ancient Town. Start at the Museum of Trade Ceramics which exhibits ceramic artifacts found in archaeological sites in Hoi An dating from 1,500's to the 1,700's. Next, pay a short visit to Chua Ong Pagoda, a temple from the 17th century featuring China's influence in the region. After that, you enter the ancient town as the streets take on a magic of their own with colorful lanterns, French-style houses, intricately carved wooden doors. Take a walk through the Old Tam Ky House to see its imperial architectures meshed with French overtures.
Then, take a short cruise along the river to see traditional boats and locals on bicycles passing by. Last but not least, you approach the Japanese Covered Bridge which for centuries connected the Chinese and Japanese sides of town over the waterway. You will admire the incredible resilience of the old wooden structure over 400 years.
At dusk, enjoy the peaceful atmosphere as you walk along the riverside. Then return to the hotel for relaxing.
Overnight in Hoi An.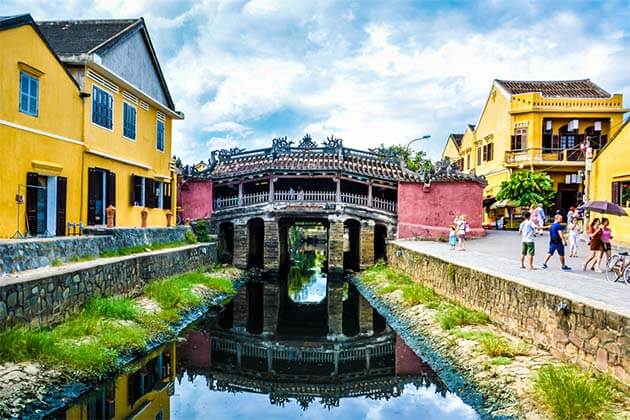 Day 08: Hoi An Culinary Tour and Cooking Class with River Cruise (B, L)
This morning, we will head to Hoi An's bustling market and soak up the amazing and hustling atmosphere as you wander around with your guide. He/she will introduce you to some typical ingredients to cook Vietnamese cuisine. Next, you will board a boat for a leisurely 30minute cruise along the Hoi An River to a cooking class. As you arrive, you first walk through the abundant herb garden to learn about the ingredients that give Vietnam's cuisine its distinctive flavors. Then, you take part in a cooking lesson which the chief will instruct you how to cook some Vietnamese dishes. After nearly 2 hour lesson, it's time for you to sit down and enjoy the dishes that you have cooked. At the end of your culinary tour, you will be taken on the boat for cruising back to the starting point, then drop off at your hotel.
Overnight in Hoi An.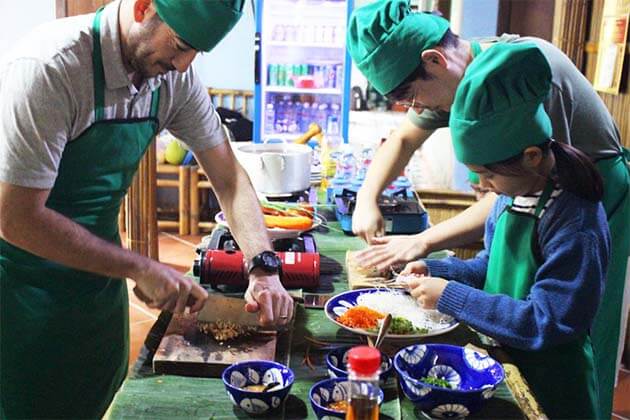 Day 09: Mountain Coastal Road to Hue (B)
After having breakfast, check out the hotel. Today, you will take a scenic ride along the mountain coasts of Vietnam (approximately 4 hours). Start by riding along the Danang beaches where you will witness hundreds of traditional fishing boats scattered along the water with breathtaking mountains lining in the horizon. A scenery surreal is opened as you approach the steep and narrow ascent. En route, you will catch an amazing scenery which overlooks a stunning bay with a small fishing village, it's definitely worth keeping your camera busy. You then drive onward through mountains, valleys, countryside, and shorelines offering breathtaking and incredible scenes that are difficult to see in anywhere else. Upon arrival in Hue, you will first be impressed by many imperial signs and ancient houses and building. Afterward, you will be escorted to the hotel for check in and chill out.
Overnight in Hue.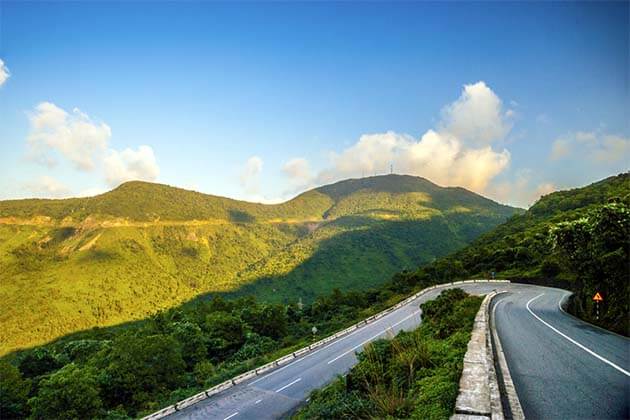 Day 10: Hue Imperial Citadel and Purple Forbidden City (B, L)
The morning starts with a visit to Perfume River which flows across Hue city peacefully, and become a highlight of this poetic place. While cruising along the river, you will view Vietnamese daily life up close. The first stop is the Tomb of Ming Mang, one of the mystical tombs dating back to the Nguyen Dynasty.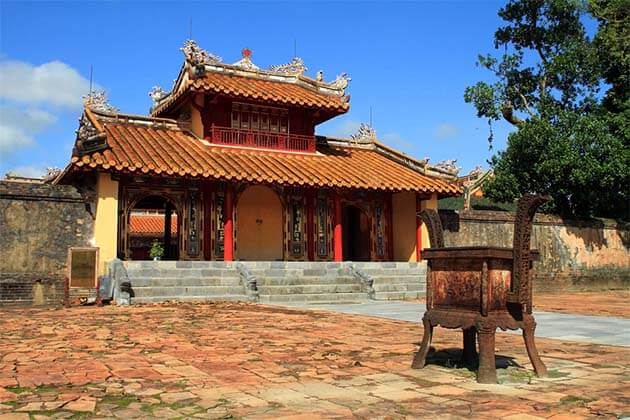 Combined between landscape and architecture buildings, it is considered as a microcosm of Hue Citadel with the manmade and natural beauty of this poetic Hue city. Head to Tu Duc Tomb, a complex system of the pavilion, temple, chamber, courtyard, and personal palace. The beautiful scenery of the tomb look likes various colored classic paintings attracting tourists from all over the world. Don't forget to visit Khai Dinh Tomb, a more modern ornately decorated tomb.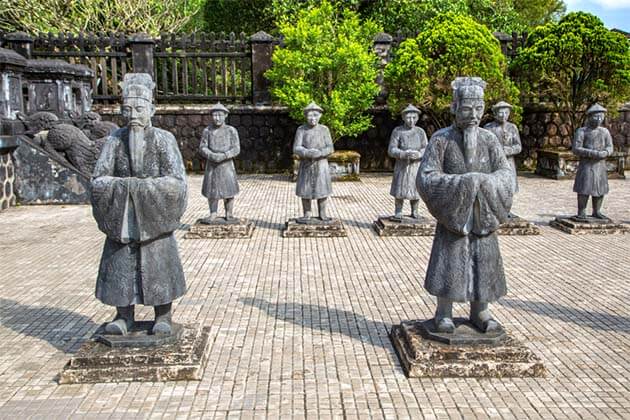 Following your lunch, start your afternoon's journey to visit the Imperial Hue Citadel, Vietnam's last royal dynasty's residence for 143 years. Feast your eyes on its vast gardens and structural relics. Walk through the outer perimeter of the city to see many of the national treasures and building inside. Then, venture further in to enter the Purple Forbidden City, which was reserved for only the most important officials of the nation. The last stop of the day is Dong Ba Market where you can buy local products and explore the local lifestyle of Hue locals.
Overnight in Hue.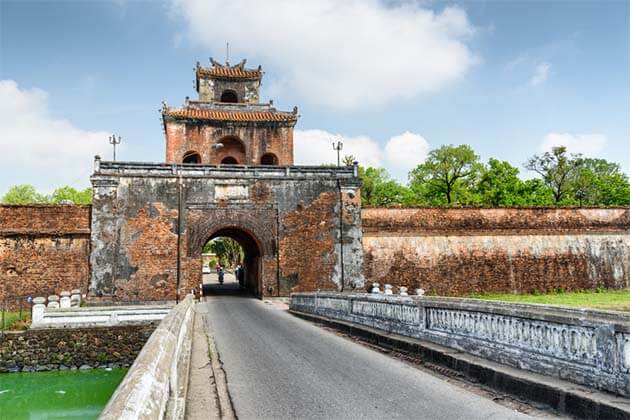 Day 11: Hue – Hanoi | Water Puppet Show (B, D)
Your morning is free until the driver and guide escort you to the airport for onward flight to the capital city of Hanoi. As you arrive, you will be greeted and escorted to the hotel for check in, rest is your free time.
In the evening, after having dinner, you will enjoy the world-famous Water Puppet Show in Hanoi. You will have a chance to watch and admire the most special art, you will see the puppets plays a different role in the play. The puppeteers who are hidden behind the screen will control the puppets to make actions and postures. Come and enjoy the show to understand more about the culture, history and daily lifestyle of Vietnamese people.
Overnight in Hanoi.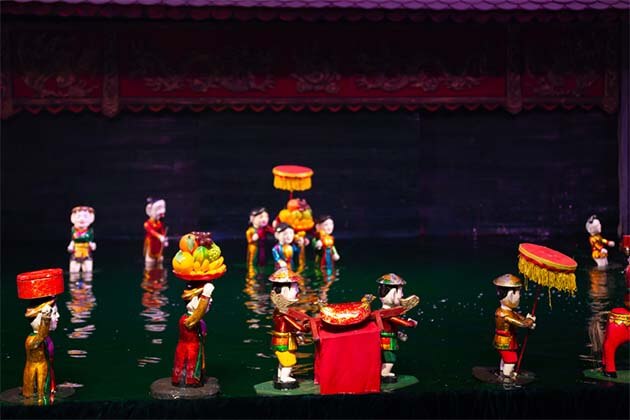 Day 12: Hanoi – the 100
–
Year-Old City (B)
After breakfast, you will start a full day tour to the highlights of the capital city. Start to visit Tran Quoc Pagoda, which is awarded as one of the most beautiful pagodas in the world. It looks like a painting that harmonized perfectly between majesty and poetic sense. Next, head to stroll Hoan Kiem Lake where you will see the Tortoise Tower perched on the water. Another must-do is enjoying a half hour cyclo tour through Hanoi Old Quarter. Ride with the cyclo at the perfect pace to enjoy some of the 36 shaded streets of this historic city. Also, add street food tasting along with the experience and have the time of your life roaming around Hanoi's best spot.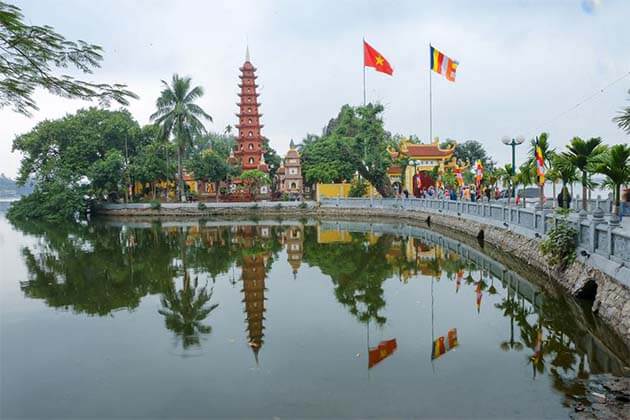 Continue on to the One Pillar Pagoda, a wooden pagoda on a single stone pillar and designed to resemble a lotus blossom, a Buddhist symbol of purity. You will pass by the Ho Chi Minh Mausoleum to learn more about Vietnam's greatest leader ever. Last but not least, you cannot miss a visit to the Temple of Literature which was erected a millennium ago and has hosted many of the most prominent scholars through Vietnam history.
Overnight in Hanoi.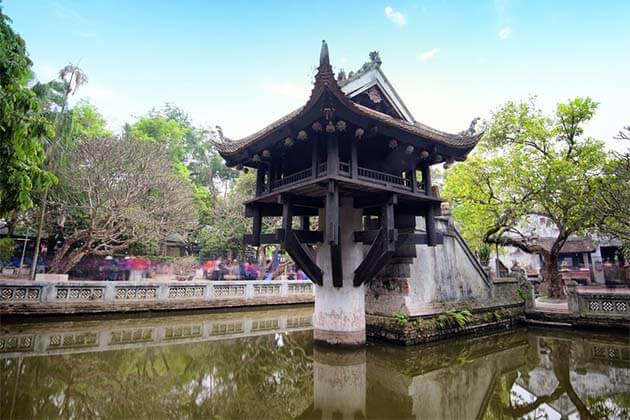 Day 13: Hanoi | Cruise along Halong Bay (B, L, D)
After breakfast, your driver will take you to one of 7 Nature Wonders of the World, Halong Bay (about 3-hour drive). Your Halong Bay cruise starts around noon on Tuan Chau Island. As the boat sets sail, you will be greeted by your booked cruise which will serve you best services for pure pleasure and utmost comfort onboard throughout your stay.
In the afternoon, you will explore some of the treasures spread across the Bay of the Descending Dragon. Feast your eyes on fascinating caves, pristine beaches, stunning floating villages, fantastic rock formations rising up out of emerald water. Also, you can take advantagư of the Spa, Beauty & Massage services to relax. While immersing in a breathtaking setting in motion, you can participate in the chef's cooking destination and take first-hand experience to cook some traditional Vietnamese dishes.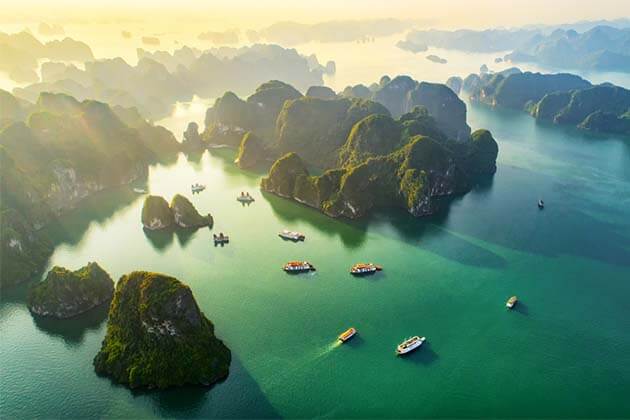 Day 14: Halong Bay | Back to Hanoi Airport | Flight to Vientiane (B)
Wake up early in the morning to join Tai Chi exercises on the sun deck, then have breakfast and continue to cruise the bay. While cruising along the bay, you will relax and enjoy the breathtaking beauty of the rocky islands rising from the crystal-clear water of the bay. You will disembark in Halong City around noon and drive back to Hanoi airport for your international flight to Vientiane, Laos.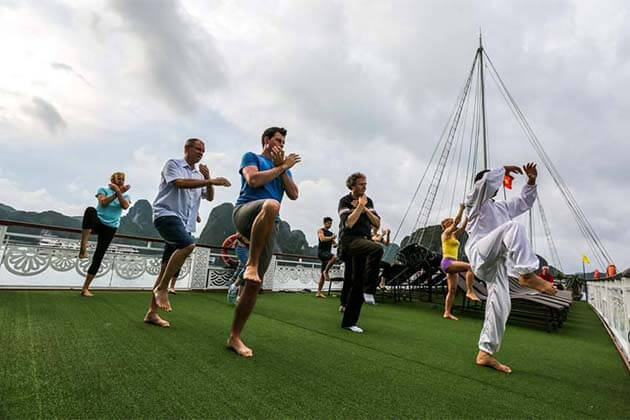 Upon arrival in Vientiane, you will meet your guide and driver and then transfer to the hotel for check-in. Chill out for the rest of the day by having a relaxing walk around the hotel to explore the charming city or stroll along the river bank to enjoy the sunset.
Overnight in Vientiane.
Day 15: Vientiane City Highlights (B, L)
Morning, the charming capital city of Laos is waiting for you to discover. You will spend a full day exploring every corner of the city. First, get to know some more history of Laos by visiting the National Museum. It is home to a huge collection of valuable exhibits ranging from prehistoric times to present days. Then, head to the temple Wat Sisaket, the oldest wat of the city, to admire thousands of tiny Buddha images behind rows of hundreds of seated Buddhas which dated back to the 16th century.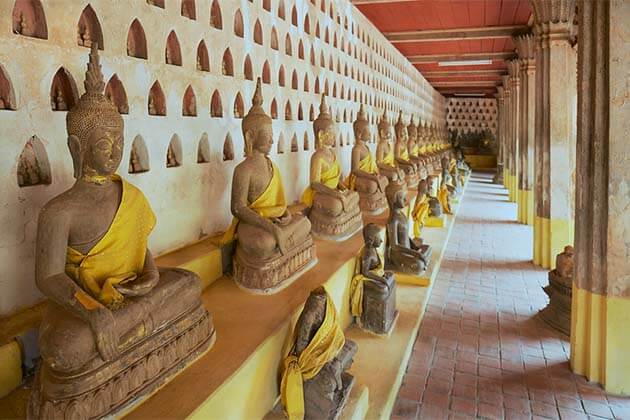 After that, you pay a visit to Wat Prakeo which previously housed the famous Emerald Buddha Image. Your full-day city tour will also visit the most sacred monument in the country That Luang Stupa and the symbolic site Patuxay Monument which is well-known as Arc de Triumph of Vientiane.
In the evening, take advantage of wandering around the city and the night market to discover the nightlife of Vientiane.
Overnight in Vientiane.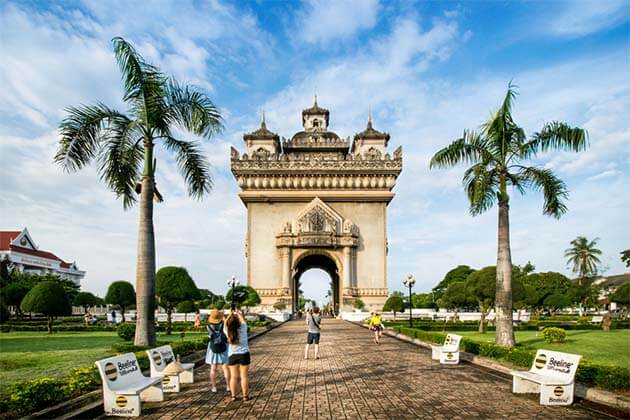 Day 16: Transfer to Vang Vieng | Boat trip on Nam Song River (B)
After breakfast, leave the bustling atmosphere of Vientiane city to head out north to the peaceful town Vang Vieng via Road 13. The drive between two cities will bring a chance for you to encounter with local hill tribe from their village. Along the way, you will stop at KM 52 Hmong Village learn more about the daily lifestyle of Hmong ethnic minority, try to communicate with them by using body language. You then visit the archaeological village of Vang Xang which houses one of the oldest Buddha statues dating back to the 11th century. Afterward, continue on to the fishing village of Ban Houy Mo and then stop for lunch at a local restaurant before continuing to Vang Vieng. As you arrive in Vang Vieng, you will soak up the scenery on a boat cruise along Nam Song River. You will admire the picturesque mountain landscapes surrounding the small town. Finally, you will check in the hotel and relax for the rest of the day.
Overnight in Vang Vieng.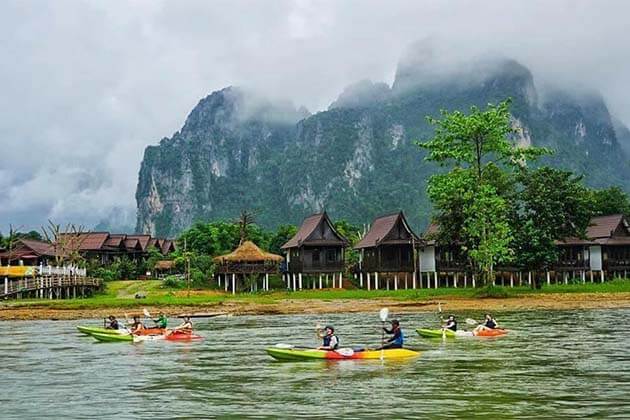 Day 17: Transfer to Luang Prabang (B)
You will have free morning until your driver picks you up and transfers you to Luang Prabang. When arriving, you will check in the hotel with the support of your guide and relax at your own leisure.
Overnight in Luang Prabang.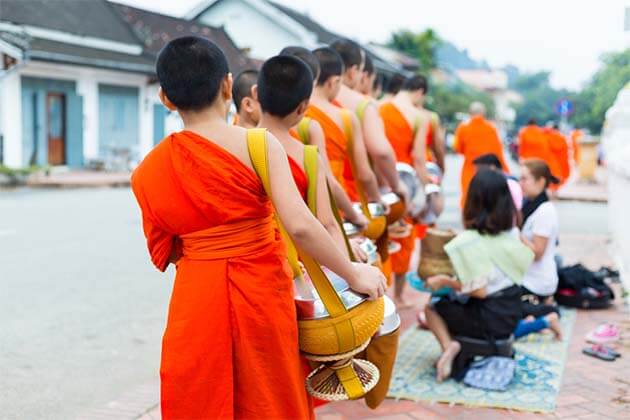 Day 18: Luang Prabang: Buddhist Ancient City and Temples (B)
Following your breakfast, your journey in Luang Prabang will take you to the most outstanding tourist sites of the ancient city. Start to visit the Royal Palace Museum (closed on Tuesday), which houses many interesting artifacts. Nearby, visit Wat Sene, the first monastery in town whose vihan was covered with yellow and red tiles in the modern Thai fashion; head to the magnificent Wat Xieng Thong, one of the most important religious sites in Laos. Continue on to the impressive stupa of Wat Visoun and the shrine of Wat Aham.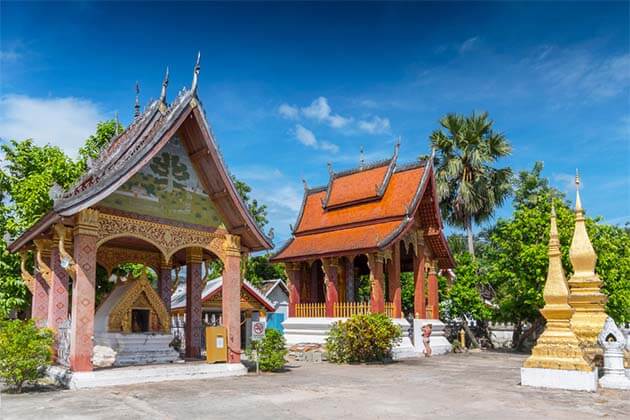 In the afternoon, you will see the Arts and Ethnology Centre to admire exhibits of clothing, handicrafts, baskets and religious artifacts of 7 different ethnic groups of northern Laos. Next, heading out of town to visit the traditional weaving village of Ban Xiengkhong and Ban Xienglek. Once here, you not only have a chance to interact with local people but also understand deeply about the traditional indigo dying process and weaving skills. Later, you will return to the city to visit Wat Mai and then climb to the top of Mount Phousi to enjoy the sunset view over Mekong River. Last but not least, a stroll around Night Market cannot be missed because it is a great experience for you to observe the local life, communicate with locals and buy some souvenirs for your beloved.
Overnight in Luang Prabang.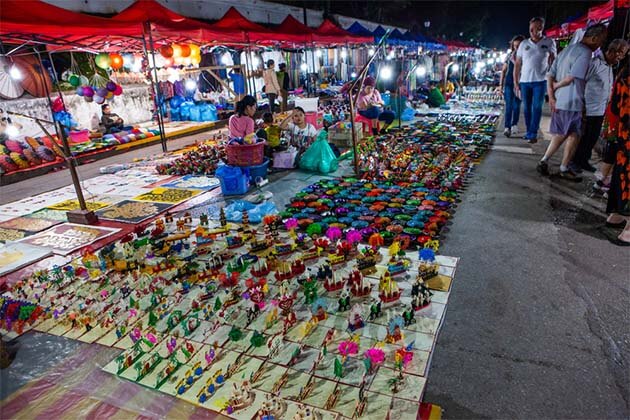 Day 19: Boat Trip to Pak Ou Caves | Kuang Si Waterfall (B, L)
Today, you embark on a cruise upstream on the Mekong River. En route, stop at the village of Ban Xanghai to learn how to produce wine and rice whiskey. The locals are very friendly to instruct you some easy steps you can do in the process. Also, trying some typical Lao whiskey while talking to the local people is a must-do on this trip. Then, continue cruising to the mysterious Pak Ou Caves where you can admire the beautiful combination between solemn religion of Buddhism and natural sightseeing.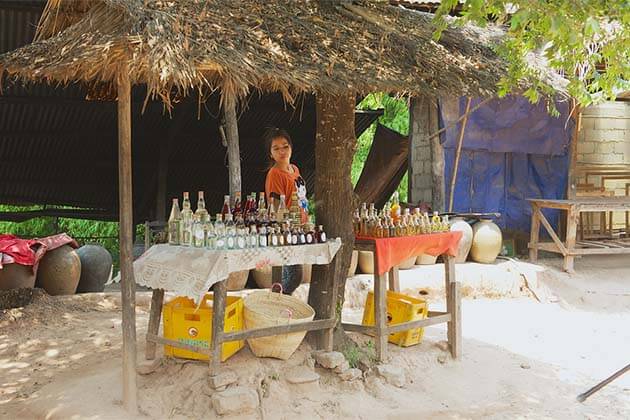 Lunch will be served near the caves with a special dish called "Orlam", a spicy soup with vegetables, beans, eggplants, green onion, and mushrooms. On return, you will disembark to visit the traditional weaving village of Ban Phanom. Here you can observe the textile makers at work on their looms, dyeing and then weaving. If you are interested in buying some textiles as a souvenir, it is definitely worth visiting this village instead of buying at the night market. End your tour by cooling off in the fresh water of Kuang Si Waterfall. Walking along the forest trails before swimming in the pools also make you comfortable after a long journey. Back to the hotel and relax.
Overnight in Luang Prabang.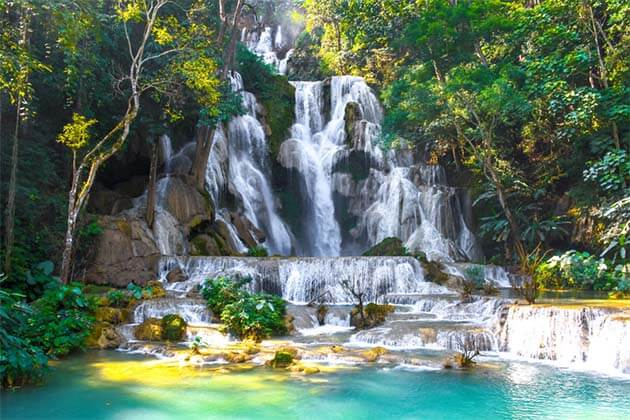 Day 20: Luang Prabang Depart (B)
Last morning in Vietnam Laos tour will be free until your driver arrives to transfer to the airport for your departure flight. Tour ends.