Tag Archives:
Vietnam Cambodia Laos Itinerary – 3 Weeks
Indochina countries are close to each other in terms of not only geographic condition but also relationships because of mutual collaboration and support in a variety of sectors. Visitors will be immersed in the charming sceneries and at the cozy atmosphere with the friendly local people.
3 weeks is the best time constraint to take an Indochina Tour, exploring most of the glorious landscapes in Vietnam, Cambodia, and Laos. Let's discover the itinerary that helps you gain the greatest experience during your trip!
Things to Do & See in Vietnam Cambodia Laos in 3 Weeks
Start Your 3-Week Indochina Vacation – Vietnam
In Vietnam, there is no doubt that the capital city of Hanoi will be the first one listed. The over-thousand-year-old capital that converges the traditional and cultural values of the whole nation provides you with dozens of things to do. You can walk along the old quarter where the ancient houses are located and buy some special souvenirs as gifts to your beloved ones; or visiting prominent highlights such as the Temple of Literature, One-pillar Pagoda, and the Vietnam Museum of Ethnology to learn more about Vietnamese culture, belief, and people. Besides, if you have a lot of free time and want to indulge in the calming atmosphere of Hanoi, you can wander around Sword Lake and West Lake in the nice weather to take a closer look at the lifestyle of local people.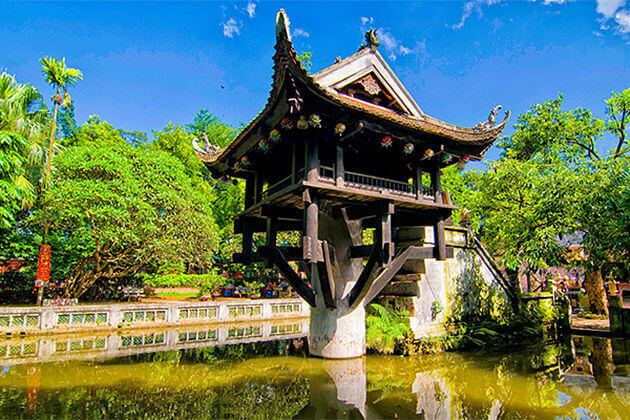 With 3 weeks at hand, you can travel to the mountainous splendor of Sapa – an amazing landscape with majestic ranges of mountains and yellowy rice terraces that capture the hearts of every visitor, foreigners and locals alike. Sapa also houses the towering Fansipan – the peak of Indochina that situated 3143 meters above the sea level which you can visit by taking a cable car trip to the top (https://www.vietvisiontravel.com/post/guide-fansipan-cable-car-trip-sapa/). The massive cable car system is very modern and it has just gone into operation since 2016, taking you to the peak of Indochina after a 15-minute ride that offers a breath-taking panoramic view of the surrounding landscapes. Once in Sapa, you can also engage with numerous ethnic groups living in the mountainous areas of the North and get an idea of the ethnic diversity that Vietnam has.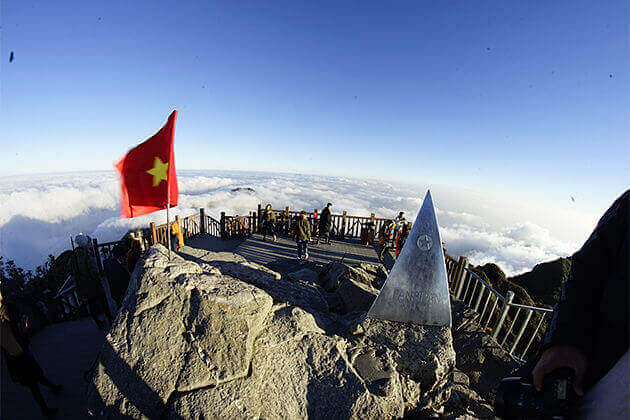 Then, about 170 kilometers from the east of Hanoi, you can visit Ha Long Bay – an attractive landmark with surprisingly beautiful nature-created caves and insularities that was recognized by the UNESCO as one of the seven wonders all over the world. Spend the day cruising around the bay and the night to contemplate its natural beauty. You will be amazed at the skillful hand of Vietnamese nature as the kayaking trip takes you to massive caves located among the azure water of the bay.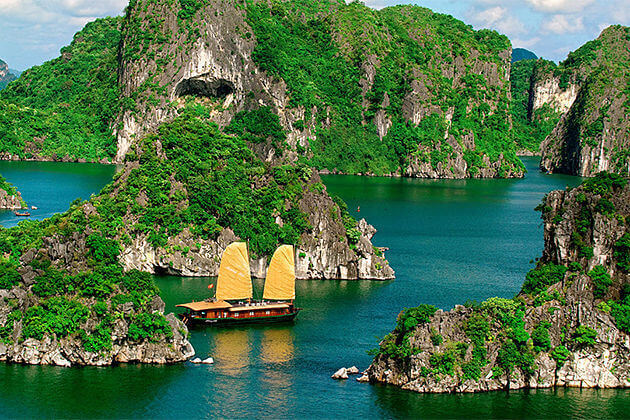 Continue on your trip around Vietnam and reach the Central, visit and drop by the antique Hoi An Town where you can find your peace of mind after visiting Danang City. Strolling around Hoi An, you have the chance to take a closer look at the ancient houses with interesting architecture feats lining the quaint streets of this poetic town and taste its signature dishes. The special thing about Hoi An is that it reminds you of the ancient nations that used to trade here centuries ago such as the Chinese and the Japanese.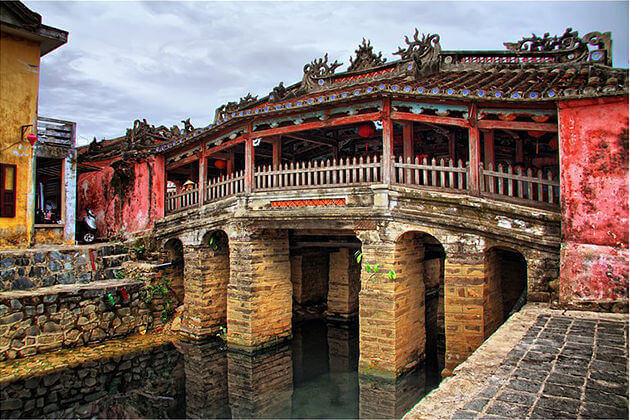 After that, you can stop at Hue to listen to the suave local folk music to relax your mind and body as well as learn about the long-lived tradition of Vietnamese people and the royals that once lived here. Hue is very different from other big cities in Vietnam such as Hanoi and Ho Chi Minh City because the people and pace of life seem to have remained the classic style of the long lost dynasties. Speaking of Hue, even Vietnamese people think of a place that is both romantic and gentle with elegant local people.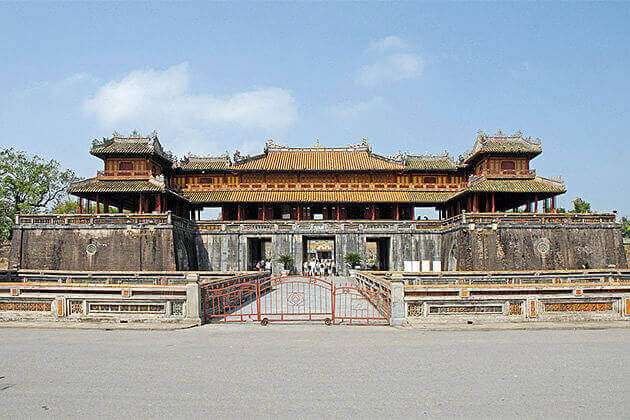 Ho Chi Minh City is also highly recommended destination because you can not only witness the bustling life at Ben Thanh Market and crowded streets but also home-stay at a local person's home in Mekong Delta to understand their daily style of living. After that, you can travel to the suburban to explore Cu Chi Tunnels – the underground maze that is as impressive as it is hair-raising. The Vietnam tour may end in Can Tho where you travel by boats along the rivers and enjoy some traditional cuisine with unique flavor only in the Southern countryside.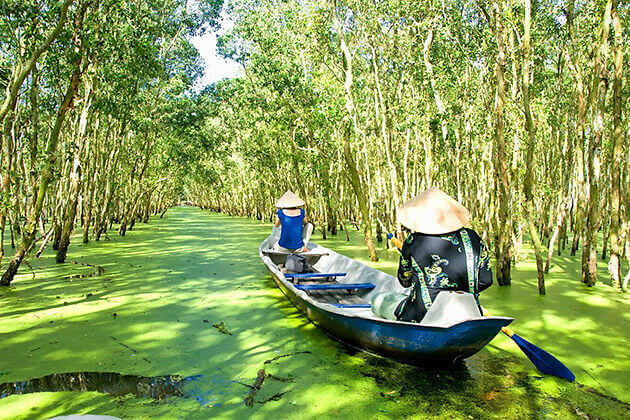 Plan Itinerary for Cambodia as The Next Destination in Your Tour
During the trip to Indochina, visitors should set foot in Phnom Penh – the biggest city and capital of Cambodia. There will be unforgettable memories traveling around the beautiful city by boat, taking a look at typically architectural houses. On the next day, hop on a bike and explore the capital city of Cambodia in an inspiring way and watch as people carry on with their daily life. The trip to Phnom Penh won't be complete if you miss the chance to learn about the tragic past of this Southeast Asian nation by paying a visit to the Killing Fields Memorial Stupa and the Toul Sleng Genocide Museum.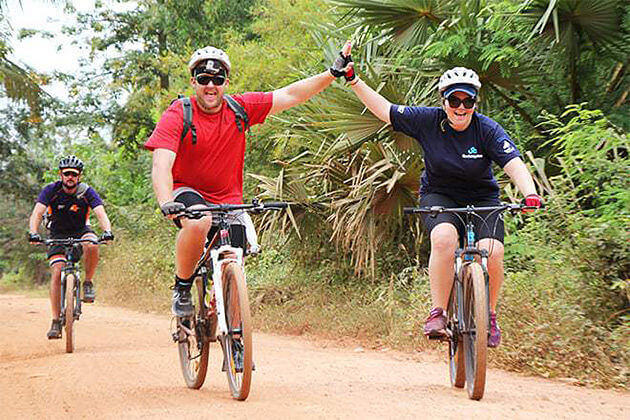 Leaving Phnom Penh behind, you cannot miss the chance to come to Siem Reap and your tour will be highlighted by the discovery of Angkor which used to be the capital of Khmer empire in Cambodia from 9th to 15th century AD. It will be extremely interesting to learn about Buddhism from antique Angkor Wat, Angkor Thom and other temples in the massive Angkor complex; contemplating creative man-made architecture of ancient civilization that is hidden deep in the lush green jungle of Siem Reap. Moreover, floating villages which represent an exclusively cultural feature of the Cambodian are the last interesting destinations during your trip exploring this lovely country.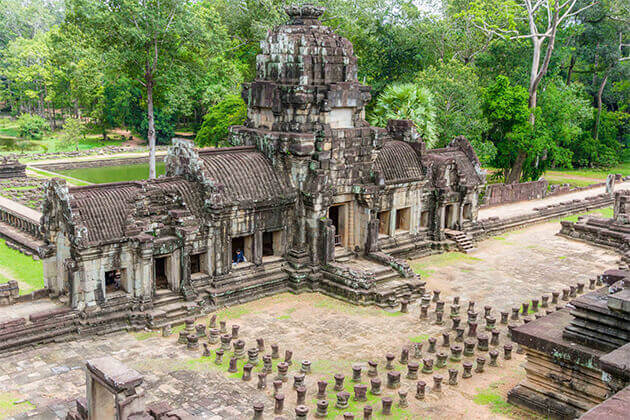 Stop at Laos – Finish Your 3-Week Indochina Tour With Enjoyable Time
Flying to Laos, on some last days in your 3-week trip, it is recommended to visit Vientiane and do some sightseeing in the peaceful capital of "A million elephants" country without the usual hustle and bustle of the big cities. Lao people are famous for having a calm and laid-back attitude which you can clearly see after touring around this small yet lovely country. All destinations in Laos manage to inflict a sense of tranquility and happiness upon every visitor, setting it apart from the bustling streets of Vietnam and the emotional roller coaster that you experience in Cambodia.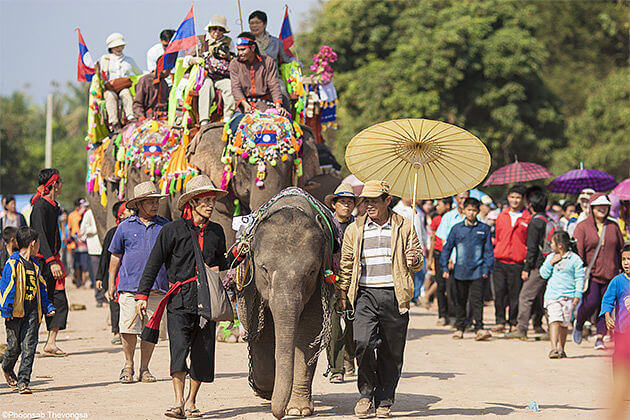 You may visit the ancient pagodas in Luang Prabang – the former capital of this nation or watch the alms-giving ceremony taking part every early morning. You are free to join in if you like to engage with the local people and learn more about Lao belief and tradition. Another interesting experience is admiring the sunset on the top of Phou Si Mountain, Mekong River and Luang Prabang under the gentle sunshine in the late afternoon.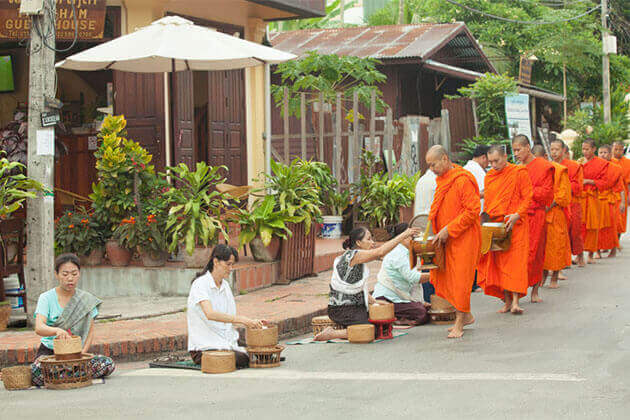 The last stop in Laos may be the active journey to Pakse where you get to go kayaking (rowing the boats) along the rivers, climbing the mountains or swimming in water parks. Laos is a great place for you to relax and enjoy the remaining time in the wonderland of Indochina.
If you want to break away from the norm and travel to a distant place, let's reward yourself with a 21-day Indochina tour to get the most authentic and exciting experience in the three Indochina countries including Vietnam, Cambodia, and Laos.
Recommended Itineraries for 3 Weeks in Indochina
Day 1: Arrival in Hanoi
Day 2: Hanoi city tour – Night train to Sapa
Day 3: Sapa trekking & home-stay
Day 4: Night train to Hanoi
Day 5: Halong Bay cruise & kayaking
Day 6: Hanoi – Fly to Danang, transfer to Hoi An – Hoi An – Walking tour
Day 7: Danang – fly to Ho Chi Minh city – Cu Chi tunnel
Day 8: Cycling Mekong Delta & home-stay
Day 9: Can Tho
Day 10: Boat trip to Phnom Penh – Half day tour
Day 11: Cycling tour Phnom Penh
Day 12: Bus to Siem Reap
Day 13: Cycling to Angkor Temple
Day 14: Cycling to Floating Village & to Angkor Temples
Day 15: Fly to Pakse – Khong Islands
Day 16: Elephant ride at Phou Asa-Pakse
Day 17: Pakse – Boloven Plateau – Tadlo waterfall
Day 18: Tadlo waterfall – Pakse – Vientiane
Day 19: Vientiane – Luang Prabang
Day 20: Luang Prabang – Pak Ou Caves
Day 21: Luang Prabang – Departure
It seems we can't find what you're looking for. Perhaps searching can help.