Tag Archives:
Vietnam Cambodia Laos Itinerary – 4 Weeks
Vietnam Cambodia Laos 4 Weeks Itinerary will bring the tourists an unforgettable experience and relaxing moments after a hard-working time. Indochina is known as the land of pristine, majestic natural beauties, and unique traditional culture together with friendly local people, making this land the perfect destination for those looking for a breath of fresh air in the mass tourism map.
Let's follow Indochina Tours to discover the itinerary to visit this amazing and magnificent land within 4 weeks!
Things to Do & See in Vietnam Cambodia Laos in 4 Weeks
Vietnam – Starts Your Amazing 30-Day Tour!
Lying in the eastern Indochina Peninsula of Southeast Asia, Vietnam is very easy to be recognized thanks to its signature thin S-shape. Despite being a small and lovely country, the thousand-year history of the nation is sure to impress any visitors that have the heart for discovery. Vietnam is also blessed with a diversity of natural resources including forests, mountains, seas, beaches, and springs, etc. that are famous among locals and tourists alike. From the South to the North and from spring to winter, there are always wonderful things to do and must-see destinations to visit during your trip.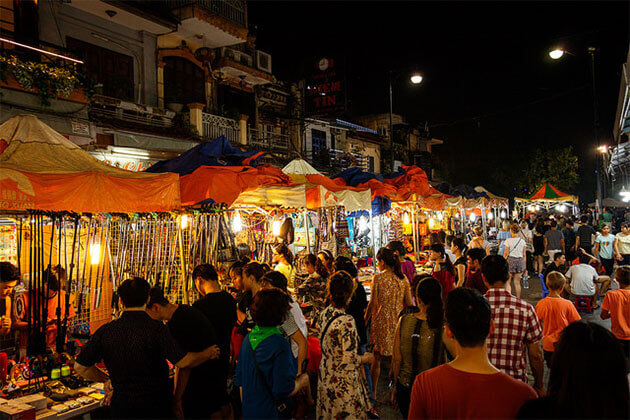 In the North, the capital city of Hanoi is the destination you should not miss. If you are someone who enjoys sight-seeing and tasting the delicious local cuisine, Hanoi is the place for you. Being the capital city of Vietnam, Hanoi has the usual bustle and hustle of a big city and the traffic can get crazy sometimes. However, as you stroll around the ancient streets of Hanoi, especially the Old Quarter, you can feel the time-worn atmosphere of this city. The streets of the Old Quarter is even challenging for some locals because of their similar names and the way they cross one another to form a complicated network. You can find a lot of interesting things here though, from dozens of cute things displayed in the shop fronts to mouth-watering street food that is famous across the whole nation. You also shouldn't miss the chance to visit historical symbols of the capital such as Hanoi flag tower, Temple of Literature, Ba Dinh Square or Ho Chi Minh Mausoleum to listen to interesting stories about them and learn more about this sophisticated capital city.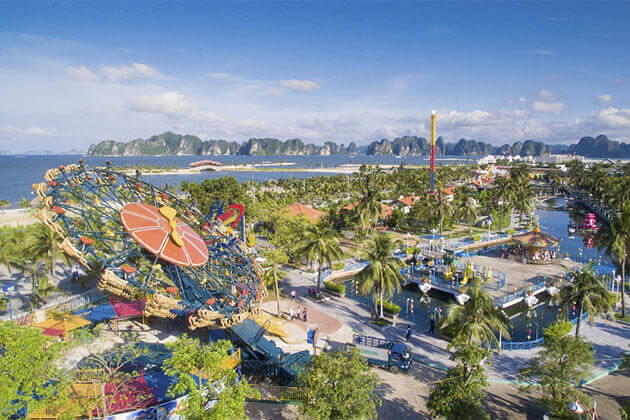 The itinerary, then, brings you to Halong Bay to admire the mysterious rocky caves and miraculous nature-created insularities. Cruising around the bay among the azure water, you will understand why Halong Bay was recognized as one of the 7 natural wonders of the world. The cruise will also offer priceless photo opportunities for those of you who have a heart for taking beautiful pictures. When coming to Halong Bay, you can enjoy the comfort of the cruise, cool off, and enjoy the fantastic Tuan Chau water music to relax your mind and prepare for the days ahead.
Next, you may come to Ha Giang – the Northern mountainous province – the favorite landmark of the local people thanks to its seasonal beauties with peach blossoms and plum flowers in spring, Khau Vai love market and Vernicia Montana in summer, yellowy rice terraces in autumn, and especially buckwheat hills – the symbolic allure of this land in winter.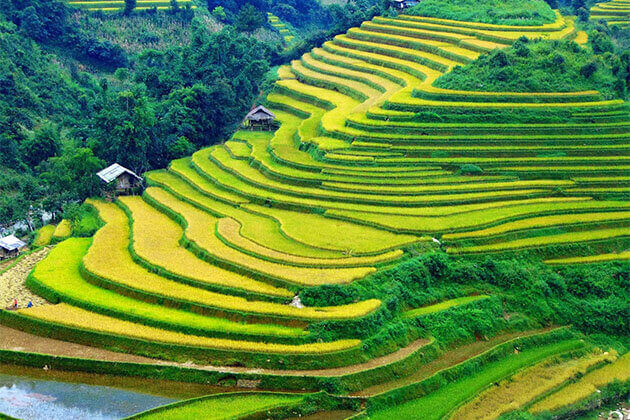 Continue with our 4-week itinerary, you will come to the central of Vietnam and visit the time-worn attractions that inflict a nostalgic feeling upon every visitor. First, you will visit Hoi An Town – the ancient city with remarkable architecture that looks stunning at night. You can also go Hue – the poetic former capital to listen to beautiful folk music and taste delicious local specialties. Attractions in the central of Vietnam have a signature calm aspect to it that is perfect for those of you who just want to clear your mind and go sight-seeing. In the central, people still hold on to a lot of old tradition and ways of living, making it the perfect place to learn about Vietnamese culture and hospitality.
After that, the southern area offers you memorable experience when you have chances to travel around Ho Chi Minh (Saigon) – the most bustling city in Vietnam, or enjoy the peaceful lifestyle in a home-stay along the Mekong Delta. While touring around Ho Chi Minh City, you can learn a lot about the Vietnam War and get the opportunity to explore the famous Cu Chi Tunnels – a massive underground maze constructed during the War as well as other must-see attractions. The trip will be highlighted by the visit to Can Tho, rowing the boats along alluvial rivers and participating in the floating markets to engage with friendly local people.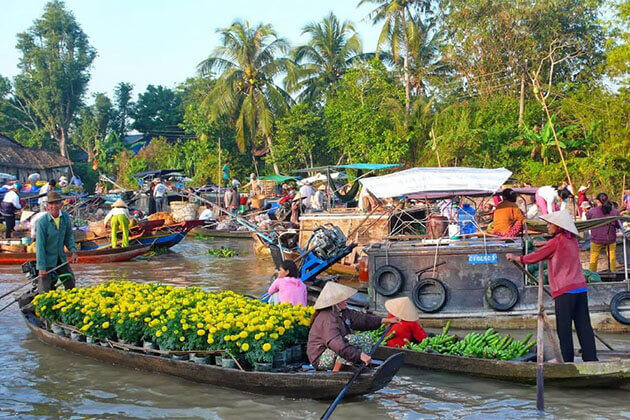 Cambodia – Continues with Unforgettable Memories!
During 28 days to 30 days Indochina tour, visitors have plenty of time to explore and get a deeper understanding of every country in this region. Our next stop is Cambodia – the golden temple country. In the capital city Phnom Penh of Cambodia, you can explore the magnificent Royal Palace, majestic gilded pagodas and temples as well as bustling night markets. Besides, do not forget to visit the independence monument to take a photo or discover the temple, Wat Phnom Penh. The capital city is also a great place for you to learn about the history and culture of Cambodia since there are a lot of attractions that remind visitors of the country's tragic past. The trip around these attractions can make your heart sink, but you will come to admire the spirit of the Cambodian people and cherish the time of peace more than ever.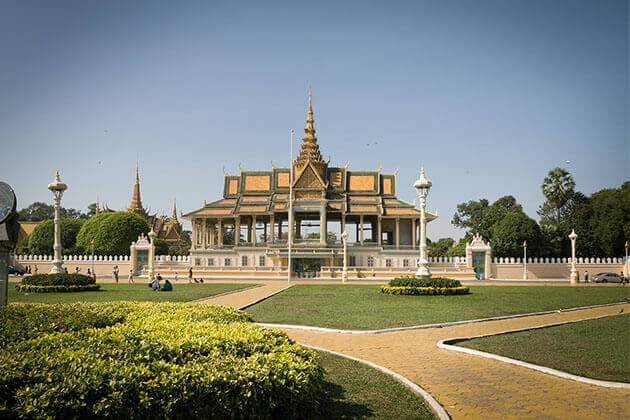 Angkor Wat and Angkor Thom in Siem Reap are two places that you should not miss when coming to Cambodia. Although having been devastated by war and time, it still keeps the grandeur and ancient appearance that always strongly impresses visitors. The wonder of the world-famous Angkor Complex also fascinates you with dozens of other towering and unique temples such as the renown Bayon temple where hundreds of different faces are carved on high tower, leaving a strong impression in the eyes of any visitors; or the "Tomb Raider" temple Ta Prohm which has been overgrown by ancient tree roots, masking it with a surreal appearance that is very hard to find somewhere else.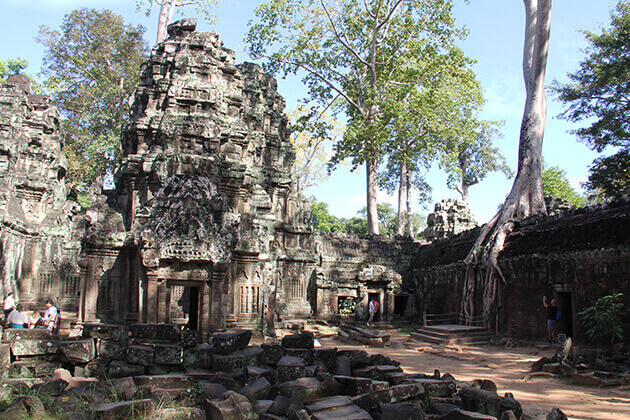 From Siem Reap, you can go to Tonle Sap Lake to take a look at the richness of Cambodian nature. Tonle Sap is the largest freshwater lake in the world where you get to see unique floating villages and watch as local people carry on with their life. You can tour around Tonle Sap Lake by boat, a night cruise or by tuk-tuk for an interesting experience.
Laos – the Trip to the "A Million Elephants" Country
Coming to Laos, you are recommended to visit Vientiane – the capital with unique historical monuments is an ideal place for those who want to learn more about the culture and belief of this country. On some first days of your Laos tour, you can stop by Patuxai which features typical architecture of Lao culture with reliefs, decorative motifs, and sculptures. After that, you get the chance to visit the most ancient pagoda in Lao – Wat Sisaket which contains over 6,800 Buddha statues and thousands of Buddhist books. When the sun sets, you can have a walk around the Vientiane night market to enjoy the traditional Lao cuisine and buy some pretty souvenirs to bring home for your loved ones as gifts.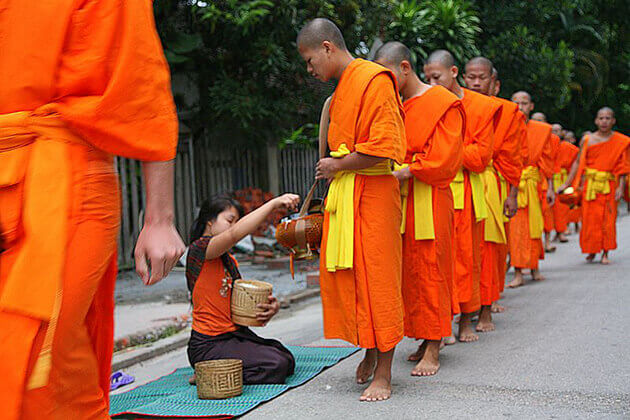 Saying goodbye to Vientiane, the tour takes you to Vang Vieng – a tranquil and serene small town surrounded by gorgeous mountains where you can enjoy the peacefulness of Laos in the most authentic way. No luxurious resorts, no modern buildings, tourists can enjoy the relaxing atmosphere this lovely town has to offer by kayaking along Namsong River and being immersed in the amicable nature-made landscapes.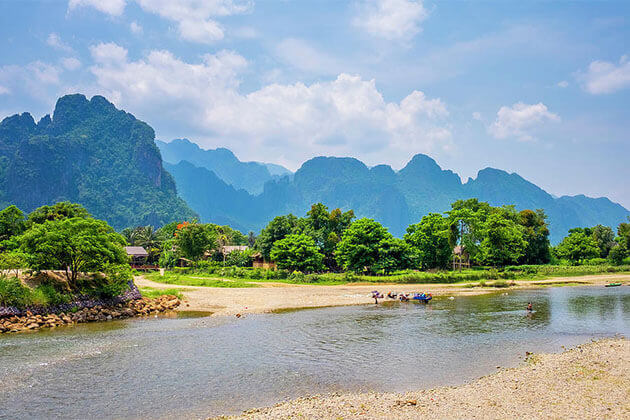 Another attractive destination on the list is Luang Prabang, the ancient capital city of Laos where you can visit Wat Xieng Thong – the symbolic sight of this city and an important religious site of the whole nation. With the meticulous and skillful architecture, the temple can impress even the most difficult tourists.
Myanmar – The Land of Golden Temples Nostalgically Extended in the 4-Week Tour Itineraries
Since the opening to the world after a long embargo, Myanmar has become an attractive destination for tourists with beautifully pristine landmarks. The 30-day tour will bring you to explore the 2,500-year-old Shwedagon gilded pagoda (Yangon) which is one of the mightiest pagodas in the world.
Together with small towers around, this place has become a unique architectural complex that represents Myanmar's culture. Besides, the "golden temple" country also offers you with a remarkable construction: Kyaiktyo pagoda on Golden Rock in Mon State – is very famous for tottery looking due to the only-78-centimeter-square tangent with the peak. The last highlight in your trip is drifting away on Inle Lake (Shan), going through the floating houses and fishermen in Longyi (the traditional skirt of Myanmar people) rowing the boats like the artists among immense waves.
Following the above 4-week Indochina itinerary, visitors will partially understand outstandingly typical cultures of these Southeast Asian nations. Vietnam, Cambodia, Laos, and Myanmar are memorable destinations for any tourists all over the world!
Let's visit and get your own experience!
Recommended Itinerary for Visiting Vietnam – Cambodia – Laos in 4 weeks
Day 1: Hanoi arrival
Day 2: Hanoi Tour
Day 3: Halong Bay – Cruise
Day 4: Halong Bay – Swimming – Tuan Chau Water Music
Day 5: Transfer to Ha Giang – homestay
Day 6: Ha Giang tour (seasonal)
Day 7: Transfer to Hoi An – night streets
Day 8: Hoi An walking tour
Day 9: Da Nang – Hue – Imperial Citadel
Day 10: Flight to Ho Chi Minh city – around the city
Day 11: Mekong Delta
Day 12: Cai Be – Tan Phong Isle
Day 13: Can Tho – Can Tho Rustic – Cai Rang Floating Market
Day 14: Flying to Phnom Penh
Day 15: Phnom Penh tour
Day 16: Siem Reap – Bayon temple, Ta Prohm
Day 17: Siem Reap – Angkor Wat, Angkor Thom
Day 18: Tonle Sap Lake – Night flight to Vientiane
Day 19: Vientiane – Patuxai
Day 20: Vientiane – Wat Sisaket
Day 21: Vang Vieng homestay
Day 22: Vang Vieng boating tour
Day 23: Luang Prabang – Wat Xieng Thong
Day 24: Flying to Yangon
Day 25: Yangon – Swedagon gilded pagoda
Day 26: Yangon – Kandawgyi Lake – Bogyoke Aung San Market
Day 27: Mon State – Kyaiktyo pagoda
Day 28: Inle Lake – Indein – Red Mountain Winery
Day 29: Inle Lake – Kakku
Day 30: Inle departure
It seems we can't find what you're looking for. Perhaps searching can help.