General Information
Duration: 19 Days/ 18 Nights
Start/ End: Siem Reap/ Hanoi
Tour Route: Siem Reap – Phnom Penh – Ho Chi Minh City – Hoi An – Hanoi – Halong Bay – Hanoi
Tour Categories: Vietnam Cambodia Tours
Tour Type: Nature and Landscape, Explore and Experience
Tour Customizable: Definitely! (Tell us your specific requirements in the inquiry form)
Tour Highlights:
Explore the magnificent Angkor Wat – the symbol of gorgeous Angkor Kingdom
Visit Phnom Penh – the cultural and traditional heart of Cambodia
See the legendary Cu Chi Tunnels in the Vietnam War
Get a glimpse of Ho Chi Minh City on vespa
Step back the history in Hoi An Ancient town with walking tour, food tour, cooking class, farming and fishing tour
Discovery Hanoi, one of the ancient capitals in Asia with amazing foods and unique art performance
Behold the World Natural Wonder, the pearls of Halong Bay
Brief Itinerary
Day 1: Siem Reap Arrival
Day 2: Siem Reap – Angkor Visit
Day 3: Siem Reap – Fly to Phnom Penh
Day 4: Phnom Penh – Killing Fields & S21
Day 5: Phnom Penh – Jayavarman Cruise for Pearl of Orient 4 days 3 nights
Day 6: Javarman Cruise
Day 7: Javarman Cruise
Day 8: Javarman Cruise – Transfer to Ho Chi Minh & Vespa Tour
Day 9: Cu Chi Tunnels by Van
Day 10: Ho Chi Minh – Fly to Hoi An – Street Foods
Day 11: Hoi An Walking Tour – Cooking Class
Day 12: Hoi An – Farming & Fishing Tour – Leisure
Day 13: Hoi An – Leisure Time
Day 14: Hoi An – Leisure Time
Day 15: Hoi An – Fly to Hanoi, Cyclo Tour
Day 16: Hanoi – Halong Bay, Overnight on Cruise
Day 17: Halong Bay – Hanoi – Street Foods
Day 18: Hanoi – Leisure
Day 19: Hanoi – Departure
Day 1: Siem Reap Arrival & Free Afternoon
When arriving in Siem Reap International Airport, you will be greeted by our guide and driver, then transfer to hotel for check-in and free at your leisure.
Overnight in Siem Reap.
Day 2: Siem Reap – Angkor Visit (B)
Start the morning by driving among the jungle passing local village and local shop. It will be an active day as you will explore some of Angkor's most beautiful temples. First, head to the South Gate and discover the centerpiece of the ancient city, the Bayon, which is best known for a large number of huge stone faces sculpted on many towers which have become some of the most iconic and recognizable features associated with the ancient Khmer Kingdom and architecture. The tour also leads you to visit the Royal Enclosure, Phimeanakas, and the Terrace of Elephants and Terrace of Leper Kings.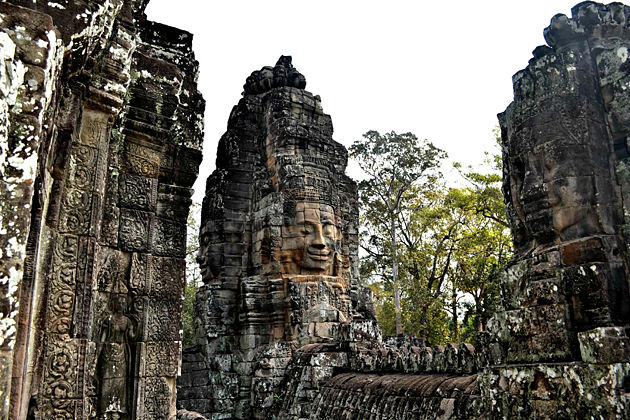 In the afternoon, we are entering Angkor Wat and view its amazing architecture and history. You will have a chance to soak up the many passages, levels, and chambers that once housed many treasures of the ancient world. Then, we will visit Ta Prohm, one of the most evocative of all Angkor's ancient monuments. End your day by going to Pre Rup to enjoy the sunset.
Overnight in Siem Reap.
Day 3: Siem Reap – Fly to Phnom Penh (B)
Today we take a domestic flight to Phnom Penh, the capital of Cambodia. Phnom Penh is located near the confluence of the Mekong and Tonle Sap Rivers. We start the city tour through some highlights of Phnom Penh. The first stop is the Royal Palace, which now is home to the royal family and is therefore very close to the public. Next head to the north and we will visit Silver Pagoda, the most sacred temple in the country.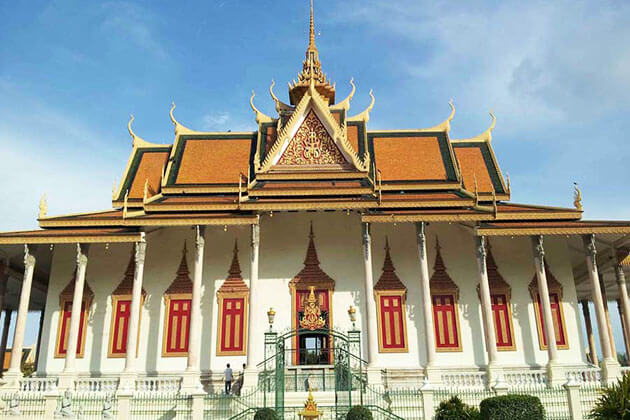 Then we continue sightseeing the delightful Phnom Penh City with the National Museum. It is housed in a graceful terracotta structure of historical design (built from 1917 to 1920). Following it with a walk up to a small hill for an interesting visit to the legendary Wat Phnom and a fantastic view over the surrounding areas.
Overnight in Phnom Penh.
Day 4: Phnom Penh – Killing Fields & S21 (B)
Following your breakfast at the hotel, spend the fourth day to deal with a dark chapter of Cambodian history as we visit sites related to the Khmer regime. Get a closer look at the notorious Tuol Sleng Museum & Choeung Ek Killing Field. This former school was used as a prison by Pol Pot's security forces and became the largest center for detention and torture during the Khmer Rouge era. Don't forget to wander around the bustling Russian Market for sampling some cuisines or buying souvenirs for your beloveds.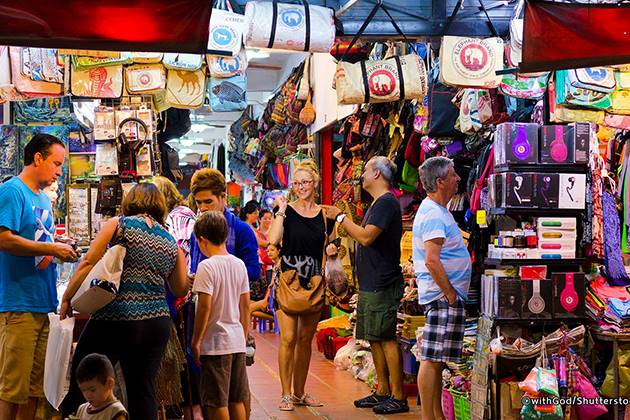 The last destination of your trip today is the Independence Monument, an Angkorian Style Towel, is located in the heart of the capital. It was built in 1958 for Cambodian's independence from France in 1953. Explore the unique style distinguishing from all other building in the city. Overnight in Phnom Penh.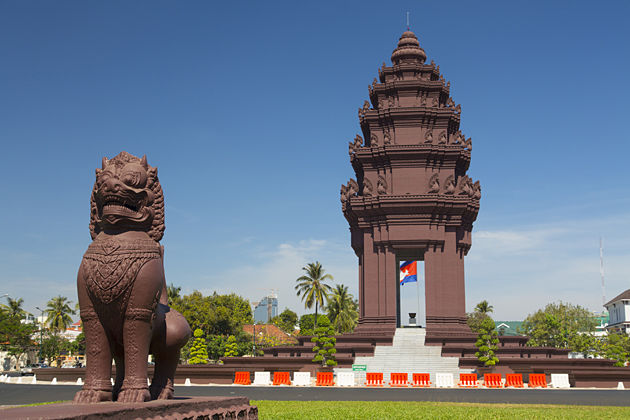 Day 5: Phnom Penh – Jayavarman Cruise for Pearl of Orient 4 Days 3 Nights (B, L, D)
Breakfast at hotel, today you will be transferred to the pier in Phnom Penh for joining the Jayavarman Cruise.
Check-in your cruise. Then reach the border and finally arrive in Vietnam. From here it is just a short distance to Tan Chau, a pleasant, slow-paced border town with a sizeable Chinese, Kinh and Khmer community. We moor near the city with views on the riverbanks. Dinner will be served soon and you can join our evening cinema with another selected classic movie afterward.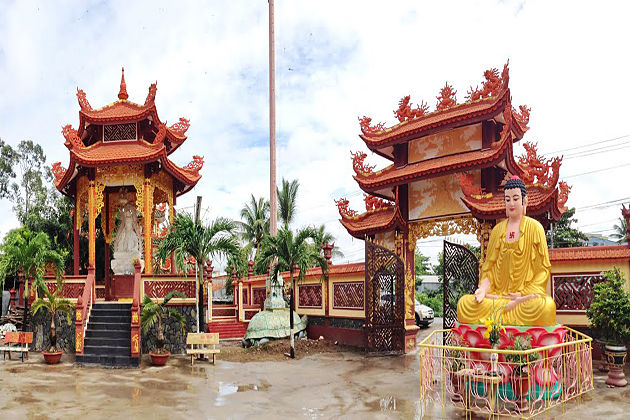 Overnight on board.
Day 6: Javarman Cruise (B, L, D)
Welcome to the fish sanctuary of Vietnam. After breakfast, brace yourself for a tour around Tan Chau, a pleasant, slow-paced town near the Cambodian border with a sizeable Chinese, Kinh, and Khmer community. Once arrived on-shore we hop on a local vehicle "xe loi" to explore Tan Chau. Move slowly around the streets to see all the workshops, houses, and domiciles. Stop at the colorful and bustling local market. Take time to interact with the vendors of this friendly town and make your own bargain experience.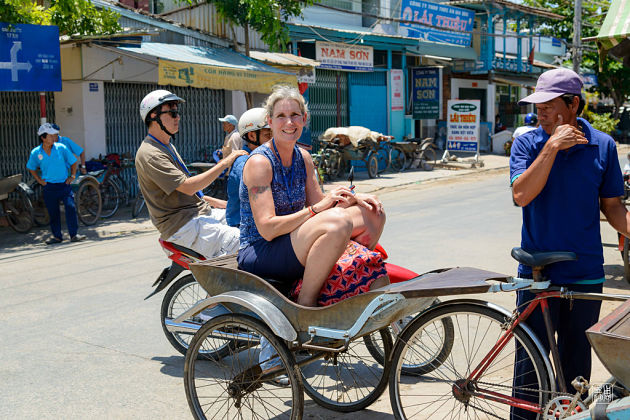 In the afternoon, we board our local boats and cruise through floating houses until we finally reach a floating fish farm. Walk around and observe how fish farming works before having lunch on board. Then the ship continues to My An Hung village near Sa Dec Province. Upon arrival, we visit a local family, explore their seasonal flower gardens and experience to cross a monkey bridge. You also have a chance to taste Vietnamese tea and enjoy a typical traditional dragon dance of a local artist group.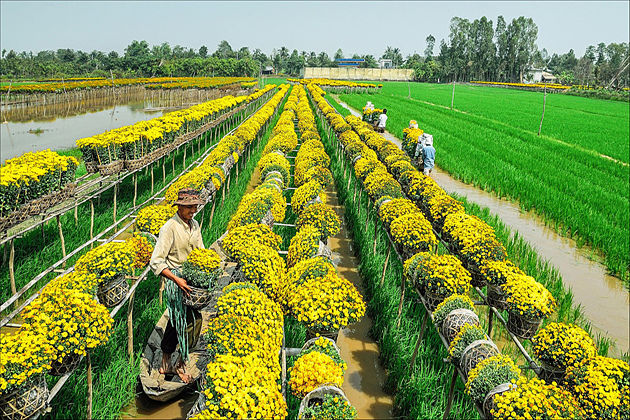 As the sun sets and the light bathes everything golden, we settle on a riverbank gathering with cocktails to recap the day. Back on the ship, we cruise downstream the Mekong. Refresh yourself and get ready for dinner. The ship moors mid-river near SaDec.
Overnight in Sa Dec.
Day 7: Javarman Cruise (B, L, D)
In the morning, we embark on a local boat and head towards Binh Thanh Island. Binh Thanh is one of the larger islands in the vast stream of the Mekong. Wandering through the villages, we get a deep understanding of the local life. Observe the process of traditional mat making and try weaving yourself. Locals are happy to instruct you and share with you interesting stories on this land. Lunch is served on board.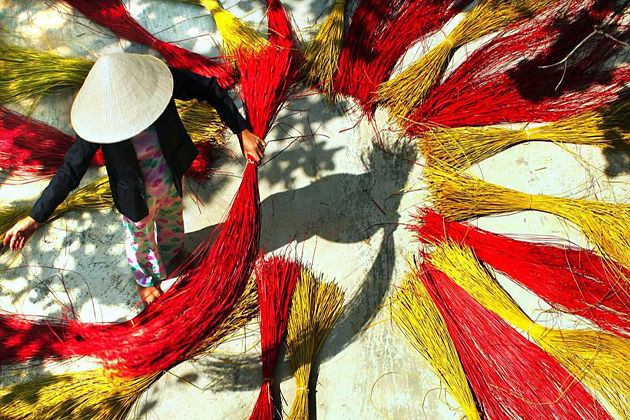 In the early afternoon, we arrive in Cai Be, a charming town which is famous for its Catholic French church and their manufacturing of traditional crafts and food products. You will have a chance to see an incredible sight of a floating market with boat-to-boat trading of local goods, such as fruits and agricultural products on water. Afterward, stop at nearby workshops where we learn how rice products and coconut candies are manufactured.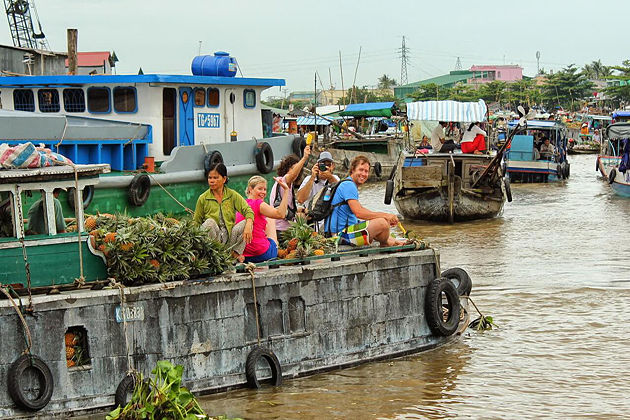 As the sun sets, our crew invites you to a farewell event. Before dinner, you can enjoy dances and music together with the crew. The ship moors at My Tho.
Overnight in My Tho.
Day 8: Javarman Cruise – Transfer to Ho Chi Minh & Vespa Tour (B, D)
We will disembark the ship after breakfast and take a from My Tho to the drop off point in Ho Chi Minh City. Arrive in Ho Chi Minh City by mid-morning, check-in the hotel. Leisure time until we are picked up by Vespa driver at 6 PM and drive to meeting happy point at Cafes Zoom.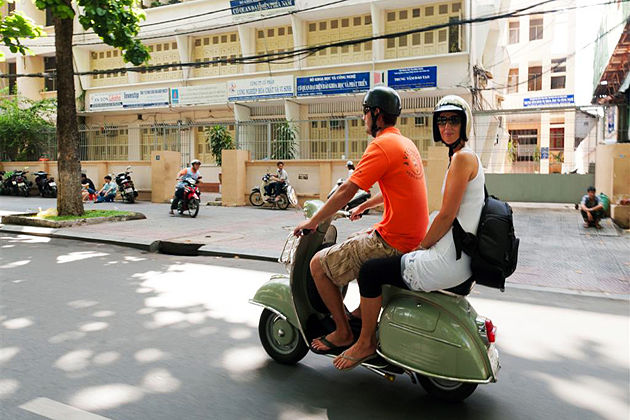 Start your Vespa tour by driving around the streets and observe all the daily nightlife of local people. Stop at a seafood workshop for your first tasting meal. After that, Vespa drivers take you back to the central district, passing many highlight places in the city. Next stop is Banh Xeo workshop, where we learn how to cook and taste this wonderful food.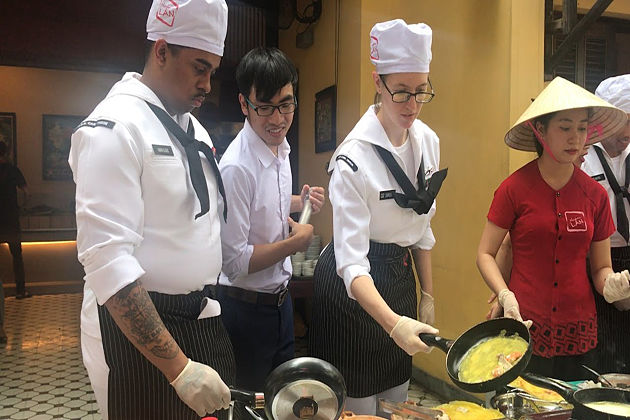 Vespa drivers then take you to a hidden Vietnamese-style coffee shop to have a taste of Vietnamese live music. There is no micro, no power light, it's only live songs and candle and people whisper to pick up a drink. You can choose to stay longer or move to the last destination to change the music taste if you are a fan of Rock & beer (Optional for the family is Ice-cream workshop) before returning to the hotel.
Overnight in Ho Chi Minh City.
Day 9: Cu Chi Tunnels by Speedboat (B, L)
Today we will join a luxury SIC tour to Cu Chi tunnel by speedboat.
7:00 am: Your guide will meet and bring you by van to your boat at Saigon's pier.
7:30 am: Depart from Saigon by speedboat. Enjoy a light breakfast of sandwiches or pastries, fresh tropical fruits and Vietnamese iced coffee (Ca phe sua da) and listen to the introduction of rural traditions and aspects of riverbank life.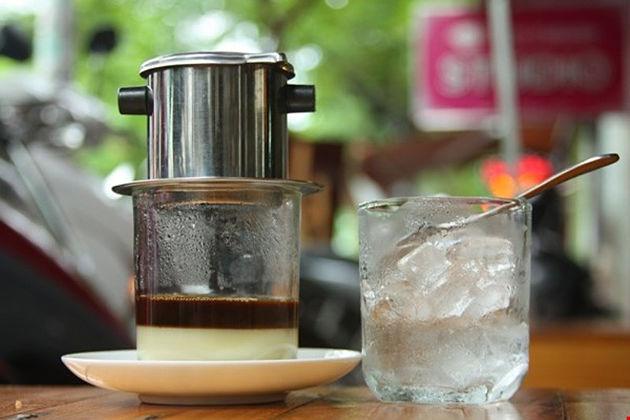 9:00 am: Move on and explore the Cu Chi Tunnels site while waiting for the tour buses.
9:15 am: Start the guided Cu Chi tour taking in tunnels, ammunition caches, secret bunkers, command centers, a firing range and more.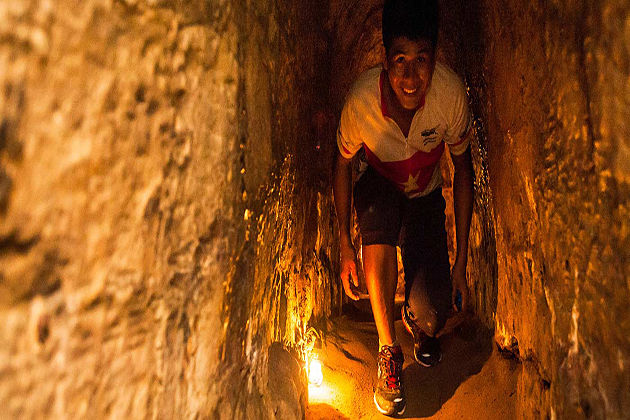 11:30 am: A traditional Vietnamese lunch will be served in a pleasant riverside setting.
12:30 pm: You will be picked up by Les Rives' minibus or Jeep and explore the surrounding Vietnam countryside. Visit a cricket farm, an organic herb farm, and a local house to learn how people make rice paper by hand. Head back to Ho Chi Minh City afterward.
03:00 pm: Arrive back in Ho Chi Minh City and be dropped off at your hotel.
Overnight in Ho Chi Minh City.
Day 10: Ho Chi Minh – Fly to Hoi An – Street Foods (B, D)
After breakfast, you are free until your driver arrives to take you to airport for onward flight to Danang. Upon arrival, you will be welcomed by our local guide and driver and transfer to Hoi An. Check in hotel and leisure time until 15h00, we start for Hoi An street food tour which allows you to taste many delicious street foods. Wander around and learn about local culture and food history, explore some places that are not in your guidebook, visit Hoi An tiny alleys.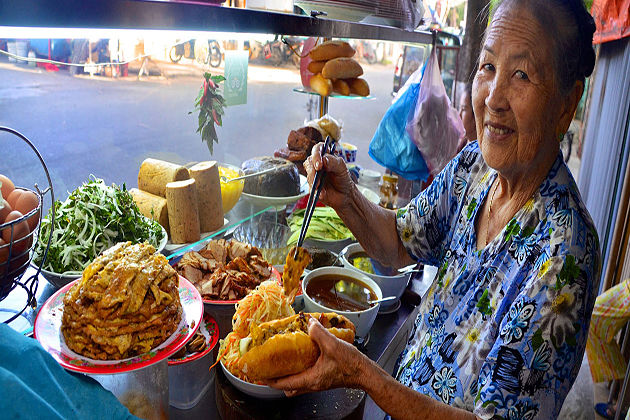 Overnight in Hoi An.
Day 11: Hoi An Walking Tour – Cooking Class (B, L, D)
Today, spend your morning on walking tour in Hoi An town – one of the World Culture Heritages of Vietnam. This ancient riverside town still boasts a wealth of century's old traditional architecture. Discover the old houses and waterside buildings to understand the influences of several Asian cultures to the charming town.
Your afternoon itinerary starts with a visit to the fantastic Cooking class at Red Bridge Restaurant. The first included activity is trolling around the colorful market to experience the amazing sights, sounds, and aromas of this busy market; and purchase some of the ingredients to be used in the cooking lesson later.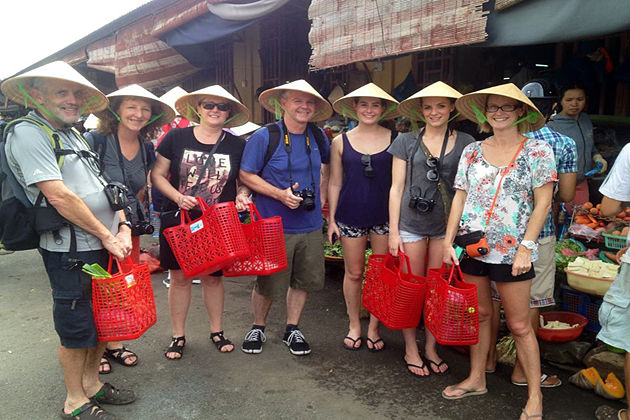 Later, we take a leisurely cruise (25 minutes) along the Hoi An River to the Red Bridge Cooking School; explore the cooking school's herb and vegetable garden before learning about some of Hoi An's and Vietnam's well-known dishes. The cooking lesson runs for about 2 hours. We then eat exactly what we have cooked.
Overnight in Hoi An.
Day 12: Hoi An – Farming & Fishing Tour – Leisure (B, L)
Head off in the early morning to Farming & Fishing Life Eco Tour. Starting at Tra Que Village, we will get a panoramic view of local farming communities. The tour offers you a chance to experience the process including preparing land for sowing, fertilizing the garden and watering it in using huge tin cans strapped to our backs. Following this, we will begin our leisurely cycling tour through the countryside witnessing local Vietnamese rural life first hand.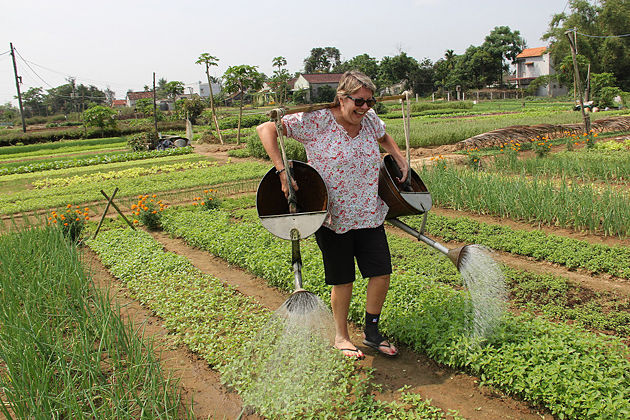 Late morning, we will embark a Hoi An Eco-tour boat for a river cruise. Witness local fishermen working their craft and enjoy a hands-on experience of traditional net fishing. The tour continues with a Vietnamese bamboo basket boat through a quick race and riding down a coconut palm-lined waterway.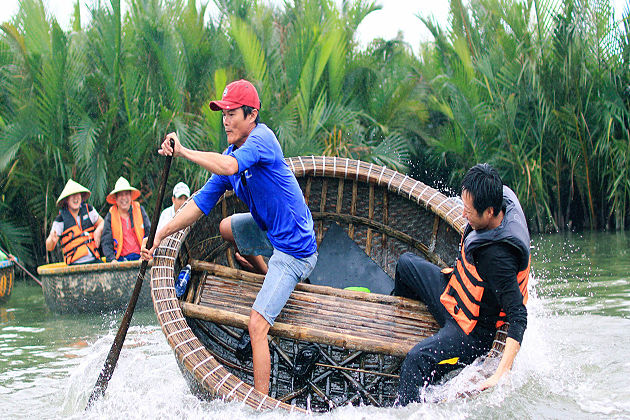 After lunch, we have some free time to wander around Hoi An town center before heading back to the hotel. 
Overnight in Hoi An.
Day 13: Hoi An – Leisure Time (B)
Time will be on your own!
Day 14: Hoi An – Leisure Time (B)
Time will be on your own!
Day 15: Hoi An – Fly to Hanoi, Cyclo Tour (B, D)
After breakfast, we will be free until your driver transfers you to the airport for your flight to Hanoi.
As you arrive and complete all the necessary procedures, your journey continues with a cyclo tour around Hanoi. Ride out of the city to the Long Bien Bridge, a magnificent structure built over a hundred years ago, spans the Red River and provides shelter to locals living on boats underneath. Only motorbikes & bicycles can traverse!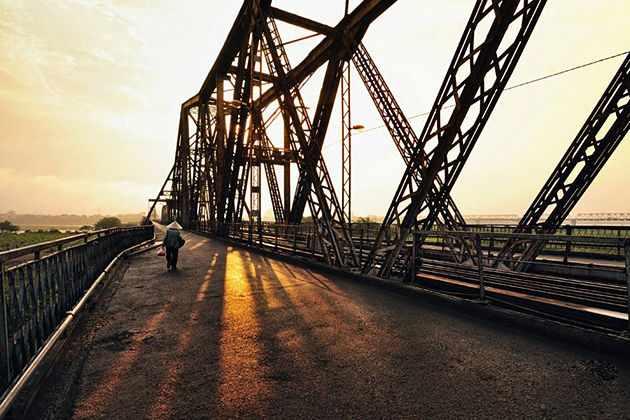 Later this afternoon, a 1-hour cyclo tour takes you to "the Old quarter". Wander around small streets and valleys of the Old quarter which ranges from markets, designer boutique stores to amazing contemporary art galleries. After dinner, we sit down to enjoy the performance of the city's famous Water Puppets.
Optional Evening Show: Besides the classic Water Puppet show, you will have some other alternatives as below.
Lang Toi cultural and acrobatic show: The show is a spectacular display of acrobatics, music, and some dance, operated in Hanoi Opera House and Tuong Theatre (Extra cost: US$ 50.00 per person)
Overnight in Hanoi.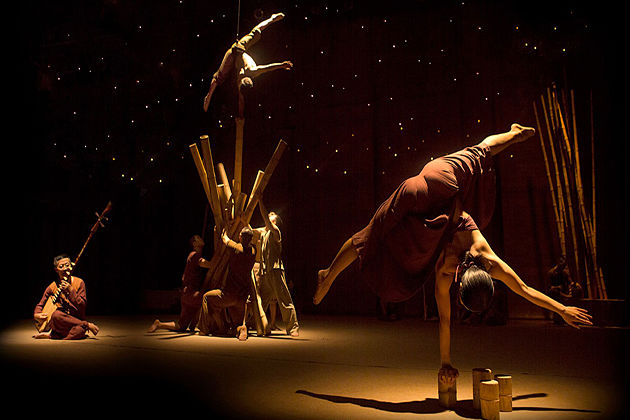 Day 16: Hanoi – Halong Bay, Overnight on Cruise (B, L, D)
Pick up at hotel in Hanoi, we start our journey to discover Halong Bay – The Pearl of the Orient, one of the most famous tourist destinations of Vietnam. Arrive in Tuan Chau Marina at around mid-day, we check-in the cabin before starting lunch on the boat.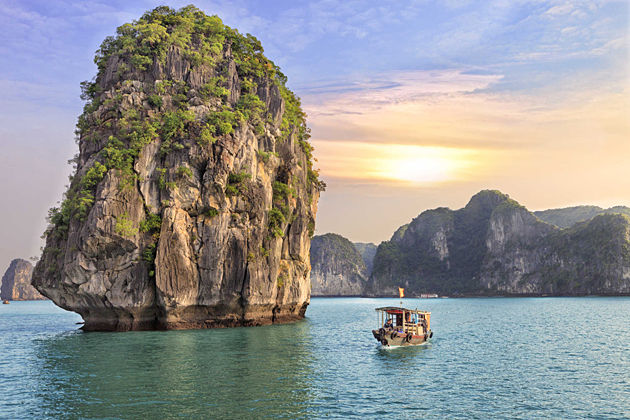 Following lunch, your afternoon journey starts to visit Tung Sau Pearl Farm, one of the famous pearl breeding in Ha Long Bay. We will have an experience of handmade technique in the process of culturing pearls based on Japanese technology. This is also an ideal destination for kayaking. The next destination is Sung Sot Cave (Amazing Cave) – the largest cave in Ha Long Bay with millions of years of formation.
Dinner on the restaurant followed a free time to enjoy music at Le Piano Bar or relax on deck.
Overnight on board.
Day 17: Halong Bay – Hanoi – Street Foods (B, L, D)
Start your second day on the bay with a relaxing Tai Chi session on sundeck as the sun rises, followed by a light breakfast. We then transfer to the tender and head to Titov Island, which has the most beautiful panoramic views in the bay. This activity includes swimming time in the area or hiking to the peak for a panoramic view. After that, we go back our cruise for a proper breakfast while passing Thien Cung, Dau Go Caves, and the Fighting Cocks Islet.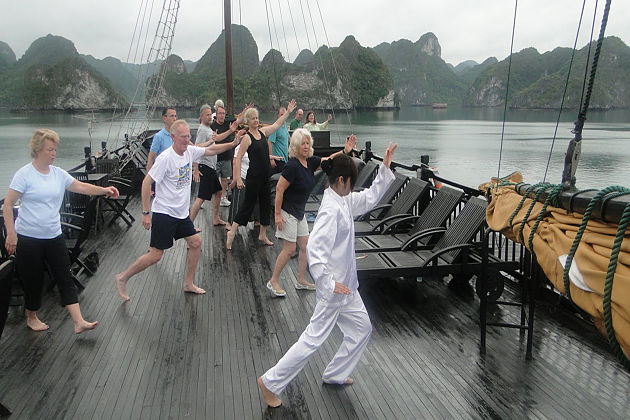 After disembarking from the Paradise Elegance, have a light lunch and then return to Hanoi by car. As you arrive in Hanoi, check in the hotel and then walk down to the Hang Be street for visiting the local market. Continue our trip along different streets, try to taste many kinds of local food such as oil-fried pastry, tofu, rice pancake, pillow cake, sweet soup, stuff pancake with pork, beer… Head to Dong Xuan Market to immerse in the colorful panoramic of a night market in Hanoi.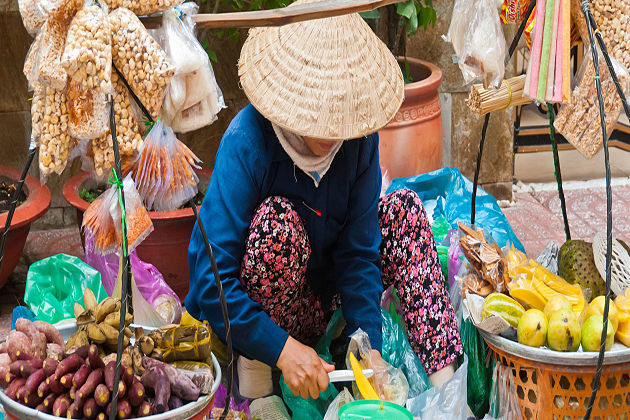 End your tour today with a hidden coffee in the Old Quarters and enjoy its famous 'egg coffee'.
Overnight in Hanoi.
Day 18: Hanoi – Leisure Time (B)
Time will be on your own!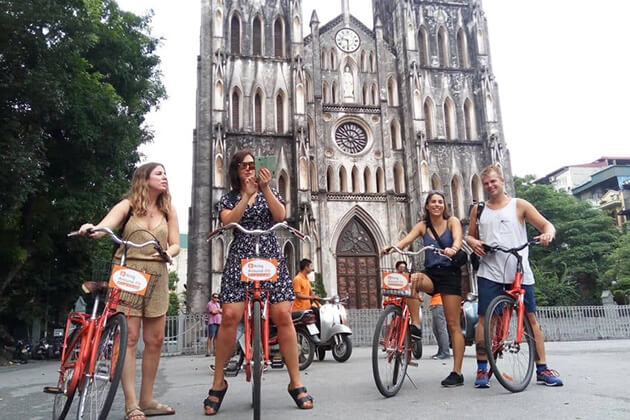 Day 19: Hanoi – Departure (B)
After breakfast, we will be free until your driver arrives to take you to Noi Bai airport for your departure flight. Tour ends.
Check your Passport
You are highly recommended to travel with a passport valid for at least 6 months following their plans departure BUT I always recommend to the valid at least 1 year and having at least 06 blank pages for immigration stamps upon arrival in and departure.
Vietnam Visa
Regarding Vietnam visa, there are several ways that we can get it organized, please see the below options and let me know which one you'd prefer.
Option 1: Visa in advance
You can go directly to the Embassy/Consulate in your country and work some papers, the fee is paid directly to them as well.
Option 2: Visa on arrival
We will apply for the visas at the Immigration Office in Hanoi on your behalf based on the information you sent us (full name, passport details, and date of birth). For this, I will send the approval document directly to you by the scanned attached file. All you have to do is print this letter out and bring one copy with you.
Upon your arrival at the airport, the approval document will be sufficient proof of your visa status. Please ensure that you pick up the visa form near the custom checkpoints and fill in the details before you queue for immigration. You'll need a color passport photo and the fee for the visa stamp ($25 per person to pay directly to the Immigration Clerk).
For this service, we will offer.
Option 3: Do it with E-visa
We can assist you to obtain Vietnam visa online but need to send us your passport copies and passport size pictures. It costs 40.00USD/person. We will send your E-visa after 5-working day. All you have to do is print this out and bring this with you to show the Immigration Clerk at the airport. Don't need to fill up any form or just queue and go through.
Cambodia Visa
Option 1: Visa in advance
30 days visas are available in advance of arrival at Cambodia embassies or Consulate in the USA. The visa fee varies from between US$8- 42 depending on the agreement with the various governments.
Option 2: Visa on arrival
It is also possible to obtain a Visa-on-Arrival at the following international checkpoints for tourist visa validity for 30 days in Cambodia. It costs 35 – 40.00USD/person. Require your valid passport & passport size pictures.