General Information
Duration: 20 Days/19 Nights
Start/End: Hanoi/ Phnom Penh
Tour route: Hanoi – Mai Chau – Son La – Muang Kua – Luang Prabang – Siem Reap – Battambang – Phnom Penh – Kratie – Rattanakiri – Kampong Cham – Phom Penh
Tour Customizable: Definitely! (Tell us your specific requirements in the inquiry form)
Tour Categories: Indochina tour itineraries
Guides: Local Guide (English Speaking Guide, Other Languages upon Request)
Transportation: Private first-class air-conditioned vehicles
Accommodation: Listed below or equivalent. Rooms with private bath or shower, hotel taxes, porterage, tips, and service charges
Brief Itinerary
Day 1: Arrive in Hanoi
Day 2: Hanoi – Day trip to Tho Ha Village
Day 3: Hanoi – Mai Chau
Day 4: Mai Chau – Son La
Day 5: Son La – Tuan Giao – Dien Bien Phu
Day 6: Dien Bien Phu – Laos border crossing – Muangkua
Day 7: Muang Kua – Muang Ngoi – Nong Khiaw
Day 8: Nong Khiaw – Drive to Luang Prabang
Day 9: Luang Prabang- City Tour
Day 10: Luang Prabang – Elephant Ride – Kuang Si Waterfall
Day 11: Luang Prabang – Fly to Siem Reap
Day 12: Siem Reap Exploration
Day 13: Siem Reap – Battambang
Day 14: Battambang – Kampong Chnang – Phnom Penh
Day 15: Phnom Penh – Kratie
Day 16: Kratie – Rattanakiri
Day 17: Rattanakiri Exploration
Day 18: Rattanakiri Exploration
Day 19: Rattanakiri – Kampong Cham
Day 20: Kampong Cham – Phnom Penh – Departure
Day 1: Arrive in Hanoi
Check into the hotel. Maybe join a cyclo tour around Hanoi's Old Quarter, one of the most famous places in the capital. Take some photos during the tour. In the evening, we will go to see a traditional water puppet show, a unique art form of northern Vietnam at Thang Long Water Puppet Theatre.
Overnight in Hanoi.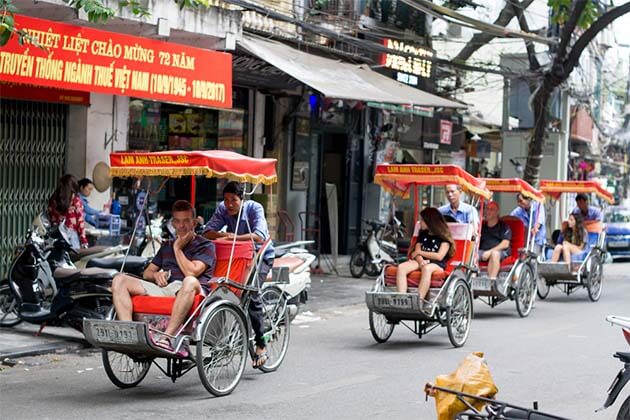 Day 2: Hanoi – Day Trip to Tho Ha Village (B, L)
Today your private guide and driver will take you out of Hanoi in a private vehicle and onto some beautiful country roads before reaching Tho Ha village in Bac Ninh Province.
Drive pass Chuong Duong Bridge to Bac Ninh Province, with one or two stops en route for photos. We may make another stop to visit a family who makes bricks and tiles on the roadside and try our hands on making one or two tiles. You'll be amazed by how difficult to make those simple tiles!
Arrive at Tho Ha village, we will visit one family who makes ritual votive paper products. Those products mostly imitate real products in life but will only be burned for the dead people.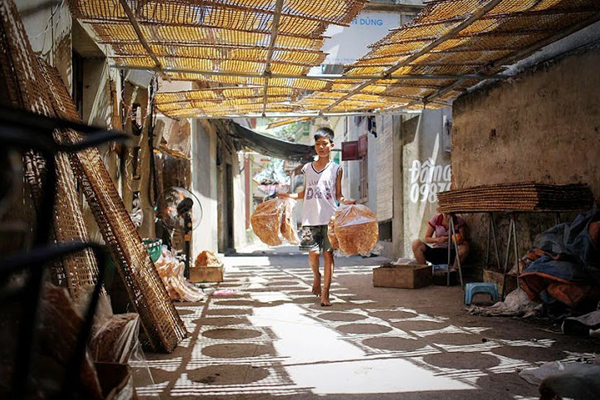 We then cross the Cau River on a boat. Spend time visiting the village market and then come to a local's house. They will teach us how to make rice paper (which is used for Spring Rolls and Summer Rolls) as well as socialize with them before walking around the village to learn about the village life, history and culture.
Back to Hanoi in the late afternoon and free to chill out.
Overnight in Hanoi.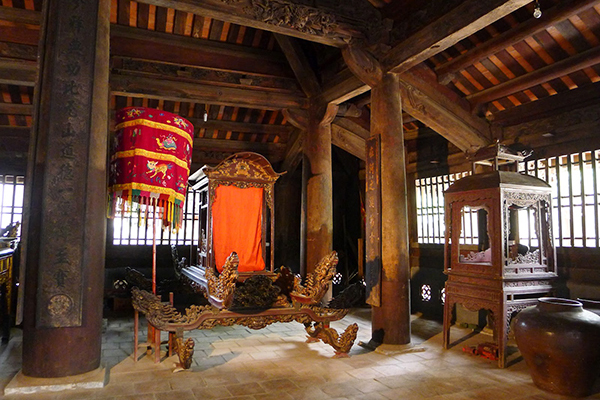 Day 3: Hanoi – Mai Chau (B, L, D)
Today we depart to Mai Chau, home of the Thai minority. Check into the hotel and enjoy a local lunch. Later, we move to Pom Coong Village and Lac Village, where a lot of White Thai live. We will have the chance to discover their daily life, stilted-house architecture, and embroidery art.
After that, back to the hotel room, spending the rest of the day for chill out. In the afternoon, you can relax in the swimming pool of the hotel. The night is time for watching a Thai dance of Thai pretty young girls.
Overnight in Mai Chau.
Day 4: Mai Chau – Son La (B)
Goodbye Mai Chau, we continue the trip to Son La. On the way, we will have an opportunity to see small local houses placed on two sides of hills. Also, we may drop into a mountainous village, encountering some interesting local people of several ethnic groups. Driving past Moc Chau Highland, over green tea plantations, we reach in Son La. Check in the hotel and then take a rest.
Overnight in Son La.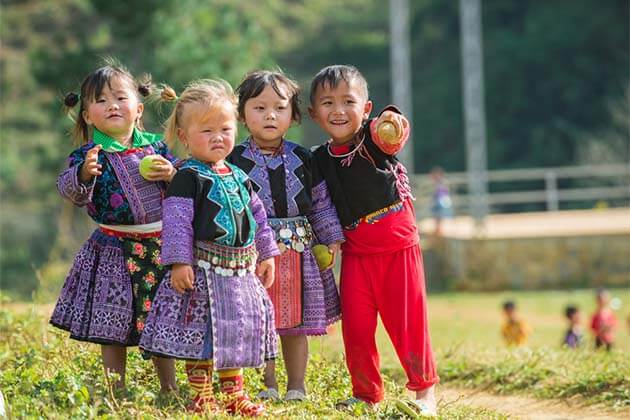 Day 5: Son La – Tuan Giao – Dien Bien Phu (B, L)
This morning we will pay a visit to the old Son La Prison, which the French used to imprison Vietnamese revolutionaries in the latter years of the colonial era. Leaving Son La, we stop at a market in Thuan Chau, which is populated by many hill tribes. Going over Pha Din Pass, we visit Dien Bien Phu, the placemarks resounding battles of Vietnam's army against French in 1954.
Overnight in Dien Bien.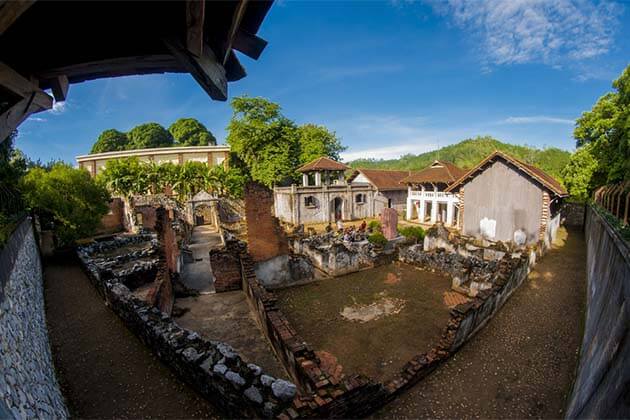 Day 6: Dien Bien Phu – Laos border crossing – Muangkua (B)
This morning's included a visit to the two historical sites: War Museum and Muong Thanh Airbase, where display the lively proofs of Vietnam War including old tanks, artilleries, gun and so on. Especially, we will have the opportunity to visit the bunker in which the French commander, Colonel de Castries, surrendered to Viet Minh army.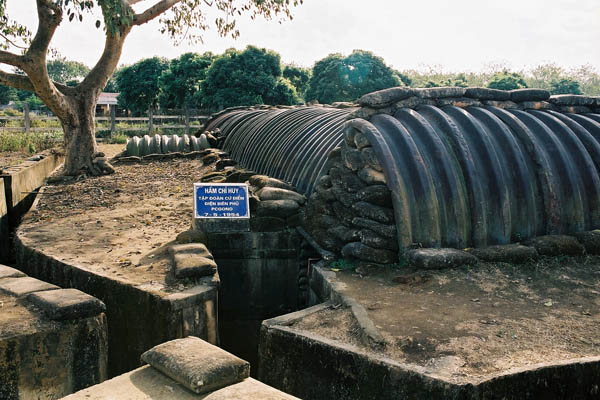 Leaving Dien Bien Phu, we are transferred to Laos border. After clearing all the local custom we will take a two-hour drive to Muang Khua. In the late afternoon, we will arrive in Muang Khua, a small trading town. Check into the local guest house and stay overnight.
Overnight in Muang Khua.
Day 7: Muang Khua – Muang Ngoi – Nong Khiaw (B, L)
We depart to Muong Ngoi on a boat trip. This a lovely small peaceful village with friendly simple residents. We stop for lunch served with local food along the river bank. The rest of the day will be free at leisure. Overnight in Nong Khiaw.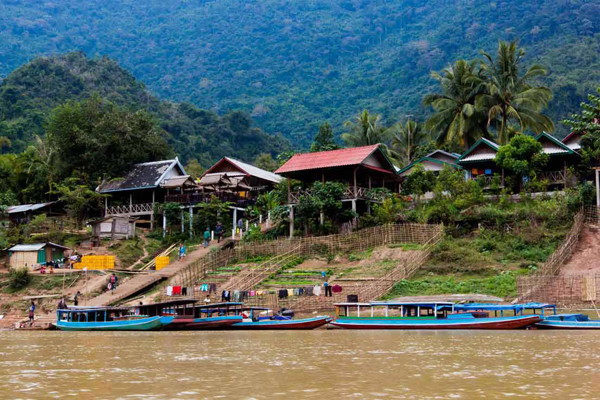 Day 8: Nong Khiaw – Drive to Luang Prabang (B/L)
Breakfast at hotel, we drive towards Luang Prabang, through stunning karst landscapes. Picnic lunch on the boat to Pak Ou, where Nam Ou River encounters Mekong River. We cross Mekong River to Pak Ou Caves and come to the sacred caves where thousands of statues of Buddha is placed. We then continue our trip to Luang Prabang and arrive before sunset.
Overnight in Luang Prabang.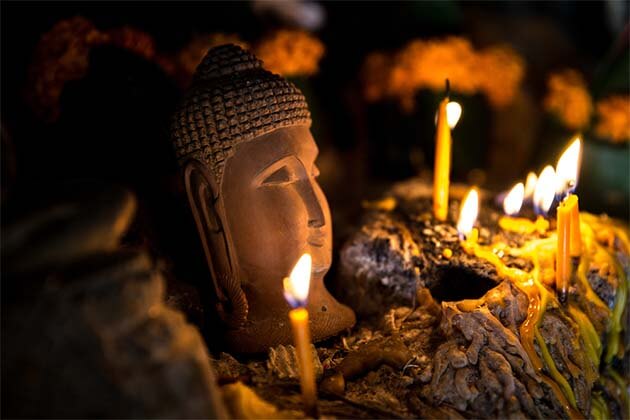 Day 9: Luang Prabang- City Tour (B)
Today we will discover the city's major attractions. Start with Royal Palace Museum, which hosts a range of interesting artifacts. Afterward, enjoy a tour watching the most ancient temples here: Wat Sene and Wat Xieng Thong which feature for Lao traditional architecture. Next, come over the magnificent stupa of Wat Visoun and Wat Aham Temple. After having a delicious lunch, we will visit the Arts and Ethnology Centre to know more Lao ethnic cultures. Then, we leave the city to discover the weaving villages of Ban Xiengthong and Ban Xienglek. After that, return to the city for a visit to Wat Mai.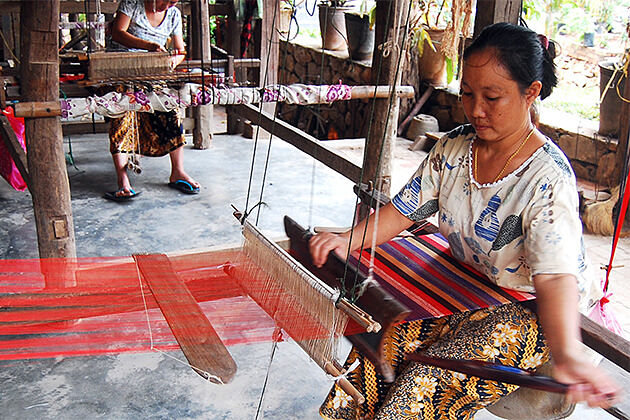 Late afternoon, go up to the top of Phousi Mount to discover the sacred, gilded stupa and have a view over the city, admiring the sunset and the Mekong River. Finnish the day with a visit to the famous Night Market, where you can find exquisite handicrafts made by the locals.
Overnight in Luang Prabang.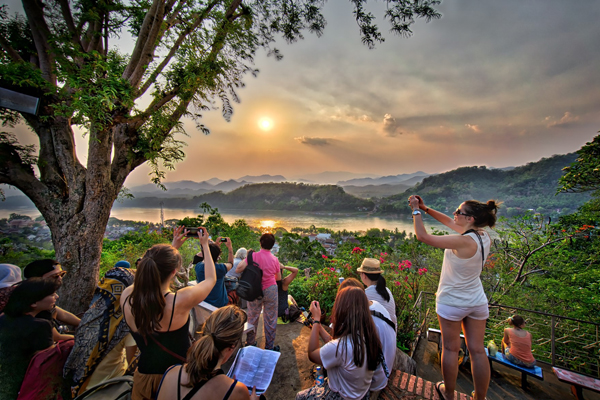 Day 10: Luang Prabang – Elephant Ride – Kuang Si Waterfall (B, L)
After breakfast, we drive out of town 20km to Ban Ann Elephant camp, where you can enjoy elephant trek about one hour. Upon arrival, the guide will brief about those elephants: where they come from and their daily living condition. Afternoon, drive back to town and continue to the beautiful Kuang Si Fall, in which you can freely jump into the fresh water and enjoy yourself. On return, we drop into a village of Black Hmong, where we can see how the residents create handicrafts. Arrive in the town, transfer to your hotel.
Overnight in Luang Prabang.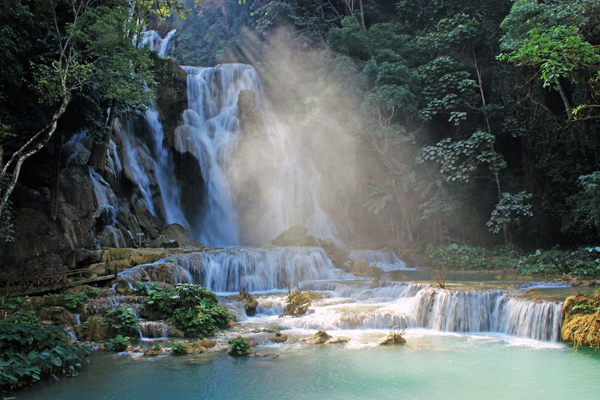 Day 11: Luang Prabang – Fly to Siem Reap (B)
This morning, we will be transferred to the airport to take a short flight to Siem Reap. Meet the tour guide at the airport and transfer to the hotel and check into our room. In the afternoon, we enjoy a guided tour of the city with the following sites: East Mebon – used to be an artificial island on the dry Baray, Neak Poan – was considered as a symbol of the Universe, Preah Khan – built in 119, where the king fought a crucial battle against the Cham.
Overnight in Siem Reap.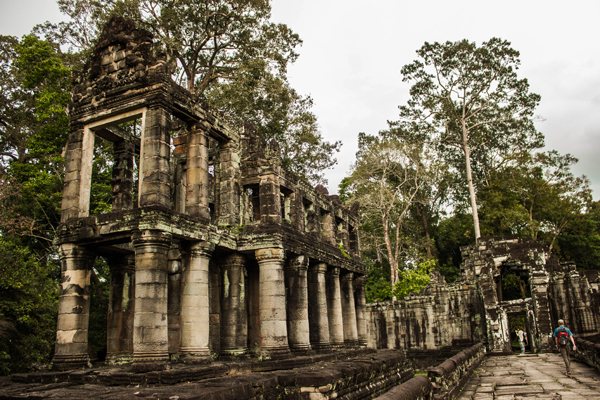 Day 12: Siem Reap Exploration (B)
Today we have a bike tour, riding to Word Heritage Areas on the roads which are less traveled. This will be a meaningful and enjoyable day because you have the chance to visit Angkor's most beautiful temples, including the ancient capital of Angkor Thom (12th century), South Gate, Bayon Temple- famous for its 54 towers, featured with more 200 lively faces carved into, the Royal Enclosure, Phimeanakas, the Elephant Terrace and the Terrace of the Leper King.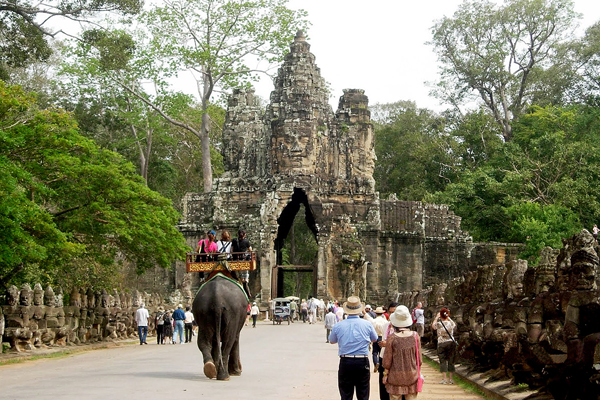 Let's start with the most famous temple: Angkor Wat, recognized as a World Heritage Site since 1992 for its distinctive structure and the value of culture. Also, come to Bakheng Temple and enjoy the stunning sunset view from the height. Enjoy foot massage and relax.
Overnight in Siem Reap.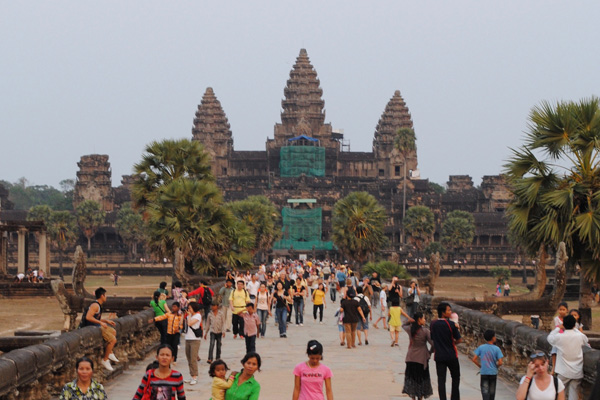 Day 13: Siem Reap – Battambang (B)
This morning, we depart for Battambang by road. Not so far from Siem Reap, you reach Puok – the famous Silk Village in Angkor. You will have the opportunity to look on all of the stages of the silk production process, from the silkworm munching on the mulberry leaves to spinning their cocoons, the cocoons being harvested and turned into silk thread, women weaving, and of course the beautiful finished silk products, which you can buy at the on-site boutique, a great souvenir of Cambodia. Move on Battambang, drive to the hotel for a little relax before continuing the trip.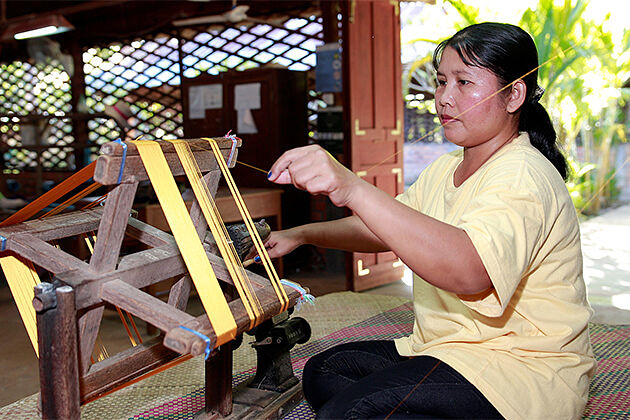 Next, we stop at Prasat Phnom Banan Vineyard. Here you will learn about producing wine in the tropics and of course taste a glass of local wine! Drive to the south, you encounter Phnom Banan Temple – built between 11th and 12th on the top of the mountain according to Angkor architecture. After going up the top, everything you see is the spectacular but peaceful view over tiny local houses, extensive paddy fields, – an ideal sunset location.
Overnight in Battambang.
Day 14: Battambang – Kampong Chnang 
– 
Phnom Penh (B, L)
After breakfast, we depart for Phnom Penh. Upon arrival, we visit the Royal Palace complex, an impressive Khmer-style structure. Then, we come to Silver Pagoda (The Emerald Buddha temple) nearby, where shows a huge number of Buddha Statues decorated and made of diamond, gemstone, gold, and silver.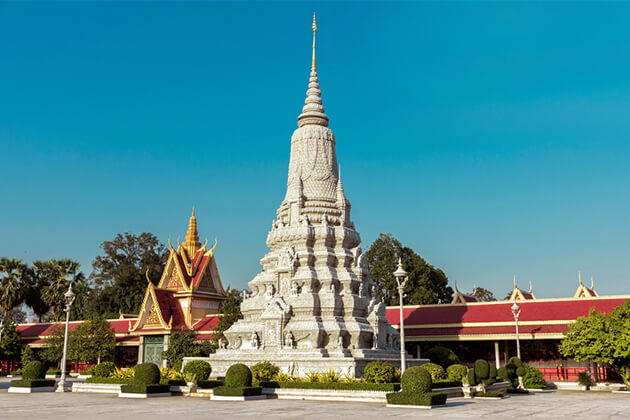 Afterward, tourists will visit Independence Monument – historical site in Indochina War, then drop by National Museum, the typical Khmer architecture, built from a numerous amount of sandstone, bronze, silver, copper, wood, and others. Via River Front Park to take some photos. Visit Wat Phnom, Daun Penh Pagoda and listen to the monks tell about its legend. Back to our hotel room and relax.
Overnight in Phnom Penh.
Day 15: Phnom Penh – Kratie (B, L, D)
We depart Phnom Penh in the morning for an interesting drive to Kratie. En route, we may drop in Phnom Srei and Phnom Pros in Kampong Cham. After lunch, we go on a ferry to Koh Trong Island, a small island in the middle of the Mekong, opposite Kratie town. Hire a bicycle for an easy and peaceful ride, discovering traditional wooden Khmer houses and taste the delicious fruits. Then return to Kratie, walking along the riverbanks and enjoy the stunning sunset.
Overnight in Kratie.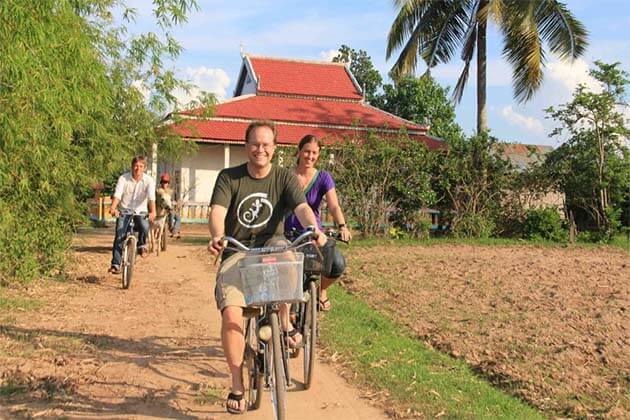 Day 16: Kratie – Rattanakiri (B, L, D)
After breakfast, we leave Kratie and come to Ban Lung. On the way, we stop at O' Russey Kandal – an ecotourism site, enjoy the fresh atmosphere. Next stop is Banlung. There we will have a delicious local lunch before riding an elephant through the forest to the fabulous Katieng Waterfall. You have the chance to wash and feed the elephants as well as swim before taking a trip back to the town.
Overnight in Rattanakiri.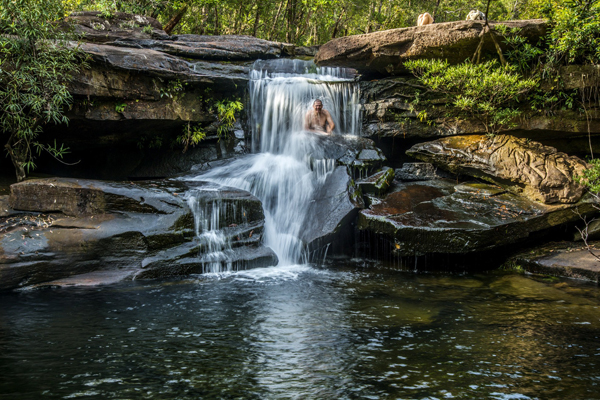 Day 17: Rattanakiri Exploration (B, L, D)
The morning begins with a visit to Yaek Lom Lake, a natural lake formed in a volcanic crater. After that, we will drive to the ethnic groups of Ban Lung. On the way, we catch the ancient lava fields and visit the village of La Ork, Kala, and Kress, where we can explore daily activities of the locals.
Overnight in Rattanakiri.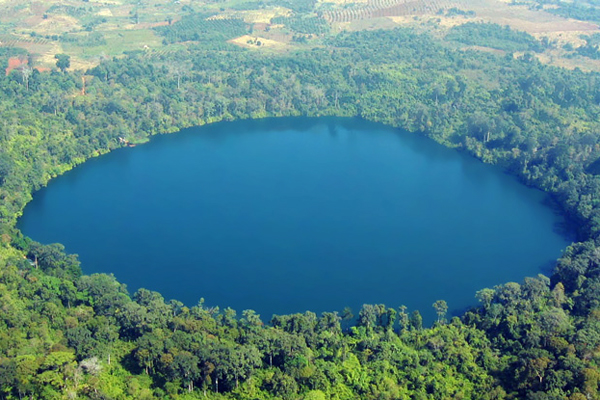 Day 18: Rattanakiri Exploration (B)
Today is an active day when we walk up the hill of Phnom Krom, reach several local tribes, visit their farm. This is not only similar to a sport activity to train the health but also the chance for visitors to slowly enjoy the majestic scenery on the way.
Besides, you will go through several Sweden farms and may participate in farm activities with the people here.
The rest of afternoon we go swimming at the volcanic Yeak Laom Lake, surrounded by wild rain forest. Enjoy your swimming time or take a walk around the lake.
Overnight in Rattanakiri.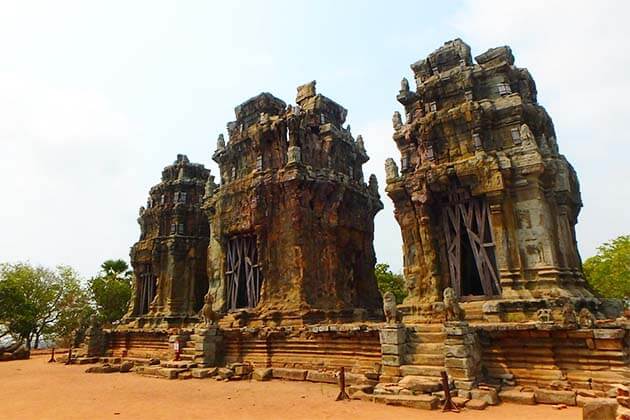 Day 19: Rattanakiri – Kampong Cham (B, L, D)
After having lunch at a restaurant nearby, we go to Kampong Cham and if possible, we will stop to see the 8th-century hillside pagoda of Wat Hanchey and the 11th-century temple of Wat Nokor.
Overnight in Kampong Cham.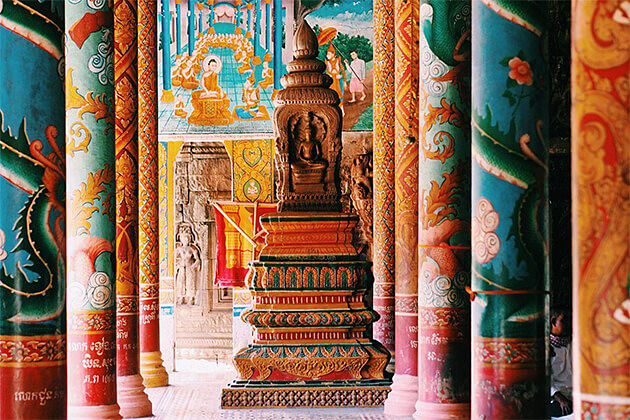 Day 20: Kampong Cham – Phnom Penh – Departure (B)
After breakfast, back to Phnom Penh and drive straight to the airport for catching the flight back home. End of tour.