Tag Archives:
Vietnam Cambodia Laos Itinerary – 2 Weeks
If you have 2 weeks for traveling to Indochina countries in Southeast Asia but have no idea about where you should go, what you should do in these beautiful and historic nations, follow Indochina Tours to take a look of prominent landscapes in Vietnam, Cambodia, and Laos that you should not miss!
Things to Do & See in Vietnam Cambodia Laos in 2 Weeks
Vietnam – The First Destination to Start Your 14-Day Indochina Tour
Being located in the eastern Indochina Peninsula of Southeast Asia, contiguous to the South China Sea in the East, Vietnam is charmingly beautiful with azure sandy beaches and bustling fishing activities on the sea. Moreover, the country possesses majestic and natural mountainous landmarks such as Sapa, Moc Chau, etc. that will satisfy even the most fastidious visitors.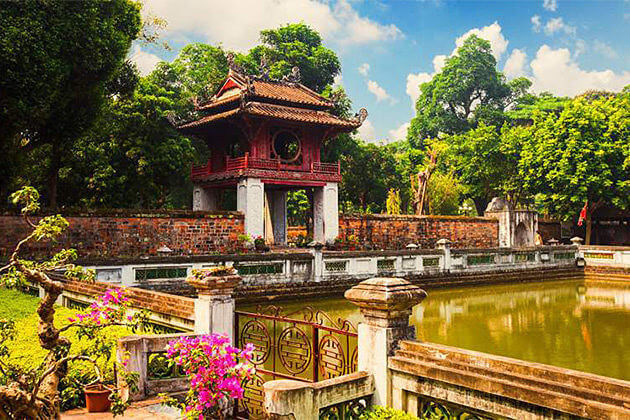 Coming to Vietnam and the capital city of Hanoi in particular, you shouldn't miss the chance to stroll along the busy yet quaint and time-worn streets of Hanoi old quarter, visiting hundred-year historical sites and iconic structures such as the Temple of Literature, One-pillar Pagoda, or stopping by some traditional villages to pick up a diversity of pretty souvenirs to remind you of Vietnamese handicraft and admire the artwork made by traditional techniques that Vietnamese people learn from their ancestors.
The itinerary also brings you to Ha Long Bay which has been repeatedly recognized as the natural heritage of the world with thousands of magnificent and lively nature-created islands which promise to be a wonderful feast to the eyes of nature lovers. Having a cruise around the bay and spend a night among the dazzling water of Halong Bay is a perfect way to enjoy what this natural heritage has to offer.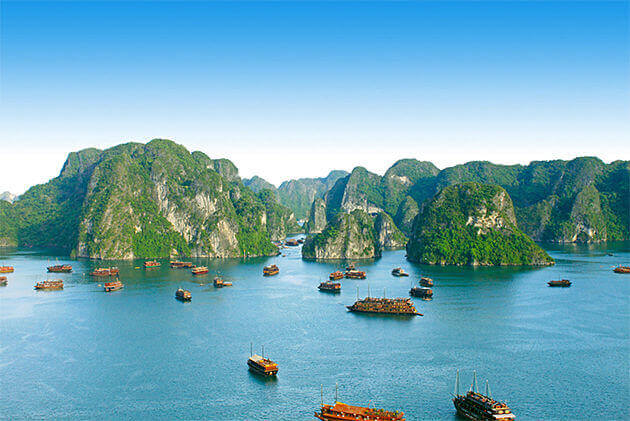 In the center of Vietnam, you can go to Danang City – the most worth living city in Vietnam and a stunning coastal island with countless things to do, see and explore. Danang also houses the famous attraction Ba Na Hills in which you get to go for a walk on the world-famous Golden Bridge supported by 2 giant hands and take in a panoramic view of the surrounding sceneries while feeling like you have been transported to the mythical world of Lord of the Rings.
From Da Nang, you can visit the ancient beauty of Hoi An Ancient Town or wander around Hue – the dreamy and romantic city in the central. You will have the opportunity to enjoy famous local specialties which look delicious and taste just as good as they look. Trips to these two places are like returning to the past where houses are ancient and the life tempo is much slower than that in Hanoi and Ho Chi Minh City.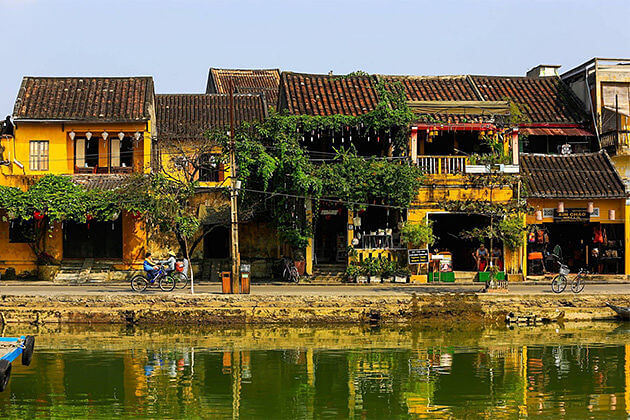 The last stop is Ho Chi Minh City (formerly known as Saigon) where you can blend in with the bustling crowds and be warmly welcomed by the friendly local people. Taking a walk around the city, you can admire the signature French-influenced architecture. Two of the most recommended destinations on the list are the Notre-Dame Cathedral Basilica of Saigon and Ben Thanh market. Located in the suburban of Ho Chi Minh City is another heart-stirring attraction which is the Cu Chi Tunnels – the impressive underground maze that gives you the most authentic experience and information of what happened in the Vietnam War.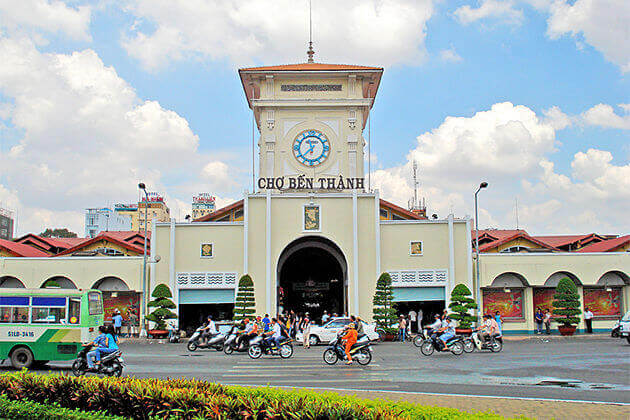 Cambodia – the Second Destination to Highlight Your Trip
Traveling Cambodia – the golden temple country will be unforgettable memories in your Indochina tours. During the trip, you have opportunities to discover Phnom Penh the ancient capital that was considered the Asian gem in the 1920s. Phnom Penh is not only the capital of Cambodia but also the religious center of the whole country with countless temples and religious sites to visit. The capital city is a great place to learn about the colorful culture of Cambodia and also the intriguing history of this Southeast Asian country. You can also come to the vibrant Russian Market in the evening to look at colorful collections of Cambodian hand-made goodness and choose something unique to bring home.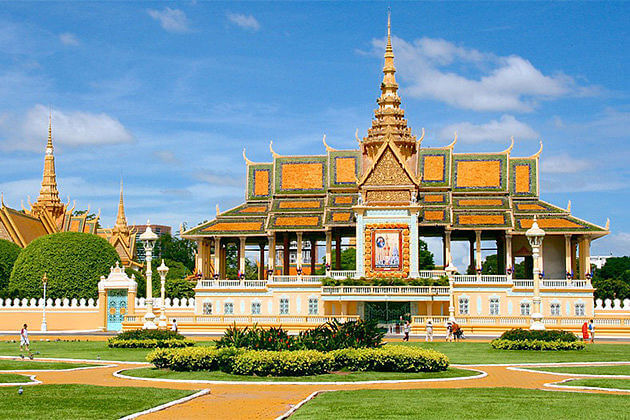 In addition, the trip would not be complete without a visit to Siem Reap – the promptly developing city in Cambodia with the most charming gateway town and many ancient temples, crowded night markets and international standard hotels and guest houses. You cannot miss the great chance to visit the world-famous Angkor which is a large and famous architectural complex, creating the brand name for the tourism industry in Cambodia. This complex was built by the Khmer empire from the 9th to 15th centuries AD with the antique Angkor Wat temple, giant Bayon stone faces and the ruins were covered with impressive tree roots. A trip to this impressive man-made structure will leave you in awe and offer priceless photo opportunities.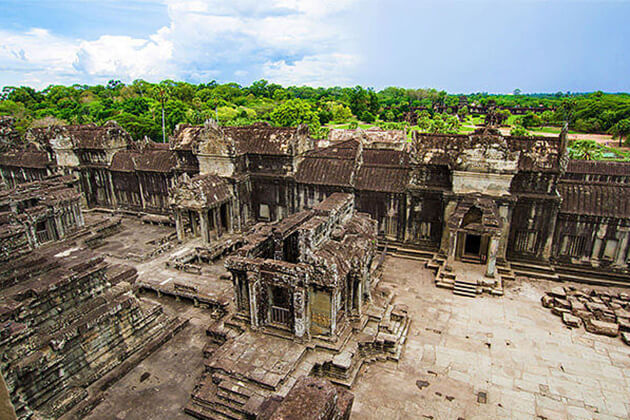 The last destination on the list is Tonle Sap Lake, the largest freshwater lake in Southeast Asian where you get to see the richness of Cambodian nature and engage in the daily life of local people. A boat trip on Tonle Sap Lake takes you to busy floating markets situated along this big lake which will offer you an authentic look at the life of the local and their traditional fishing skills.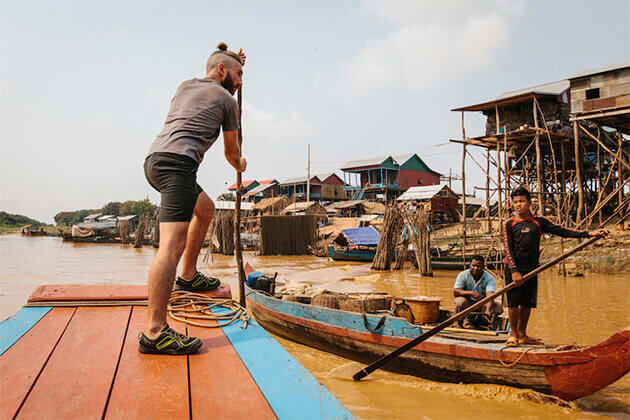 Laos – the Last Destination to Motivate You to Come Back Indochina
Your Indochina journey will set the last step on Laos – a country, despite not having any deep blue beaches, still attracts millions of tourists each year due to its own unique beauties. The capital Vientiane will mark the very first experience in Laos where you can drop in the most antique pagoda Wat Sisaket built in 1551 by the King Phothisararat, displaying 6,800 Buddha statues and thousands of Dharma books; or taking a relaxing walk to Xieng Khuan – the Buddha statue garden to see over 200 Buddha and Hindu statues.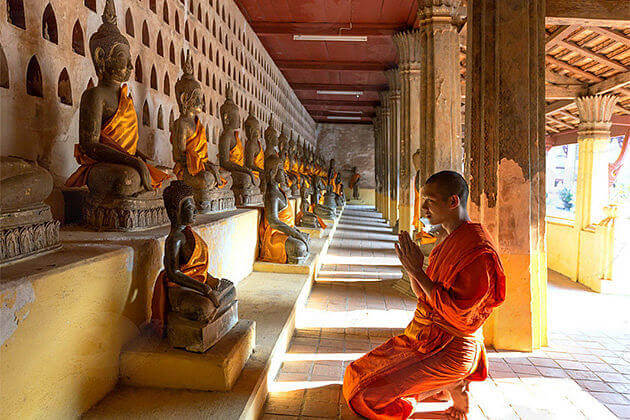 During your 14-day Indochina tour, you cannot miss the chance to visit the remarkable highlights in Vang Vieng, rowing boats along Nam Song River that is surrounded by imposing mountains; and exploring the mysterious Pak Ou Caves to awake your sense of adventure.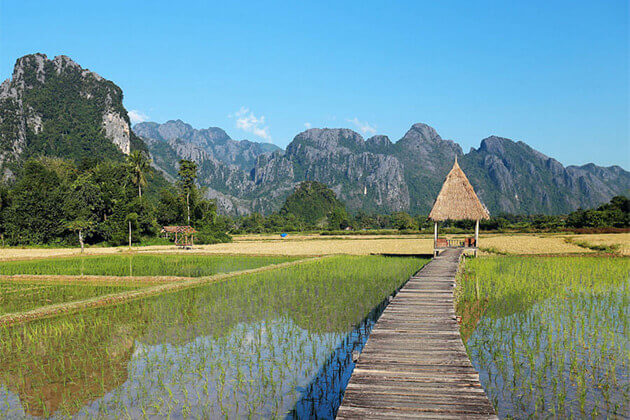 Don't hesitate to tell us your thoughts about the 2-week Indochina itinerary! You also can tailor your own visiting trip besides our recommendations.
Let's pick up your suitcases and go!
Recommended Itineraries for 2 Weeks in Indochina
Day 1: Ho Chi Minh Arrival
Day 2: Ho Chi Minh City – Cu Chi Tunnels & City Tour
Day 3: Ho Chi Minh City – Excursions to the Mekong Delta
Day 4: Ho Chi Minh City – Flight to Danang – Hoi An – Walking Tour
Day 5: Hoi An – Farming & Fishing Eco Tour – Fly to Hanoi
Day 6: Hanoi – Halong Bay – Overnight on cruise
Day 7: Halong – Hanoi
Day 8: Hanoi City Tour – Fly to Luang Prabang
Day 9: Luang Prabang City – Kuang Si Waterfalls
Day 10: Pak Ou Cave – Fly to Siem Reap
Day 11: Siem Reap – Visit The Most Famous Temples
Day 12: Phnom Penh – Siem Reap – Banteay Srei Temple, Tonle Sap Lake
Day 13: Siem Reap – Fly to Phnom Penh – Half day city tour
Day 14: Phnom Penh – Departure – Trip ends.
It seems we can't find what you're looking for. Perhaps searching can help.