Vietnam Laos Tour Package & Itinerary – Indochina Tours
All tours to Vietnam and Laos do never disappoint those searching for an authentic local experience in Asia. With Vietnam & Laos tour itineraries, you will have a chance to travel to Vietnam, stroll through the Hanoi Old Quarter, and be succumbed to the original street layout and classical architecture of old buildings. Our Vietnam Laos tour will take you to Luang Prabang and give you a chance to be immersed in the sacredness of a series of classical temples. Explore glistening and misty forested mountain ranges in Laos, admire the spectacular Mekong River, and take a relaxing walk through the lush rice terraces in Vietnam. We are proud to bring customers unforgettable memories of historically and culturally rich countries with friendly locals, breathtaking landscapes, and scrumptious food within a combining Vietnam Laos tour package.
Indochina Tours
operates great
Vietnam Laos tour packages
, suggested tour itineraries, and all travel services for you to have the best vacation in the two countries. We offer a variety of ready-made tour itineraries for individuals, groups of all sizes, and families. If you do not find any suitable Vietnam Laos tour itineraries below, please contact us now and customize your own Indochina trips to satisfy your requirement.
Top Vietnam Laos Tour Packages & Itineraries
Tour Route: Hanoi – Halong Bay – Luang Prabang
Tour Highlights
Visit the capital of Hanoi and experience a fusion of French and Vietnamese
Cruise along Halong Bay to marvel at its many limestone islands
Wander around the ancient Buddhist city & temples in Luang Prabang
Get a closer look into the local lifestyles in some Laos ethnic villages
Prepare yourself to swim and have fun in the Kuang Si Waterfall and enjoy the natural pools
---
Top Authentic Experience in Vietnam Laos Tours - Indochina Vacations
A package tour through Vietnam and Laos is a great way to experience the diverse cultural highlights of Indochina tours. From exploring the Old Quarter of Hanoi and cruising on Halong Bay in Vietnam, to discovering the tranquil town of Luang Prabang and the mysterious Plain of Jars in Laos, these countries offer a wealth of unique experiences for travelers.
Things to Do and See in Vietnam from Vietnam Laos Tour Packages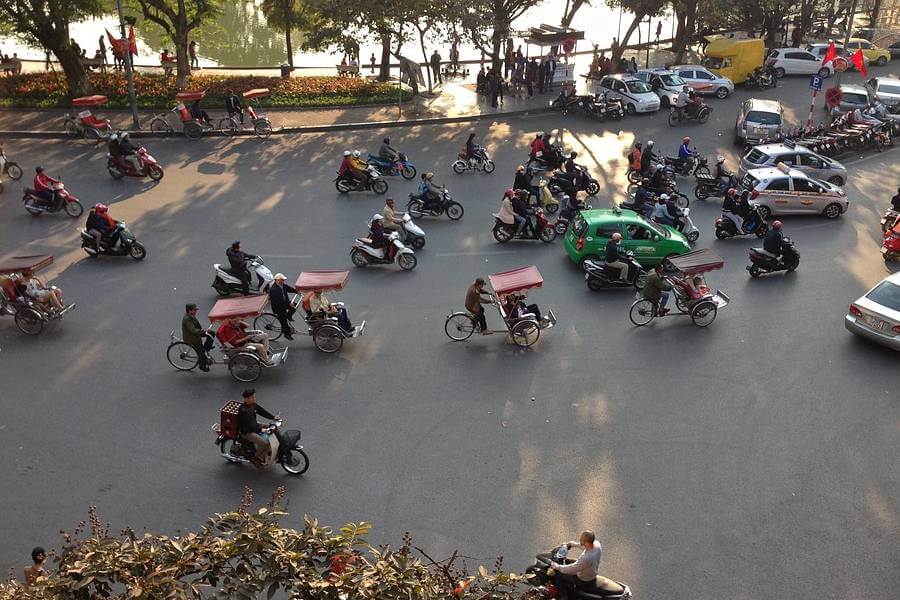 Enjoy the bustling and hustling of the big cities
Many tourists have appreciated Hanoi and Ho Chi Minh City among the top best wonderful places to visit in Southeast Asia. Immerse yourself in the city daily life is really one of the must-do things in your Vietnam Laos vacation. You will find that much in Vietnam taking place just on the streets: locals eat and drink, get a haircut, read newspapers and chat with each other and many more.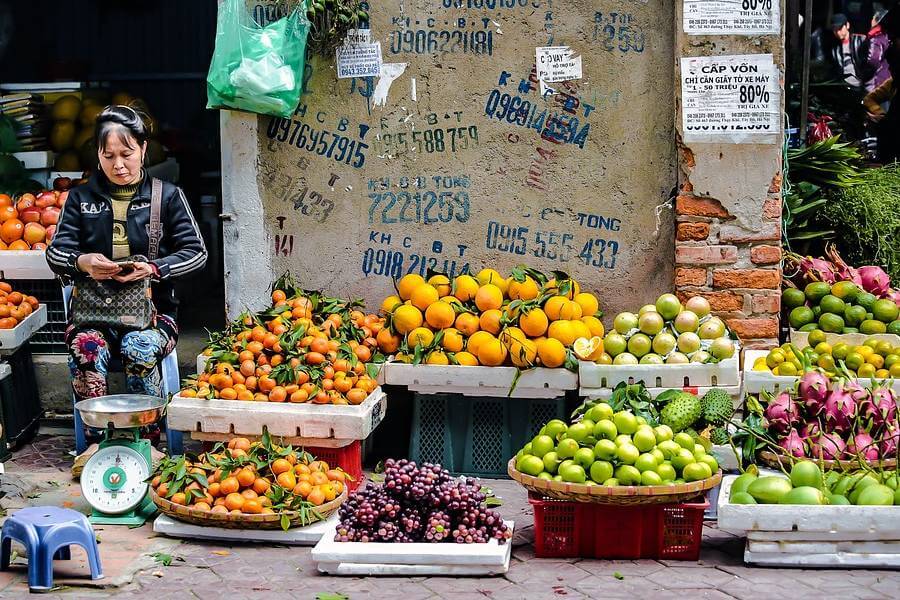 Wander Around the Local Vietnamese Markets
Have you ever imagined a Vietnamese market? The markets in Vietnam is considered one of the most vibrant and interesting markets that you should not miss to visit in any package tours to Vietnam and Laos. The smells and the sights will make you surprised. Besides "market on land", there are lots of amazing floating markets in the Mekong Delta where you can buy fruits, vegetables or anything that you can not imagine on the small boats.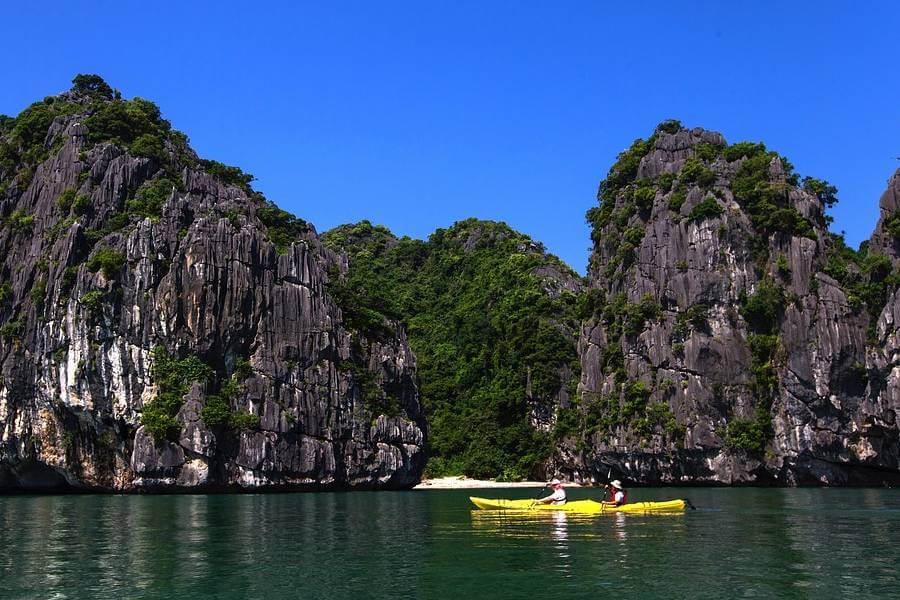 Have a Boat Trip in Halong Bay
The most famous attractions in Vietnam, Halong Bay attracts tourists by many thousands of karst islands, hidden beaches, and tiny fishing villages. Spend several days in your Vietnam Laos trip to cruise through the caves and numerous small islands and you will be satisfied with the beauty of this mysterious land as well as fascinating activities.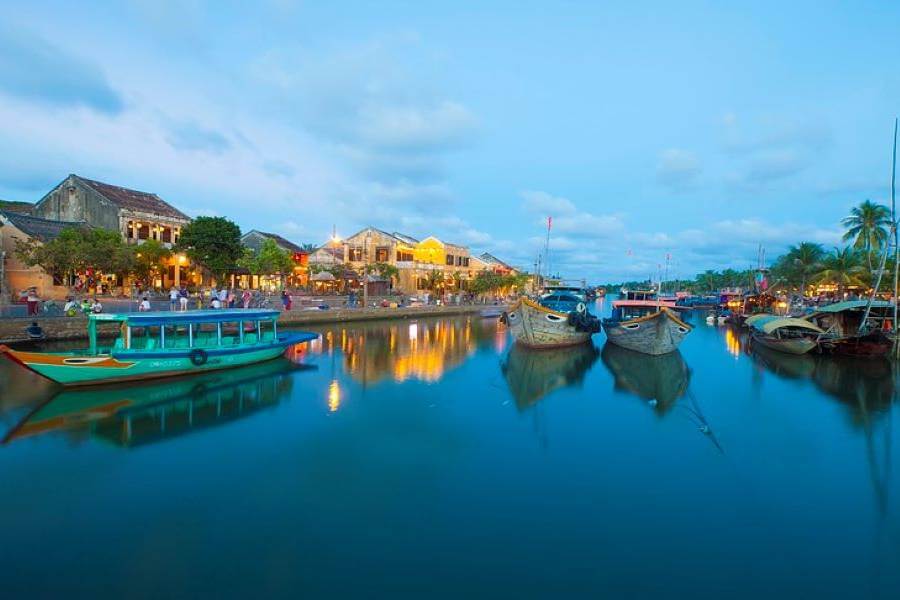 Relax in the Quiet Town of Hoi An
Standing in strong contrast to the major cities in Vietnam, Hoian is the most comfortable and charming ancient town in Southeast Asia. Hoi An not only is home to many ancient tourist sites, but it also offers a pristine beach area nearby. Whether your Vietnam and Laos travel itineraries include an eco-tour, a walking tour around the small streets and alleys or amazing activities like joining cooking classes, etc. what you can experience will be definitely beyond your expectation!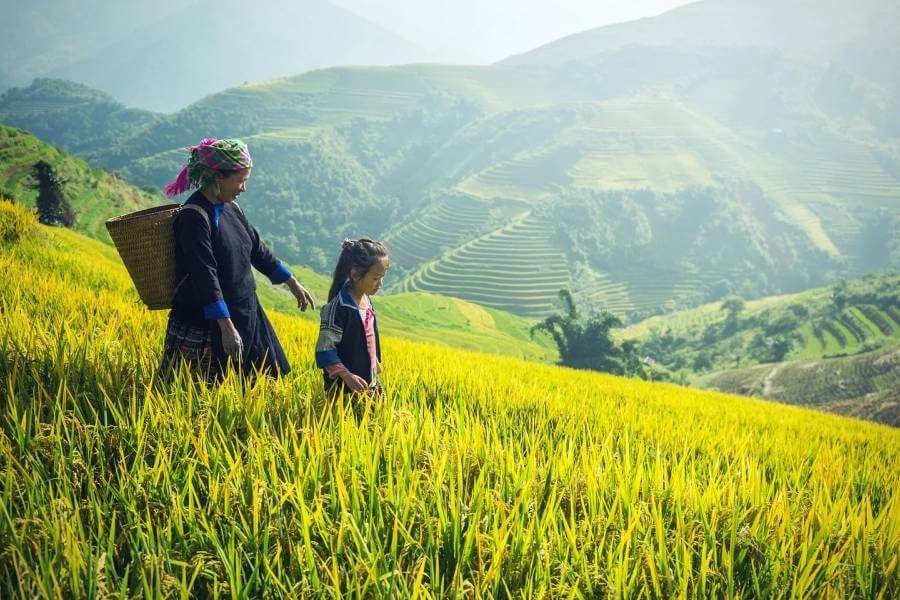 Discover the Pure Natural Beauty of Sapa
Situated in the remote northwest of Vietnam, the misty town of Sapa is famed for its rice terraces and is a great base for hiking. Your Vietnam Laos vacation packages should not miss this place in the tour itineraries as you don't want to miss the fabulous rice terraces, pictorial mountains, the chance to meet ethnic minority people and experience to live like a local.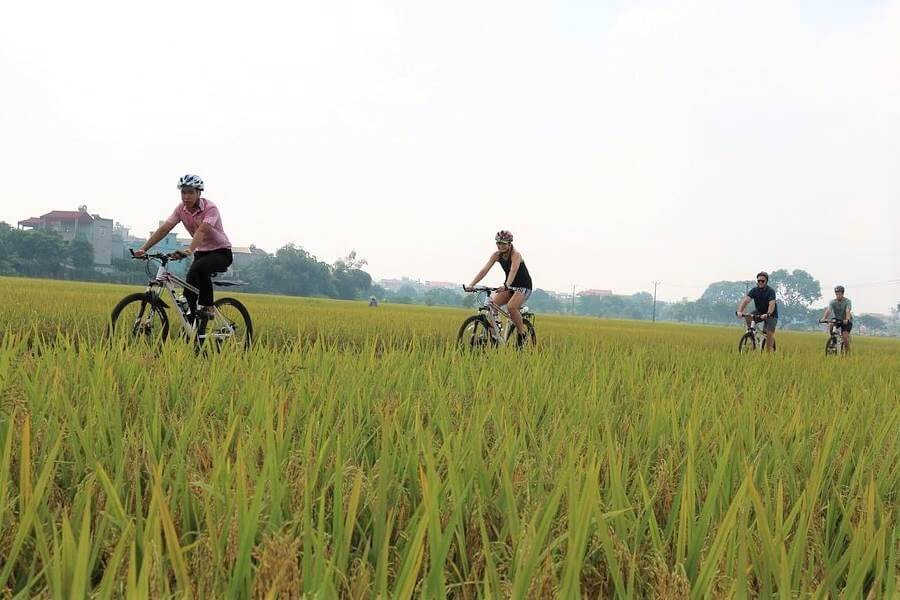 Rent a Bike and Explore the Peaceful Countryside
It is said that you haven't seen the real Vietnam until you ride a bike into the countryside of Vietnam. With a trip to Vietnam and Laos, you will get a closer look into the peaceful and beautiful of Vietnamese landscapes by experiencing local's activities from the early morning to the dawn of the day. A journey of your lifetime is waiting for you!
Things to Do and See in Laos from Vietnam Laos Tour Packages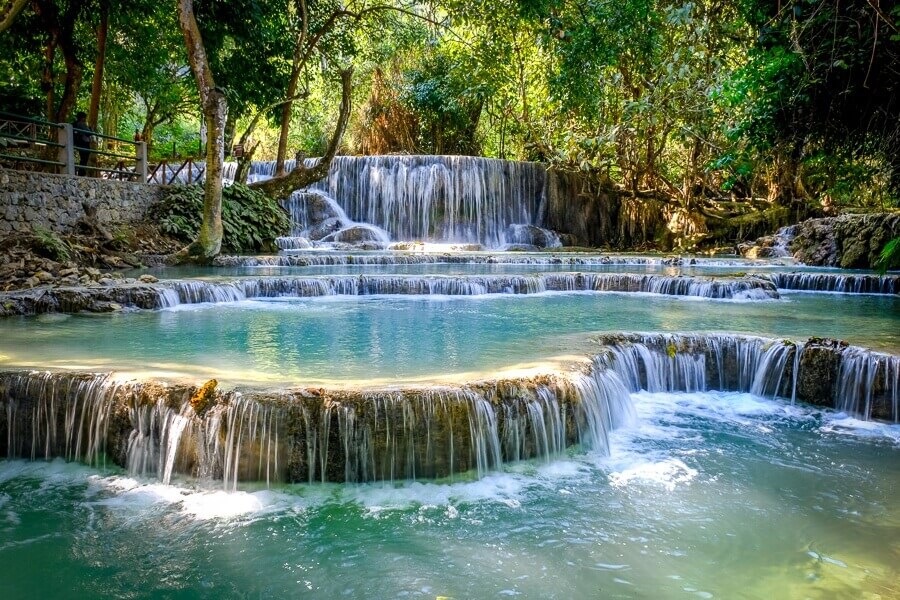 Soak up One of the Nicest Waterfalls in Asia – Kuang Si Waterfall
When taking a Vietnam Laos tour, make sure you include your trip to Kuang Si Waterfalls which is the prettiest one in Asia. It is located 29km south of Luang Prabang. The falls are in several stages, featuring a large cascade where you can jump down into pools below.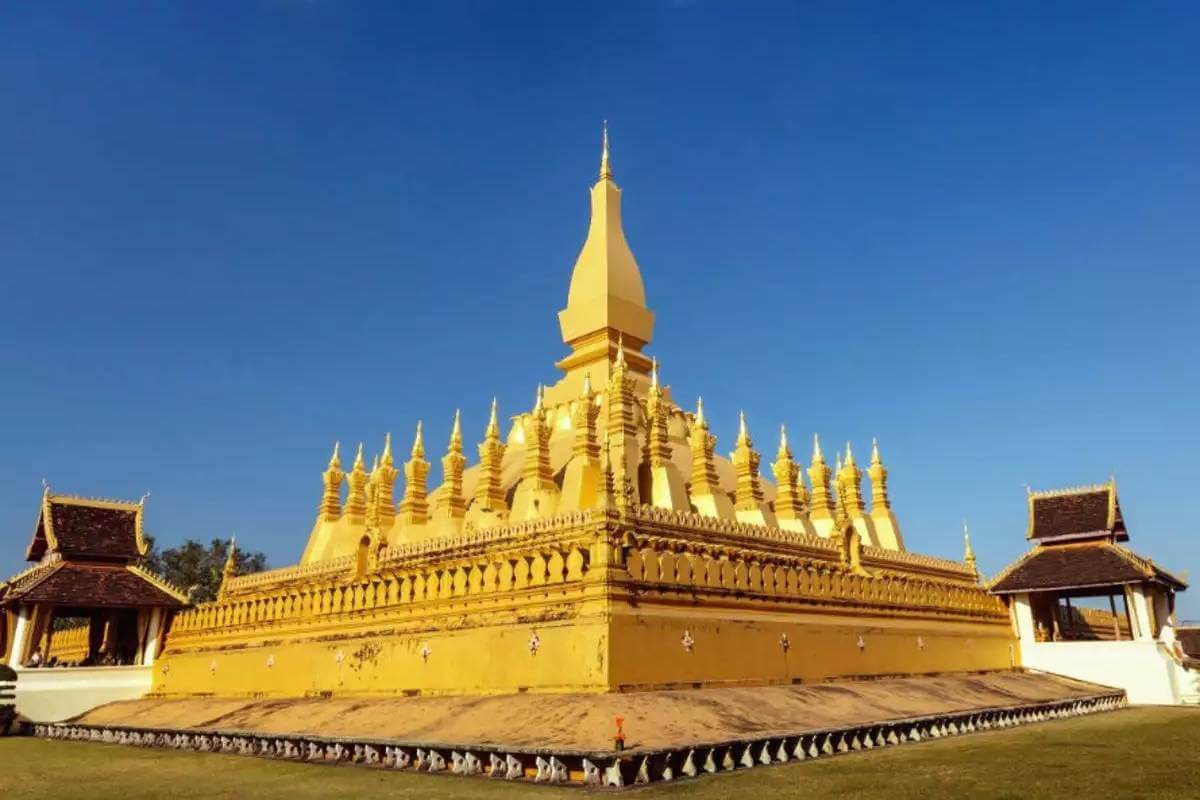 See the Golden Stupa in Vientiane
Considered the symbol of Buddhism in Laos and Laos rule, the Golden Stupa, That Luang or the Royal Stupa in Vientiane is an impressive Buddhist temple, which was first built in 1566. You'd better learn the history of Laos before stopping your Vietnam Laos tour itinerary in the Golden Stupa, or you can visit with a local guide to show you around.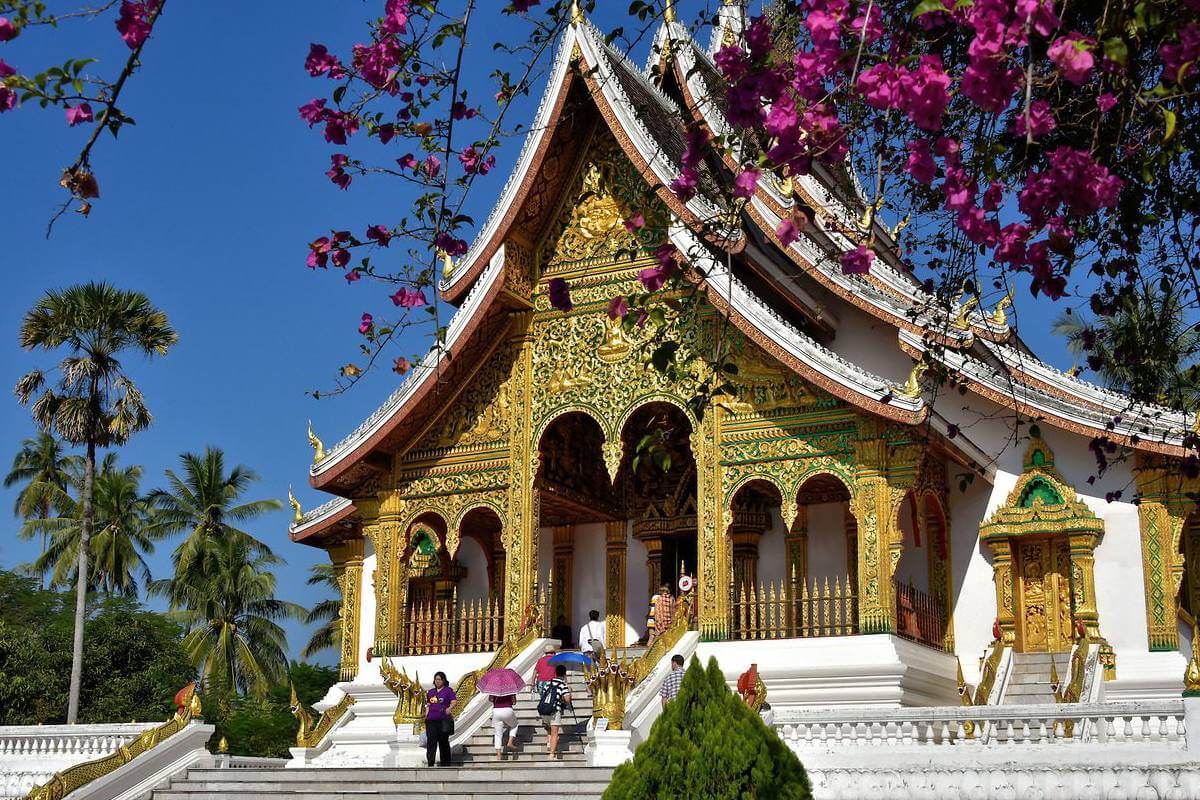 Wander Bare Foot around the Royal Palace Museum
Set in a spacious, well-tended garden just off one of Luang Prabang's main boulevards, tourists will reach the fascinating Royal Palace Museum. The museum is well worth a couple of hours if you want to learn more about Laos history and culture. Spend some time in your vacation in Vietnam & Laos to visit the museum, tourists can wander barefoot around and take excellent photos of the museum compound from the Mount Phousi steps that descend to Thanon Sisavangvong.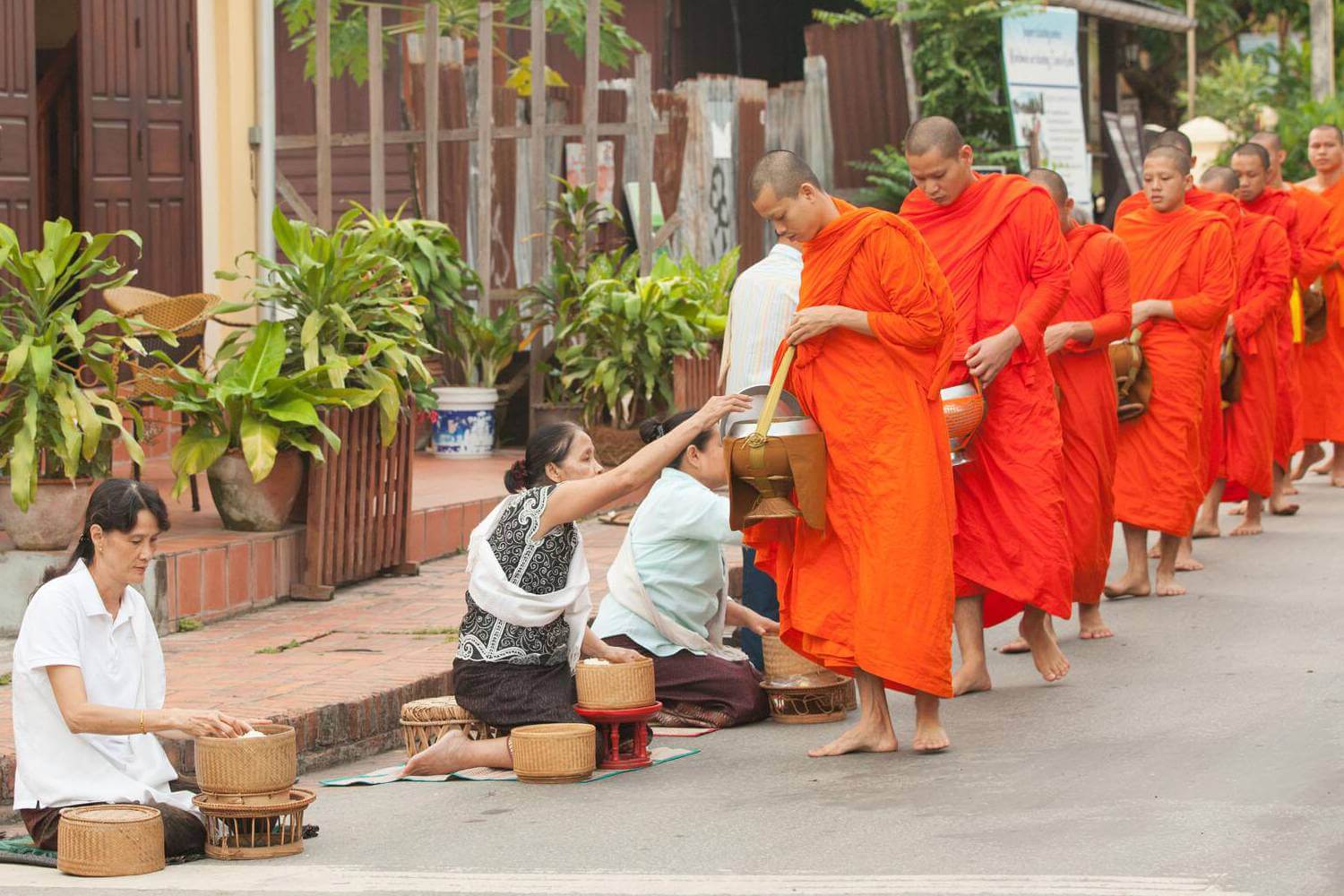 Be Humbled by Tak Bat
Alm givings ceremony is one of the most sacred Laos traditions, happens peacefully and spiritually. In any Vietnam Laos tour packages, tourists will be encouraged to be involved as long as a level of respect is maintained throughout. The daily ceremony takes places in the early morning as the sun rises, beginning on the main street of Luang Prabang. Otherwise, you can enjoy the ritual by sitting quietly on the opposite side of the street and use your camera without a flash.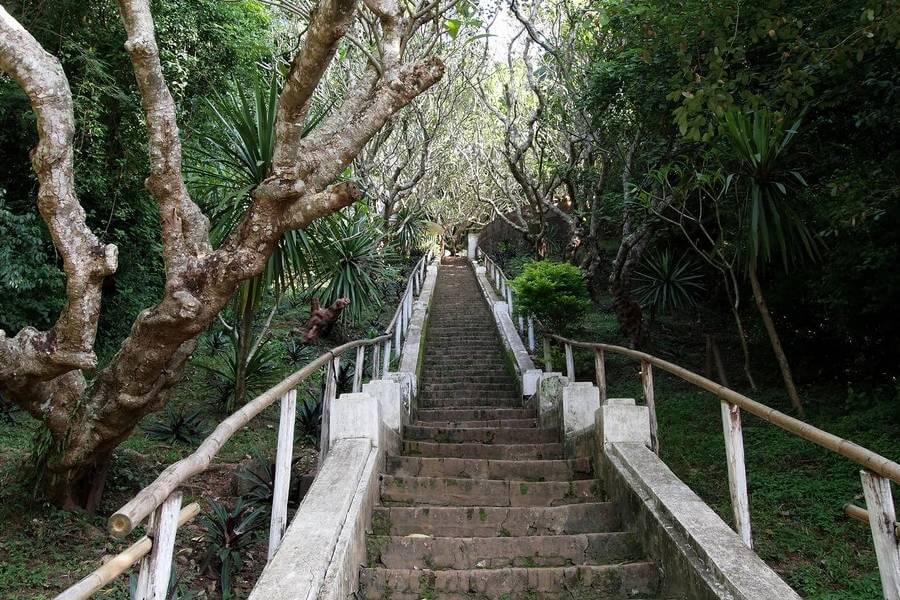 Climb Mount Phousi
At the height of 150 meters, Phousi Hill, which means "sacred hill", a distinctive cut on the Luang Prabang skyline, is the host to many temples and also the best place to watch sunrise or sunset in the city. Walk up 355 steps to the viewing point on Phousi Mountain to get a 360-degree panoramic view of Laos. Any combining tours to Vietnam and Laos should not miss the chance to soak up this fascinating site.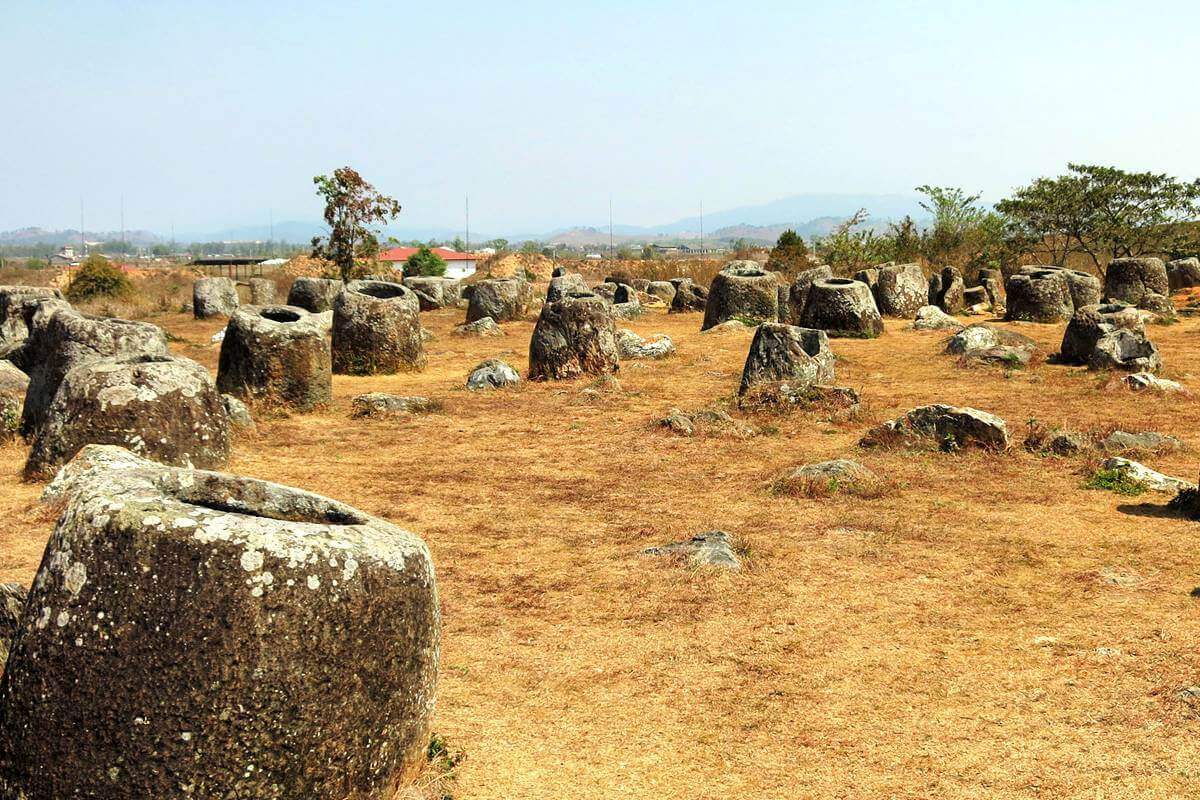 Visit the Plain of Jars
The Plain of Jars is an archaeological site in Laos with hundreds of large stone jars scattered throughout the landscape. Their purpose remains unknown, but theories suggest they were used for funerary or storage purposes. While their purpose remains a mystery, visitors can explore the site on foot and learn about the ongoing archaeological research. A Vietnam Laos tour may include a visit to the Plain of Jars as part of a larger itinerary exploring the highlights of both countries.