General Information
Duration: 19 days/ 18 nights
Start/End: Ho Chi Minh City/ Bangkok
Tour Route: Hanoi – Halong Bay – Hue – Danang – Hoi An – Ho Chi Minh– Ben Tre – Mekong – Cai Be Floating Market – Saigon- Bangkok – Chiang Mai  – Phuket – Bangkok
Tour Categories: Southeast Asia Tours
Tour Type: Explore and Experience
Tour Customizable: Definitely! (Tell us your specific requirements in the inquiry form)
Guides: Local Guide (English Speaking Guide, Other Languages depends on your Request)
Brief Itinerary
VIETNAM
Day 1: Hanoi Arrival (B)
Day 2: Hanoi (B, L, D)
Day 3: Hanoi City Tour (B, L, D)
Day 4: Hanoi –Halong Bay (B, L)
Day 5: Halong bay –Hanoi/Hue (B, L)
Day 6: Hue Discovery (B, L)
Day 7: Hue – Danang – Hoian (B, L)
Day 8: Hoian – Danang – Ho Chi Minh City (B, L)
Day 9: Ho Chi Minh City –Ben Tre – Mekong Lodge (B, L)
Day 10: Mekong Lodge –Cai Be Floating Market – Saigon (B, L)
Day 11: Ho Chi Minh City – Bangkok (B)
THAILAND
Day 12: Bangkok City Temple Tour –Royal Grand Palace & Emerald Buddha (B, L, D)
Day 13: Bangkok – Chiang Mai (B)
Day 14: Chiang Mai Yummy Food- Explore Temple & Market (B, D)
Day 15: Half Day with Lovely Elephant (B, D)
Day 16: Bangkok –Phuket City tour – Phuket Fantasea Show (B, L, D)
Day 17: Free time in Phuket Beach
Day 18: Free time in Phuket Beach
Day 19: Phuket /Bangkok– Departure (B)
Full Itinerary
Day 1: Hanoi Arrival (B)
Welcome to Hanoi – the capital and the heart of Vietnam! Upon arrival, you will be warmly greeted and transferred to the hotel for a delicious meal and refresh yourself after the flight. After that,  enjoy 1-hour cyclo to visit Hanoi Old Quarter. Dinner at a local restaurant. Overnight in Hanoi.
Day 2: Hanoi (B, L, D)
Weak up early in the morning and enjoy breakfast before exploring a tour around downtown Hanoi. The first destination for you is the Ho Chi Minh Mausoleum – a large memorial in Hanoi which located in the center of Ba Dinh Square. This is also a spiritual place where leader Ho Chi Minh ( Uncle Ho) read the Declaration of Independence on September 2, 1945.
After visiting the Mausoleum, we head to Temple of Literature – the first national university in Vietnam, where offering ceremonies, study sessions and the strict exams of the Dai Viet took place. Stroll around the Temple to get a deeper understanding of the ancient temple – which is built in 1070 at the time of King Lý Nhân Tông. Up to now, it is one of several famous temples in Vietnam which are dedicated to Confucius, sages, and scholars.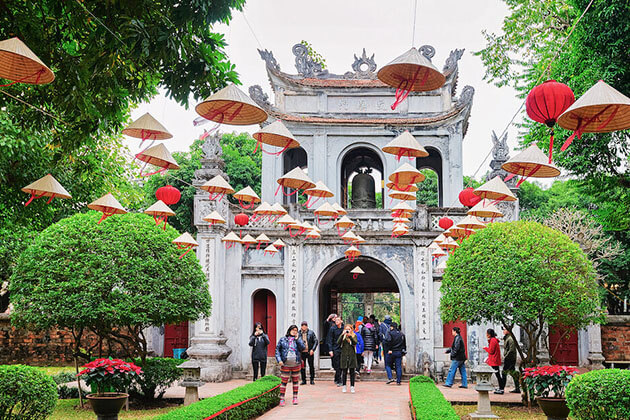 In the lunchtime, you have dinner and a short break before transferring to the Museum of Ethnology (Monday close). You will have a great chance to get a closer insight into the 54 different ethnic groups of Vietnam.
At the end of the day, we transfer back to the hotel to enjoy dinner and stay overnight here.
Day 3: Hanoi City Tour (B, L, D)
After having breakfast, we continue to explore beautiful Hanoi. Start a journey today with an amazing tour around the Hanoi Old Quarter within 1,5 hours. Moving to Cao Thang street where local people sell all traditional cooking spices of Vietnam including peppers, mushrooms, onions, garlic, black mushrooms, lemongrass, ginger, and much more. After that, walking to Dong Xuan Market, the biggest market in Hanoi to immerse yourself in a bustling atmosphere of the market and buy some Vietnamese souvenirs or diverse products. Then, pay a short visit to Hang Ma street, the road is sparkled by decorating stuff ranging from Chinese toys, the colorful lanterns, paper goods to paper votive offerings. Next, passing by Luong Van Can, Lan Ong, your next destinations for you are Hang Buom street and Bach Ma Temple, where located the oldest temple of Hanoi.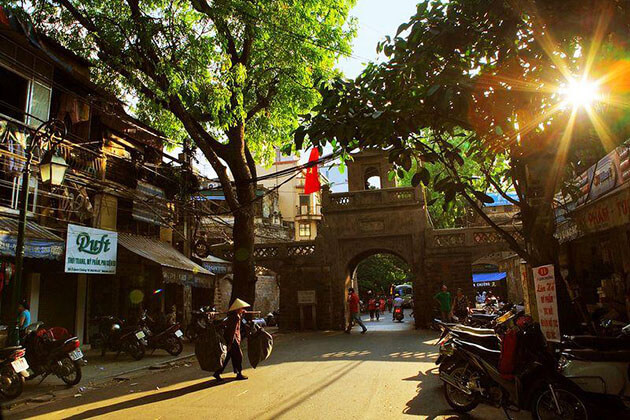 Afterward, walking through Ta Hien to taste street food all over South East Asia, especially you can get a street beer. Continue We continue to Hang Be street where is one of the best well-known outdoor markets. We complete the trip today at Hoan Kiem Lake, which known as "Lake of the Returned Sword". Take a lot of beautiful photos on The Huc red bridge to Ngoc Son Temple and enjoy interesting shows at Water Puppet show theatre. Every corner in Hanoi gives you a great chance to get a closer insight into the daily life of local people and the beauty of culture and history.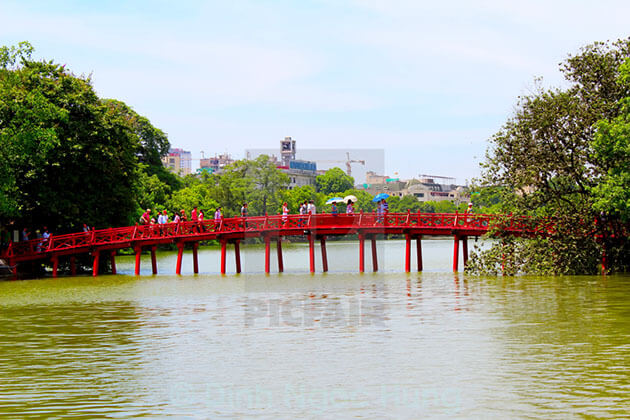 As the sun begins to set, we transfer back to the hotel to relax and enjoy some local cuisines of Hanoi.
Day 4: Hanoi –Halong Bay (B, L)
Following your breakfast, we set off to Halong Bay. Enjoy a comfortable seat with a welcome drink, be briefing about safety on boat and activities included. Upon arrival, board our boat, and cruise along thousands of marvelous limestone Karst formations. Afterward, unique Vietnamese set menu while leisurely cruising to the core of Bai Tu Long Bay. Immerse yourself in kayaking through the karst and stunning nature, swimming and relaxing.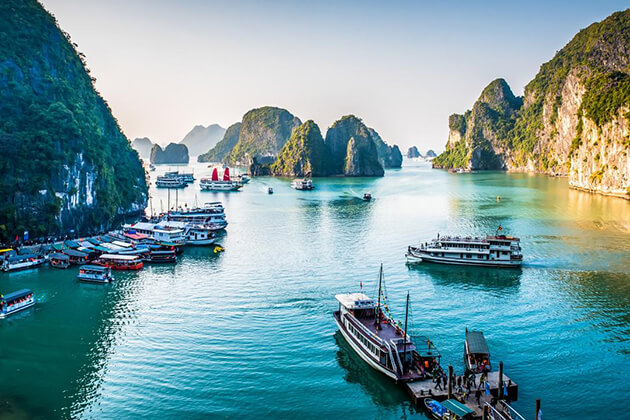 When it gets dark, get back to the boat and enjoys the sunset party while our cruise sailing to the overnight anchorage. You have free time to relax and overnight onboard.
Day 5: Halong bay –Hanoi/Hue (B, L)
Get up early and kick off your day with Tai Chi on the Sundeck. Then you will be served Vietnamese traditional food before visiting the Thien Canh Son. Our tour guide will explain the history of Ha Long Bay, Bai Tu Long Bay and this Cave, made by Mother Nature. Afterward, upon return to the boat, you will have time to freshen up and finish packing.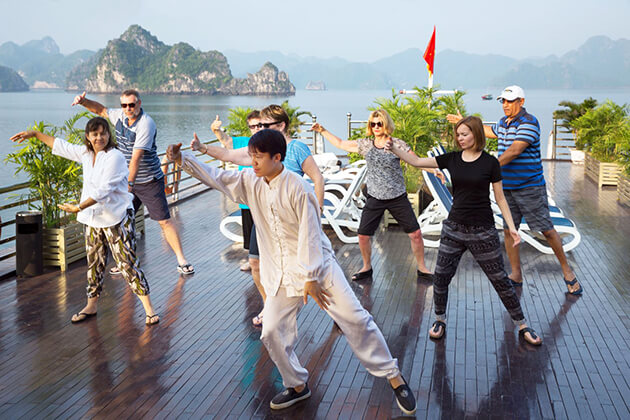 More interestingly, you also have a chance to join the Vietnamese cooking demonstration on the boat and enjoy a special lunch before taking a farewell Halong Bay to returns to Hanoi. You have leisure time to chill out or shopping before transfer to Hanoi station catch train to Hue. Stay overnight on train.
Day 6: Hue Discovery (B, L)
Upon arrival in Hue, you will be served breakfast before taking a boat for a cruise on the gentle Perfume River. Pay a visit tranquil Thuy Bieu village– a laidback village famous for growing the Thanh Tra fruit to explore a lot of garden houses, a unique feature of Hue countryside, and then stroll along and hop on the bike around the village.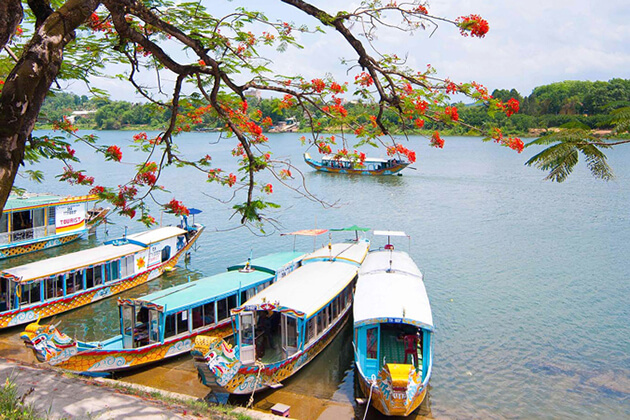 It is an ideal time for you to see old communal houses, pass by several ancient ancestral temples and communicate with local people. Interestingly, you can join meaningful activities with them including gardening, talking and drinking tea.
In the lunchtime, savor a special lunch and take a short break before exploring Emperor Minh Mang's tomb, ponds, and gardens, which are perfect harmony between its architecture and its natural environment.
Dinner on your own and free time to relax. Overnight in Hue.
Day 7: Hue – Danang – Hoian (B, L)
Enjoy breakfast and start a new day with the discovery of the Imperial Citadel, city of the Nguyen Dynasty. Must-see destinations are South Door, The Flag Tower, Edict Pavilion, Supreme Harmony Palace, and the Forbidden Purple City.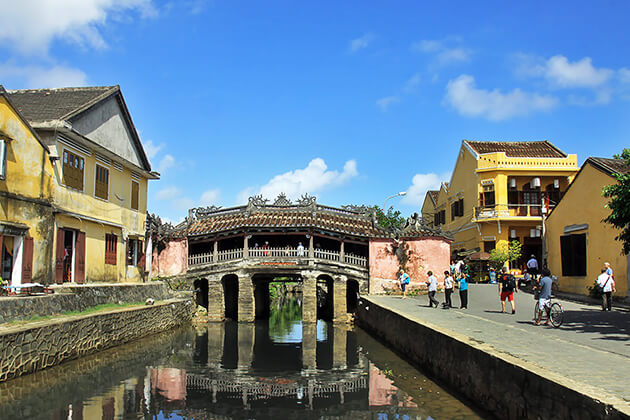 Next transfer to Da Nang through Hai Van Pass and the tranquil fishing village of Lang Co. After that, continue to the riverside town of Hoi An, a significant trading port officially listed as a World Heritage Site. In lunchtime, head to a local restaurant for lunch. After that, stroll leisurely around Hoi An ancient town and discovering its treasures like Quan Cong temple – the brave and loyal Chinese General or Phuc Kien pagoda – the most well-known assembly hall in the ancient town. The Japanese Bridge, Hoi An's signature landmark is the last stop today.
Stay overnight in Hue.
Day 8: Hoian – Danang – Ho Chi Minh City (B, L)
After having breakfast, transfer to the airport for your flight to Ho Chi Minh city. Upon arrival in Ho Chi Minh, your tour guide will greet warmly and transfer you to the hotel for check-in and refresh.
After that, get ready to discover hustling and bustling Saigon. Enjoy an amazing tour in the Old Colonial Residential Quarter and then pay a visit to the City's old Hotel, a palace built by the French architect Paul Gardès in the downtown area of Saigon. You also have an opportunity to see Opera House, which is inspired by the architecture of the Opera Garnier in Paris built-in 1900. The impressive point of the opera is the facade of the opera- a replica of the Petit Palais in Paris, Notre-Dame Cathedral – the reputable central Saigon Cathedral serves as Ho Chi Minh City 's architectural marvels, built with materials totally imported from France.
Compete for the morning of exploration with Saigon Central Post Office, which designed by Gustave Eiffel.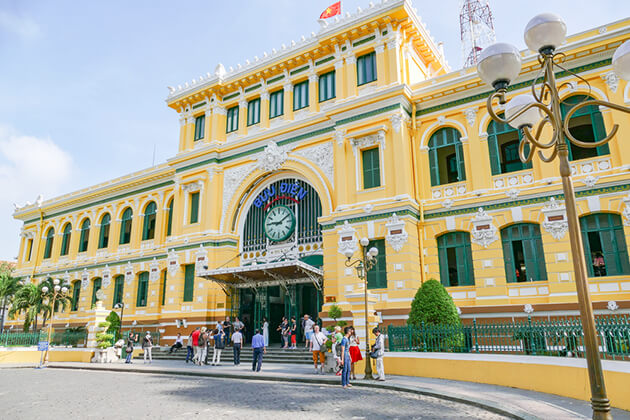 Enjoy lunch in a local restaurant before exploring the Chinese quarter "Cho Lon" and its busy Binh Tay market.
Dinner on your own and refresh and stay overnight in Saigon.
Day 9: Ho Chi Minh City –Ben Tre – Mekong Lodge (B, L)
Today, we will departure from Ho Chi Minh City, Take a private car to travel to Cai Be river wharf. Upon arriving, our tour guide will pick you up to Mekong Lodge by boat to check in your private bungalows in the Mekong Lodge.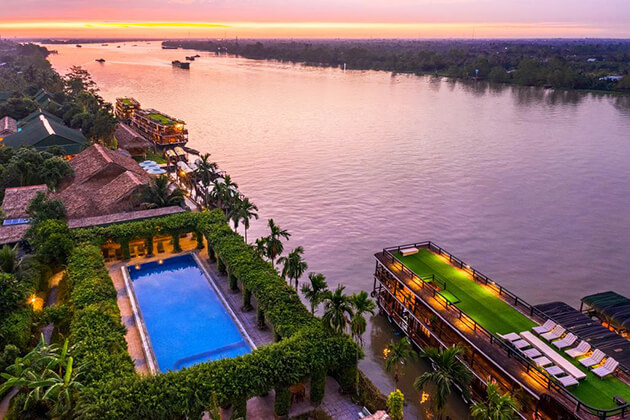 In the lunchtime, enjoy a delicious lunch in the restaurant before hopping a bike to experience the nearby village around the Lodge to enjoy beautiful and vast rice terraces along the way. Interestingly, you also have a great chance to pay a visit to local orchards and taste some freshly picked fruit.
The rest of the day, you have leisure time on your own and stay overnight at the Mekong Lodge.
Day 10: Mekong Lodge –Cai Be Floating Market – Saigon (B, L)
Wake up and enjoy breakfast in the morning to get ready taking Cai Be floating tour and ground market. Firstly, pay to visit traditional families making rice cake, coconut candy, caramel souffle cake to witness a wide range of traditional production in Mekong Delta. Take free time to enjoy local food and taste some local honey tea before coming back to the Lodge.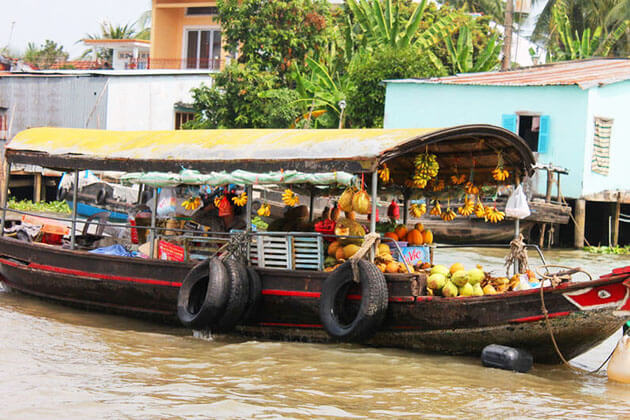 At the end of the day, transfer back to Ho Chi Minh city for check-in, refresh and good sleep.
Day 11: Ho Chi Minh City – Bangkok (B)
Get up early and enjoy a special breakfast, then, take a flight to Bangkok. Arriving at Bangkok, your tour guide will greet you and transfer you to the hotel for check-in and relax. The rest of the day is free for you to do your favorite on your own. Overnight in Bangkok.
Day 12: City Temple Tour –Royal Grand Palace & Emerald Buddha (B, L, D)
Having breakfast at the hotel and then enjoy a sightseeing tour to Wat Traimit – the famous Temple of the Golden Buddha. Next, visit the largest and oldest temple in Bangkok – Wat Po and the highlight for you is or The Temple of the Reclining Buddha.
After lunch, we continue to explore the most famous tourist destinations in Bangkok, the Royal Grand Palace, and Emerald Buddha. After that, transfer back to the hotel and free at leisure.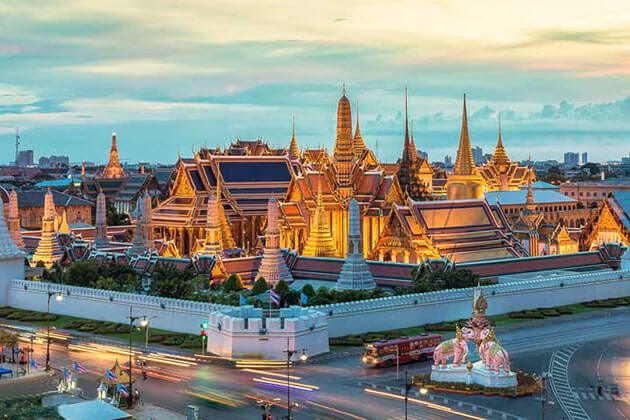 The evening, you have a great chance to enjoy the Chao Phraya Princess Dinner Cruise for beautiful night scenery on both sides of the Chao Phraya River. More interestingly, while enjoying your "Welcome Drink Fruit Cocktail" The Saxophones will entertain you with romantic music. Do not remember to bring your camera to capture beautiful pictures of the two "Wonders by night" in Bangkok Wat Arun (The Temple of Dawn) and Wat Pra Kaew (The Grand Palace). After that, enjoy dinner under the candlelight with "Live music" in a romantic atmosphere while immersing in a repertoire that ties the East to west and swings to the Latin beat or romantic songs and Pop jazz, which is performed by the talented musician and singer.
Afterward, transfer back to the hotel to enjoy dinner and relax. Overnight accommodation in Bangkok.
Day 13: Bangkok – Chiang Mai (B)
After having breakfast and check- out of the hotel, you will be transferred to the airport for a flight to Chiang Mai. Upon arrival, your tour guide will pick you up to the hotel for refreshing. The rest of the day is free for you to either relax or explore the largest city in Northen Thailand – Chiang Mai
Day 14: Chiang Mai Yummy Food- Explore Temple & Market (B, D)
Start the morning by discovering Chiang Mai yummy food. Take a great chance to see and taste the authentic local cuisine or flavorful street food. Follow by mouth-watering dessert, fruit juice, coconut milk dessert, coffee and much more. For sure, Chiang Mai serves endless cheap with tasty food at varied places like malls, restaurants, and markets. As a bonus for you, these best places to enjoy in Chiang Mai are relatively reasonable by Western delicacies. There are top ten unique cuisines you should not miss to taste such as Khao Soi, Khao Kha Moo, Roast Chicken, Noodles, Khanom Krok and much more.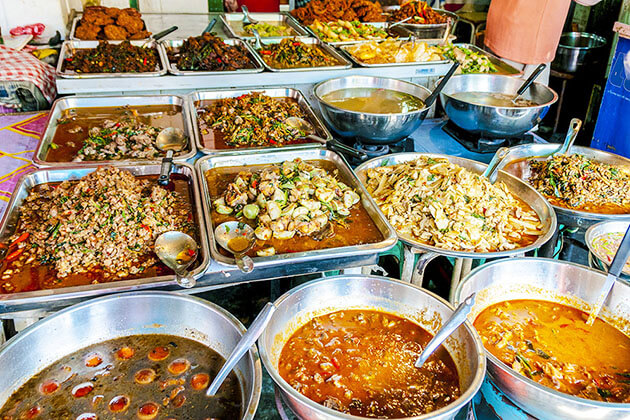 Beside Chiang Mai food tour, you certainly will be fell in love with Northern Thailand's weird city filled with night markets and glory temples. After a conversation with your licensed tour guide to know more about local culture and people, you can wander along or take local transportation to witness and experience people way of life in Chiang Mai, meet the Buddhist monk as well as learning the Buddhist way.
After that, we will take you to visit the most significant and reputable temple- Wat Prathat Doi Suthep. Spend around a couple of hours discovering the temple and surrounding area. Begins an interesting tour with a pleasant wildly driving up 3,500 feet above sea level to the sacred temple of Doi Suthep.
Afterward, ascend up the 306 steps to the temple gateway which guarded by two splendid Nagas. Take time to stroll around the grounds of Doi Suthep to observe in the magnificent golden pagoda and have a panoramic view of the whole city. Surely, seeing and exploring Wat Doi Suthep is worth your time.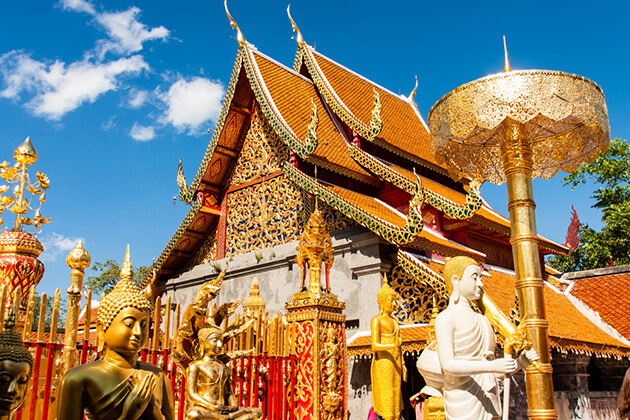 We complete a day with a special dinner and a good sleep at the hotel.
Day 15: Half Day with Lovely Elephant (B, D)
After breakfast at the hotel, we continue to Mae Rim district, which located in the North of Thailand and it offers real Thai wildlife and natural wonders. Be ready to discover the authentic Thai culture and to join retired elephant which lives in comfortable and nature along the river. Start with getting a brief introduction to the elephants by feeding them bananas, playing with them while you learn about their behavior and then walk in the jungle along a stream surrounded by nature and local farms. Furthermore, we also make some special food for them by shredded greens, added sea salt and herbs and served it up to one of the elephants. Afterward, bath the elephants and enjoy in the sun at the swimming pool.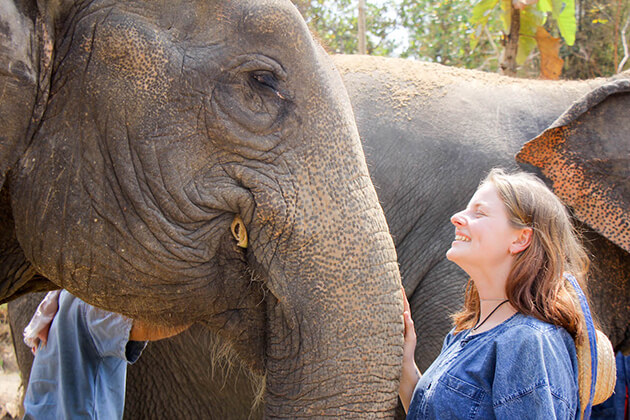 The rest of the day is free and easy at leisure on your own until time to transfer to the hotel for dinner and overnight.
Day 16: Bangkok –Phuket City tour – Phuket Fantasea Show (B, L, D)
Get up early and transfer to the airport for flight departure to Phuket. Upon arrival at the airport, your tour guide will meet and transfer you to the hotel for breakfast and relaxation. Start with a sightseeing visit to Phuket City to enjoy islands natural beauty as we drive along the beautiful beach roads through Patong, Karon, Kata, and Rawai. The next destination is View Point where you can observe the stunning bays of Kata Noi, Kata, Karon and Kho Poo Island.
After having lunch, leisurely drive around Phuket town, where show a unique mix of old and new, peaceful and pulsating to enjoy the Sino-Portuguese style buildings. Other attractions visited are Wang Thalang Lapidary gem factory, Wat Chalong – Phuket's most beautiful and renowned monastery, the Gypsy Village at Rawai Beach, a Cashew Nut Factory where you may sample the culinary delights on offer and the breathtaking sunset viewpoint at Phromthep Cape.
At the end of the day, enjoy dinner with the best show in Phuket "Phuket Fantasea Show". After the show, we transfer you back to the hotel. Overnight in Phuket.
Day 17 – Day 18: Free time in Phuket Beach
A couple of days in Phuket Beach, you have free time for your relax and exploration on the beautiful beach. Meals on your own. Overnight in Phuket.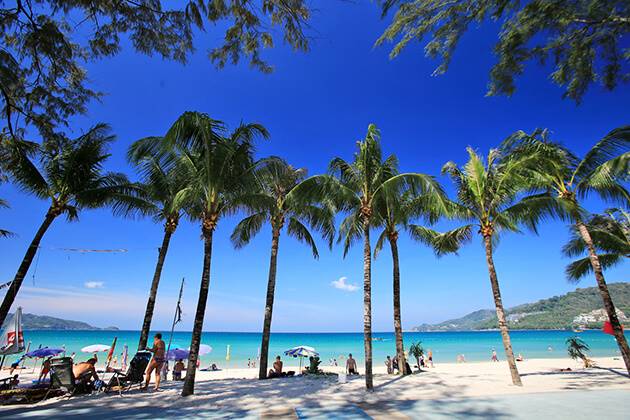 Day 19: Phuket /Bangkok– Departure (B)
Breakfast at the hotel, then free at leisure till time transfer to the Phuket airport flight back to Bangkok and connecting to your next flight. Enjoy your Southeast Asia tour!