Lying far Siem Riep about 7.2 kilometers and Angkor Wat 1.7 km to the north,  Angkor Thom is the extremely prosperous capital under the dynasty of King Jayavarman VII. Angkor Thom was built in the late XII century.
Angkor Thom means large city or great city. The city is 9 km² wide,  inside there are many temples built in the previous periods as well as under dynasty of Jayavarman and his successors. The city is located approximately 1/4 mile from Tonle Sap lake. The wall are 8 meters high,  3 kilometers long, the moat surrounding it outside. Walls were built of laterite with a parapet on top. In the next centuries, Angkor Thom was still the capital of the kingdom in the decline period until it being abandoned at around before 1609.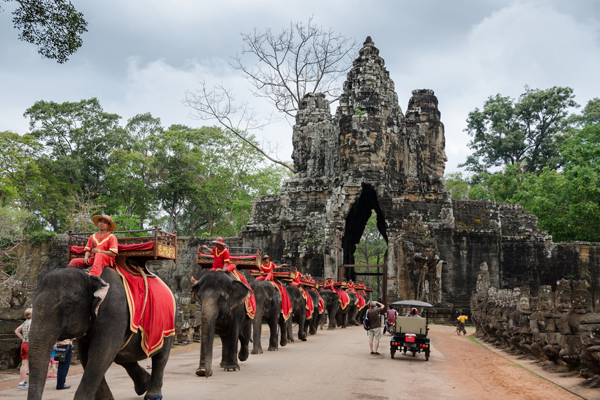 Angkor Thom was constructed based on the Bayon style (similar to Baroque art – period of Renaissance, Italy). This represents in a large scale of the works as well as the widespread use of laterite as a building material such as paving entrances to the city, making the image of Naga in each tower and carving giant faces on the towers.
Angkor Thom has 5 entrance gates. Around Angkor Thom used to a moat with various ferocious crocodiles so as to prevent the intrusion from the outside. The only way to pass the moat is from the gates East, West, South, North. Each gate is approximately 20 metres high. The two sides of each of the entrance is sculptures, the left side is 54 God statues  and the right is the 54 Evil statues that called back the Churning of the Ocean of Milk in Indian mythology.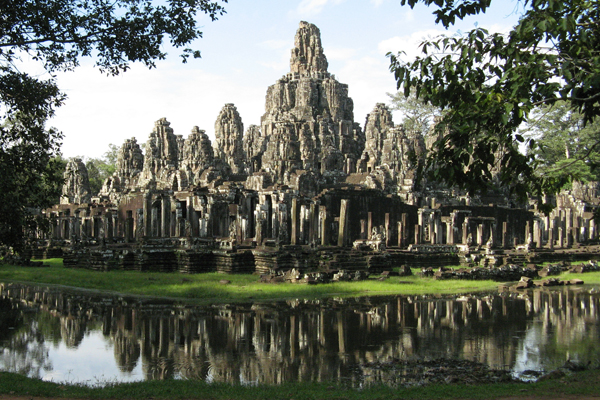 It has been nearly a thousand years, the architectures of Angkor city have been devastated by war and nature, but something called the soul, the spirit of ancient Khmer civilization still remains together with time. Dropping in Angkor, gazing the stunning magnificent architectures, purchasing souvenirs of the locals and enjoying the delicious food will be unforgettable memories for visitors.