Often called Ba Be Lake for short, Ba Be National Park was established in 1992 as the eighth national park of Vietnam. The scenery here is so unspoiled, from towering limestone mountains at the height of 1554 metres then suddenly down into the valleys underneath, wrapped in dense evergreen forests, dotted with the mesmerizing waterfalls dazzlingly pouring down, and caves, with the lakes dominating the center of the park.
Ba Be National Park is located in Ba Be District, from Bac Kan Province 68 km to the northwest, and from the capital Hanoi 250 km to the north. Formed from an ancient karst limestone area, Ba Be National Park own a very special geological structure, with a lot of high mountains, caves, rivers, lakes, streams, underground water, creating a particularly attractive landscape.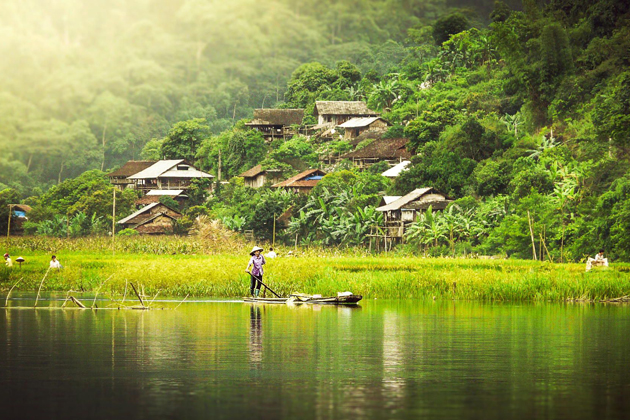 The park is a rain forest area with over 550 species of plants. Hundreds of wildlife animals are together inhabiting here, including 65 mammals, 353 butterflies, 106 species of fish, four kinds of turtle, and other numerous rare creatures. 233 bird species include the spectacular crested serpent eagle and the oriental honey buzzard.
Hunting is forbidden, but residents are permitted to catch fish, and the government subsidies the villagers not to cut down the trees.
The region is home of 13 hill tribes, most belonging to Tay ethnic minority. Besides, there are smaller numbers of Dzao and Hmong people.
Ba Be National Park is now becoming an eco-tourism area, with more than 20 astonishing sites like Puong Cave, Dau Dang Waterfall, Fairy Pond, Ba Be Lake, Den An Ma Island, Widow Island, Tham Khit Cave, Na Phoong Cave, Hua Ma Cave; walking tours in the primary forest; cultural villages like Pac Ngoi, Bo Lu, Coc Toc, Hin Dam, Khau Qua, Nam Dai, Cam Thuong, Cam Ha…
With the astounding natural scenery and authentic cultural identity, Ba Be National Park is a quiet eco-tourism, an alluring resort for both domestic and foreign tourists.