General Information
Duration: 23 Days/ 22 Nights
Start/End: Siem Reap/ Luang Prabang
Tour route: Siem Reap – Phom Penh – Chau Doc – Can Tho – Ho Chi Minh City – Hoi An – Hue – Hanoi – Mai Chau – Halong Bay – Vientiane – Vang Vieng – Luang Prabang
Tour Categories: Indochina tour packages
Tour Customizable: Definitely! (Tell us your specific requirements in the inquiry form)
Guides: Local Guide (English Speaking Guide, Other Languages upon Request)
Transportation: Private first-class air-conditioned vehicles
Accommodation: Listed below or equivalent. Rooms with private bath or shower, hotel taxes, porterage, tips, and service charges
Highlights
Living out your travel dreams exploring the ruins of Angkor Complex in Cambodia
Immerse in the magic waterway of the Mekong Delta with an onboard overnight trip
Discover Vietnam country with its stunning and varied geography, amazing cuisine, pristine beaches and daily activities like the way locals do
Set foot into superb destination Laos, highlighted with mist-shrouded mountain peak flanked by jungle-clad valley combine with a fascinating Buddhist culture
Brief Itinerary
Day 1: Siem Reap Arrival
Day 2: Siem Reap – Angkor tour & boat trip Tonle Sap Lake
Day 3: Ta Prohm – Grand Circuit – Angkor Wat – Bakheng Hill
Day 4: Siem Reap – Fly to Phnom Penh – Half-day sightseeing tour
Day 5: Phnom Penh – Speed boat to Chau Doc
Day 6: Chau Doc – Mekong Delta Cruise – Cai Be
Day 7: Cai Be Floating Market – Ho Chi Minh City
Day 8: Ho Chi Minh City Tour
Day 9: Ho Chi Minh City – Fly to Danang – Hoi An
Day 10: Cycling to Tra Que Vegetables Village
Day 11: Hoi An – Hue – Food tour by cyclo
Day 12: Hue half-day sightseeing tour – Fly to Hanoi
Day 13: Hanoi half-day city tour
Day 14: Hanoi – Mai Chau
Day 15: Mai Chau – Hanoi
Day 16: Hanoi – Halong Bay
Day 17: Halong Bay – Hanoi
Day 18: Hanoi – Fly to Vientiane
Day 19: Vientiane – Vang Vieng
Day 20: Tham Jang – Tham Phoukham – Luang Prabang
Day 21: Luang Prabang – Pak Ou Caves
Day 22: Luang Prabang – Kuang Si Waterfalls
Day 23: Luang Prabang – Departure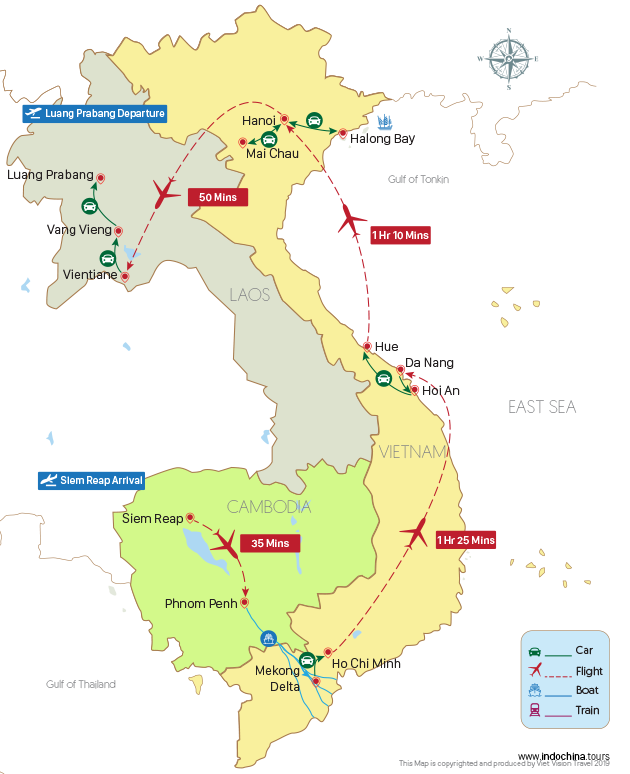 Day 1: Siem Reap Arrival (D)
Welcome to Cambodia! Upon arrival in Siem Reap airport, your local guide and driver will pick you up and escort you to the hotel for check-in. Enjoy your welcomed dinner and relax for the rest of the day.
Overnight in Siem Reap.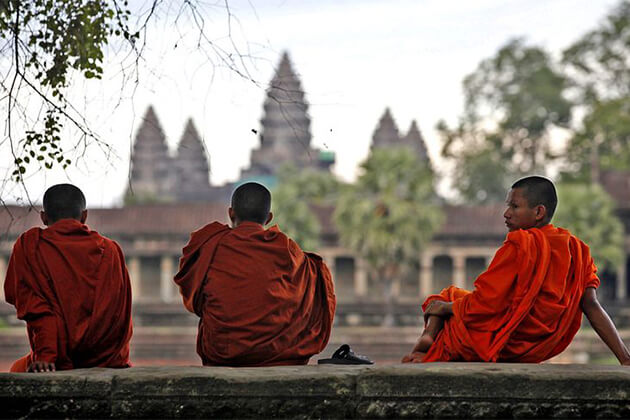 Day 2: Siem Reap – Angkor tour & boat trip Tonle Sap Lake (D)
This morning, start your journey to explore the kingdom of the Khmer era, Siem Reap. First, stop at the antique capital of Angkor Thom, start from the South Gate with its huge statues depicting the churning of the ocean in unison by the gods and demons to extract the elixir of life. Head to the Bayon Temple, which is popular for two impressive sets of bas-reliefs, which present an unusual combination of mythological, historical, and mundane scenes. Continue on to soak up the Royal Enclosure, the Elephants Terrace and the Terrace of the Leper King.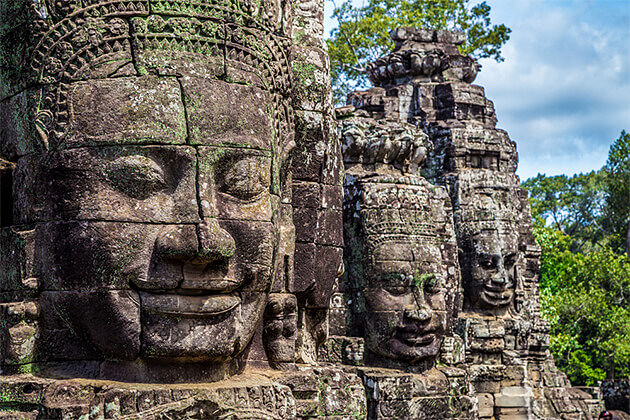 In the afternoon, you will take 16km drive southwest to Kompong Phluk, a cluster of three villages of stilted houses built within the floodplain of the Tonle Sap Lake. You will take a boat trip along the lake to get a closer look at the village lifestyle of local people. See houses built on stilts up to 10m high, admire a floating community and witness how they live their daily life. Afterward, return to Siem Reap, have dinner while enjoying Apsara Dance Show at a local restaurant.
Overnight in Siem Reap.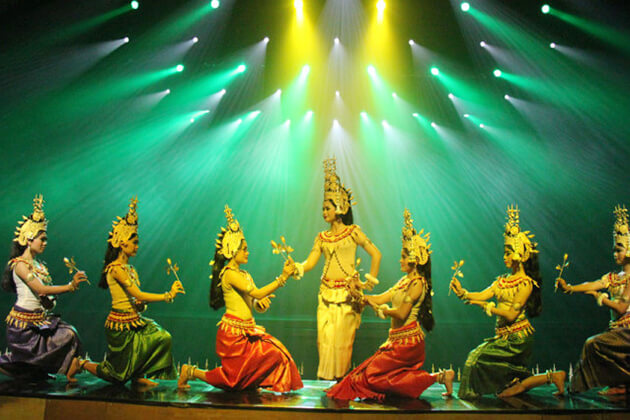 Day 3: Ta Prohm – Grand Circuit – Angkor Wat – Bakheng Hill (B, L)
After breakfast, you will visit Ta Prohm Temple which is embraced by the roots of enormous fig trees and gigantic creepers. It retains much of mysteries which made an exotic background in the famous movie "Tomb Raider". Then explore more of the Grand Tour Circuit such as Pre Rup, East Mebon, Ta Som, Neak Pean, and Preah Khan. The Grand Circuit complex showcases the rich and sophisticated architecture of the Khmer Empire.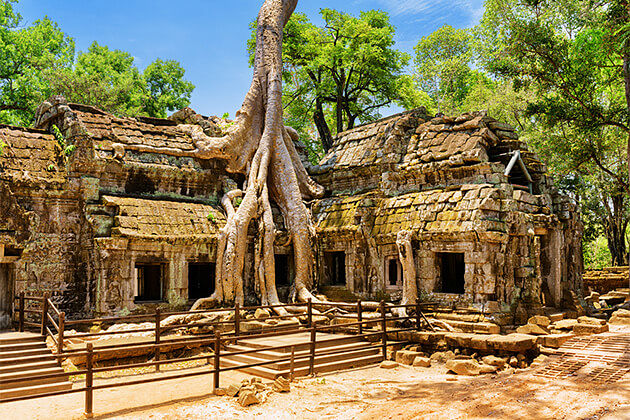 In the afternoon, continue your journey to visit one of the most famous temple complexes in the world, Angkor Wat. Covering 81 hectares and being comparable in size to the Imperial Palace in Beijing, the temple complex houses 12th-century masterpiece which is considered to be the prime example of classical Khmer art and architecture. Last but not least, don't forget to view a wonderful sunset from the top of Phnom Bakheng Hill before returning to your hotel.
Overnight in Siem Reap.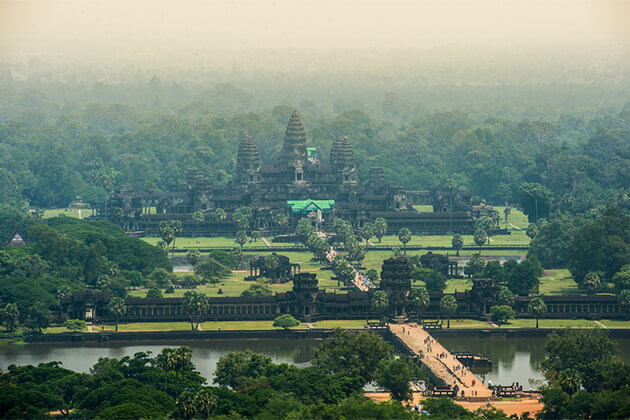 Day 4: Siem Reap – Fly to Phnom Penh – Half-day sightseeing tour (B)
Today, you will have a free time of your own in the morning. You can choose to stay at the hotel or explore the surrounding areas. More interestingly, you can laze at the swimming pool or take tuk-tuk ride and wander around the local market to buy some souvenirs. After that, you will be transferred to the capital Phnom Penh. Check-in the hotel and have a break before continuing the afternoon's journey.
In the afternoon, you will start your sightseeing tour to visit significant attractions in the city. First, head to the Royal Palace compound, the most conspicuous feature and also one of impressive colorful Khmer styles palaces. Next, feast your eyes on the Silver Pagoda which is home to plenty of Buddha statues that was decorated and made by diamond, emerald, gold, and silver.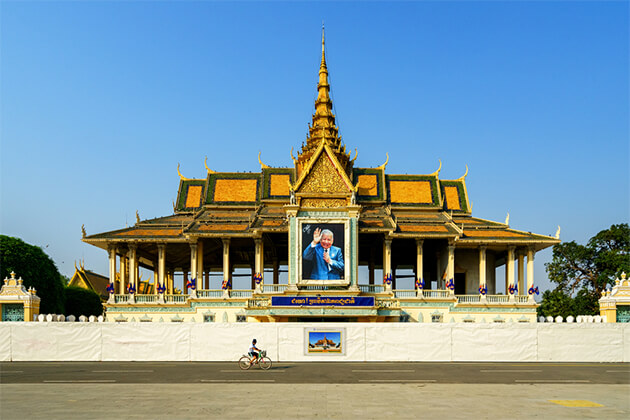 You then stop at the Independence Monument to learn about sad memories of war period as well as remind yourself of the country's pride. Continue your way to the leading archaeological and historical museum over the country, National Museum. You will admire the abundance of artifacts, ancient religion ad Khmer arts. End your tour by a visit to Wat Phnom, the only hill in town with sacred sites.
Overnight in Phnom Penh.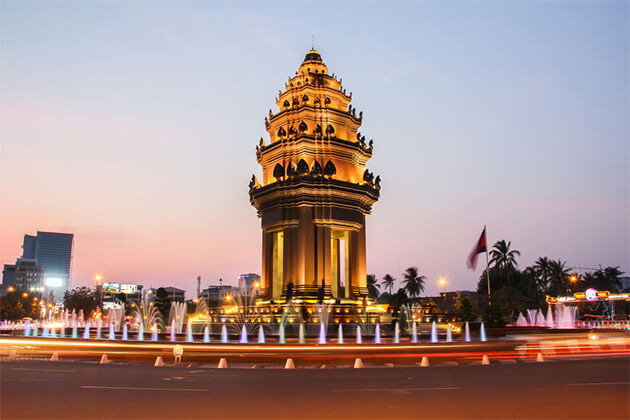 Day 5: Phnom Penh – Speed boat to Chau Doc (B)
You will enjoy your breakfast at the hotel and have a free morning. On midday, you will be transferred to the boat station and take speed boat across the border of Vietnam. Upon arrival in Chau Doc, you will be escorted to the hotel. Take your own leisure time afterward.
Overnight in Chau Doc.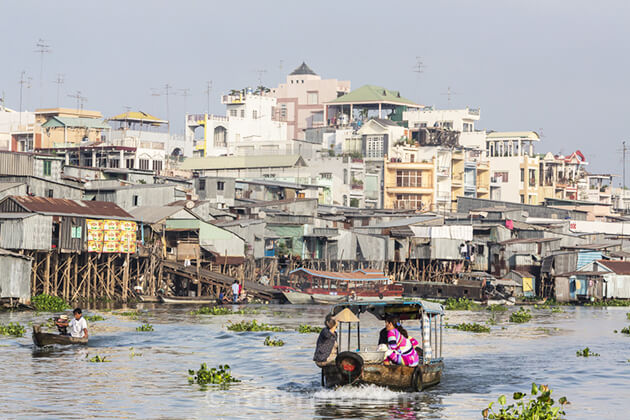 Day 6: Chau Doc – Mekong Delta Cruise – Cai Be (B, L, D)
Following your breakfast, you will travel by car or bus to Cai Be. The town might be one of the most peaceful lands which offer green painting of forests, rice fields, trees, and tropical gardens. When arriving in Cai Be port, you will board a ship and get familiar with your cabin. Then, enjoy lunch while cruising through the branches and complexed canals of Mekong River. You will immerse in the amazing sights – the lush vegetation and the diverse daily life of locals in Mekong Delta. You will feel that you landed in a dead-end when many of the small shady canals are hard to spot because they are overgrown by lush greenery. After an overgrown bend, however, it still goes on.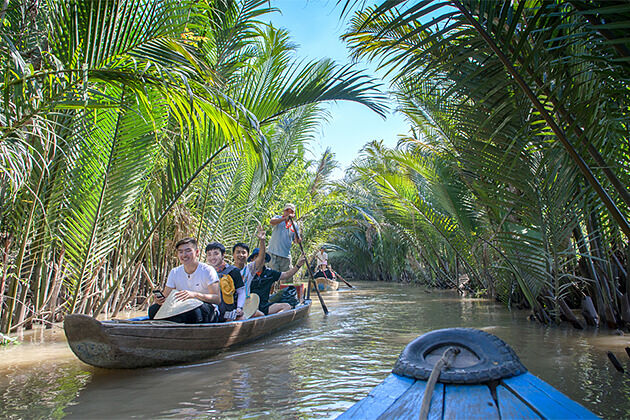 Along the way, you will stop at fruit orchards or rice fields, observe how food is processed or watch how locals build their boats. Finally, round the day off with a drink at the bar while the sun sets over the magnificent water landscape.
Overnight on board.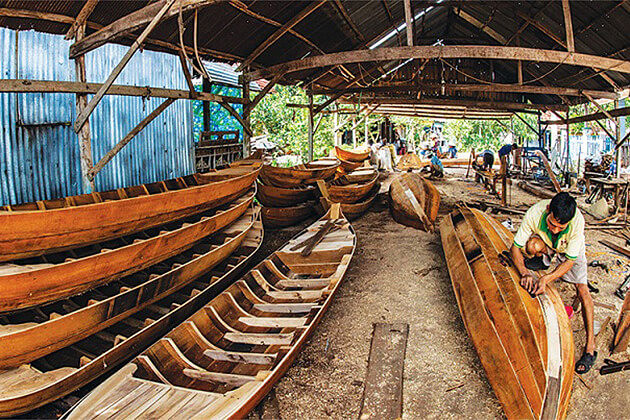 Day 7: Cai Be Floating Market – Ho Chi Minh City (B, L)
Morning, the ship takes off at sunrise, just when the Delta comes back to life. You will have a chance to explore the vibrant tangle of Cai Be floating market with its excessive abundance of tropical fruits and vegetables. Board a sampan and be amazed by the hustle and bustle atmosphere of approximately 400 to 500 boats filled with fruits, vegetables, and other local products anchored along the banks of the river. You certainly can take samples and haggle with dealers over prices. Afterward, continue your sampan through small canals of the Mekong Delta to learn about local lifestyles. Stop to have lunch at a local restaurant.
In the afternoon, you will disembark in Cai Be then transfer to Ho Chi Minh City by shuttle bus. Upon arrival, you will be escorted to the hotel, check-in and relax at your own leisure.
Overnight in Ho Chi Minh City.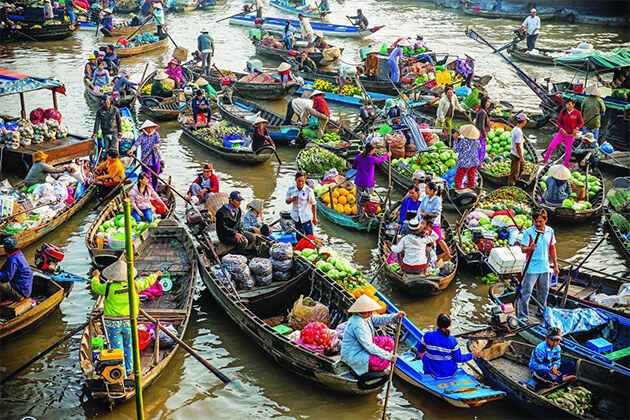 Day 8: Ho Chi Minh City Tour (B)
Today, your sightseeing tour includes visits to Cholon (Chinatown), a huge are situated in District 5 on the western bank of the Saigon River. It is a bustling mix of old and new things, filled with temples, traditional shops as well as a wide range of stores and cafes. Then pay a visit to Thien Hau Pagoda, one of the oldest pagodas of the Chinese in the area and colorful Ben Thanh Market. After that, marvel at the Notre Dame Cathedral which was inaugurated in 1880 and now considered the spiritual and cultural crucible of the French presence in the Orient.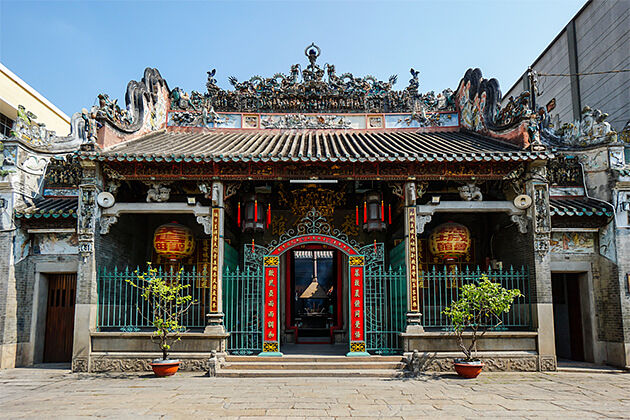 Make your way to the Saigon Post Office which is designed by Gustav Eiffel and resembling a grand railway station. Your city tour would not be completed without a trip to the former Presidential Palace and the War Remnants Museum. It's a great opportunity for you to learn about the city's history. Back to the hotel in the late afternoon, take time to chill out.
Overnight in Ho Chi Minh City.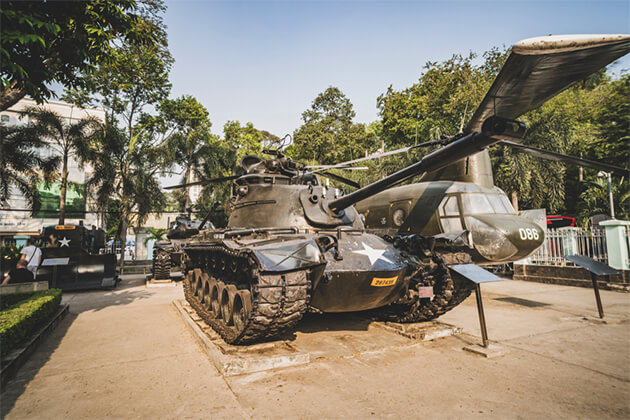 Day 9: Ho Chi Minh City – Fly to Danang – Hoi An (B, L)
After breakfast, you will be transferred to the airport for your flight to Danang. As you arrive, you will take a short drive through Non-Nuoc Beach onto the enchanting town of Hoi An. It was once a well-known trading center in Southeast Asia from the 16th to 18th centuries. Its sizeable community of foreign merchants results in a unique architectural style with Vietnamese, Chinese and Japanese influences.
Take free time for the rest of the day, dinner on your own.
Overnight in Hoi An.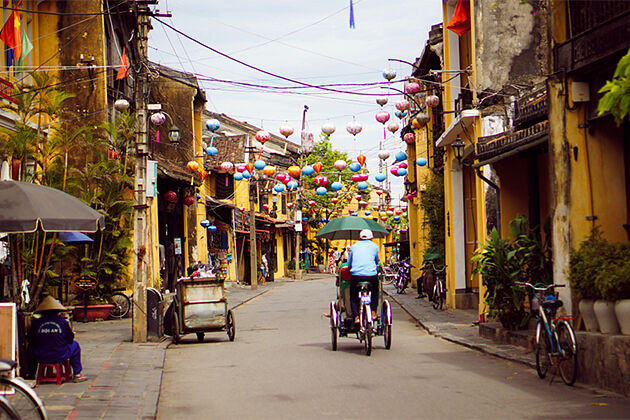 Day 10: Cycling to Tra Que Vegetables Village (B, L)
This morning, you will commence the tour with a leisurely bicycle ride along peaceful country roads outside Hoi An town to a local farm in Tra Que vegetable village. Tra Que village was named after the sweet-scented vegetables that spice up local dishes. Upon arrival, stroll around the vegetable gardens and observe the farmers in preparing and fertilizing the land. It's a great chance for you to learn about local produce and farming techniques. After that, cycle back to Hoi An and take advantage of the endless photo opportunities.
Your afternoon is free on your own.
Overnight in Hoi An.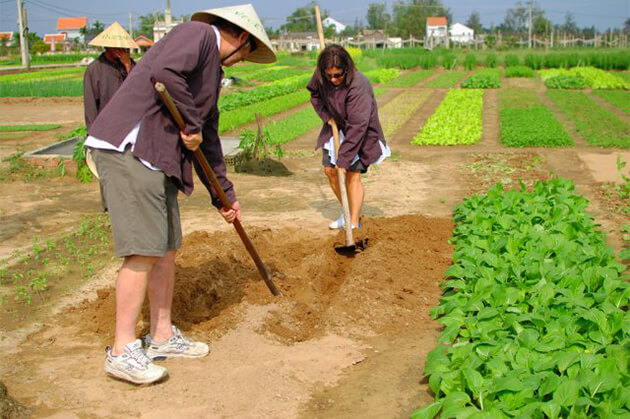 Day 11: Hoi An – Hue – Food tour by cyclo (B)
Following your breakfast, you will have a free morning to explore every corner of the small town. Then you will be driven to Vietnam's old imperial capital of Hue. Straddling the beautiful Perfume River first rose to prominence in the 18th to 19th centuries when it was the seat of power for the Nguyen lords.
You will take a food tour by cyclo which takes you around the city to taste its cuisine to the fullest. Explore and sample delicious Hue food like a local. Our friendly local food enthusiast tour guide will surely give you the background and history of the dishes during your food tour. Then back to the hotel for check-in and relax.
Overnight in Hue.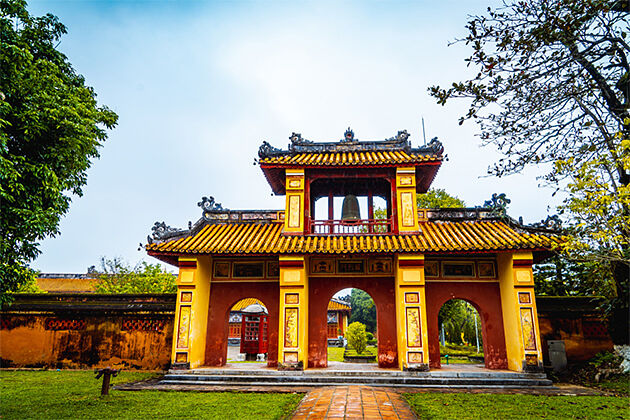 Day 12: Hue half-day sightseeing tour – Fly to Hanoi (B)
Founded as a Royal city in 1687, this small and quiet Hue city is known for the magnificent architecture of its citadel, palaces, royal tombs, pagodas and temples dating back to the Nguyen Dynasty. This city has preserved its cultural heritage including music, arts, and many other traditions and is probably the best place in Vietnam to get a sense of the past and imperial court life.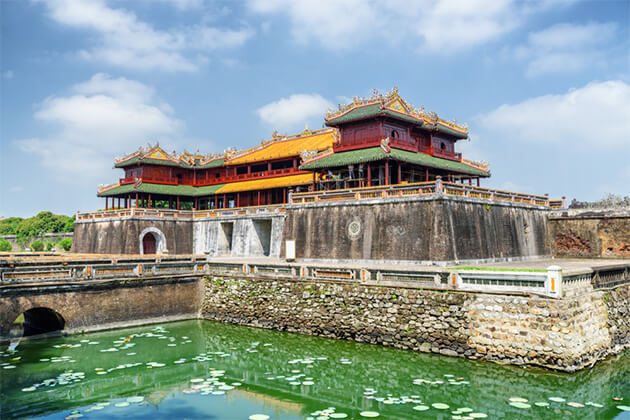 Today is spent to explore the Imperial City of Hue. Start the day with an hour boat trip on the Perfume River to Thien Mu Pagoda. Then enjoy a walk within the walls of the Citadel and explore the ruins of the home of the royal family. After visiting this impressive monument, continue to the extravagant mausoleum of Khai Dinh. It boasts a traditional Vietnamese design with a European touch, making it unique from other tombs in Hue. Last but not least, back to the center and take time to stroll around the lively and colorful Dong Ba Market.
You will have a free afternoon until your driver arrives and takes you to the airport for your flight to Hanoi in the evening. Upon arrival, meet your driver and guide, then transfer to the hotel for overnight.
Overnight in Hanoi.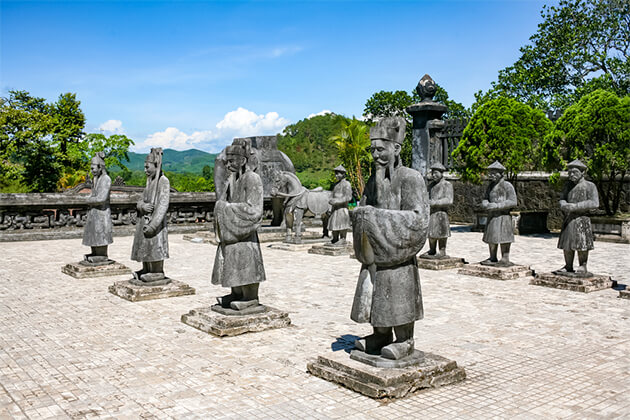 Day 13: Hanoi half day city tour (B, L)
At 8:00 AM, your guide will pick you up at the hotel, start your city tour by strolling around the Hanoi Old Quarter and Hoan Kiem Lake as well as Hanoi Opera House. Take a number of short stops to take photos and the tour guide will take you on a food tour to learn about the history of the sites including Ho Chi Minh Mausoleum and the Temple of Literature – the first university of Vietnam and is constructed to dedicate to Confucius.
Then ride around West Lake, pass some of the most exclusive real estates in Vietnam to find out lifestyle differences between the central district and others. Have lunch at a nearby restaurant. Relax in your own way.
Overnight in Hanoi.
Day 14: Hanoi – Mai Chau (B, L, D)
In the morning, you will be picked up and transferred to Mai Chau by van with a short break along the way (approximately 4-hour drive). You will arrive in Mai Chau at midday, then enjoy a welcome drink and traditional lunch in a local restaurant.
Your afternoon journey will be time for you to pedal through peaceful paths along the rice fields. See farmers working in the fields, locals weaving scarves and visit surrounding charming villages. You will explore in your own pace to get authentic experiences to the fullest.
Later in the afternoon, return to your homestay, enjoy the outdoor BBQ party in the garden and watch the Thai's traditional dance and drink the traditional liquor 'ruou can'.
Overnight in the communal stilt house in Mai Chau.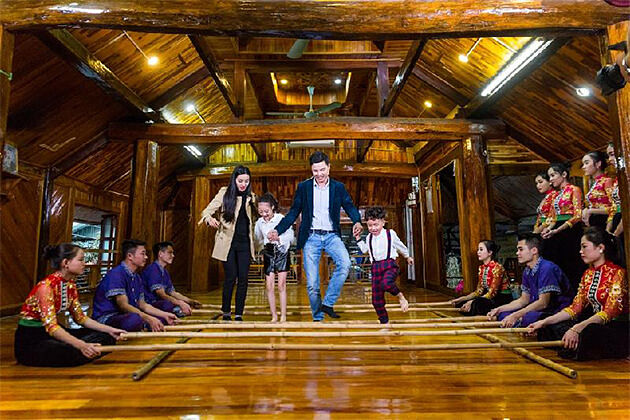 Day 15: Mai Chau – Hanoi (B, L)
After breakfast, travel with your local guide to visit more rural villages Na Meo and Na Mo villages to get a closer look into the culture and lifestyle of ethnic people. Return to the homestay at midday for lunch and check out. Take advantage of the time to go shopping for some pretty souvenirs and relax.
Say goodbye to the host to get on the bust to drive back to Hanoi. Then drop off at the hotel in the capital city. Free time for the rest of the day.
Overnight in Hanoi.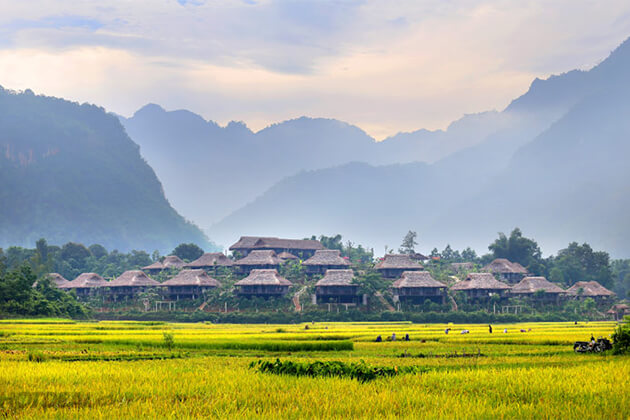 Day 16: Hanoi – Halong Bay (B, L, D)
Leave Hanoi this morning and head to Halong Bay, a stunning UNESCO World Heritage Site with its 3,000 islands of towering limestone dotting the bay. It's about 4-hour driving. You will arrive at the pier at noon, then board a cruise and you are warmly welcomed by the professional and friendly crew. Lunch will be served on board while cruising through most beautiful parts of the magical bay with thousands of amazing limestone islands emerging from emerald water. The breathtaking beauty of nature alongside limestone cliffs stretching vertically over pure blue water will definitely amaze you.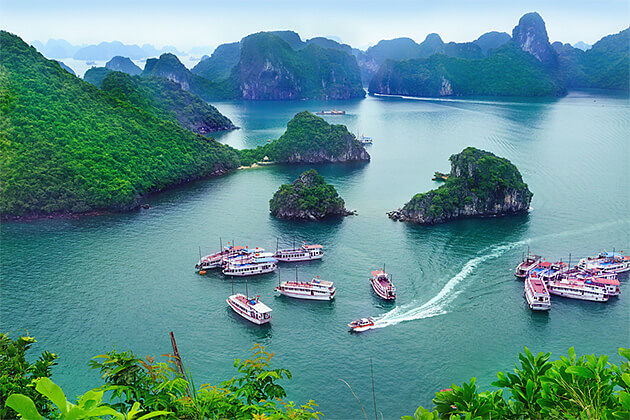 In the late afternoon, you can choose to go kayaking or swim in the freshwater. Then enjoy a dinner party on the sundeck in a warm and romantic atmosphere. Afterward, it's the moment you choose your own way to relax such as squid fishing, listening to music, karaoke or just lying on the sundeck.
Overnight on board.
Day 17: Halong Bay – Hanoi (B, L)
Wake up early in the morning for some Tai chi exercises and photos before enjoying your breakfast with coffee, tea, fruits. Then you relax and immerse in the stunning scenery of the rocky islands rising from the crystal-clear water of the bay. Continue on to the Surprising Cave, the most beautiful one in Halong Bay. Later, back to the cruise for check out, you also can take part in cooking class that is available on the board. Farewell lunch served on the cruise before you arrive at the harbor.
Say goodbye to Halong and transfer to Hanoi. Take time to chill out for the rest of the day.
Overnight in Hanoi.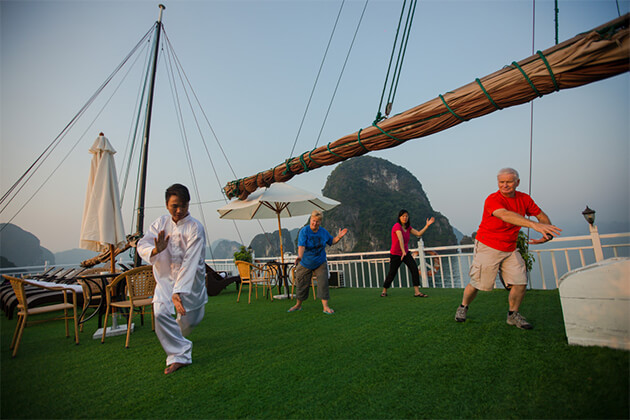 Day 18: Hanoi – Fly to Vientiane (B, D)
You have free morning until your driver pick you up to escort you to the airport for your onward flight to Vientiane. Upon arrival, you will be greeted and transferred to the hotel by your local guide and driver.
After a short rest, start your discovery in the capital city of Laos, you first visit the major sights, including the oldest Wat Sisaket, the temple with thousands of miniature Buddha statues and the former royal temple of Wat Prakeo, which once is home to the famous Emerald Buddha Image. Continue on to That Luang Stupa, Laos' national icon, stop en route to get a glimpse of Patuxay Monument, also called Vientiane's own Arc de Triumph. Enjoy welcome dinner at a local restaurant with the traditional dance and folk song, a great chance to experience the local culture.
Overnight in Vientiane.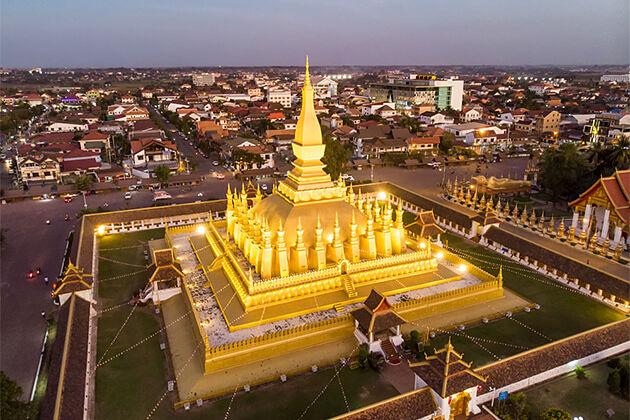 Day 19: Vientiane – Vang Vieng (B, L)
Morning, we leave the capital early for our journey northbound, we will marvel at breathtaking landscape along the way as we pass through spectacular countryside towards the mountainous region. Stop at the vibrant market of KM52 where various hill tribes come to trade goods and buy provisions. Also, Hin Heup bridge and fish market in Ban Tha Hueu will definitely keep your camera busy en route. Later, we reach Vang Vieng, an unspoiled destination with stunning scenery.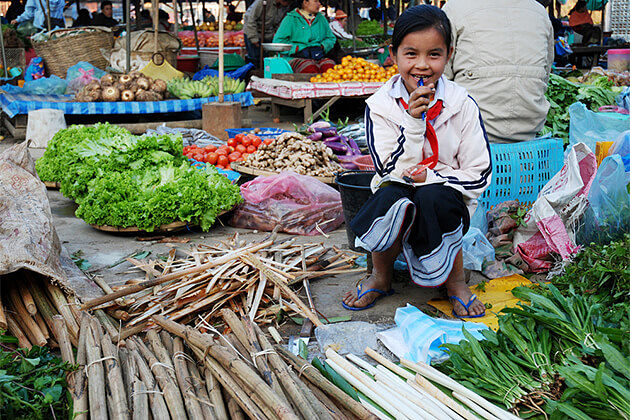 Following your lunch, we start our board through paddy field areas heading to Tham Phoukham caves where you feast your eyes on the most beautiful and famous limestone cavern which surrounded by natural forests. Moreover, you will have a chance to explore the local culture by meeting them along the way. Last but not least, there is a small natural pool in front of the caves so you can swim to refresh yourself from the hot climate.
Transfer back to town, we will enjoy the leisurely boat along the Nam Song River while admiring the sunset behind the mountains.
Overnight in Vang Vieng.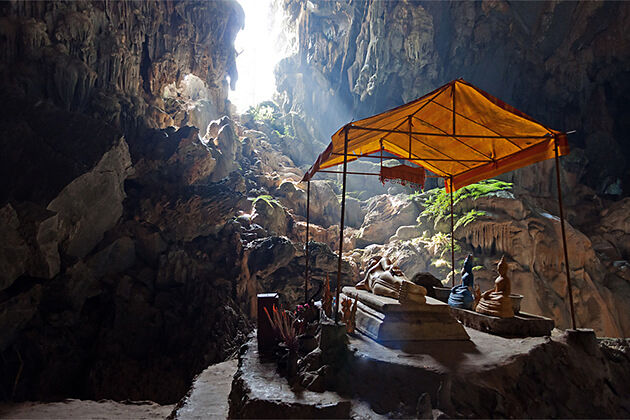 Day 20: Tham Jang – Tham Phoukham – Luang Prabang (B, L)
This morning, after breakfast at the hotel, we first stroll around the town to visit the local market to get an insight into the everyday life of a typical Lao rural area. We then visit the Tham Jang Cave, the most renowned of Vang Vieng numerous karst and rocky outcrops. Then head to the Ban Phathau, a truly pleasant village where you can explore the different local lifestyles.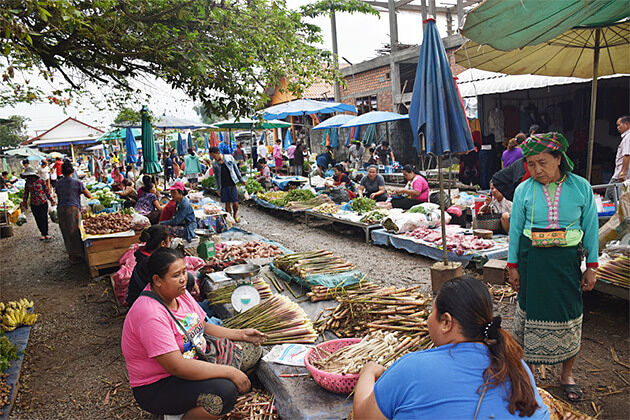 In the afternoon, we start our discovery on the new road to Luang Prabang, which perhaps is the best-preserved traditional city in Southeast Asia. You will pass some stunning landscape scenery with a mixture of steep terraced fields and hill villages. Pay a short visit to the local school at Ban Nasala before reaching Luang Prabang.
Check-in the hotel upon arrival, your local guide will support you definitely.
Overnight in Luang Prabang.
Day 21: Luang Prabang – Pak Ou Caves (B, L)
After having breakfast at the hotel, you will explore Luang Prabang city by soaking up some major sights. First, stop at the Royal Palace Museum, which was built in 1904 during the French colonial era as the resident of King Sisavang Vong and his family. The museum is well worth 2 hours of your time if you want to learn more about Laos history and culture. Later, we embark on a leisure cruise upstream on the Mekong River. Stop at the village of Ban Xanghai to learn how local people make rice wine. Then continue on to the Pak Ou Caves where you can admire the beautiful combination between solemn religion of Buddism and natural sightseeing.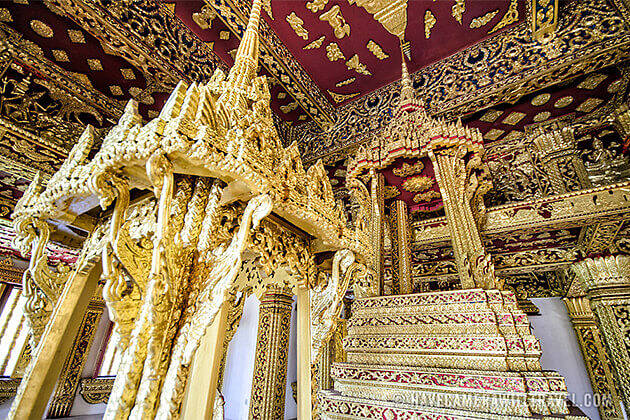 In the afternoon, we back to the city and visit magnificent Wat Xieng Thong, a superb piece of Lao temple architecture. Admire its architecture with the elegant lines curve and overlap, sweeping nearly to the ground, and evoke a bird with outstretched wings. We then head to the Traditional Art and Ethnology Center (closed on Monday) to discover Laos' many ethnic cultures. Afterward, pay a visit to Wat Prabath to enjoy the sunset. It is really a peaceful place to catch the last beauty of the day. End up your tour by a stroll around the famous Night Market, where you can find a lovely collection of handmade textiles made by local and hill tribe surrounding Luang Prabang.
Overnight in Luang Prabang.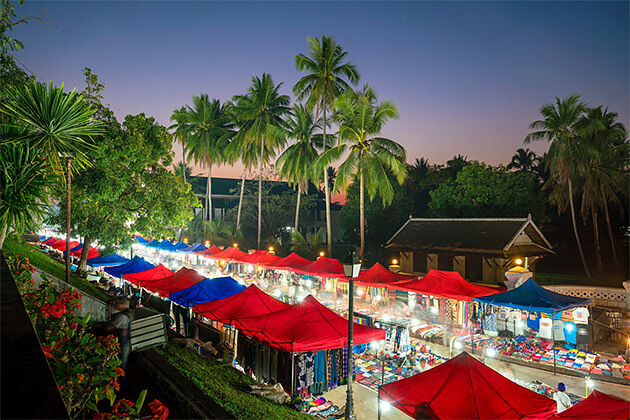 Day 22: Luang Prabang – Kuang Si Waterfalls (B, L)
Wake up as the sun rises, we will prepare for the most sacred tradition of Laos, the daily morning alms-giving in Luang Prabang. You have 2 options: if you want to join in offering alms to hundreds of saffron-robed monks, you should inform your local guide at least a day in advance. He/ she will help you prepare some foods to hand over to the monks. Otherwise, you also can keep an appropriate distance and observe the ritual in silence. Whatever you choose, please remember to dress appropriately – your shoulders, chest, and legs should be covered.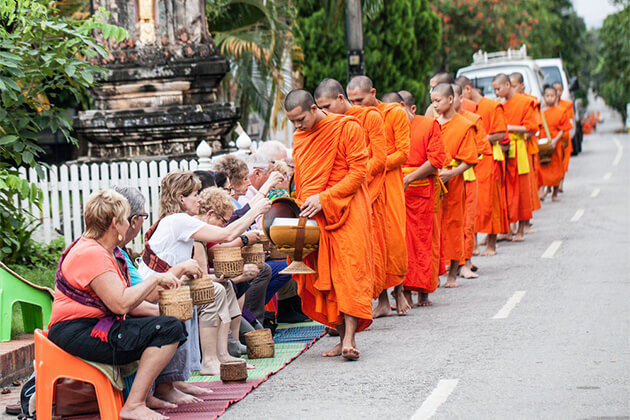 From there, you will visit the temporary morning market near the former Royal Palace. This is the best way to experience the taste of local life. Back to the hotel for breakfast, then we ascend 329 steps to the top of Phousi Hill for a panoramic view of the city and the Mekong River. Next, head to the Luang Prabang's oldest temple Wat Visoun to learn more about the history of Laos.
Afterward, we take a drive to the breathtaking Kuang Si Waterfalls which is the biggest waterfalls in Luang Prabang. The spectacular will wash away your stress in life, you can take a dip in tiered pools of turquoise blue water. Then pay a short visit to the Bear Rescue Center, home to a couple of dozen animals rescued from the hands of poachers and traffickers. Nearby, walk around Kuang Si Butterfly Park which is served as a breeding sanctuary for Laos' myriad butterflies.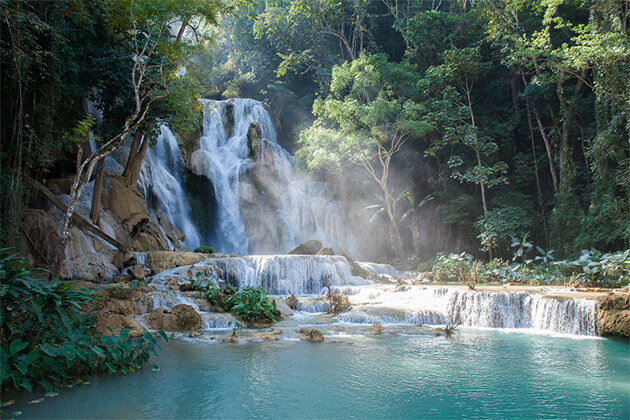 On the way back, we stop for some authentic experience in the Ock Top Rock Living Craft Center. This is a beautiful, traditionally styled workshop where you can observe weavers, spinners, and batik makers produce quality fabrics.
Overnight in Luang Prabang.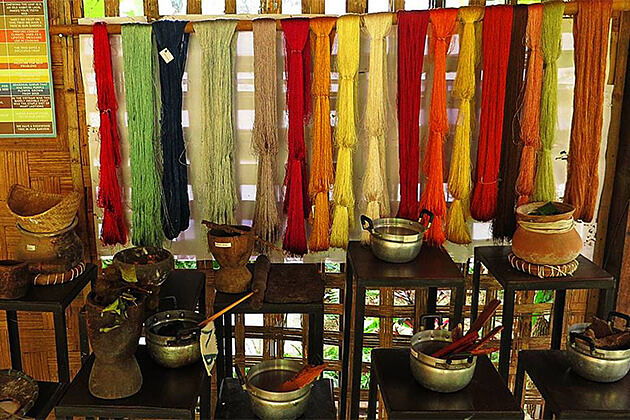 Day 23: Luang Prabang – Departure (B)
After breakfast, you are free to stroll around the town for your own exploration. Say goodbye to Luang Prabang, your driver and guide will transfer you to the airport for your departure flight.