General Information
Duration: 17 Days/ 16 Nights
Start/ End: Ho Chi Minh City/ Luang Prabang
Tour Route: Ho Chi Minh City – Vinh Long – Can Tho – Ho Chi Minh City – Danang – Hoi An – Hue – Hanoi – Halong Bay – Vientiane – Vang Vieng – Luang Prabang
Tour Customizable: Definitely! (Tell us your specific requirements in the  form)
Tour Categories: Vietnam Laos Tours
Guides: Local Guide (English Speaking Guide, Other Languages upon Request)
Transportation: Private first-class air-conditioned vehicles
Brief Itinerary
Day 1: Ho Chi Minh City Arrival – Welcome Dinner (D)
Day 2: Ho Chi Minh City – Vinh Long – Can Tho (B, L)
Day 3: Can Tho – Cai Rang Floating Market – Ho Chi Minh City (B, L)
Day 4: Ho Chi Minh City – The Insider Saigon Vespa GROUP TOUR – Fly to Danang – Hoi An (B, L)
Day 5: Hoi An – Farming & Fishing Eco GROUP TOUR – Walking Tour (B, L)
Day 6: Hoi An – Free Time (B)
Day 7: Hoi An – Transfer to Hue – ½ City Tour (B, L)
Day 8: Hue – Thuy Bieu Eco GROUP TOUR – Fly to Hanoi – Dinner with Pho (B, L, D)
Day 9: Hanoi – Halong Bay – Overnight on board (B, L, D)
Day 10: Halong Bay – Hanoi – Walking Tour with Street Foods (B, L, D)
Day 11: Hanoi – City Tour – Fly to Vientiane (B, L)
Day 12: Vientiane – City Tour (B)
Day 13: Vientiane – Vang Vieng – Tham Jang Cave – Blue Lagoon (B)
Day 14: Vang Vieng – Luang Prabang – Mount Phousi (B)
Day 15: Luang Prabang – Pak Ou – Khoang Si (B)
Day 16: Luang Prabang – City Tour (B)
Day 17: Luang Prabang – Departure (B)
Full Itinerary
Day 1: Ho Chi Minh City Arrival – Welcome Dinner (D)
On arrival at Tan Son Nhat airport in Ho Chi Minh City, welcome upon arrival by a local tour guide and driver then we transfer to the hotel for check-in. After check-in, we will be free to wander around the hustle and bustle city before enjoy welcome dinner at a fine local restaurant in town.
Overnight in Ho Chi Minh City
Meals: Dinner
Day 2: Ho Chi Minh City – Vinh Long – Can Tho (B, L)
We pick you up at the hotel after breakfast and transfer you to Cai Be. The program will start with a visit to Tan Phong Island for biking/ walking on village paths to see the local daily life: orchard, school, church, pagoda, traditional houses… On the way, we can have some stops to see how they wave the dried water hyacinth to make many products: baskets, bags, hats, wallets, and shoes…
Then, the rowing boat will take you deeper into the countryside on smaller canals to enjoy a peaceful time. Next, we back to our boat to go across one of the longest rivers in the world, the Mekong River, to come to An Bình Island. While we travel on a handmade canal to homestay, we can walk around this orchard & enjoy some cups of tea while listening to the traditional music in the ancient house.
After that, we walk into the local village to visit the local workshop to see how to make rice paper, coconut candy, pop-rice and enjoy some sweets with a cup of hot tea. It'll give you an unforgettable experience. One more thing to do on this trip is visiting the brick kilns where you can see how the local people create beautiful potteries from clay. The cruise transfers us to Can Tho for the overnight accommodations.
Overnight in Can Tho
Meals: Breakfast, Lunch
Day 3: Can Tho – Cai Rang Floating Market – Ho Chi Minh City (B, L)
Early morning today, we will take the boat trip to visit the famous Cai Rang Floating Market with the busy sense right at the time. This is a biggest floating market in Mekong Delta where we can see the daily life and local people selling their products on boats. If the time permits, we can visit Binh Thuy Ancient House here.
After that, you will be back to the hotel and have free time until check out. At noon, we will head back to Ho Chi Minh City and have lunch en-route. Arrive at our hotel in the afternoon and have free time at leisure. We will spend the night in Ho Chi Minh City.
Overnight in Ho Chi Minh City
Meals: Breakfast, Lunch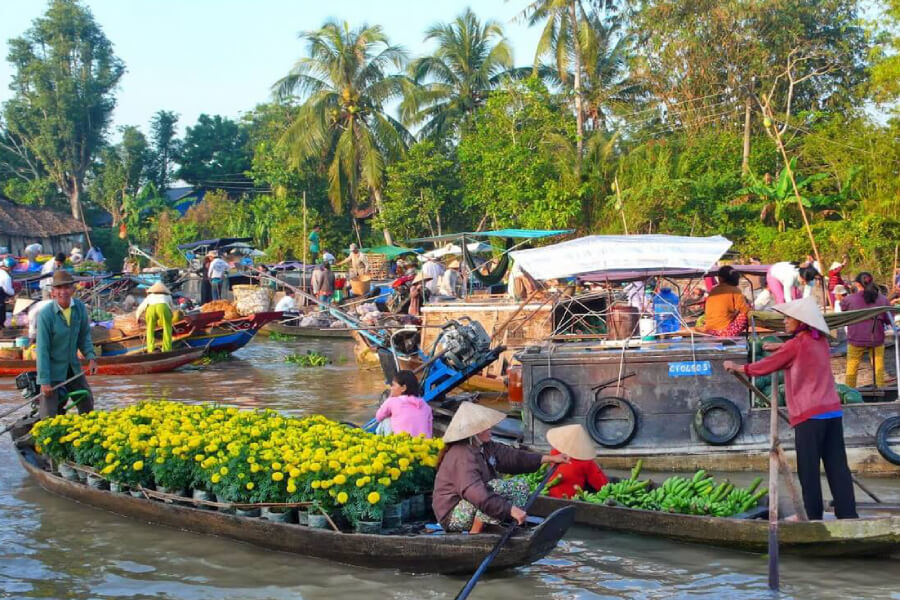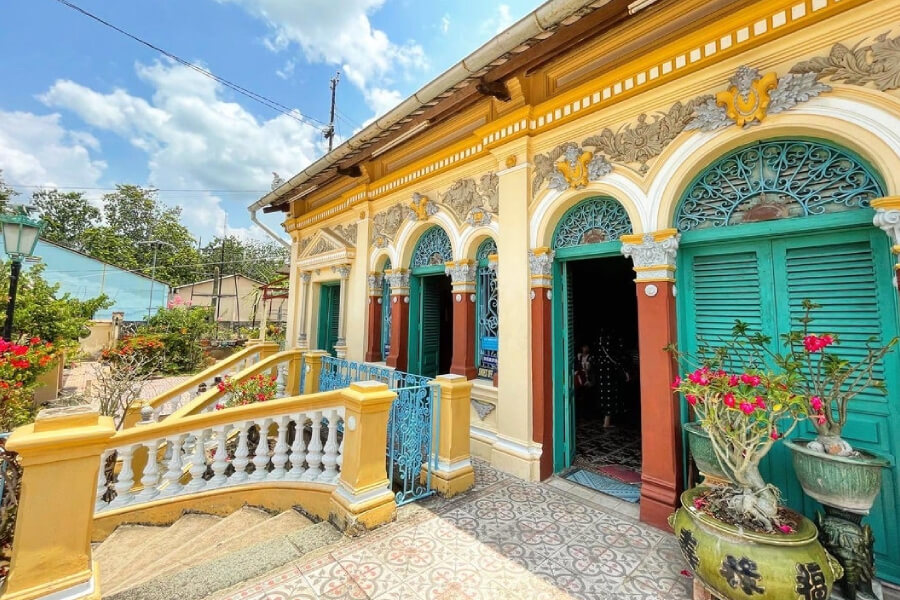 Day 4: Ho Chi Minh City – The Insider Saigon Vespa GROUP TOUR – Fly to Danang – Hoi An (B, L)
To have a glimpse of Ho Chi Minh City with its hide-away characters, cultures that are not normally seen on classic tourist route. Vespa tour will make you see Ho Chi Minh City different eyes.
The tour today start at the hotel by Vespa driver and tour guide then we stop at first at Tao Dan Park to visit the bird lover club which is join here from 6 am to 9 am only. Then we transfer to Thich Quang Duc Monument. Thich Quang Duc was a Vietnamese Mahayana Buddhist monk who burned himself to death at a busy Ho Chi Minh City road intersection on 11 June 1963. He was protesting the persecution of Buddhists by the South Vietnamese government led by Ngo Dinh Diem. Photographs of his self-immolation were circulated widely across the world and brought attention to the policies of the Diem government. John F. Kennedy said in reference to a photograph of Duc on fire, "No news picture in history has generated so much emotion around the world as that one. After that, the vespa driver will stop at Flower market where we can have some good photos of various flowers selling here.
On our journey today, we also visit Ong Bon pagoda & Nhi Phu Temple which was built by the Fujian Congregation. This pagoda is full of gilded carvings, burning incenses and local people come here to praise for their good fortune and health… Later we have a walk through the fabric, tailor material alley and before being back to hotel, we visit the Chinese medicine street market where we have idea about "thuocbac", "thuoc tau"…
This afternoon, we transfer to the airport for the flight to Danang. On your arrival in Danang, our car and English Speaking tour guide will wait at Danang International airport to transfer you to Hoi An Ancient Town for accommodation.
Overnight in Hoi An
Meals: Breakfast, Lunch
Day 5: Hoi An – Farming & Fishing Eco GROUP TOUR – Walking Tour (B, L)
We have an early start this morning as we head off to our Farming & Fishing Life Eco Tour. Starting at Tra Que Village, we will get a personal insight into the local farming communities. We set about joining the farmers in preparing their land for sowing, helping to fertilize the garden using seaweed from the local river and watering it in using huge tin cans strapped to our backs. Following this, we will begin our leisurely cycling tour through the countryside witnessing local Vietnamese rural life first hand. Late morning we will board our Hoi An Eco-tour boat for a river cruise. Here we will meet and witness local fishermen working their craft, before enjoying a hands-on experience of traditional net fishing. We then transfer to a Vietnamese bamboo basket boat for a quick race and ride down a coconut palm lined waterway. Lunch today, is on board our boat, which is prepared using vegetables picked earlier at Tra Que Village.
After lunch, we have some free time to wander around Hoi An town centre before heading back to the hotel. Around 4 pm, we will start our walking tour around the ancient town to visit the Japanese Covered Bridge, the Pottery Museum, Tan Ky's old house, the Cantonese congregation, the silk street of Hoi An, and pagodas of Chinese appearance. Then we are back to our hotel and spend the rest of the day relaxing.
Overnight in Hoi An
Meals: Breakfast, Lunch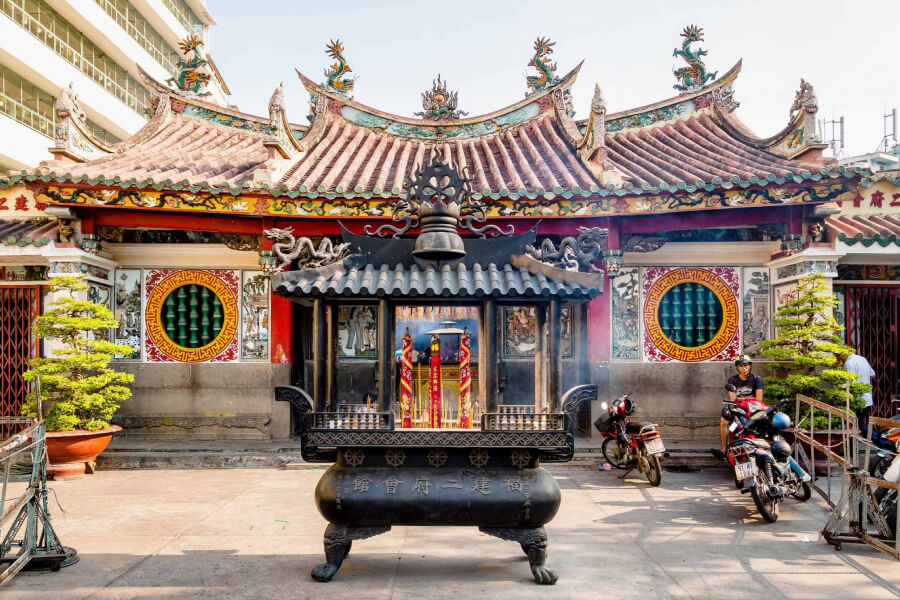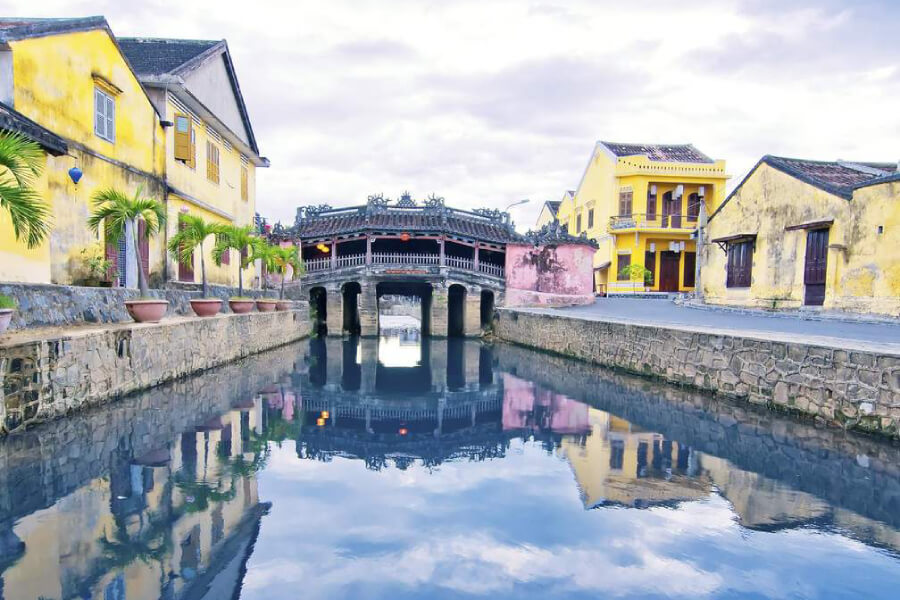 Day 6: Hoi An – Free Time (B)
Today is a free day.
Overnight in Hoi An
Meals: Breakfast
Day 7: Hoi An – Transfer to Hue – ½ City Tour (B, L)
After breakfast at the hotel, we travel by vehicle to Hue along scenic highway 1A. Along the way we will stop to contemplate north to Danang city and the stunning views North, to Lang Co Beach. Danang city with the Marble Mountain – the five elements of the Universe (water, wood, air, fire and earth). We will arrive in Hue in the afternoon and have the rest of the day free at leisure. On the way, we will take your lunch in the local restaurante before moving to hotel and check-in.
After a short rest, we will spend time to visit King Khai Dinh's Tomb or King Tu Duc's Tomb. Then, we will visit the Imperial Citadel where the Nguyen Dynasty ruled between 1802 and 1945, after exploring the ruins of this wonderful monument. We will then depart to the Hue Royal Fine Art Museum, which is housed within the former Dien Long An Royal Palace. We will finish our day with the local Dong Ba Market to see the daily life of local people.
These are the famous Hue Street Food that you should know and try in Hue city
Banh Uot – Grilled Pork Wrapped with Hue Wet Rice Paper
Coffee Viet – black or with condensed milk
Che – Sweet Soup
Bun Bo Hue – Hue Beef Vermicelli Soup
Banh Khoai – Hue Fried Pancake
Cha Hue– Hue Sausage
Banh Loc – Filtered Tapioca Dumplings
Banh Ram It – Fried dumpling topped with Sticky Rice Dumpling
Nem Lui – Grilled Ground Pork on Stick.
Me Xung – Sesame candy
Bun Thit Nuong – Grilled Pork Vermicelli
Banh Beo – Steamed Rice Discs Topped with Shrimp
Overnight in Hue
Meals: Breakfast, Lunch
Day 8: Hue – Thuy Bieu Eco GROUP TOUR – Fly to Hanoi – Dinner with Pho (B, L, D)
After breakfast, our dragon boat will pick up group at Toa Kham wharf, start cruising on Perfume River. Stop for a visit to typical Thien Mu Pagoda, which is a historic temple and the symbol of Hue romantic city. Back to the boat for a scenic cruise to Hue Ecolodge where our local guide are ready to wait and welcome you to visit Thuy Bieu Eco-village, an authentically village representing the country side of Hue with the clear notion "garden -home".
Then, spend 2 hours to stroll or bike around quiet village. Visit some handicraft families (the incense making family, the making paper family and the paper painting family) to discover the daily life of local people while they are working strenuously with joy and enthusiasm. Take time to join a special cooking class at Hue Ecolodge by yourself under the instruction of Ecochief. (fruit mixed shrimp and pork; Traditional Spring Roll and Banh Khoai). After your practical class, it's time to taste the Hue traditional dishes that you have prepared and our Eco-chef will be able to give his feedback on your own chef skills. At the end of this tour, you will have a great time to relax by steeping your foot in medicinal herb water – a traditional therapeutic practice and enjoy excellent massage by local people.
After the tour, we transfer to Hue for the flight to Hanoi. Welcome up on arrival by local tour guide and driver then we transfer to hotel. Relax for the rest of the day and enjoy a dinner with Pho in Ngu Xa.
Overnight in Hanoi
Meals: Breakfast, Lunch, Dinner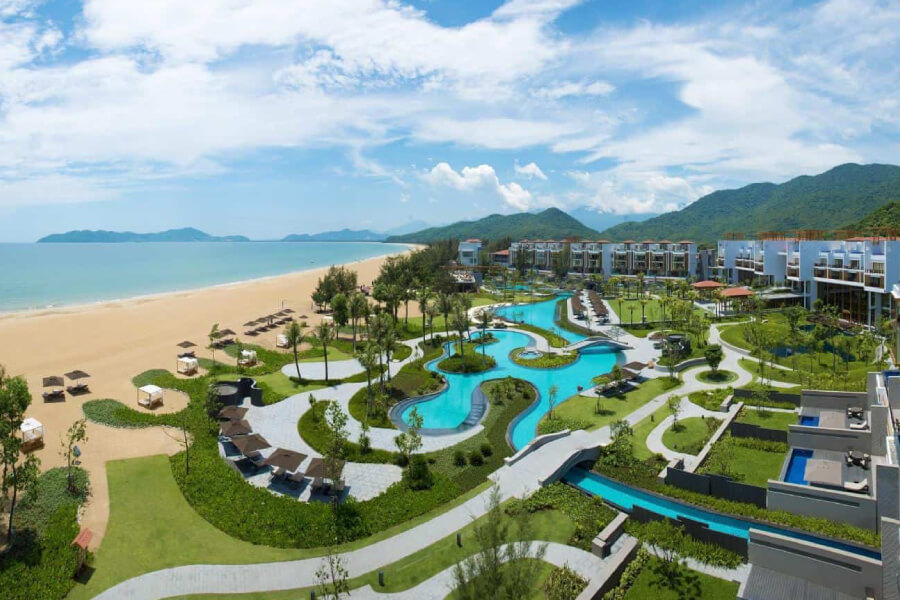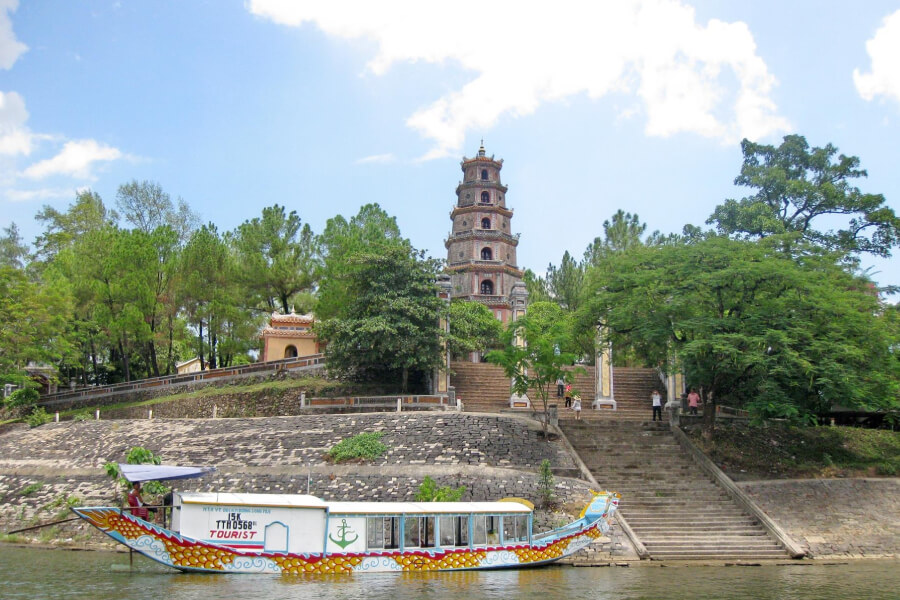 Day 9: Hanoi – Halong Bay – Overnight on board (B, L, D)
After breakfast, we pick you up at the hotel in Hanoi by shuttle bus to start our journey. When we arrive at Tuan Chau Marina, you will get checked in at Paradise Suites Hotel and transferred to the Paradise Cruise via Electric Cart. Once arrived, you will be given a short briefing about your cruise itinerary and safety regulations while you enjoy some complimentary welcoming drinks. Shortly after, enjoy your lunch at the Restaurant while viewing the beautiful islets of Ha Long Bay.
In the afternoon, you will visit the Tung Sau Pearl farm where you will have the chance to learn about the process of pearl cultivation or you go kayaking instead. Afterward, your next stop will be at Titop Island, an island named after the Russian Cosmonaut "Gherman Stepanovich Titov". You can choose to either hike the island's mountain to get a majestic view of Ha Long Bay or swim at the beach.
After that, we return to the cruise and enjoy the Bay sunset while enjoying the "Happy Hour" special. You may also join our chef in the kitchen to learn how to make a Vietnamese Dish. After a Western Set Dinner, enjoy some night activities on the boat like: squid fishing, drinks, or movies. The rest of night will be relaxing on the cruise.
Overnight on board
Meals: Breakfast, Lunch, Dinner
Day 10: Halong Bay – Hanoi – Walking Tour with Street Foods (B, L, D)
Start your day with a Tai Chi Session at the Sundeck. Then, we enjoy a light meal with some fresh pastries, coffee, and tea at the restaurant. Next destination will be the Sung Sot Cave, the largest and most magnificent cave in the bay where you can see the stalactites in different forms. Afterward come to enjoy breakfast while the cruise passes by Thien Cung, Dau Go Cave, and the Fighting Cock Islet. After breakfast, you will check out and are free to enjoy the rest of your trip at the Lounge or on the sundeck looking at the astonishing view of Halong Bay. At 10:15 AM, Paradise Cruise returns to Tuan Chau Marina. Finally, we disembark and farewell the crew then get back to Hanoi by our shuttle bus/ D-car in 2.5 to 3 hours driving.
After a short rest, we enjoy a performance of the city's famous Water Puppets before having 1-hour cyclo tour of the French inspired "old quarter". We will be free for shopping in the old quarter ranges from markets through to designer boutique stores to amazing contemporary art galleries. First, we will start walking around the Old Quarter along different streets, try to taste many kinds of local food such as Steamed rice paper rolls, oil-fried pastry, tofu, rice pancake, pillow cake, sweet soup, stuff pancake with pork, draught beer… and one of our best surprised is a stop at Dong Xuan whole sales market where we know many kinds of ingredients being sold.
Last but not least is our happy ending at a hidden coffee in the Old Quarters enjoy its famous "egg coffee" in a pleasant surrounding overlooking Hoan Kiem Lake. Fortunately, as it's Friday so there's night market and walking street around Hoan Kiem Lake. It would be a great chance to immerse in the local life of the local at weekend here. After the tour, we return back to hotel in old quarter Hanoi.
These are the famous street foods that you can try in Hanoi:
Bánh Cuốn – Steamed rice paper rolls
Bún Ốc – Vietnamese freshwater Snails Noodle
Bún Riêu Cua – The Hearty Crab Soup Noodle (Not suitable for people allergic to crustacean shells)
Bún Cá – Noodle soup with fish
Bánh Xèo & Nem Lụi – Crispy pancakes and lemongrass pork skewers
Miến Xào Lươn – Glass noodles with eel
Bánh Đa Trộn – Mixed flat rice noodles
Bánh Tôm – Hanoi shrimp cakes
Chả Rươi – Fried Worm (Based on season)
Bánh Gối – Crispy 'empanadas'
Mỳ Gà Tần – Chicken noodles in herbal broth
Chè – Colourful Sweet Dessert Soup
Lẩu – Vietnamese Hot-pot (Such as Thai Hot Pot, Hearty Crab Hot Pot, Beef Hotpot, Mixed Hot Pot, …)
Steaky Rices – Corn Sticky Rices, Green Sticky Rice Sticks, sticky rice with caramelized pork and eggs, etc)
Egg Coffee or Green Bean Egg Café
Overnight in Hanoi
Meals: Breakfast, Lunch, Dinner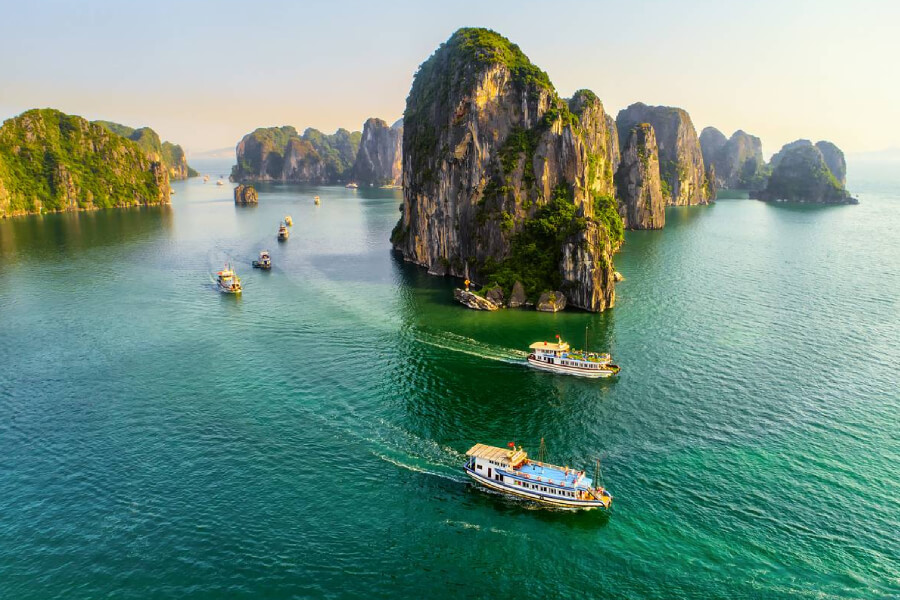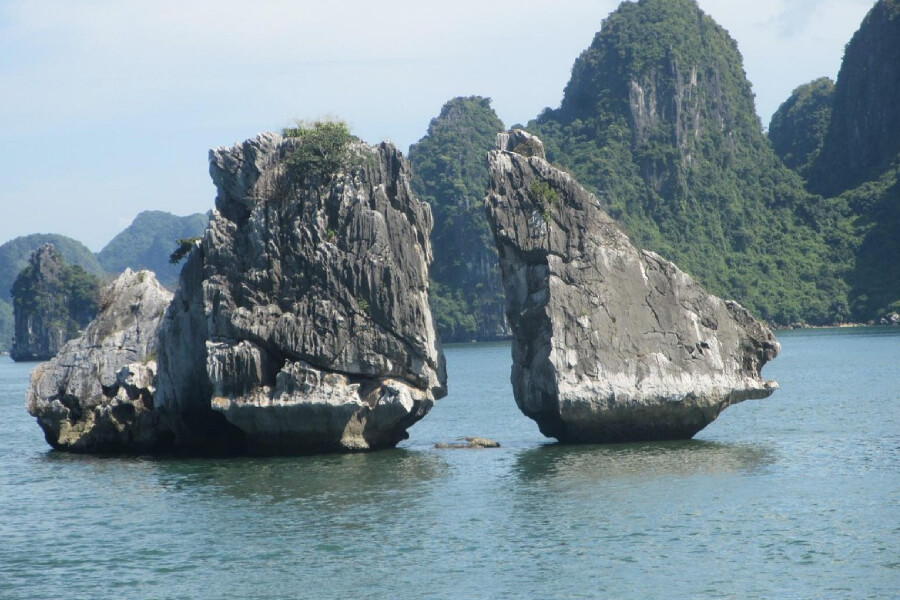 Day 11: Hanoi – City Tour – Fly to Vientiane (B, L)
Pick up at hotel in the morning, we will have half-day visiting some of the must-see sites in Hanoi. We first drive to the Ho Chi Minh complex where we will spend time at Ho Chi Minh's mausoleum, his former stilt-house, the Presidential Palace, and One Pillar Pagoda. Followings we visit the Temple of Literature, which originally built as a temple to Confucius.
After that, we will visit the infamous Hoa Lo Prison Museum. Hoa Lo is also known as the ''Hanoi Hilton'' and was where former US presidential candidate John McCain was incarcerated for over 5 years. Then, on the way to the airport, we visit the Museum of Ethnology, which is widely acknowledged as the best in the country and has an extensive display dedicated to Vietnam's 54 Ethnic minority peoples. The package in Vietnam will finish at Noi Bai Airport.
Welcome to Vientiane! Upon arrival, our guide will meet you at the airport and then escort you to your hotel for check-in.
Remarks:
Ho Chi Minh Mausoleum is not opened on every Monday & Friday.
Museum of Ethnology is closed on every Monday.
The Museum can be moved to your favourite museum in Hanoi.
Overnight in Vientiane
Meals: Breakfast, Lunch
Day 12: Vientiane – City Tour (B)
After breakfast, we start visiting the major sights of the capital; including the Wat Sisaket, the oldest temple with thousands of miniature Buddha statues and the former royal temple of Wat Prakeo, which previously housed the famous Emerald Buddha Image. Enroute to Lao's national precious heritage, the famous and sacred structure of That Luang Stupa, you will have the opportunity to take some pictures of the imposing Patuxay Monument, which is well known as Vientiane's own Arc de Triumph.
Afternoon, transfer out to visit Buddha Park with thousands of Buddha Statues inspired by Hindu culture. On the way back, we visit Lao Textile Museum to learn more about the Lao handicraft textiles.
Overnight in Vientiane
Meals: Breakfast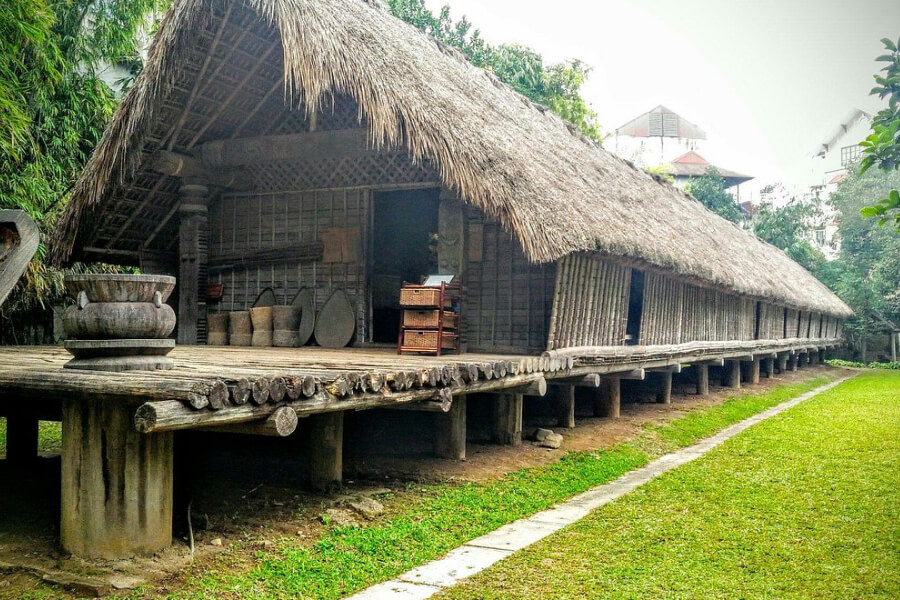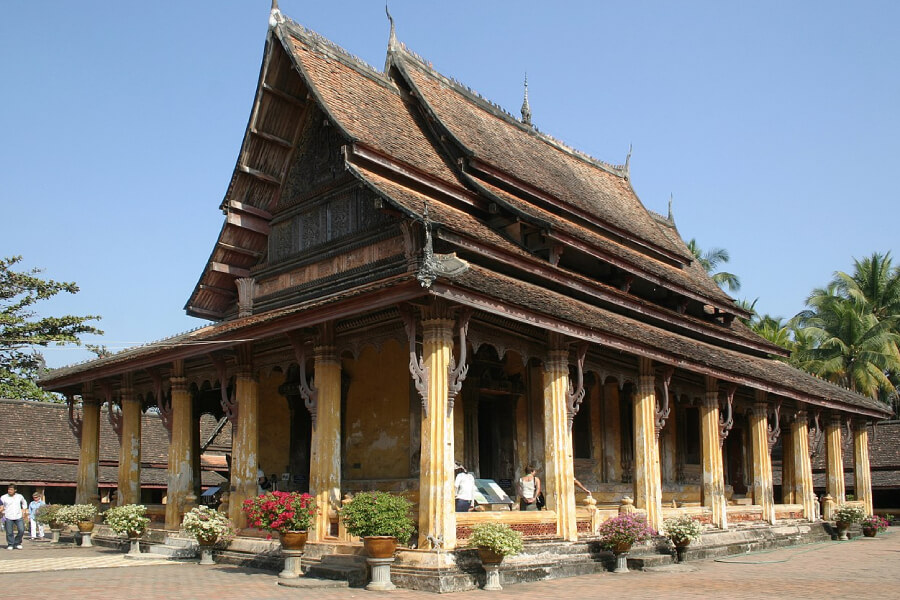 Day 13: Vientiane – Vang Vieng – Tham Jang Cave – Blue Lagoon (B)
After breakfast, visit Talad Sao Market before transfer to Vang Vieng, a small town, which is nestled on a bend of the Nam Song River. Its stunning scenery with a mixture of quiet river waters and limestone outcrops remains unspoiled, despite recent developments with the advent of tourism. Enroute, visit Tha Hue Fish market on the way.
Upon arrival, we cross the bridge to visit Tham Jang Cave (Dried Caves) and Blue Lagoon. Free at your leisure to attend zipline, kayaking… on your own budget.
Overnight in Vang Vieng
Meals: Breakfast
Day 14: Vang Vieng – Luang Prabang – Mount Phousi (B)
After breakfast, transfer to Luang Prabang via mountainous zig zag road. On the way, we will stop for photos at Phou Pheng Fa – the highest point of the region.
We arrive Luang Prabang in the late afternoon, transfer to hotel for checking in. Late afternoon, we will climb up 328 steps of Mount Phousi for an enjoyable exploration of the sacred, gilded stupa as well as a beautiful sunset view of the city and the Mekong River. We then will explore the Night Market, where you can find a lovely selection of handmade textiles made by the hill tribe and local people surrounding Luang Prabang.
Overnight in Luang Prabang
Meals: Breakfast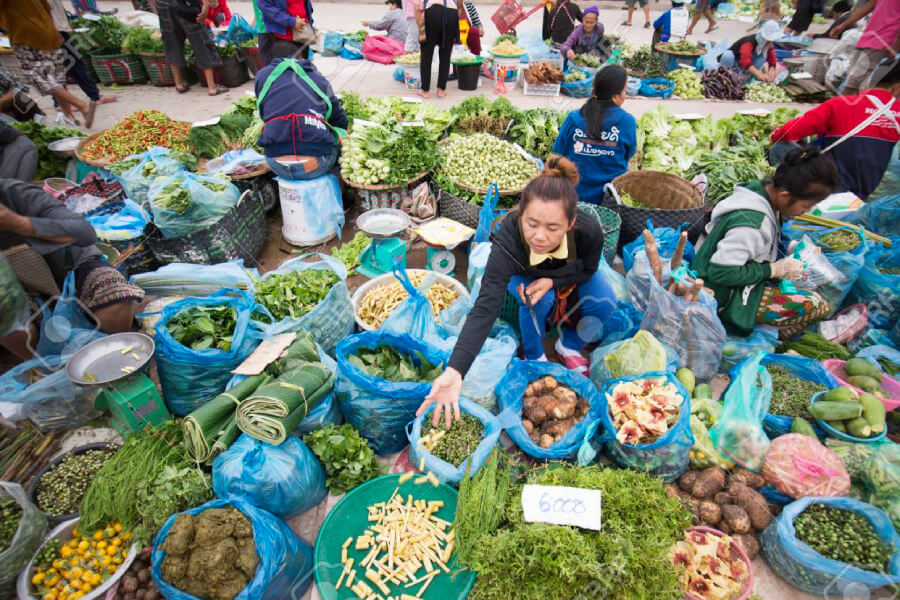 Day 15: Luang Prabang – Pak Ou – Khoang Si (B)
You have the option to wake up before dawn to witness and participate in offering alms to hundreds of saffron-robed monks – an awe-inspiring sight. Please tell your guide a day in advance if you wish to make an offering so he/she can prepare some food for you to hand over to the monks. This early morning ritual dates back generations in Laos. Watch the town come to life in the morning then return to the hotel for breakfast or join the locals for a bowl of delicious noodle soup after the alms giving ritual. (If you do not wish to make an offering, please keep an appropriate distance and observe the ritual in silence. Dress appropriately – shoulders, chest and legs should be covered).
We then visit the Morning Market, where you will see such diverse offerings as dried buffalo skin, local tea and saltpeter among the chickens, vegetables and hill-tribe weavings.
We then board a cruise upstream on the Mekong River, which also gives us a panoramic view of the tranquil countryside as well as an interesting visit to the mysterious of Pak Ou Caves, two linked caves crammed with thousands of gold lacquered Buddha statues of various shapes and sizes left by pilgrims. Along the way, we will make a stop at Ban Xang Hai village where rice wine is distilled. We will visit the caves of Tham Ting and Tham Phoum which house hundreds of Buddha statues. We return to Luang Prabang in the afternoon, continue to visit Ban Xang Khong, a village well known for silk hand-weaving and traditional Saa paper-making.
Afternoon, transfer by private vehicle to the beautiful Khouangsi Waterfall where you can cool off with a refreshing swim in the turquoise pools or walk along the forest trails. On the way, we visit Ban Na Oune and Buffalo Dairy Farm with option to do a tour (with extra charge) to see how people take care the buffalo and using the milk to make dairy products, or just stop for a break and enjoy ice cream on your own. Once at the waterfall, you can visit Bear Rescue Center. Swimming at the waterfall is possible. Come back city in the afternoon.
Overnight in Luang Prabang
Meals: Breakfast
Day 16: Luang Prabang – City Tour (B)
After breakfast, we visit National Museum at the former Royal Palace displays a lovely collection of the artifacts reflecting the richness of Lao culture dating from the days of the early kings right through the last sovereign; the magnificent Wat Xiengthong with its roofs sweeping low to the ground, which represents classical Laotian architecture. Continue to Wat Visoun – the oldest temple in Luang Prabang.
The afternoon, you will be free to pack for the flight back home tomorrow.
Overnight in Luang Prabang
Meals: Breakfast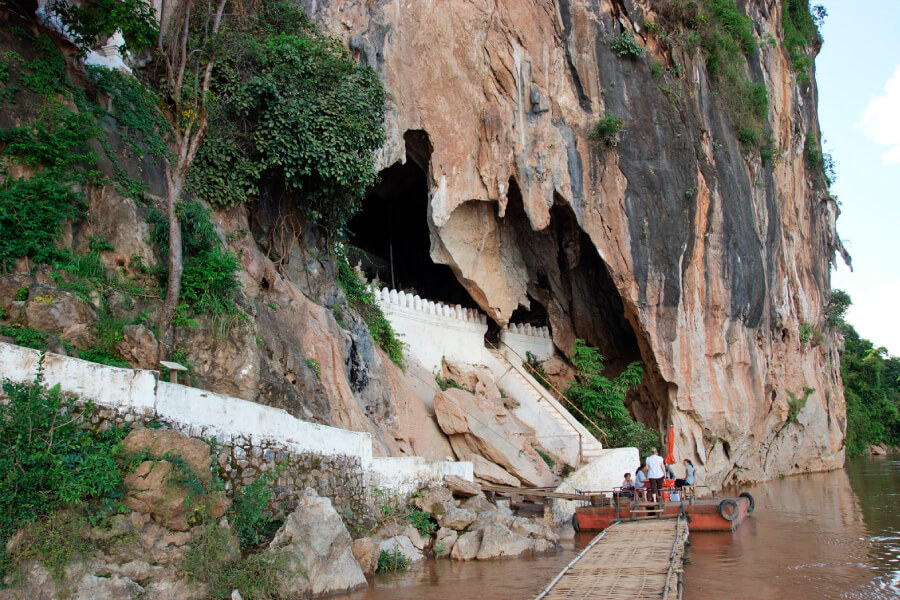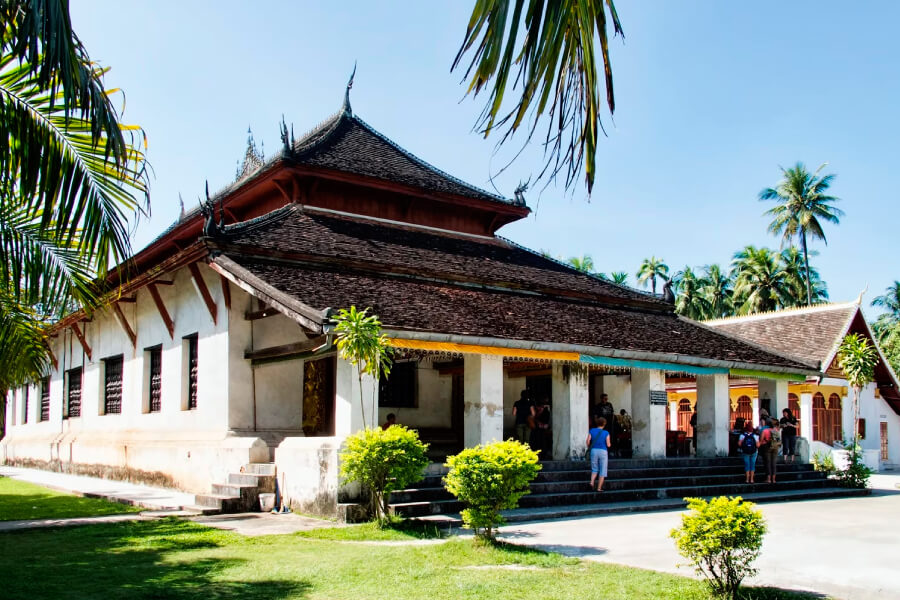 Day 17: Luang Prabang – Departure (B)
Today, you will be free until we transfer to the airport for the flight back home. Trip ends. Thanks for choosing this tour with Indochina Tours!