No matter what visitors travel Cambodia in a few days or longer, they at least once go to see Phnom Penh Independence Monument. Like a giant lotus blooming in the heart of Phnom Penh, this monument is the touching work recording the enormous merits of people who sacrificed, dedicated for the independence and sovereignty of the country.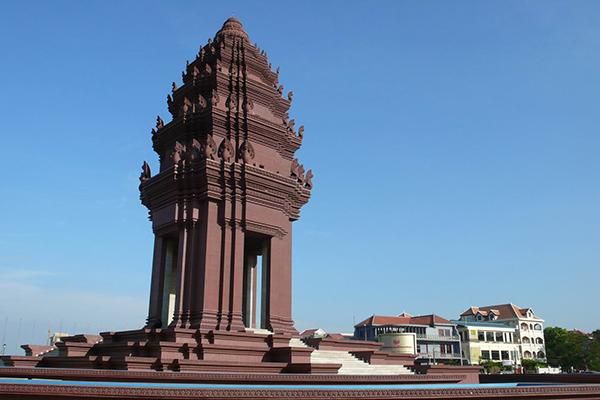 Independence Monument is located in a large square, between Norodom and Sihanouk Street. It was built in 1958 in order to commemorate the liberation of Cambodia from the domination of French Colonial Empire.
The road of struggle for national independence of Cambodia did not cover roses; thousands of patriots sacrificed their blood and bones to gain freedom. This monument also honors the people who devoted themselves to the nation.
This site is very important and indispensable in any visit to Cambodia of travelers. Phnom Penh Independence Monument is not merely a highlight in the heart of the capital, but also be considered as a place where the sad memories of a time war were buried.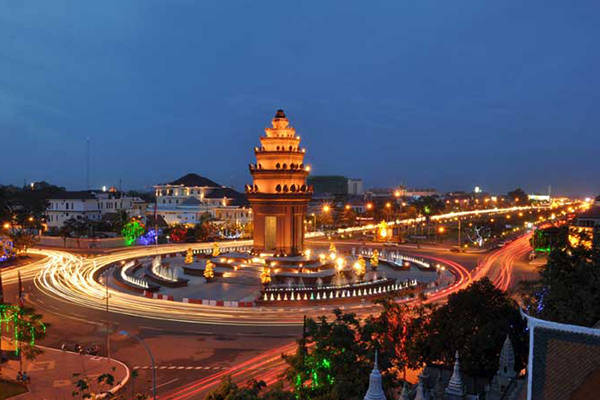 This is a wonderful architectural work of Phnom Penh. Independence Monument evokes the image of blooming lotus. The Cambodian architect Vann Molyvann designed the work based on this symbol, representing for the purity and awakening. Visitors will encounter the lotus image appeared in many other famous works in Cambodia, such as Angkor Wat.
The august monument rises majestically 20 meters up the sky. The details of red-brown stone and curves on the structure blend with the traditional architecture of Cambodia. The many-head snakes crawling up layers of the lotus are also the thing tourists can not miss.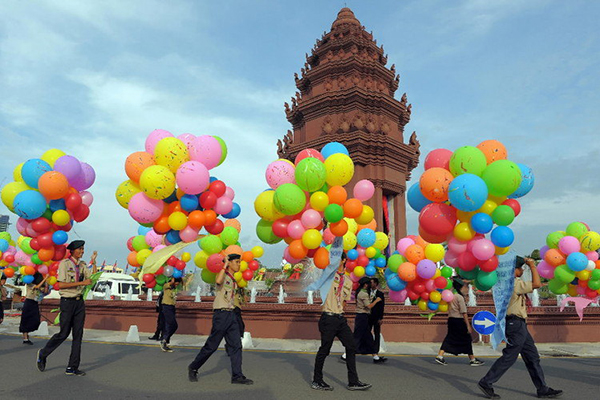 Besides, the monument is used violet as the main color. Underneath there is a modern fountain, which was brightly lighted at night, makes this fountain more shimmer.
Nowadays, the monument is the venue of important holidays of Cambodia. This is also an amusing area that many local residents and tourists choose. If you come here on important anniversaries such as the Independence Day or Constitution Day, visitors will be immersed in the crowded stream of people or sink into the quiet peaceful setting at the monument to feel the beauty of this place.