If you are curious about the country that is famous for gilded temples, learn about Lao drinks – one of the unique characteristics that present the traditional culture. Indochina tour will show you 6 Must-try Lao Drinks to help you have an overview of what to drink in Laos. Besides visiting iconic sites and feasting on the delicious cuisine, do not forget to enjoy the following Lao drinks to gain perfect traveling experience in this beautiful land.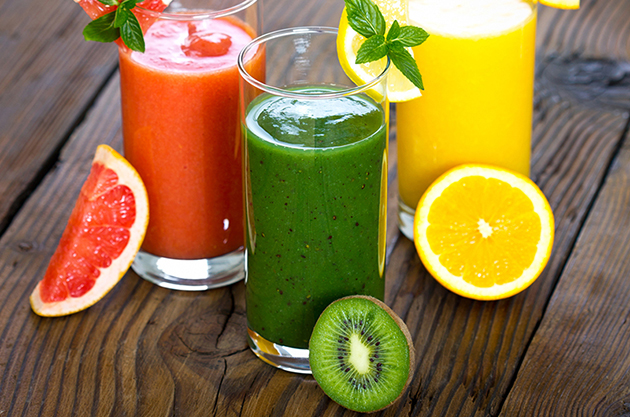 Lao Alcoholic Drinks
1. Lao Lao – Lao Rice Whisky
Lao Lao is one of the most famous drinks in Laos. The two words in the name of the rice whiskey, although, have the same pronunciation, they deliver two separate meanings. The first "Lao" means the Laotian while the second one is the alcohol. Normally, Lao Lao is drunk in the dinner as a ritual characteristic, especially when a Lao family invites a guest to their home. As usual, after the host pours one cup of Lao rice whiskey onto the floor or a plate to offer sacrifices to the house spirits, he will drink another cup in one gulp, and then it is the guests' turn.
Lao Lao is one of the cheapest drinks all over the world but it has the extremely good quality. You can easily drop in a local market and purchase some bottles of Lao rice whiskey to bring home. Being considered as the national drink, Lao Lao should be added in your must-try Lao drinks that help you remember about this beautiful country.
2. Lao-hai – Lao Jar Liquor
Lao-hai, a weaker version of Lao Lao, is the traditional alcoholic drink of Khomu – an ethnic group of Laos. Being different from the normal distillation, the liquor is fermented in a jar called "hai" until it gets done and can be served. Besides, this kind of Lao drink also has a unique way to taste which is directly drinking the wine contained in the communal earthware pots with long reed straws. Coming to "A million elephant" country, do not forget to try Lao-hai in the ethnic groups' houses or hotel bars to have the standard flavor of Lao jar liquor.
3. Beerlao – Favorite Lao Drink in Summer
Beerlao – one of the favorite Lao drinks in summer of the Laotian is the dominant product of Lao Brewery Company. It is made from Jasmine rice that is grown in the local area of Laos to make sure to the best quality together with hop and yeast imported from Germany. Beerlao not only dominates in Laos but also appears in many Western restaurants in Cambodia and bars in Thailand. Thanks to the cheap price and good quality, this alcohol has been exported into a lot of countries all over the world so that it is worth tasting this must-try Lao drink when visiting this land.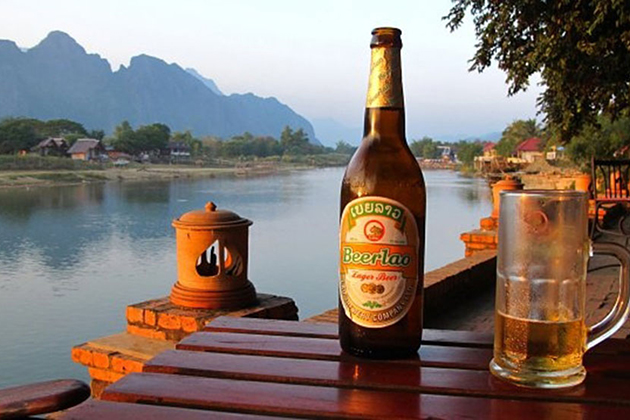 Non-Alcohol Lao Drinks & Beverages
4. Grilled Coconut – Lao Drink Unique in Processing
Being one of the unique beverages in Laos, grilled coconut water is suggested to be listed in 6 must-try Lao drinks. Although being made of coconut, this kind of beverage has the different processing from Vietnamese Coconut Water. The Laotian do not drink the fresh coconut water; instead, they will bake the whole fresh coconut then peel, remove the stigma and make it chilled. According to the Lao people, coconut water after baking has a very special taste and does not lose any nutrients.
Coconut is an extremely popular fruit in Laos which is added to a diversity of foods and drinks in order to make the flavor better. Therefore, to enjoy fully the delicious taste of coconut and feel the appreciation of the Laotian for this kind of fruit, remember to try grilled coconut when coming here!
5. Nam saa – Lao Tea
Similar to other Asia countries, Nam saa is a favorite drink in the daily life of the Lao. However, the Lao tea is influenced by Indian and Chinese styles so that you can easily bump into black tea (India) and green tea (China) in many places in this land. Normally, green tea is served in Lao restaurants for free because its flavor is quite weak and easy to drink for everyone while black tea is popular in coffee shops. Besides, one thing you should remember when ordering Lao tea is that saa hawn (hot tea) – one kind of black tea is always mixed with sugar and condensed milk. As a result, make a notice to the waiter if you prefer the black tea without sugar or milk to enjoy the most suitable flavor.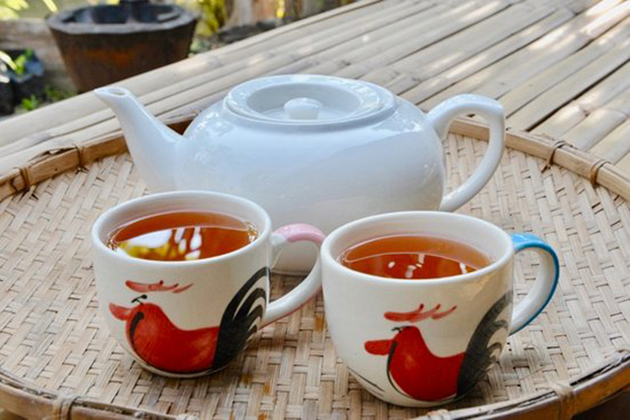 6. Lao Coffee
Lao Coffee is considered one of the best in the world. If you prefer the rich and strong coffee, come to Laos and it is certainly your ideal destination.
Most of the coffee in Laos is grown on the Bolaven Plateau – the "golden land" for coffee in southern Laos, accounting for 95% of coffee productivity in this country. One of the most common brands is you can easily find in the coffee shops or on the shelves is Lao Mountain Coffee which offers you with 10 different organic blends and roasts at the price of around 50,000 kips. If you prefer the higher-quality coffee, seek for Le Trio that usually sold at Pimphone Market located on Setthathirath Road in Vientiane.
Setting steps on this charming land, do not forget to sip a cup of coffee – one of 6 must-try Lao drinks to be deep in the appealingly cultural beauty of "A million elephant" country.