Vietnamese breakfast partially represents Vietnamese cuisine. Top 10 should-not-miss breakfast foods in Vietnam will help you discover super yummy foods that popularly appear in Vietnam breakfast. Tell us which one you have ever tried before!
Vietnamese Breakfast Culture
Vietnamese food is known as one of the healthiest cuisines all over the world, which encompasses a wide range of dishes for a typical Vietnamese breakfast. In the past, breakfast was often prepared by the woman in a family. However, in today's modern society, since a growing number of Vietnamese women enter the labor market and do not have enough time to prepare breakfast on a daily basis, many Vietnamese choose to go to street food stalls and restaurants for breakfast.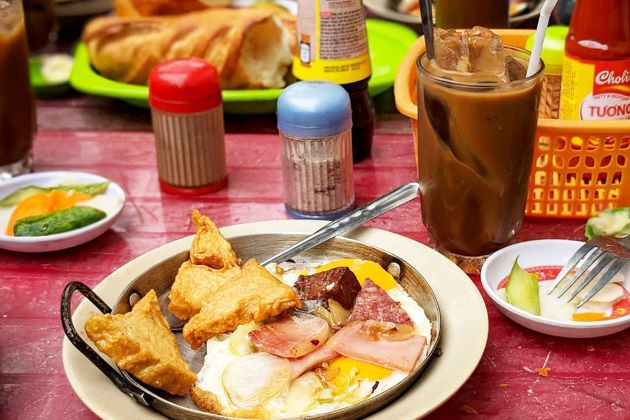 Traditional Vietnamese cooking is mainly included fresh ingredients, herbs, and vegetables. You can easily realize the balance between the herbs and the meats in the taste of any Vietnamese breakfast. Although following the same feature, the Vietnamese culinary tradition is highly diverse and dependent on different regions.
The food in Northern Vietnam are often less spicy than those in other regions, it also combines different flavors including salty, spicy, bitter, sweet, and sour. The breakfast specialties of this region are Bun Rieu, Banh Cuon, and Pho, which are also signature dishes of Vietnam.
Vietnam Central, by contrast, is especially popular for spicy food. Being the former capital of the last dynasty of Vietnam, Hue offers colorful decorative food considerably influenced by the ancient Vietnamese royal cuisine. One of the well-known breakfast food in this region is Bun Bo Hue (vermicelli with beef).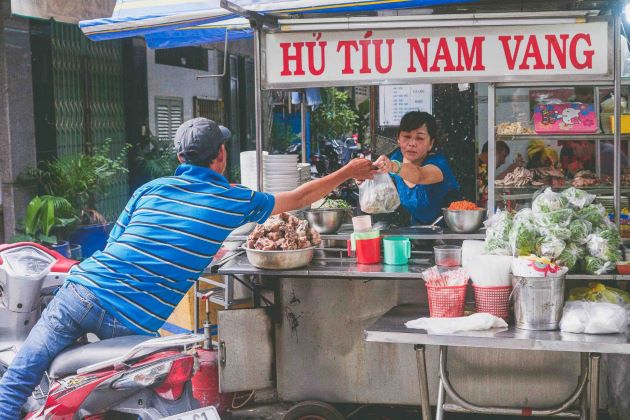 Coming to the south of Vietnam, foods are likely to be more vibrant and flavorful, especially sweeter than those in the northern and central regions. Some common breakfast dishes in Southern Vietnam are Banh mi (Bread) and Com Tam (broken rice).
Vietnamese Breakfast – Top 10 Foods Throughout the Country
Banh Mi – Vietnamese Sandwich
Vietnamese sandwich or Banh Mi is one of the most popular breakfast dishes for Vietnamese people. From the North to the South, from the poor to the rich, everyone enjoys this creative and yummy breakfast food. Thanks to the reasonable price, Banh Mi is the favorite food for students and workers at any time of the day. Vietnamese sandwich is delicious thanks to not only crispy bread crusts and soft bowels, but also the combination of bread stuffing which has numerous flavor to meet all of the customers' demands such as omelets, salted shredded meat, chicken, pork pies, etc.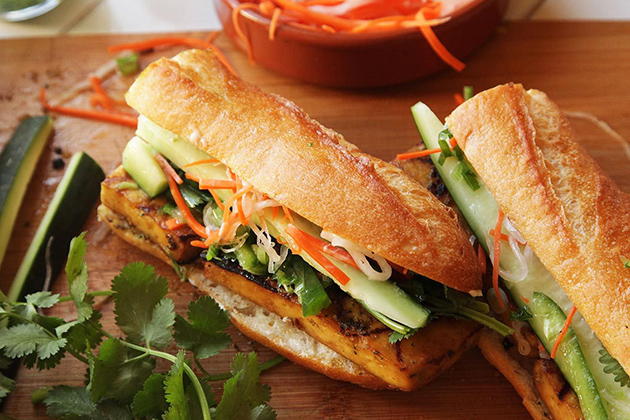 However, the most preferable stuffing is roasted pork. It will be so amazing when you can feast on the Vietnamese sandwich with the tender and well-seasoned pork together with cucumber, carrot, or cabbage to neutralize the greasy taste of pork meat. Taking a Vietnam tour package, do not forget to try Banh Mi – one of the should-not-miss dishes of Vietnamese breakfast.
Pho – the Typical Food for Vietnamese Breakfast
Pho is the traditional dish of Vietnamese people and represents the whole national cuisine in many countries around the world. The main ingredients of Pho are noodles and broth with sliced beef or chicken. In order to adjust to meet the different tastes of customers, there are spices such as soy sauce, pepper, lemon, fish sauce, and chili. In addition, a plate of fresh herbs including bean sprouts, coriander, basil, etc. is also added to make the flavor more charming. Eating a bowl of warm Pho – in cold weather in Vietnam will be the best experience for a food tour. It is suggested to be one of the should-not-miss dishes for Vietnamese breakfast of not only the local people but also for foreign visitors. Besides breakfast, you can taste Pho at any meal, from lunch to dinner.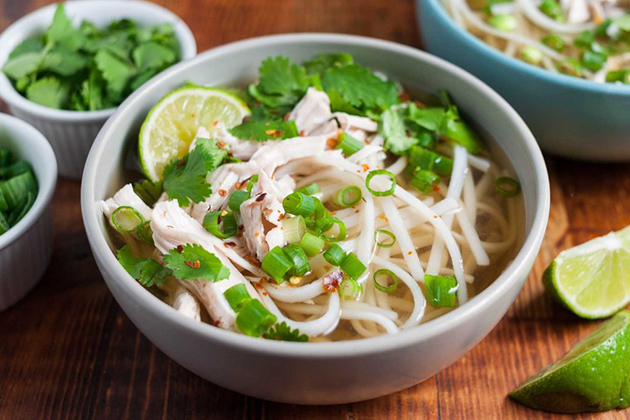 Xoi – Sticky Rice
Xoi is a popular dish in Asian countries, including Vietnam. Generally, Xoi is made of sticky rice that is steamed until it gets cooked. Because of the agricultural culture, Xoi has become of the most favorite foods for Vietnamese breakfast. Having a handful of sticky rice for breakfast will provide you full of energy until lunch without hungry. There are a lot of types of Xoi such as xoi xeo (with bean, fried onion, and oil), xoi ga (sticky rice with fried chicken), xoi dau xanh (rice mixed with bean), xoi gac (rice with gac fruit), etc. Thanks to the incredible limberness and deliciousness, Xoi is highly recommended in your must-try dishes for breakfast in Vietnam.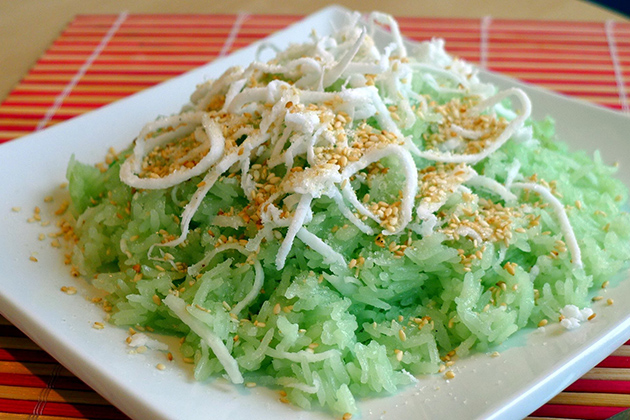 Banh Cuon – Steamed Rolled Rice Pancake
Another should-not-miss dish for your Vietnamese breakfast, Banh cuon (steamed rolled rice pancake) is made of thin and curled steamed rice flour in which there are meat and vegetables padded. Each region has different ways to make Banh cuon, from the ingredients to the dipping sauces. Besides, you are suggested to order Banh cuon with grilled chopped meat and spring roll if they are included in the menu, the taste will be much better.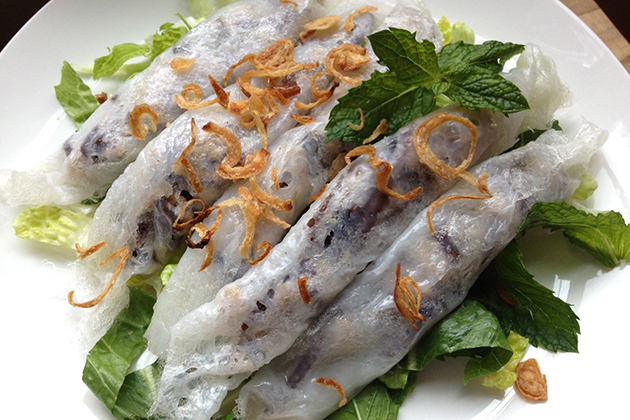 Hanoi, Hai Phong, Lang Son, Hai Duong, Kenh Village, Phu Ly are the locations where you can taste have super yummy and special flavors of Vietnamese steamed rolled rice pancake. For this kind of food, you should try it in both warm and cool status to find out which one you prefer. Being the popular dish in Vietnamese breakfast, Banh cuon is one of the unique traditional foods that you should not miss when visiting this beautiful country.
Banh Bao – Vietnamese Dumplings
Banh bao derived from China but when being imported into Vietnam, it has been adjusted to satisfy the Vietnamese taste. Vietnamese dumplings are smaller than Chinese ones. Besides, the stuffing is also different based on the available ingredients in Vietnam, including minced pork, cat's ear, mushrooms, vermicelli, sausage, quail eggs, or chicken eggs. For Vietnamese people, Banh bao is a very convenient breakfast food because they can buy it at numerous vendors along the pavements; and with an extremely reasonable price, you can fulfill your stomach with a warm Vietnamese dumpling. Therefore, Banh bao is certainly listed on your should-not-miss dishes of Vietnamese breakfast.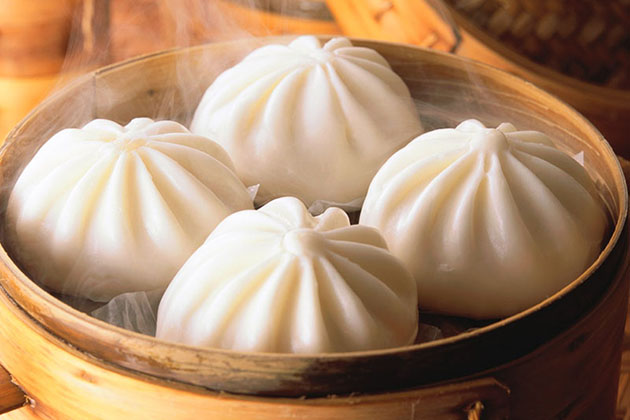 Bun Bo Hue – Vietnamese Spicy Beef Noodle Soup
Besides Pho, Bun bo Hue – Vietnamese spicy beef noodle soup is also a typically convenient dish of Vietnamese breakfast. Although it appears in most of the regions in Vietnam, the local people usually call it "Bun bo Hue" as the way to indicate its origin. The main ingredients consist of noodles, beef, pork pies, broth, and sometimes, other elements such as crab pies, etc. are added based on the taste of the cooks and the demands of customers. A little bit of spicy flavor from chili powder to make the broth turn red is a special characteristic of Bun bo Hue. Furthermore, people occasionally try this food with raw vegetables including coriander, lettuce, cucumbers, and banana flowers. If the time for breakfast is abundant, you are highly recommended to taste Bun bo Hue to experience one of the traditional foods for Vietnamese breakfast.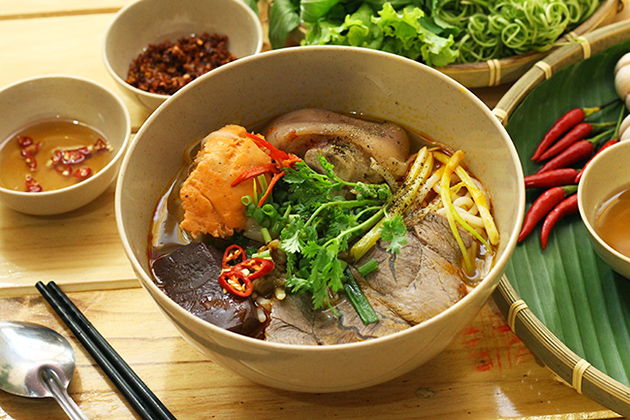 Boiled Corn – A Vietnamese "Fast Food"
For those not having enough time to eat a bowl of Pho or Bun Bo Hue, boiled corn is a perfect substitute for their amazing Vietnamese breakfast. There are two major types which are glutinous corns and sweet corns that are used for breakfast. Normally, Vietnamese people prefer buying raw corn and boiling by themselves to ensure food hygiene and get the cheap price for purchasing the boiled one's outsides. Besides fulfilling the stomach, boiled corns have a diversity of miraculous effects for physical health such as strengthening the digestive system, reducing risks of cardiovascular disease, preventing the risk of cancer, being good for eyes and skin, etc. As a result, it totally deserves to be included in your should-not-miss dishes for Vietnamese breakfast.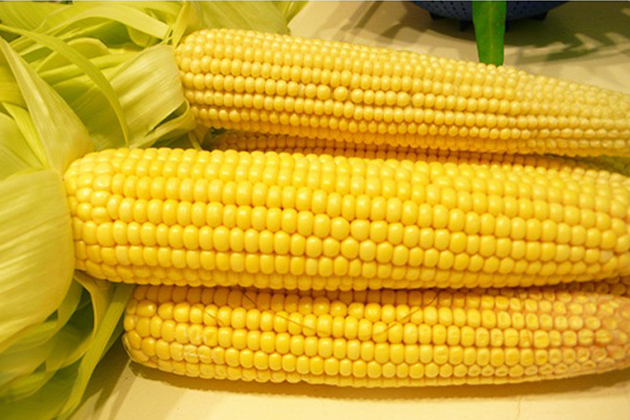 Vietnamese Breakfast – Special Dishes in the South
Com Tam – Broken Rice
Com Tam (broken rice) is a very simple but yummy dish in Sai Gon (former name of Ho Chi Minh City). A perfect plate of Com tam must be dry and not sticky. Normally, broken rice is eaten with a variety of ingredients such as sparerib, pork pies, or eggs, and the sauce made of fish sauce, sugar, and chili. In addition, pickled carrots and radishes will partially make a full-of-flavor place of Com tam. If you have a chance to visit Ho Chi Minh City, remember to try this delicious dish as one of the Vietnamese breakfast foods.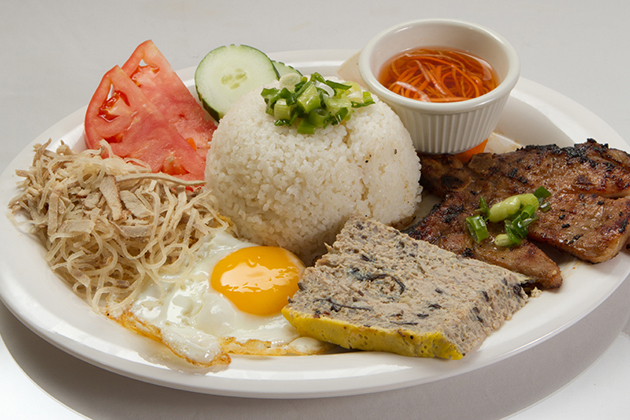 Hu Tieu – Vietnamese Pork and Seafood Noodle Soup
Hu tieu is a kind of noodle that originated from China, importing in the South West areas. However, years by years, the processing has changed to be adapted to the local taste and formed three famous noodle brands in the South: Hu tieu My Tho, Hu tieu Nam Vang, and Hu tieu Sa Dec. Vietnamese pork and seafood noodle soup are pretty similar to Pho but it also has distinct characteristics such as adding seafood, pig liver, quail eggs or the broth cooked with minced pork. Nowadays, Hu tieu has become the very popular breakfast food in Southern Vietnam and it is suggested as a should-not-miss dish of Vietnamese breakfast.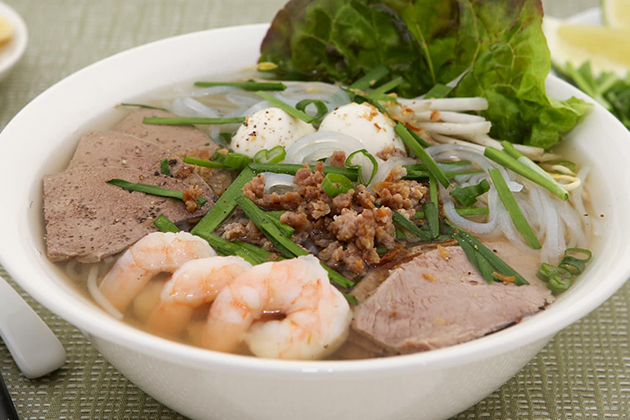 Banh Canh – Vietnamese Thick Noodle Soup
Like Hu tieu, Banh Canh – Vietnamese thick noodle soup is typical Vietnamese breakfast food in the South. It includes broth that is made of shrimps, fish, pork pies, and additional seasons depending on each type of Banh canh and noodles made from rice flour, wheat flour, or tapioca. Each area has its own spice for Vietnamese thick noodle soup to meet the regional taste. Besides, eating Banh can with fish, pork pies, shrimp, and meat will be the perfect combination of a should-not-miss dish of Vietnamese breakfast.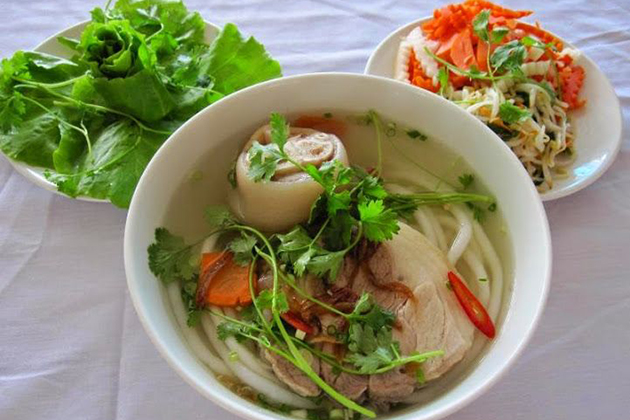 The list of Vietnamese breakfast foods will be your useful guideline to your amazing Indochina tour packages.