Cantonese Assembly Hall ranks in top the most famous feudal structures in Hoi An ancient town. The hall not only possesses a big classical value, but also is a favourite destination for both domestic and foreign tourists. Coming here and you will definitely be captivated by this fabulous architecture of Vietnam.
The hall is located next to the symbol of Hoi An – Japanese Covered Bridge, on a small corner of Nhi Trung Street. It was completed in 1885 by Chinese people who came from Guangdong (China). In the very first days, the hall was for worshipping Mazu (Holy Mother), after that Quan Cong, and then Guangdong sages. It used to be the address for Chinese fishermen and traders to unyoke momentarily as well as to exchange goods. Besides, at that time, there was a wharf at the front of the hall.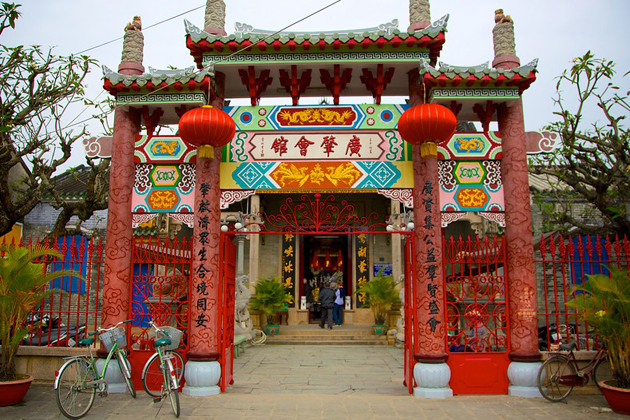 The whole Cantonese Assembly Hall looks quite beckoning, with a steady stone three-entrance gate and four rows of stone posts in the foreground. The name of the hall, "Cantonese Assembly Hall", is embossed on the above section of the gate. The gate is roofed with green tiles along with lively images of dragons, lions and flowers. Stone columns are carved with a lot of nice designs. All in all, the robust frame and patterns make the hall look majestic.
The structure owns a gorgeous fountain with a dragon made of pottery. What is more, many allures are expecting you guys inside the hall. Plentiful statues spread out all over the hall. Many of them reflect the musical dramas of the Cantonese Culture. Inside Assembly Hall, almost ancient vestiges have still been preserved, including four big horizontal lacquered boards, a big bronze censer, a couple of Chinese terra-cotta seats and some significant documents about the Chinese community in Hoi An.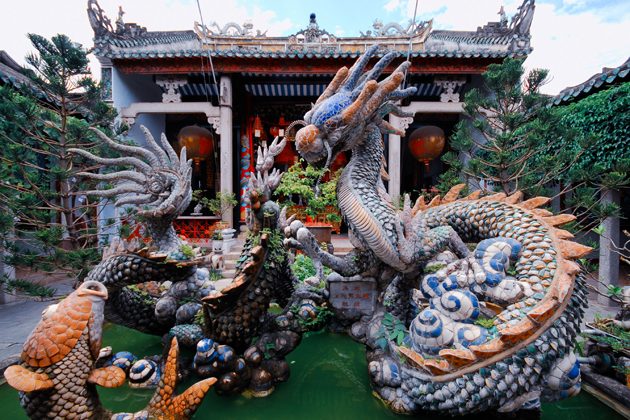 According to some reliable documents, the hall was built by the Chinese Cantonese merchants. The sections for the structure were made in China, after that, they were transferred to Hoi An and matched together to build Cantonese Assembly Hall.
Yearly, on the 15th of the first month of Lunar Year, Nguyen Tieu Festival (Lantern Festival) is held here. Besides, on the 24th of the sixth lunar month, the festival to pay homage to Quan Cong (a great Chinese general) also pulls a huge number of visitors to come here. Outside the hall, you will find various shops and markets. The major attraction for tourists is silk clothing. So go ahead and buy some silk costumes for yourself.