Located in the heart of the UNESCO-listed Phong Nha-Ke Bang National Park in Vietnam's Quang Binh province, Son Doong Cave is really a spectacular destination that everyone should experience in South Asia.
The Discovery of Son Doong Cave
Son Doong Cave was first discovered in 1990 by Ho Khanh, a pleasant who was looking for accommodation from a storm in the forest. He noticed clouds and the sound of an underground river gushing from a large hole in the limestone, and reported his findings to the British Caving Research Association (BCRA), who were stationed in Phong Nha at the time. In 2008, while hunting for food, he stumbled across the entrance again and returned the following year with Howard and Deb Limbert from the BCRA. They began the exploration of the cave, and in 2010 determined it to be the largest ever discovered in terms of the size of its cross-section.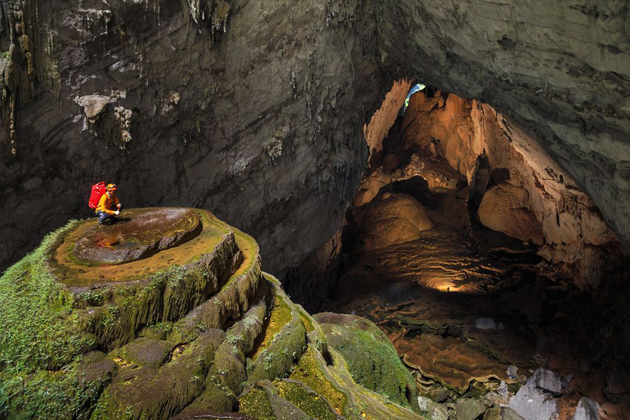 Characteristics of Son Doong Cave
Stretching approximately 9 kilometers long, the largest chamber of 200 meters wide and reaching 150 meters high, Son Doong Cave is currently the biggest cave in Vietnam. It is large enough to house an entire New York City block. Besides, the eco-system inside Hang Son Doong is as unique as it is large, and it even has its own localized weather system. Rare limestone cave pearls are scattered in dried pools, and the largest stalagmite ever found stands 80-meter tall. Untouched by humans and abnormally large, Son Doong has its own river, jungle, and climate. So amazing, river, jungle, and climate within the cave! The huge temperature difference between the air inside and outside creates constantly hovering clouds of mist that give rise to a miraculous and surreal atmosphere.
In 2013, Son Doong became common for a commercial expedition. Since then, it has attracted hundreds of adventurers who want to have the extraordinary and unique experience of discovering the biggest cave on Earth.
How to Get to Son Doong Cave
Son Doong is located in Son Trach, Bo Trach District, Quang Binh Province, Vietnam. There is currently no paved road leading to the cave and the journey to the cave is an adventure itself. So there are several ways to help you get to Son Doong Cave
By Air
The nearest airport is Dong Hoi Airport, which lies in the capital city Dong Hoi of Quang Binh province. Vietnam Airlines offers flights from Hanoi to Dong Hoi while Vietjet Airs offers flights from Ho Chi Minh City to Dong Hoi on daily basis. Travel time is around one hour for both.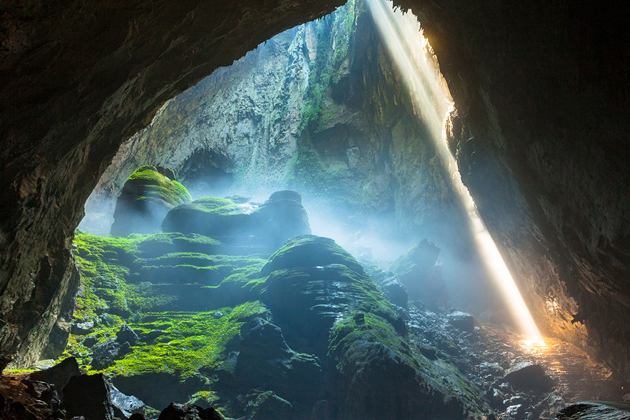 By Train
There are train services from various cities such as Hanoi, Ho Chi Minh City, Da Nang, Nha Trang, Hue, Vinh, etc. to Dong Hoi. Travel time varies with distance from your starting point.
By Bus
Buses and taxies are available too, offering more route options and flexibility. Prices and travel time also vary with starting destinations and service providers.
Best Time to Visit Son Doong Cave
The best time of the year to visit Son Doong Cave is from February to August. From February to April, the weather is cool and mild, perfectly suitable for trekking in the cave. However, it can be quite cold at night so be prepared to bring along some trekking jackets. From May to August, the weather is often hot and humid, making the expedition more arduous and challenging. From September to January, the cave is closed as the flood also makes it impossible to access the caves during this time of the year.