General Information
Duration: 25 Days/24 Nights
Start/End: Siem Reap – Ho Chi Minh City
Tour Route: Siem Reap – Vientiane – Luang Prabang – Hanoi – Sapa –Halong Bay – Hue – Hoi An – Ho Chi Minh City – Vinh Long – Ho Chi Minh City
Tour Categories: Indochina tour packages
Tour Customizable: Definitely! (Tell us your specific requirements in the inquiry form)
Guides: Local Guide (English Speaking Guide, Other Languages upon Request)
Transportation: Private first-class air-conditioned vehicles
Accommodation: Listed below or equivalent. Rooms with private bath or shower, hotel taxes, porterage, tips, and service charges
Highlights
Immerse in the eternal and magnificent beauty of Angkor Complex
Upstream Cruise Mekong River( also come over mystic caves and local villages on the journey)
Experience like a local in traditional handicraft villages in Luang Prabang
Discover every corner of the capital Hanoi
Explore the remote hill villages and natural landscapes of the misty town Sapa
Marvel at the incredible scenery of Halong Bay with an overnight cruise
Pedal through immense green paddy fields and pretty villages in Hue
Take an exciting trip on basket boat in Hoi An
Visit the vibrant floating market in the southwest region of Vietnam
Brief Itinerary
Day 1: Siem Reap  Arrival
Day 2: Siem Reap – Angkor Discovery
Day 3: Siem Reap – Angkor Temple – Further Discovery
Day 4: Siem Reap – Tonle Sap boat trip – Flight to Vientiane
Day 5: Vientiane Sightseeing
Day 6: Vientiane – Flight to Luang Prabang
Day 7: Luang Prabang – Boat trip & Local villages
Day 8: Luang Prabang – Textile Village – Jewell and Elephant Camp
Day 9: Luang Prabang – Flight to Hanoi
Day 10: In Hanoi
Day 11: Hanoi Sightseeing
Day 12: Hanoi – Transfer to Sapa
Day 13: Sapa – Explore the remote Hill Villages
Day 14: Sapa – Silver Waterfall & Heaven Gate – Overnight train back to Hanoi
Day 15: Arrival Hanoi – Transfer to Halong Bay
Day 16: Halong – Hanoi – Flight to Hue
Day 17: Hue Motorbike tour
Day 18: Hue – Drive to Hoi An
Day 19: Hoi An Biking Excursion – Visiting local villages
Day 20: In Hoi An
Day 21: Hoi An – Flight to Ho Chi Minh City – Sightseeing tour
Day 22: Ho Chi Minh City – Cao Dai Holy See Temple & Cu Chi Tunnels
Day 23: HCM City – Vinh Long – Local home-stay
Day 24: Cai Be Floating Market – Ho Chi Minh City
Day 25: Ho Chi Minh City Departure
Day 1: Siem Reap: Arrival (D)
Upon arrival in Siem Reap airport and transfer to hotel to check into. Dinner will be a buffet meal, enjoy an Apsara performance at the same time.
Overnight in Siem Reap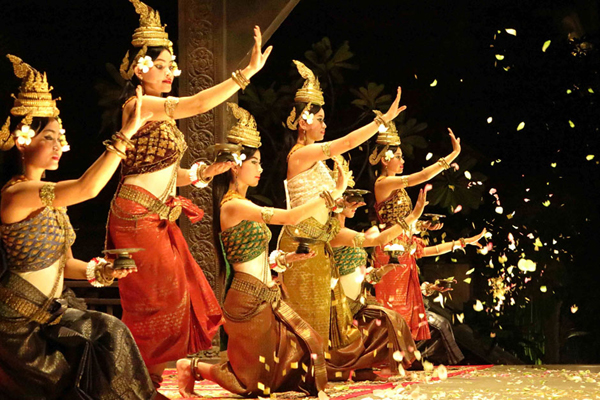 Day 2: Siem Reap – Angkor Discovery (B)
After breakfast, let's come to discover the famous Angkor Wat, the symbol of Cambodia, a masterpiece of human beings. Next, we move on Phnom Bakheng to catch the stunning sunset or drop in Pre Rup Temple nearby.
Return the hotel room and enjoy your chill time.
Overnight in Siem Reap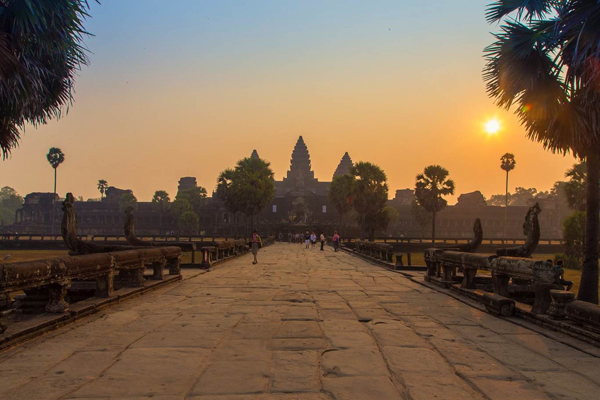 Day 3: Siem Reap – Angkor Temple – Further Discovery (B)
Wake up the day by admiring the dawn over Angkor Wat, immerse in the eternal and magnificent beauty.
Enjoy the nutritious breakfast and embark on a trip discovering more about the great Angkor Complex. Today will be a  very meaningful day when you have the chance to explore the most splendid architecture at Angkor.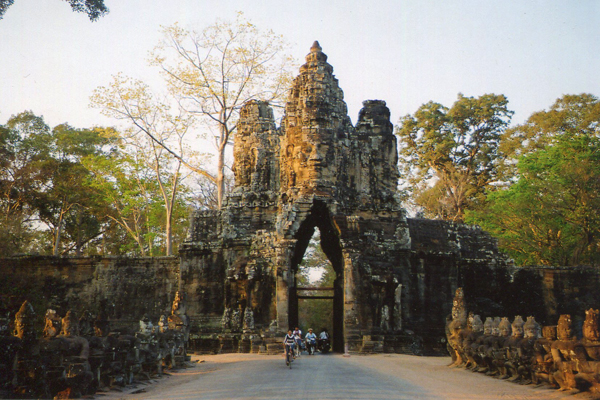 First, we go to see West Gate of Angkor Thom, a less visited place by tourists. After that, we, in turn, look around South Gate, Bayon Temple – well-known for 54 towers with about 200 smiling faces carved into; Baphuon Temple – located to the northwest of Bayon, famous for famous for the Buddha statue carved on the 40-meter-long stonewall, is considered as the most majestic and greatest temple, just inferior to Angkor; The Royal Enclosure; Phimeanakas; The Elephant Terrace and the Terrace of the Leper King.
Overnight in Siem Reap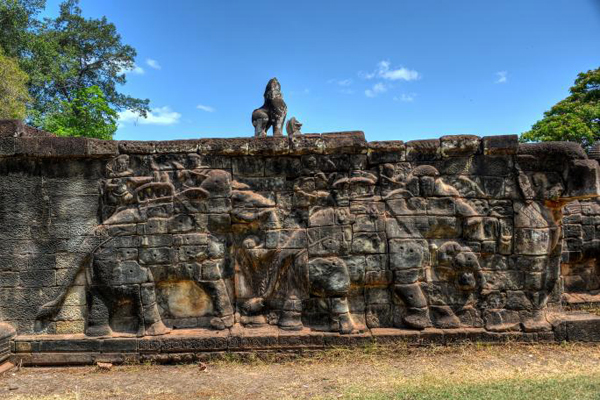 Day 4: Siem Reap – Tonle Sap Boat Trip – Flight to Vientiane (B)
Today's included the interesting journey to the largest lake in Southeast Asia – Tonle Sap. Here, we will rent a boat to the floating village – Kompong Phhluk. Discover this peaceful destination on a canoe, see the local's lifestyle, sink yourselves in the lovely nature and get quiet moments.
On a half-day, we will fly to the beautiful capital Vientiane. Check into the hotel and relax.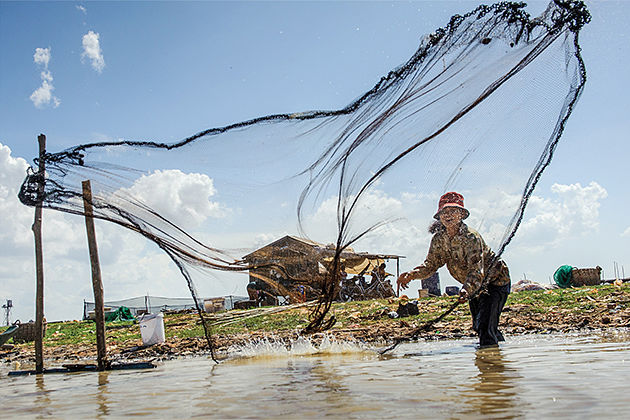 Day 5: Vientiane Sightseeing (B, L)
Today we will visit the most prominent locations in Vientiane. First stop is Wat Si Saket, one of the most important pagodas in Vientiane, displaying more than 2000 Buddha statues with many shapes and sizes. Nearby is Wat Hor Prakeo, the most famous in Vientiane, where the Royal family used to come to pray, therefore, it is also known as Royal Temple.
Depart to the suburb of Vientiane to visit the Buddha Park of Xieng Khuan, a collection of hundreds of Buddha statues molded according to Buddhist mythologies. Also, we go through small peaceful villages along Mekong River, enjoy the simple but spectacular scenery of fresh vegetable gardens, tobacco plantations as well as stop to watch the life of the locals. Especially, we will have an opportunity to watch Mekong Friendship Bridge – the border of Laos and Thailand. After that, back to Vientiane to visit Ban Nongbuathong, the famous weaving village here. Finally, wander along Mekong River's bank before return the hotel room for rest.
Overnight in Vientiane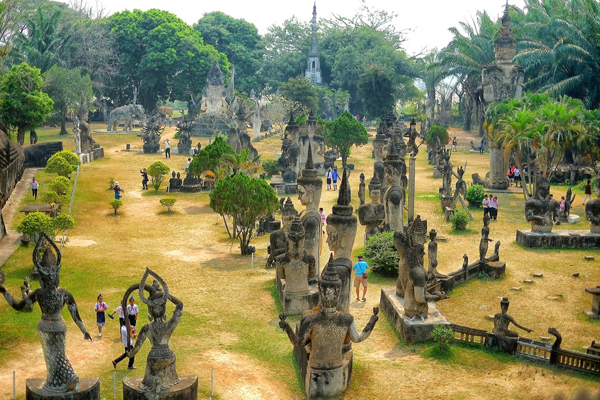 Day 6: Vientiane – Flight to Luang Prabang (B, L)
After breakfast, transfer to the airport to catch the flight to Luang Prabang.
Today we will explore the most typical places in Luang Prabang. Start with National Museum, and then Wat Visoun, Wat Aham, Wat Mai, Wat Xieng Thong. Afterward, go up to reach the top of Phousi Mount to achieve an exciting discovery of sacred, gilded stupa as well as enjoy the majestic sunset over the city. At night, let us jump into Street Night Market, where you can purchase pretty handicrafts made by the locals around Luang Prabang.
Overnight in Luang Prabang.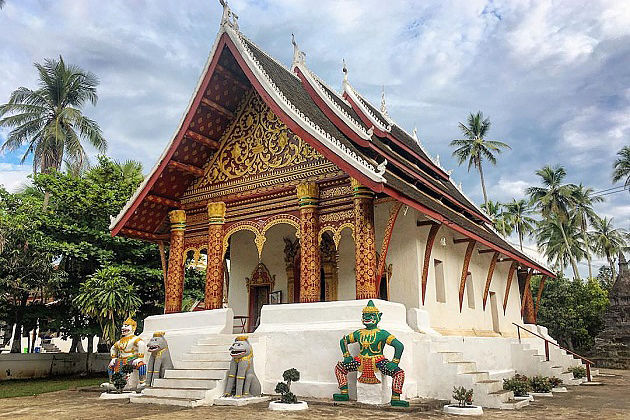 Day 7: Luang Prabang – Boat Trip & Local Villages (B, L)
The highlight today is a boat trip upstream Mekong River. This is a great chance to admire the peaceful scenery as well as a quiet life in the countryside of Laos. We will drop in the famous Pak Ou Caves, where contains thousands of gilded Buddha statues with numerous shapes and sizes. Also, we come to Ban Xang Hai, see the rice-wine making process of the local people and Ban Xang Khong – traditional weaving village in return.
Overnight in Luang Prabang.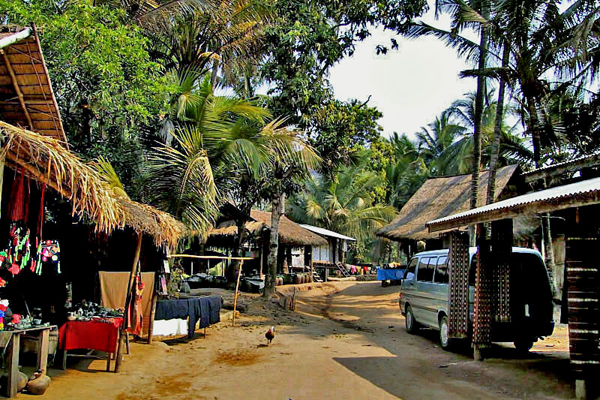 Day 8: Luang Prabang – Textile Village – Jewell and Elephant Camp (B, L)
Today we will visit the Jewel land Elephant camp at Ban Ann. On the way, we drop by Ban Phom Nom – a famous weaving village. Next stop is Henri Mouhot Monument at Kang Noon – the shrine, was built in horror a French man, who found out Angkor Wat in Siem Reap, but he died at Kang Noon when moving to Laos for his discovery as Mararia. After that, you will listen to the guide talking about the source as well as the living condition of elephants here. Besides, you also have the chance to feed these elephants and ride them before back to the hotel. The remainder of the day is free time.
Overnight at Luang Prabang.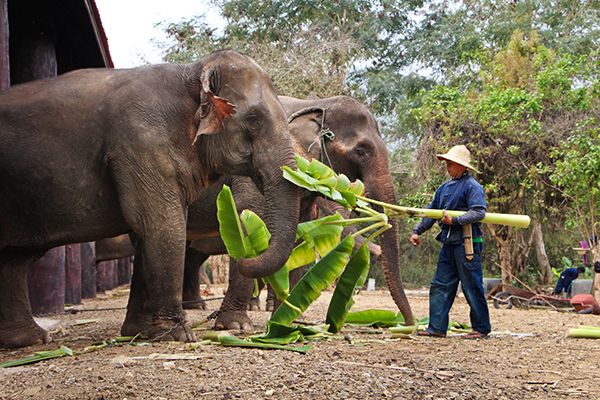 Day 9: Luang Prabang – Flight to Hanoi (B, L)
Morning time is free. After that, check out the hotel then in the afternoon transfer to airport to take the flight to Hanoi.
Check in the hotel. Overnight in Hanoi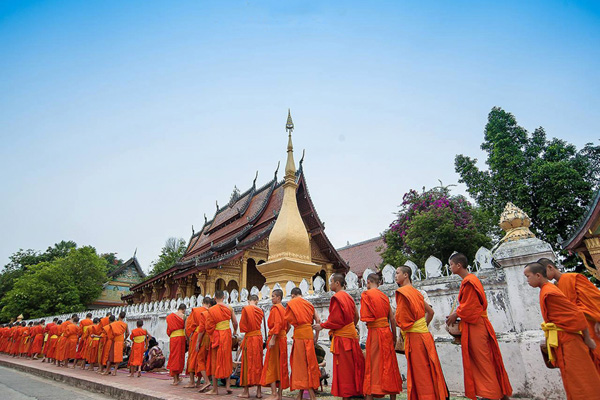 Day 10: In Hanoi (B)
The whole morning is time to relax.
The half day's included a walking tour visiting Hoan Kiem Lake and Ngoc Son Temple. Next, go to watch a traditional water puppet show – a typical art form in the north of Vietnam at the nearby theater. Enjoy a delicious local dinner at a Hanoi restaurant and then back to the hotel for relaxing.
Overnight in Hanoi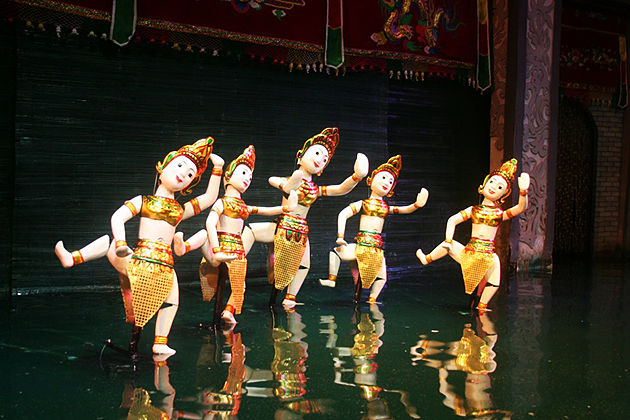 Day 11: Hanoi Sightseeing (B, L)
Today we will spend the whole time to explore every corner of Hanoi. Start with a cyclo tour around Old Quarters, the most famous tourist site in Hanoi. Continue going to the Imperial Citadel of Thang Long, from here we can pass green tree lines, walking to Ba Dinh Square, visit Ho Chi Minh Mausoleum. By the way, we also see his private house nearby, where lived and worked until the end of his life.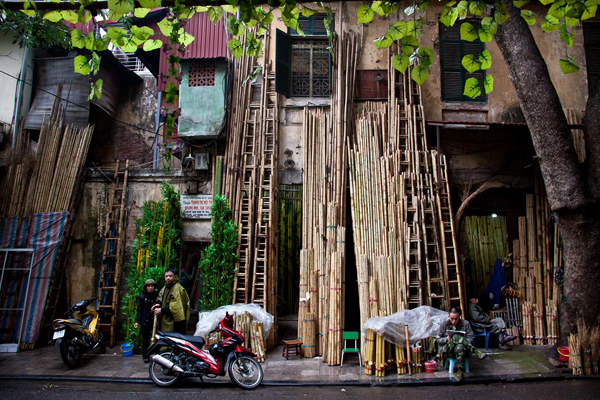 Next, let us come over Presidential Palace and One Pillar Pagoda. Then we will discover the famous historical place, Hoa Lo Prison – was considered as the hell on the earth in Vietnam War.
Lunch is served at a traditional restaurant.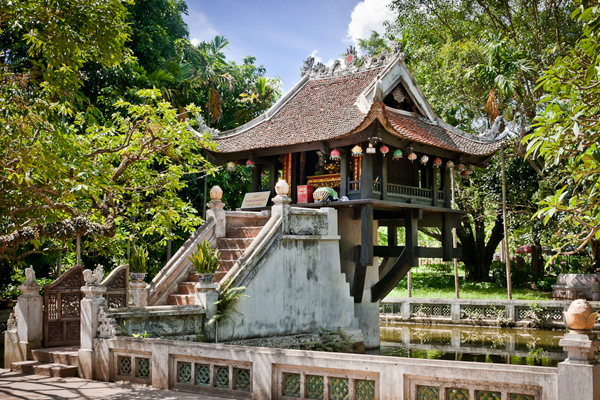 Day 12: Hanoi – Transfer to Sapa (B, D)
Goodbye Hanoi, we come to Sa Pa, a pretty mountainous town, taking 5 hours on road from Hanoi.
Upon arrival, we just relax and jog around the town, and then go to visit Sapa Market. After that, drive to reach in Lao Chai – Ta Van villages, to have the chance to enjoy the stunning scenery, communicate with ethnic people here as well as discover their life. Tasty dinner is a home-cooked by the host.
Back to the town and chill out.
Overnight in Sapa.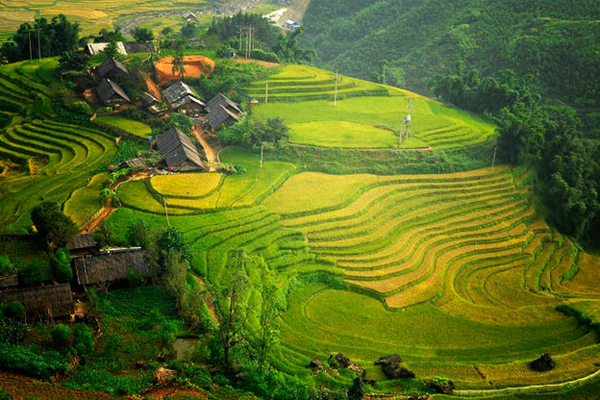 Day 13: Sapa – Explore the Remote Hill Villages (B, L)
Today will be an extremely interesting day with a discovery of the lowest valley of Sapa. En route, we may encounter the spectacular scenery of the largest terraced paddy fields. We might, in turn, come over some ethnic communities including Ban Ho Village, My Son Village, Nam Cang Village, Nam Thang Village…
Enjoy your lunch at a stilt before taking a trip back to Sapa and admire the magnificent sunset over the mountains.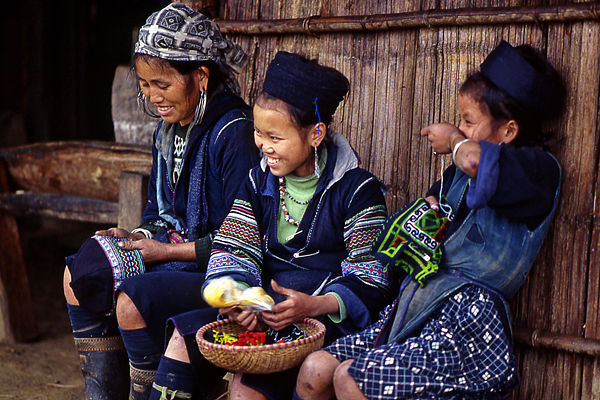 Day 14: Sapa – Silver Waterfall & Heaven Gate – Overnight Train back to Hanoi (B, L, D)
Today is free for you to explore. We highly recommend two options: visit the town market or climb up Ham Rong Mount.
Check out the hotel room. After that, you will be taken and transferred to Lao Cai Station to board the overnight train to Hanoi.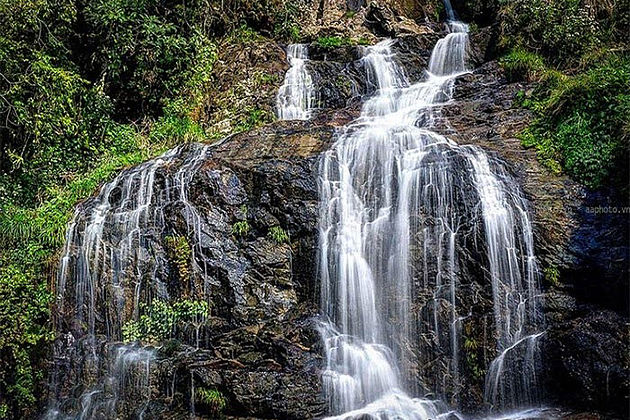 Day 15: Arrival Hanoi – Transfer to Halong Bay (B, L, D)
Approach Hanoi in the early morning, check in the hotel to wash up and rest. Have breakfast before continuing the journey to Halong Bay – UNESCO World Heritage, also in top 7 New World Wonders. We will cruise around the stunning limestone islets scattered on the bay, admire the majestic view, immerse yourselves in the fresh water for diving, swimming. Seafood lunch is prepared right on the boat.
Keep on discover the beautiful bay before enjoy the stunning sunset. Have a tasty dinner and relax.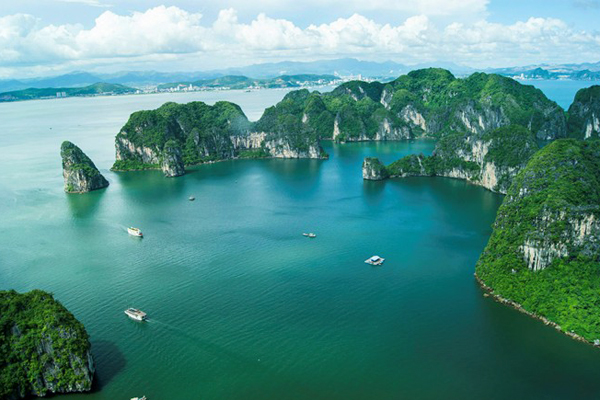 Day 16: Halong – Hanoi – Flight to Hue (B, L)
Wake up early to catch the gorgeous dawn on the bay. After breakfast, let's discover Sung Sot Cave – the most beautiful cave here, where there are various blocks of sparkling stalactites with every shapes and size.
Back to the boat to check out and explore other islets.
At the mid-day, we come to the port, back to Hanoi to take a flight to Hue. Before flying, we will have a tasty meal at Thanh Chuong Palace.
Upon arrival in Hue, you will be taken and transfer to the hotel for check-in. Overnight in Hue.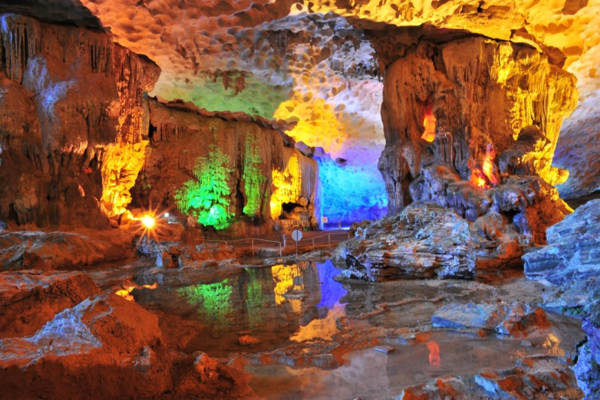 Day 17: Hue Motorbike Tour (B, L)
Today's included a bike tour through immense green paddy fields, small pretty villages to explore the most remarkable tourist sites in Hue.
The first destination is Thanh Toan Village, seeing the active image of the morning market, the local people go to the market and purchase food and some essential things. Next, let's visit the Thanh Toan Bridge and Cultural Museum where you can meet and communicate with the people here.
After that, drop in the famous historical site: Royal Tomb of Tu Duc King. Then come over Vong Canh Hill to admire the gorgeous scenery over Perfume River (Huong River).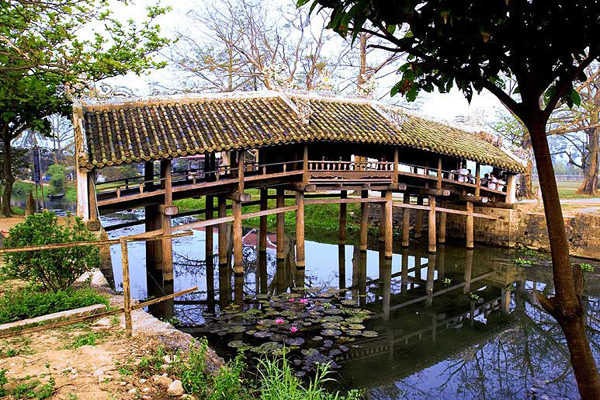 Continue to drive to a local Buddhist Monastery and enjoy a vegetarian lunch, cooked by the nuns. Later, back to the town to discover Forbidden Purple City, the capital of Nguyen Dynasty from 1802 – 1945.
Finally, come to see Dong Ba Market on Perfume River's side. Pass through the famous Trang Tien Bridge to and then back to the hotel. The rest of the day is free.
Overnight in Hue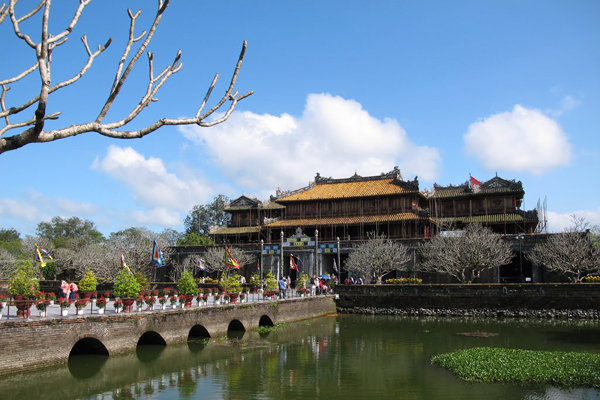 Day 18: Hue – Drive to Hoi An (B)
Today we transfer to the ancient town-Hoi An. On the way, we might stop to watch the natural scenery as well as take some photos at Lang Co Beach, Hai Van Pass, and Marble Mountain. About afternoon, we reach Hoi An, check into and relax after that.
The evening is the time to wander on the famous colorful lantern streets. Also, come over several tailor shops and get beautiful new clothes.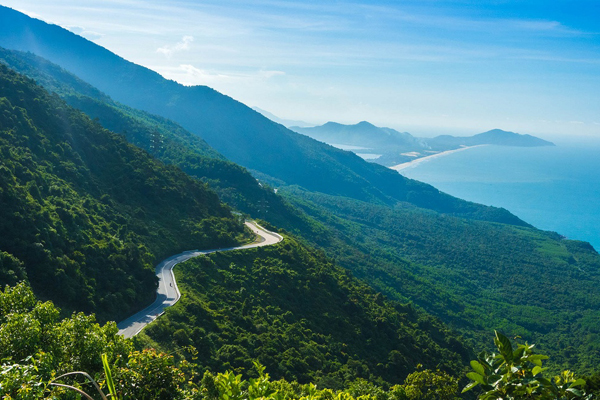 Day 19: Hoi An Biking Excursion – Visiting Local Villages (B, L)
Embark on today's journey by exploring the most reputed sites, including Japanese Bridge, Old Merchant House, China Assembly Halls, and a few other lovely stores. We will ride to a craftsman's house in the ancient street where you have an opportunity to watch the daily life of the local people as well as learn the way they create a pretty lantern. Of course, you will be taught to make a lantern for yourselves and take it as a meaningful souvenir. We will enjoy a delicious local lunch in a secret garden-like restaurant located in a small narrow alley of the town.
In the half day, take an exciting trip on Basket Boat– typical transportation in Southern Vietnam. You definitely get fun minutes on it. In return, you will sit on a boat full of fresh fish and enjoy the magnificent sunset on the sea.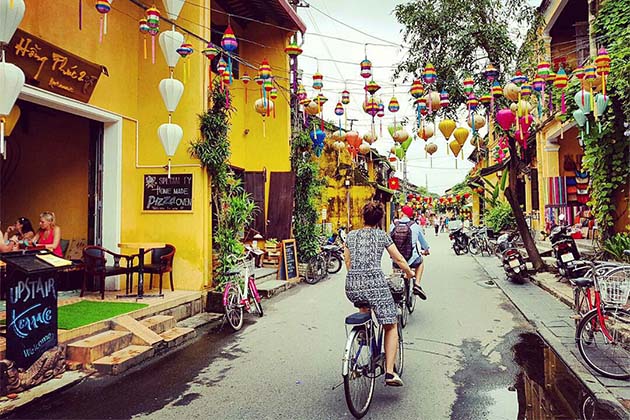 Day 20: In Hoi An (B)
Activity today is optional. You either participate in a Vietnamese traditional cooking class or explore more about the ancient Champa architectures with a visit to My Son Cham Towers.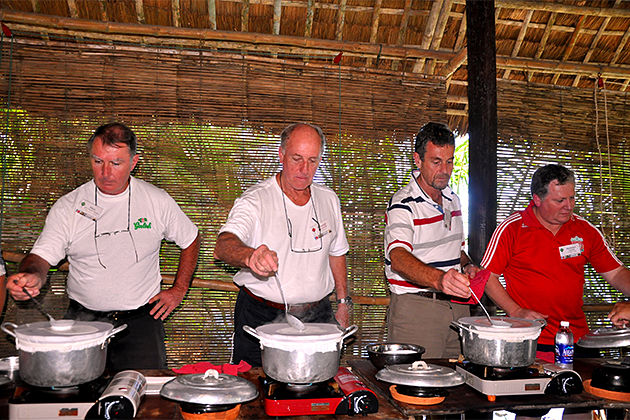 Day 21: Hoi An – Flight to Ho Chi Minh City – Sightseeing tour (B, L)
Leave Hoi An in the morning, we take a flight to Ho Chi Minh City (Saigon).
Begin to explore the city by coming to Saigon Central Post Office and Notre Dame Cathedral – the well-known historical places. After that, we drop by Ben Thanh Market – one of the symbols of the city, where there is every kind of goods are sold. After that, free time for you to visit more at the local café or local market.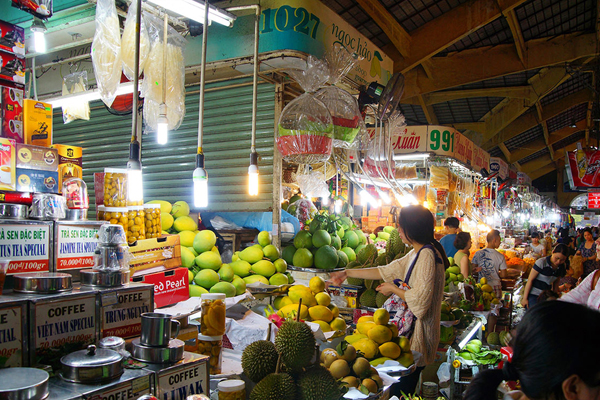 Day 22: Ho Chi Minh City – Cao Dai Holy See Temple & Cu Chi Tunnels (B, L)
Start the day with a drive to Cao Dai Holy See Temple in Tay Ninh Province. This place is unique for its mixture of Buddhism, Christianity, Taoism, and Confucianism. After that, join interesting mid-day service together with the followers.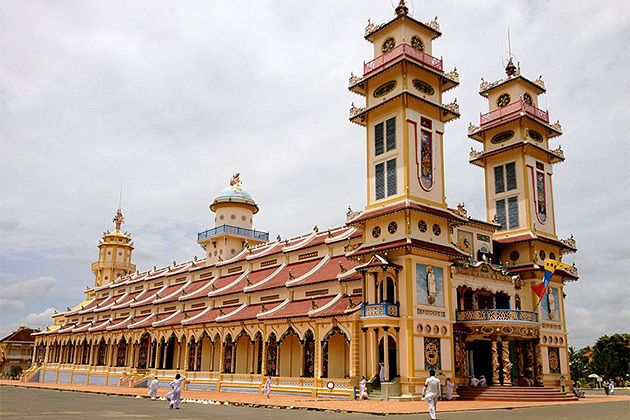 After lunch, we go to explore Cu Chi Tunnels. This is an extremely complicated underground system of small narrow tunnels, built by Vietnamese soldiers in the Vietnam War.
Return to Ho Chi Minh City.
Day 23: HCM City – Vinh Long – Local home-stay (B, L, D)
Morning, we leave Ho Chi Minh City and transfer to Vinh Long, a province located in the heart of Mekong Delta. We will pass through extensive green rice paddies to approach the place that is the endpoint in the journey of Mekong River before flowing into the sea.
First, we take a boat trip to see local cottage industries like the production of bricks, tiles, pottery, soya bean, and tofu. Next, drop in some local orchards to taste tropical fruits as well as enjoy Mekong food.
After that, we reach in our homestay, check into the accommodation and discover more about the area. The delicious dinner will be prepared by the host.
Overnight in Mekong homestay.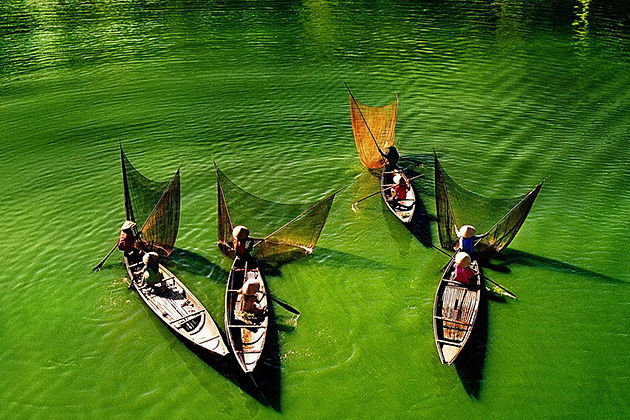 Day 24: Cai Be Floating Market – Ho Chi Minh City ( B, L)
Goodbye the friendly local family, we go on to explore Cai Be Floating Market. This is a special type of market in the Mekong Delta, in which people buy, sell, exchange goods like fruit, vegetables, and some other items right on boats. Later, come over a family business here to watch how they create popular candy such as coconut candy, pop rice cakes, and rice paper. Afterward, back to the bock and return to Saigon. On the way, we will stop to have lunch at a local restaurant.
The remainder of the day is for relaxing.
Overnight in Ho Chi Minh City.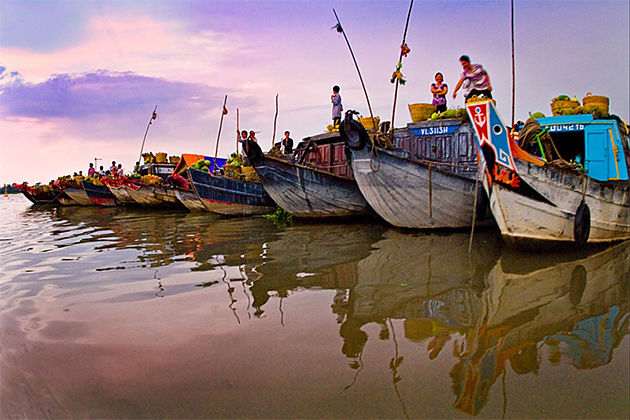 Day 25: Ho Chi Minh City: Departure (B)
The whole day is free for you to discover or relax. At the end of the day, you will be driven to the airport to catch the flight back home. Finish the tour.