Postal services are increasingly popular all over the world and the situation is similar in Indochina. To post parcels, mails or simply letters to the dearest family or friends, immediately acknowledge yourself with some post offices in Vietnam, Laos or Cambodia is essential. Have a look at our recommendations as mentioned below.
Although the services in Laos are low-cost and trustworthy, international and domestic packages delivering is extremely slow and it is common to wait from 1 to 2 weeks until the parcels are sent. Whenever tourists come to the post offices in Vientiane and Luang Prabang, pay a small fee for each service is needed, except for postcards sending. It is easy to find EMS, DHL, TNT or FedEx in the major post offices in large towns and Lao Telecom in different provinces. It is common to use the services in the general post office in Vientiane, so the following information may be supportive to travelers.
Entreprise des Postes Laos
Address: Ban Saylom, the Saylom road, right opposite the head quarter of Lao Telecom (the big red office building).
Tel: 021 212353.
EMS: Tel: 021 213234.
Opening hours: (Monday to Friday) 8am to noon and 1 to 5pm and (Saturday) 8am to noon.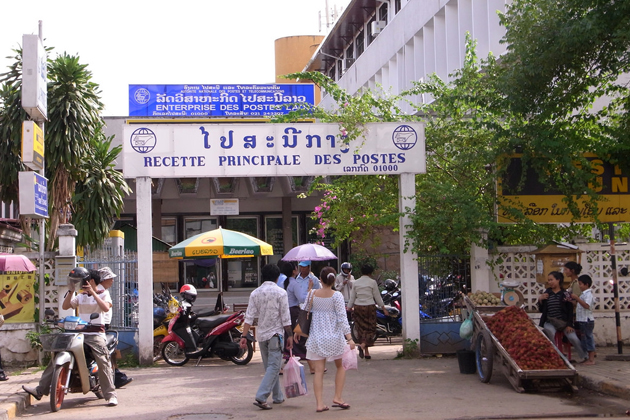 Head to Vietnam, tourists can easily realize that the Vietnamese postal system are relatively useful to the residents and sightseers. Typically, almost post offices in Vietnam open from 7.00 am to 21.00 pm with only 1 hour for the staffs' lunchbreak.
Taking responsible for running the post office system nationwide in Vietnam is Vietnam Posts and Telecommunications Group (VNPT) and for different regions, Vietnam Post is the controller. Email Express Service is widely provided in 6.000 Vietnamese post offices and other useful services containing VNQuickpost- an international courier service via DHL Express and Collect on Delivery (COD) are in use for the customers' convenience.
The list of information of major Vietnamese postal system includes:
Vietnam Post
Address: 05 Pham Hung, My Dinh, Tu Liem, Hanoi.
Tel: 1900 545481.
Post Offices' locations
Hanoi Post (HNP): 75 Đinh Tien Hoang, Hoan Kiem, Hanoi.
Ho Chi Minh City Post: 2 Paris Commune Street, Dist 1.
Danang Post: 66 Hoang Dao Thuy, Hoa Phap, Cam Le dist, Da Nang city.
VN Post Express
Tel: (04) 3757 5577.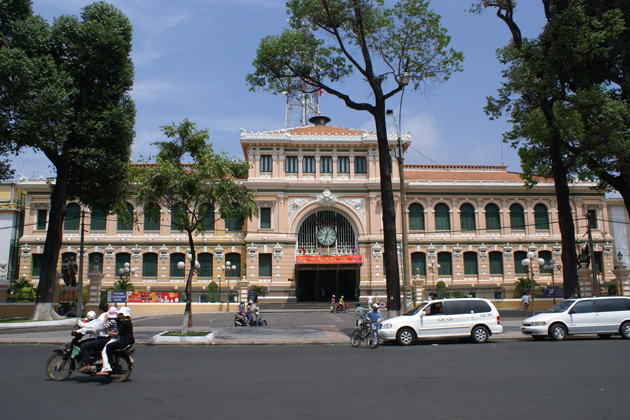 The government in Cambodia also implemented supporting policies for the development of the postal services; therefore, the Cambodian services in post offices are considered to be reasonably price and fairly reliable. Delivering the necessary parcels via DHL, FedEx or EMS even doesn't cost as high as other international services. It is convenient to post mails or packages because 9 large offices in Phnom Penh and smaller local offices in provincial areas has long provided EMS. The needed information about the Cambodian postal system is provided following.
EMS – Cambodia Post
Head office: Street 13 and Street 102, Phnom Penh
TNT Cambodia
Address: 28 Monivong Boulevard, Phnom Penh.
Tel: 023 430 922
Website: www.tnt.com
Cambodia Post – Main Phnom Penh Branch
Address: Street 13 and Street 102, Phnom Penh.
Tel: 023 426 062; 023 725 370.
Website: cambodiapost.com.kh.
Cambodia Post – Sihanoukville
Address: Ekareach Street, near Victory Hill, Sihanoukville.
Tel: 034 933 526.
Cambodia Post – Kampot
Address: Riverside Road, 500 meters far from the bridge, Kampot.
Cambodia Post – Siem Reap
Address: Pokambor Avenue, about 500 meters from the roundabout, Siem Reap.
Tel: 063 963 446; 063 760 000.
DHL Phnom Penh Office
Address: No. 353, Ang Duong (St. 110), 12201, Phnom Penh.
Tel: (+855) 023 427 726 or (+855) 023 427 656.
DHL Siem Reap Office:
Address: No. F15A, Sivatha (St.), Phsar Kandal, Sangkat Svay Dangkum, Siem Reap City, Siem Reap.
Tel: (+855) 063 964 949 or (+855) 012 799 432.