Cruising around Halong Bay, you will see the system of stunning stone islands bobbing on the water with a diversity of shapes and sizes. In particular, you will be attracted by the magic hidden beauty in the caves here. Sung Sot Cave is the widest and most beautiful of Halong Bay with blocks of countless shimmering magnificent stalactites in a fantastic that anyone has ever stepped here passionately admire. With the spectacular beauty, in 2012, Sung Sot Cave was voted by Association of Czech Tour Operators and Travel Agencies as one of the 10 most beautiful caves in the world.
Sung Sot Cave (Surprising Cave) is located in the heart of the World Heritage Site – Ha Long Bay, on Bo Hon Island. As exact as the name, the deeper we go into, the more we are amazed by its exotic beauty.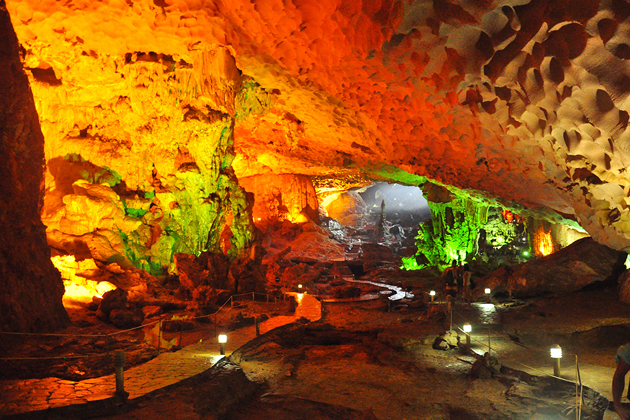 Characteristics
Sung Sot Cave is a large cave (12.2000 m2), has three compartments, on the ceiling there are many stalactites. The cave has a unique beauty, from about 25 meters above sea level, covered under the lush foliage. It is surrounded by water and Bo Hon Mount and some smaller mounts.
Inside, Sung Sot Cave is divided into two main compartments, as large as a theater, even can contain thousands of people. Enter the cave, a stream of brilliant light rushes into, the cave opens up a completely new view. In each compartment, countless sparkling blocks of stalactites hang down.
Especially, between the cave there is a giant block of stalactites down from the roof. Besides, you see huge rocks that are bigger than a room, located at the bottom. It is so big that we feel like it can reach the ceiling above, fulfill the cave.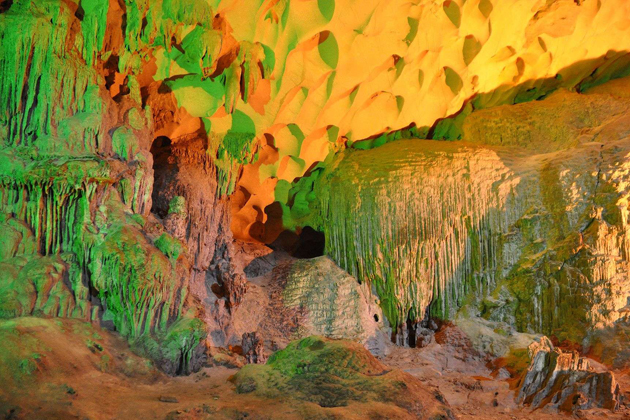 If go to the highest point, visitors can admire the gorgeous garden with a lake shimmering and surrounding is the charming scenery of trees and birds. The garden is even more vivid when the monkeys living here pull down together disturbing the space.
Sung Sot Cave in Quang Ninh is an indispensable part in your Halong tour. If having the opportunity to visit this place once, exploring Sung Sot Cave, you will definitely have consecutive surprises.