Trang An is a famous scenic spot of Ninh Binh, from Hanoi approximately 100km. This area was discovered in 2001 by scientists and indigenous people. Due to the values of history, culture, science and aesthetics, in 2012 Vietnamese Government decided to rank Trang An along with Tam Coc – Bich Dong as special national relics.
Based on the archaeological objects which were excavated in Trang An, the experts declared Trang An Area is formed as a result of the interaction of several geological structures on Earth. Trang An limestone block is unique since it was encroached by the sea, experienced bountiful transformations, it these days has emerged on land. The volatility of the natural environment has created the incredible scenery for the land. It is an out-of-this-world mix of multifaceted mountain peaks, which are covered by a rich of primeval vegetation. Also, you can see the steep cliffs surrounding the broad, deep and quiet year-round submerged valleys.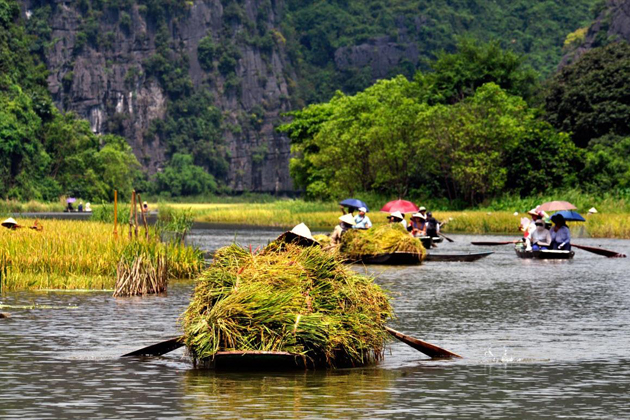 Like Tam Coc, Trang An is also regarded as a bewitching painting, however, when visiting Trang An, you can enjoy in a variety of the closed trips with no need of returning the pier. According to statistics , this scenic area has 50 dry caves and 50 wet caves. These caves are connected by a series of water valleys, creating an uninterrupted journey. White clouds, green mountains, emerald water…all blend together, dreaming up a fabulous scenery.
In addition to the water valleys and aquatic caves, you can visit some sacred ancient temples nearby. Apart from doing some sightseeing on land, you can see the bottom of the blue water reflecting the shadows of the rolling cliffs as well as an abundant system of aquatic creatures, building up an unique feature so as to allure visitors when they come to Trang An.
Trang An is a heritage with the outstanding values of the natural landscape, culture, history and geological formations. It is expected to become the first world heritage mixed with 2 criteria including culture and nature in Vietnam. It is also being invested to become a tourist area bringing the international stature.