Set in the southwestern of the beautiful city – Ninh Binh, Thung Nham Ecotourism (Thung Chim) in Ninh Hai Village, Hoa Lu District is a tourist site that is a harmonious fusion of culture, spirituality, landscape and biodiversity.
Surrounded by tropical forest strips on limestone ranges of mountains, along with numerous valleys and caves, Thung Chim possesses a breathtaking landscape.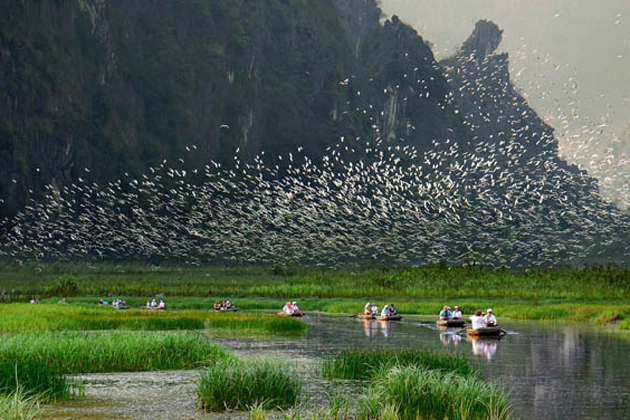 From Bich Dong Pagoda about 5km, en route to Thung Nham, tourists can visit many fascinating attractions like Moving Banyan Tree, Vai Gioi Cave, Buddha Cave , Mermaid Cave, Aquarium Cave, Three Girls Cave and the primary forest on limestone mountain.
In particular, coming to Thung Chim, tourists can explore the wildlife of the nearly 40 species of birds with about 50 thousand individuals. When the sun sets on, flocks of white flamingoes fly around, full covering the water. Guests will feel the pristine beauty which very few places can get.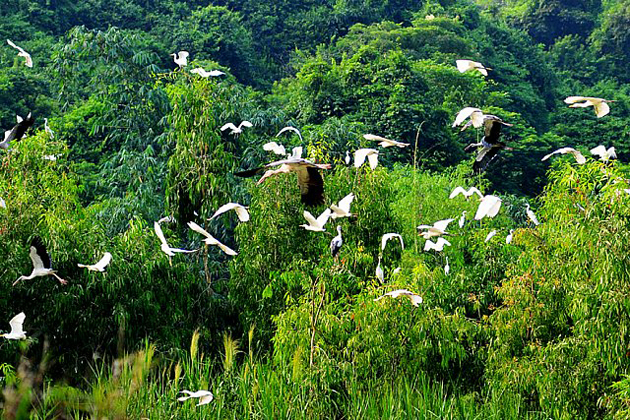 After the journey to discover the beauty of Thung Chim, travelers can rest on the stilts, hiding themselves underneath the lush forest, with full modern appliances equipped. You will have the chance to experience the oriental health care services and enjoy the tasty rural cuisine, which are prepared by the qualified chefs. The ingredient is so fresh, harvested in a natural way around Thung Nham area such as wild pigs, hill chickens, lake fish, wild vegetables… having these unique dishes along with Khe wine, relaxing in the peaceful atmosphere of Thung Nham cannot be a greater experience.
Then, visitors can rejoice in the flower garden. Your family can take part in active games such as football, badminton, volleyball … or go fishing under the green roofs, walk or cycle with their loved ones on local roads with a length of 5km.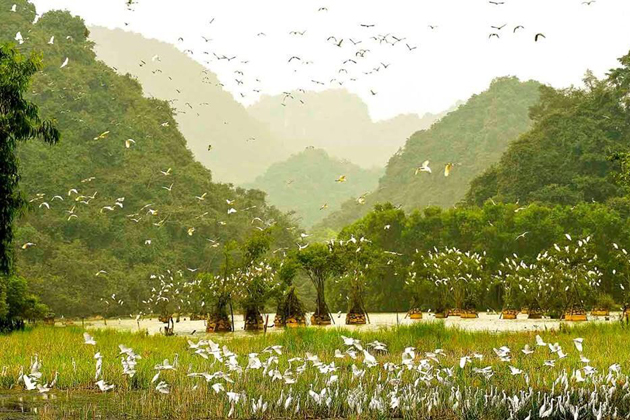 In addition to the exotic beauty, Thung Nham Ecotourism is also the ideal place for meetings and international conferences due to owning a lot of spacious halls with quality air-conditioners and great sound system, and outdoor stage for cultural events or camping.