Thailand is the paradise of elephants and seeing these enormous creatures is the top things to do when you travel to Thailand. Visiting the following sanctuaries you not only can ride elephants but can seek elephant bases, where will offer tourists a natural, ethical but authentic way to interact with the elephants. Indochina tours is happy to recommend the top 3 great ethical elephant sanctuaries in Thailand.
Let's see some highlights of activities when visiting these Thailand elephant sanctuaries:
+Feed elephants with bananas, watermelons, pineapples and sugar cane
+Interact with the elephants in a healthy & safe way
+Learn about their lifestyle & behaviors
+Go swimming with the elephants at a muddy bathtub
+Capture incredible photos with lovely huge animals
Top Elephant Bases
Chiang Mai Elephant Nature Park
Elephant Nature Park is known as a unique project launched in Chiang Mai province in Northern Thailand since the 1990s. The park is located 60 km from the old town that provides a sanctuary for distressed elephants from all over Thailand.
The park provides the natural environment for elephants just like its name. Besides elephants, many dogs, cats, buffaloes, and other animals are fed at this base. They are from dozen of rescue projects.
What are things to do in Chiang Mai Elephant Nature Park? Depending on your interest, you can choose either to visit the Elephant Nature Park just outside the town (60km) for at least 6-7 hours or a full day tour or go to further North/ South of Chiang Mai for "Saddle off" project. There are different locations and different ways to interact with the elephant. Interaction activities you can access is to feed elephants, volunteer, … etc. Volunteering is also organized at the Chiang Mai Elephant Nature Park for up to 7 days. This is a unique project which features daily elephant interactions where volunteers can learn about agriculture and community, take part in creating a better learning experience for local children and do a cultural exchange at a tribal village in the mountains of Chiang Mai. If you want a tour to Chiang Mai Elephant Nature Park, let's take a look at some basic information.
Opening time: 07:00 – 17:00 (office)
Price: About 2500 THB per adult, 1250 THB per child (from 2-11 years old), tickets are valid in a day tour
Location: Elephant Nature Park Office – 1 Ratmakka Road, Phra Sing, Chiang Mai, Thailand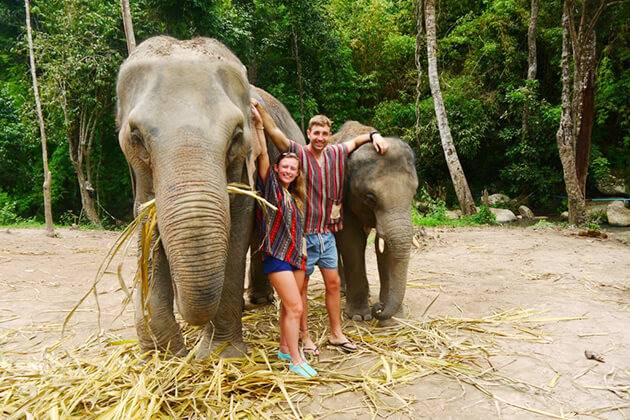 Krabi Elephant Sanctuary
This place is considered as the first lodge in town to conserve the overtired elephants suffering from long working hours in the tourism industry. Within only a half-day visit to Krabi Elephant Sanctuary, you may get a chance to interact and spend time with lovely elephants in a safe and sustainable environment without any riding and circus-dancing.
In the search of any fun activities for families with kids, you can absolutely enjoy this trip; gain an insight into the history and behavior of these large mammals, and create memories that all members will cherish for a lifetime. Taking care of elephants will make your children excited.
Let's take a look at some basic information about this sanctuary.
Activities: Morning & afternoon session
Opening time: 07:00 – 18:00
Price: 2500 THB per adult; 2000 THBper child (from 3-9 years old)
Location: Krabi Elephant Sanctuary 83/13 Moo 4T. Ao Loek Tai A.Ao, Krabi, Thailand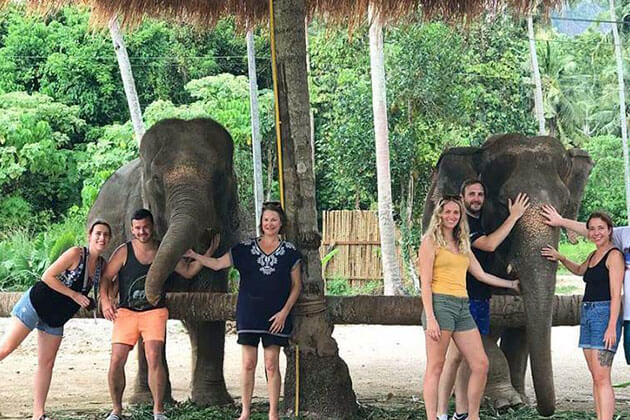 Phuket Elephant Sanctuary
Like other elephant sanctuaries across the nation, the Elephant Jungle Sanctuary is proud to set a new home to rescue sick, injured and old elephants and to welcome them back into the indigenous habit.
One of the special things that travelers may be surprised in Phuket Elephant Sanctuary is you can observe the elephant go bathing but you are not allowed to do the brushing or cleansing for them.
The simple reason for letting the elephant bath freely is to prevent the lovely animals from being too stressful to see many people surrounding them. This will be a good way to let them display their natural habit while travelers can take nice photographs of the elephants in their safest feelings.
Let's takes a look at some basic information about Phuket Elephant Sanctuary.
Activities: You can choose among the morning or afternoon session or even a full day one with volunteer programs
Opening time: 09:30 – 17:00
Price: 3000 THB per adult; 1500 THB per child (from 4-12 years old), applied for a half-day tour
Location: Paklok, Thalang, Phuket Thailand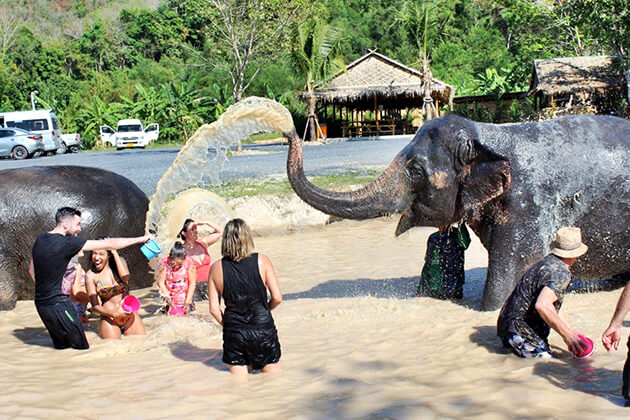 What to bring for your elephant visit
Here is a list of what we recommend you to bring to make your visit as enjoyable as possible.
Sunglasses, Sunscreen, Cap or a wide-brimmed hat
Clothes you don't mind getting sweaty or slightly muddy; extra clothes to change after the tour ends
Good walking shoes with closed-toe shoes as you walk in the forest so flip flops or open-toed sandals are not advised.
You can eagerly choose your most suited base from our list of top elephant sanctuaries in Thailand, whether you are in Chiang Mai, Krabi or Phuket. These activities will surely fulfill your experience while in Thailand tours. Let's join and support the elephants!