Experience the most memorable Vietnam and Cambodia tour in the most remarkable way within 23 days through our Indochina travel package. Witness the heights of Cambodia's past at Angkor Wat, and drift along serene waters to admire the tranquility of Vietnam's countryside. Encounter the colorful cultures, experience the precious treasures and capture the fascinating sceneries of these two gentle countries. Travel with Indochina Tours for the authentic insight into the prominent landmarks in Vietnam and Cambodia together with a firsthand look at the richness of this corner of the globe so steeped in tradition.
General Information
Duration: 23 Days/ 22 Nights
Start/End: Saigon/ Siem Reap
Tour Route: Hanoi – Sapa – Halong – Hanoi – Hue – Danang – Hoi An – Saigon – Phnom Penh – Siem Reap
Tour Customizable: Definitely! (Tell us your specific requirements in the inquiry form)
Guides: Local Guide (English Speaking Guide, Other Languages upon Request)
Transportation: Private first-class air-conditioned vehicles
Accommodation: Listed below or equivalent. Rooms with private bath or shower, hotel taxes, porterage, tips, and service charges
Brief Itinerary
Day 1: Hanoi Arrival
Day 2: Hanoi half day city tour – Afternoon tasting tour
Day 3: Hanoi – Sophie Art Tour or Chat with art collector tour – Night train to Sapa
Day 4: Sapa arrival – Bac Ha/ Can Cau ethnic village – Sapa
Day 5: Sapa – Tavan & Lao Chai – Overnight at homestay
Day 6: Lao Chai – Heaven Gate – Bus to Hanoi
Day 7: Hanoi – Halong, Overnight on cruise
Day 8: Halong – Hanoi – Yen Duc village
Day 9: Hanoi – Duong Lam ancient village – Hanoi – Fly to Hue
Day 10: Hue city tour
Day 11: Hue – Danang – Hoi An
Day 12: Hoi An farming and fishing tour – Walking city tour
Day 13: Hoi An – My Son Holyland – Hoi An
Day 14: Hoi An – Fly to Saigon – A O show
Day 15: Saigon – Mekong Delta – Saigon
Day 16: Saigon – City tour – Vespa tour Saigon after dark
Day 17: Saigon – Fly to Phnom Penh
Day 18: Phnom Penh
Day 19: Phnom Penh – Fly to Siem Reap – Banteay Srey Temple
Day 20: Siem Reap – Cycling to visit Angkor Wat
Day 21: Siem Reap – Koh Ker – Beng Mealea
Day 22: Siem Reap – Pre Angkorian Sites – Tonle Sap – Vespa tour
Day 23: Siem Reap – Depart
Full Itinerary
Day 1: Hanoi Arrival (Welcome Dinner)
Welcome upon arrival by local tour guide and driver then we transfer to hotel. Relax for the rest of the day and enjoy welcome dinner at a fine local restaurant in town.
Overnight in Hanoi.
Day 2: Hanoi Half-Day City Tour – Afternoon Tasting Tour (B, L, D)
Today is a full day to enjoy the capital city. Morning sightseeing with Ho Chi Minh Complex introduces you Ho Chi Minh's Mausoleum, his former stilt house, the President Palace, the Ho Chi Minh Museum and One Pillar Pagoda. Stop for a photo of the Temple of Literature, which originally built as a temple to Confucius. Continue to the Museum of Ethnology to learn about the multicultural society of Vietnam as well as admire the informative in-house exhibition and a number of houses modeling after the traditional architecture of ethnic minorities.
Head down to Hang Be Street to enjoy the atmosphere of the daily local market and gain insights into all the ingredients sold there. Afterward, embark on the food tour to sample the savory local food in the narrow streets such as oil-fried pastry, tofu, rice pancake, pillow cake, sweet soup, stuff pancake with pork, draught beer…Head to Dong Xuan Market – a fascinating place for tourists to catch the Hanoian street life. A nice surprise is to enjoy egg coffee at a hidden coffee shop where you can be astounded with a panoramic view of Hoan Kiem Lake.
Overnight in Hanoi.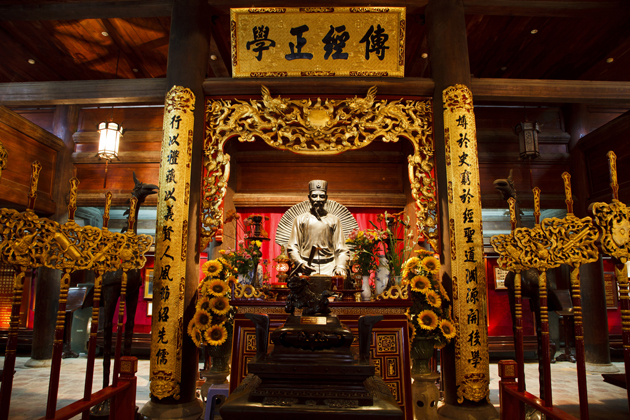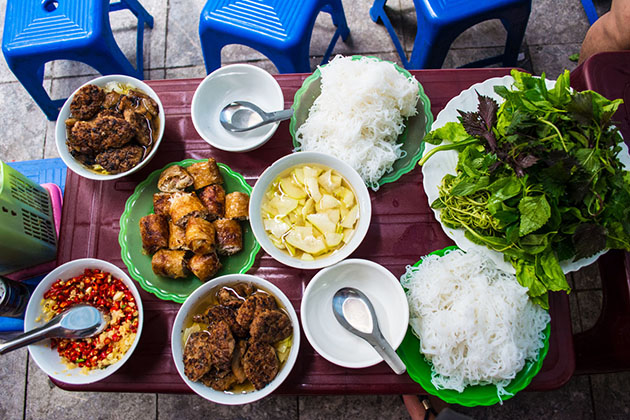 Day 3: Hanoi – Sophie Art Tour or Chat with Art Collector Tour – Night Train to Sapa (B, L, D)
Today is dedicated to studying Vietnam history via art tour. There are two optional tours:
Option 1: Sophie Tour
This tour is the result of extensive research, working with renowned researchers and historians, artists and gallery owners, curators and collectors. Sophie's Art Tour has been running in HCMC since 2011 and those in Hanoi since 2015. The tours are designed to complement each other and so guests visiting Hanoi and HCMC can enjoy both.
The first stop is the Vietnam Museum of Fine Arts housed in a former French convent. Beginning with artworks from the colonial era guests are invited to see how European styles fused with traditional Vietnamese materials to give birth to modern Vietnamese art. The journey continues to the adjoining room where works made during the two Indochina Wars are displayed. Wartime sketches and impressive, government-commissioned lacquer works help visitors understand the essential role of artists in the resistance, revolution, and reconstruction of a nation.
The tour continues in an air-conditioned vehicle to Apricot Gallery – one of Hanoi's longest running galleries. Here visitors are invited to see works by the first group of artists who were labeled deviant during war times, but who found their work government endorsed and publically exhibited by the early 80s. These were the first signs of the rapid changes Vietnam would undergo after the war with the arrival of a contemporary art market.
The tour continues to one or two temporary contemporary art exhibitions before commencing to its final stop at a vibrant art space and cafe housed in a stunning colonial-era villa. Guests will be introduced to some of the most prolific artists representing the most recent chapter of Vietnam's art history before being given a lively and informative presentation about the work of Vietnamese contemporary artists discussing the future of Vietnamese art and the next generation of artists.
Option 2: Chat with Art Collector Tour
With Mr. Huong Le, the art collector of Nguyen Art Gallery, we visit the Fine Art Museum, which first opened since 1966 and also is one the most important museums in Hanoi that house the country's contemporary arts like paintings, sculptures, traditional arts. With a little luck, we may see one Art Exhibition, which is regularly operated in the museum. Continue to a nearby gallery named Nguyen Art Gallery, which houses many original and quality paintings as well as sculptures. The Gallery's objective is to promote quality arts, particularly from Vietnam. The gallery focuses on young and emerging artists. We are both enjoying Vietnamese tea or coffee then relax at a nice space of the Gallery and seeing the paintings…Talk with the owner and enjoy a cup of Vietnamese coffee in the Café Lounge overlooking the Temple of Literature that you visit the morning.
After lunch in KOTO restaurant, we visit a local artist and his warehouse seeing how skillful craftspeople create their works. We finish our day with a visit to the Ancient House in Ma May Street, meet and talk with a senior artist who is an expert in the traditional Vietnamese calligraphy. After that, we will take you back to the hotel for leisure time (there is no room use this time).
In the evening, transfer to the train station for a night journey to Sapa.
Day 4: Sapa Arrival – Bac Ha/ Can Cau Ethnic Village – Sapa (B, L, D)
On arrival at Lao Cai, met by the local guide and then transfer to Can Cau Market a magnet for the local tribal people. Opening only on Saturdays, Can Cau Market always delivers a very photogenic display of Flower Hmong, Black Zao, Phu La ethnic costumes. After spending the whole morning exploring the market, you will leave the market for Bac Ha town for lunch.In the afternoon, transfer to Ban Pho to admire the verdant valley of corn, tender rice colored beneath and immense plum forest on both sides. Visit a local house and taste a cup of corn wine, another famous product of the village.
Overnight in Sapa.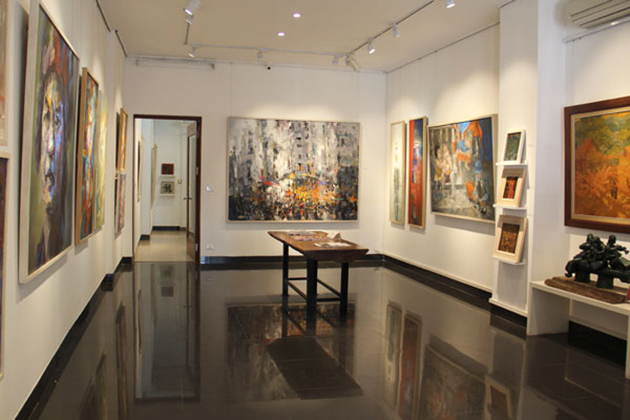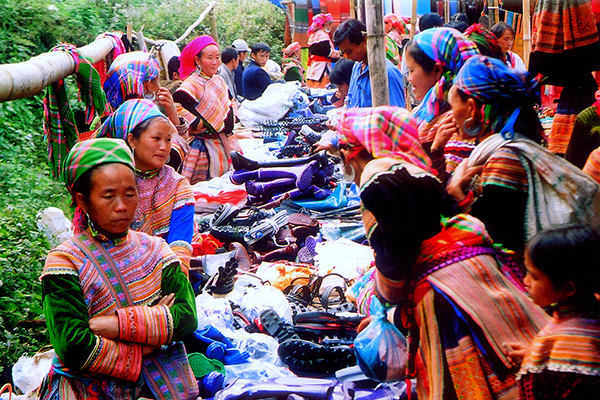 Day 5: Sapa – Tavan & Lao Chai – Overnight at the Homestay and Cook Five Colors Glutinous Rice (B, L, D)
Morning, enjoy the best of North Vietnam on a beautiful hike through the breathtaking scenery of Sapa Valley. Start by the road that descends in the wake of the street Cau May. En route, admire the rice terraces hidden behind the mist of morning, a truly awe-inspiring sight.
Follow down the main road, cross Muong Hoa River then walk to Ta Van village or follow the buffalo trails on well-tended rice terraces to trek up and down to Ta Van village. Continuing through the colorful rice terraces you will reach the village of Lao Chai. As you continue your trek along the Muong Hoa River you will cross a small suspension bridge, roughly 2km from the settlement. Discover a fascinating collection of rock carvings that depict some beautiful images of the man, stilt houses, and some beautiful decorative patterns before check-in in Lao Chai homestay and join to cook dinner with the host.
Especially you can have a chance to cook five colorful glutinous rice.
Overnight at a homestay.
Day 6: Lao Chai – Heaven Gate – Bus to Hanoi (B, L)
The morning sightseeing introduces you to Silver Waterfall before taking you to Heaven Gate Tram Ton which can be considered as the highest peak of roads in Vietnam. From the Gate enjoy the magnificent landscape and spectacular view of Fansipan, the highest peak of Indochina.
Then commence a walking trip by going downhill a dirt trail through the bamboo forest of Hoang Lien National Park. Your lunch will be served at a nice spot nearby a river.
After that, continue the trek to Sin Chai village where Community Based Tourism in Sapa takes place. Take a walk around the village, inhabited by the Black Hmong people, one of the largest group ethnic minorities in Sapa area. In the late afternoon, transfer to the bus station for the journey back to Hanoi. It takes around 5 driving hours to get there.
Overnight in Hanoi.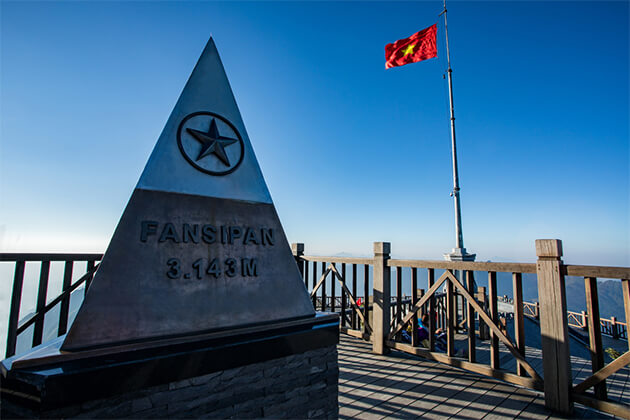 Day 7: Hanoi – Halong, Overnight on the Cruise (B, L, D)
Picked up by the luxury van of Dragon Legend cruise (luxury van with the maximum of 07 tourists on the van), you'll set off to the 'Jewel in the Crown of Vietnam'- Ha Long Bay. Arriving before lunch we will board our boat and then set sail, cruising amongst thousands of extraordinary limestone Karst formations. Admire spectacular scatter of islands dotted with wind- and wave-eroded grottoes you'll understand why Ha Long Bay is voted one of "The New 7 Wonders of Nature".
On arrival at Hon Gai International Harbor, we will check in our cruise and enjoy a set menu lunch served in the outdoor dining room (depending on the weather) while cruising into magnificent Bai Tu Long Bay; admire the fascinating limestone karsts on the way.
In the mid-afternoon, we cruise to Vung Dang – Cong Dam for swimming or relaxing on a white sandy beach, kayaking through the mystery Karst Mountains in the Vung Dang area.
Return to Dragon Legend Cruise to refresh yourself in Mineral Seawater Pool, Fitness Room or the Spa and Massage Services before dinner.
Overnight on board.
Day 8: Halong – Hanoi – Yen Duc Village (B, L)
Wake up in the early morning and enjoy Tai Chi session, take in the morning view of Bay's landscape with a cup of tea or coffee and enjoy breakfast in the fresh air. Cruise to Cong Do area to explore the well-hidden Thien Canh Son cave.
After buffet lunch, get back to Hanoi.
On the way, Drive to Yen Duc village in Dong Trieu province for a short break in this typical Vietnamese agricultural village which is rich in culture and traditions. Enjoy water puppet show performed by local artists.
Overnight in Hanoi.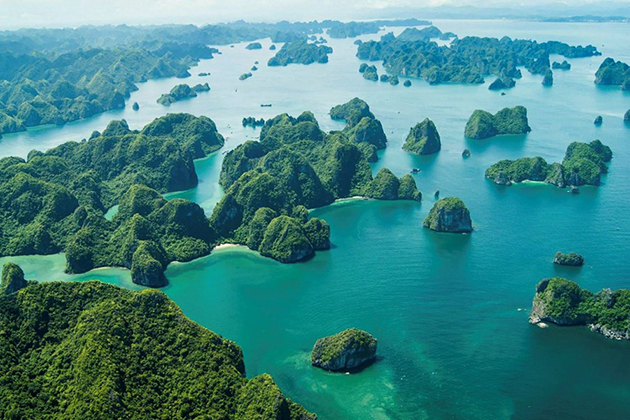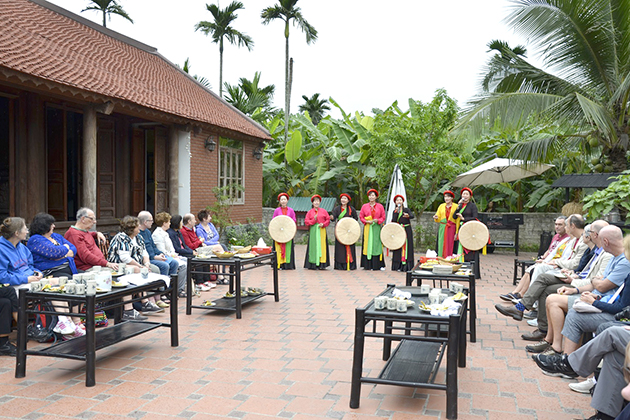 Day 9: Hanoi – Duong Lam Ancien Village – Hanoi – Fly to Hue (B, L)
The orientation tour today starts with a 60-kilometer westbound drive to Duong Lam Ancient Village – the first ancient village recognized as a national relic by the Ministry of Culture and Information in Vietnam. The village gate, banyan, well, communal house are important factors in classifying Duong Lam ancient village. Traceback the origin of Vietnam's culture and Vietnamese traditions and explore the special architecture through its surviving laterite brick ancient houses. While visiting an antique house, you can also join the local people in producing local specialties, such as soft green-lentil cake and rice cake filled with brown onion (depending on the season).
Pay a brief visit to the village, stroll through the tine ancient alleys, meet and talk over a cup of green tea with the local for a firsthand experience in the peaceful countryside of Vietnam. Then head for Mong Phu Temple to witness the only hamlet whose original village entrance gate remains intact.
Enjoy Vietnamese traditional food for lunch. Afterward, continue to visit Mia Pagoda (built in the 15th century) and admire 287 statues of all sizes; stop for sightseeing in Ngo Quyen & Phung Hung Temples the two National Heroes of Vietnam before a flight to Hue.
As you arrive in Hue, you will be escorted to the hotel for check-in and relax.
Overnight in Hue.
Day 10: Hue City Tour (B, L)
Gaze out veneration, uncover matter values as well as spiritual values at Hue with a one-day city tour on Dragon Boat along the Perfume River heading out for the countryside. First up, the boat lands to visit Lady Pagoda (Thien Mu Pagoda) from which enjoys a panoramic view of the Perfume River and the surrounding area. Thien Mu Pagoda is considered the symbol of Hue, and of Buddhism in Vietnam. From here, we rejoin our van and go visit King Khai Dinh's Tomb and King Tu Duc's Tomb discover the majesty and symmetry of the architectural constructions and learn more about Royal's life and Vietnam's concept of death.
The sightseeing this afternoon introduces to visit the Imperial Citadel introduces you the ruins of this wonderful monument where the Nguyen Dynasty ruled between 1802 and 1945. Next up is the Hue Royal Fine Art Museum, which is housed within the former Dien Long An Royal Palace. Then finish our day with the local Dong Ba Market to see the daily life of local people.
Overnight in Hue.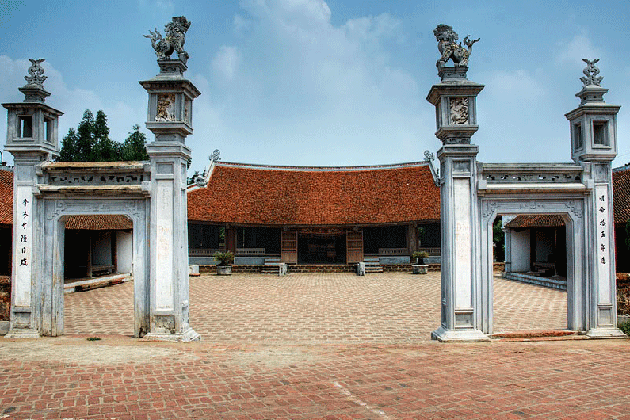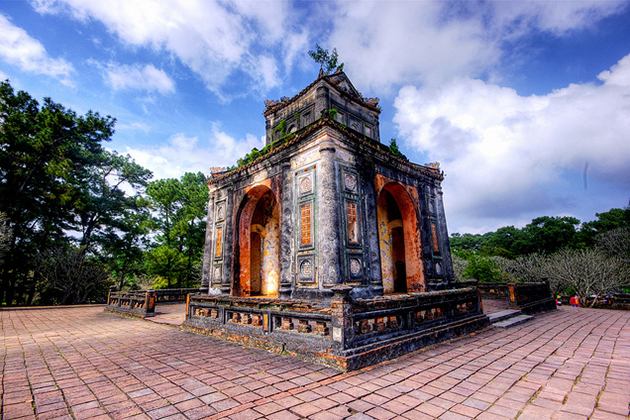 Day 11: Hue – Danang – Hoi An (B, L)
After breakfast, enjoy the stunning views North, to Lang Co Beach and South to Danang city on a scenic drive through highway 1A. On arrival in Danang, we will have a brief visit to Cham Museum – the houses of the complete collection if Cham Artifacts anywhere in the world.
Then head to China Beach where the American named and used to have their Rest and Relaxation. Take a few mile walks to Marble Mountain (Mountain of the Five Elements), climb the staircases to various viewing platforms around the outside and be rewarded with terrific views of the countryside.
After arriving in Hoi An in the afternoon, be free to stroll in the town, laze on the beach or whatever takes your fancy.
Overnight in Hoi An.
Day 12: Hoian Farming and Fishing Tour – Walking City Tour (B, L)
Continue your vacation with an excursion to Hoian and embark on a farming and fishing tour to peer out of a unique cultural window into the Vietnamese way of life. From Tra Que Vegetable Village we cycled along palm-lined paths through the paddy fields, passing flocks of ducks scrabbling up muddy banks and water buffalo catching forty winks in the shade. The local farmers will take you on a tour and explain traditional farming methods such as preparing and fertilizing the land, raking, sowing, watering, harvesting and more. Learn about the use of herbs and vegetables in traditional Vietnamese medicine. Late morning board our Hoi An tour boat for a river cruise. Touch the fishing life by catching fish with the local fishermen's net, learning to pad a unique Vietnamese basket bamboo boat and exploring the tranquil coconut palm-lined water-ways.
After lunch, we have some free time to wander around Hoi An town center before head back to the hotel.
In the afternoon start a walking tour through Hoi An's ancient town, which has remained largely unchanged over the last couple of hundred years. Seeing the town on foot lets you better appreciate the architecture and monuments that reflect various Asian styles. Make a stop at the only Japanese-style covered bridge outside of Japan, admire the grand ornamentation of ancient Chinese Assembly Halls or watch the art of handicraft making at a Hoi An workshop.
Overnight in Hoi An.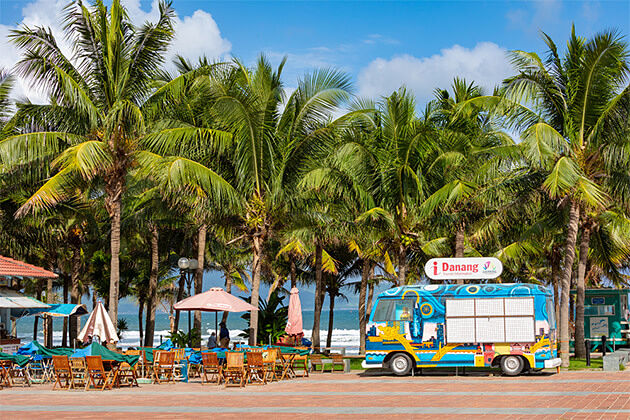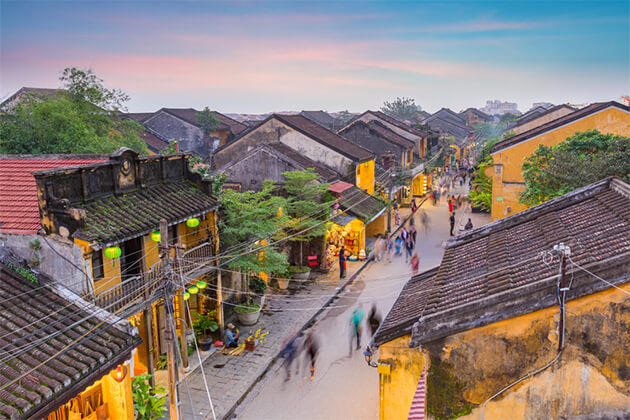 Day 13: Hoian – My Son Holyland – Hoi An (B, L)
The orientation drive today introduces you a spiritual center of the ancient kingdom of Champa, My Son sanctuary. Situated in the heart of a beautiful valley and surrounded by high mountains, My Son is about 45 kilometers away from Hoi An. Once there, visit the Tra Kieu capital which was the former administrative center of Champa Kingdom, discover the majestic ancient ruins at My Son including ancient towers which were built from the fourth century and see a large complex of religious relics that comprises more than 65 architectural works.
Overnight in Hoi An.
Day 14: Hoian – Fly to Saigon – A O Show (B)
After transfer to Ho Chi Minh City in the morning, be free to drift around the hustling and bustling city.
Tonight, enjoy A O show in Ho Chi Minh. The name 'A O' derives from 'Lang Pho', which means 'village and city'. The show depicts the charming beauty and cultural richness of Vietnamese life in the countryside, in contrast with the nation's racing urbanization. The show is a unique mix of bamboo cirque, acrobatic acts, contemporary dance, and theatrical visual art. The live music echoes Vietnamese Southern work songs. All in all, this beautiful blend of genres creates a unique stage language, which well captures the essence of Vietnam's fascinating culture.
Overnight in Ho Chi Minh City.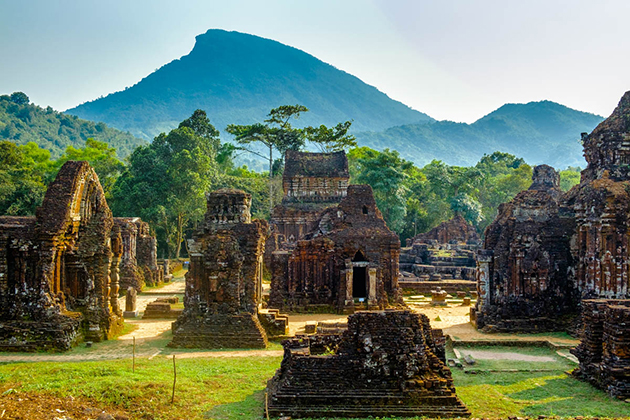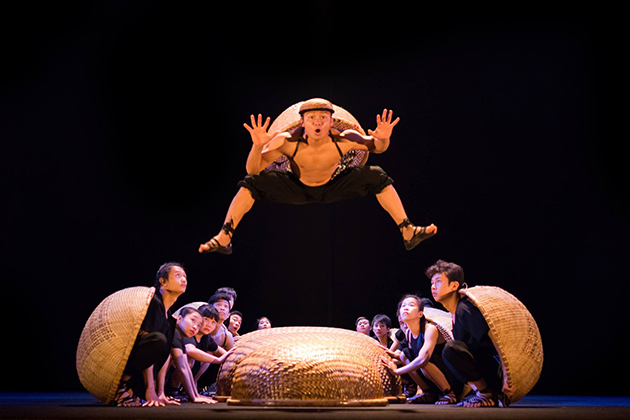 Day 15: Saigon – Mekong Delta – Saigon (B, L)
Today head farther south and leave vibrant Saigon for an en-route visit to Mekong Delta. On arrival, go on a quick visit to Cao Dai Temple which symbolizes the local religion and then Cai Be Cathedral for a glimpse of a unique architectural style that reflects its blended traditions. Relax and let the countryside pass by on a boat cruise across the inland market and floating market to observe the daily life of the local people and to understand the difference between two markets. Continue with a rowing boat to discover the Mekong life through a small canal.
Back to the main tourist boat and transfer to our Mekong Ecolodge located Tan Phong Island. Enjoy the welcome drink and taste the local fresh fruits before cycling around Tan Phong Island to visit traditional handicraft workshops of handbags, rice papers. If it's on school days, we will stop by a local primary/secondary school to talk and make friends with lovely children. Then visit a local family, sip a cup of green tea, sample specialties of banana candies, communicate with the host to understand more about the importance of agriculture in Mekong Delta. If you wish, we can try our hand at plucking fruits at the host's garden before continuing cycling to the 'bang' conical hat.
Back to Mekong Ecolodge restaurant for lunch with delicious typical food, we will have a short break before embarking on a boat to leave Tan Phong Island for the pier to come back to Ho Chi Minh City.
Overnight in Ho Chi Minh City.
Day 16: Saigon City Tour – Vespa Tour Saigon after Dark (B, L, D)
A memorable day of sightseeing: all the highlights of Ho Chi Minh City – the Reunification Palace, a palace of old President in South of Vietnam during the American war; the War Remnants Museum where is poignant display of the futility of war; Old Post Office, the two sites that we can ignore when we visit the city. After lunch, cruise the laneways of Cho Lon by cyclo – the first and the most interesting museum on Vietnam traditional medicine. Then back to the city center, haggle for a bargain at popular shopping destination – Ben Thanh Market.
In the evening, it is time for Vespa tour to discover Saigon after dark. You will embark on a part night excursion, part street food adventure. To start off this Saigon night tour, enjoy drinks at our Vespa-themed café, Café Zoom. Here, we are also top models when the Vespa Adventure staff takes us many nice photos and send to us after the tour.
Throughout the night, try a variety of food and drinks at 2 local restaurants and samplings of Saigon's best authentic local food. Zoom past the famous must-see sights of Ho Chi Minh City while in the bustling traffic. Relax in a Vietnamese-style coffee shop with special live music, and then wrap up the evening at an exciting music bar where the new generation of Vietnamese unwind and flaunt their unique styles.
Overnight in Ho Chi Minh City.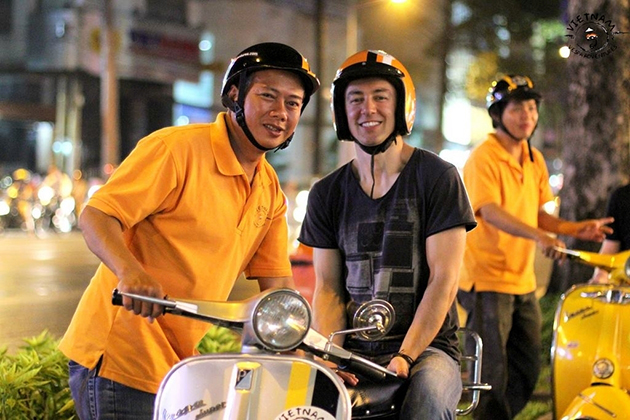 Day 17: Saigon – Fly to Phnom Penh (B)
The orientation vacation continues in Cambodia. Transfer to the airport to board a departure flight to Phnom Penh then welcome up at Pochentong International Airport by our local guide and driver. After check in your selected hotel, enjoy the rest of the day at your own leisure.
Overnight in Phnom Penh.
Day 18: Phnom Penh City Tour (B)
The brief excursion today will introduce you an enchanting view of Phnompenh – the undiscovered gems of Asia. The riverfront area remains enduring appeal in spite of its recent turbulent history. The tinkle of music from ancient temples and street hawkers with bubbling cauldrons immerse you in the past, even as rapid, modern changes commence to flourish all around. Start the city tour around the major highlights of Phnompenh. First up is Royal Palace where street sounds are silenced and Royal buildings sit like ornate islands rising from manicured gardens. Attached to the Palace compound, Silver Pagoda is unique amongst pagodas. It is where the King meets with monks, Royal ceremonies are performed and it houses a collection of priceless Buddhist and historical objects.
Continue seeing this delightful city with the National Museum, which is exclusively dedicated to Khmer art and sculpture. This distinctive rust-red National Museum next to the Royal Palace was dedicated by King Sisowath in 1920 and is now home to over 500 artifacts from the last period. The majority of the exhibits are from the Angkor period from the 9th to 15th century, but some date from as early as the 4th century. Then climb up a small hill to visit the legendary Wat Phnom and catch a fantastic view of the surrounding area.
Afternoon visit Toul Sleng Genocide Museum, the painful bloody rule of the Khmer Rouge. The Tuol Sleng Genocide Museum is located in the city center and chronicles the period of the genocide under Pol Pot. Prior to 1975, Tuol Sleng was a high school a set of classroom buildings in a walled compound, then was converted into the S-21 prison and interrogation facility, administered by Kaing Guek Eav, a.k.a. 'Duch,' who is currently on trial for his actions at S-21. The Tuol Sleng compound now serves as a museum, a memorial and a testament to the madness of the Khmer Rouge regime. Tuol Sleng means "Hill of the Poisonous Trees" or "Strychnine Hill". Tuol Sleng was only one of at least 150 execution centers in the country and as many as 20,000 prisoners there were later killed. The final leg of your excursion today is Russian Market, a perfect place for the afternoon stroll to see the handicrafts and artifacts.
Late afternoon is time for sunset boat cruise on the Mekong River.
Overnight in Phnom Penh.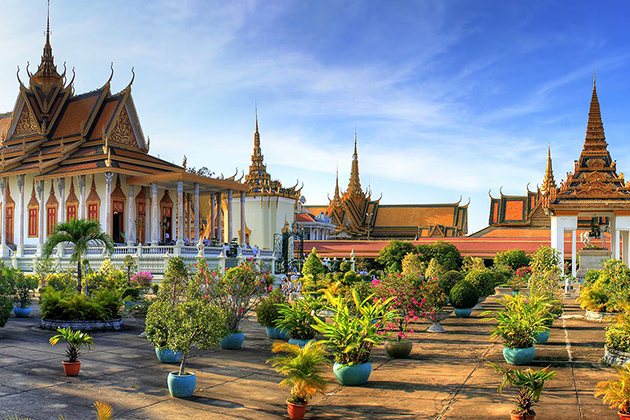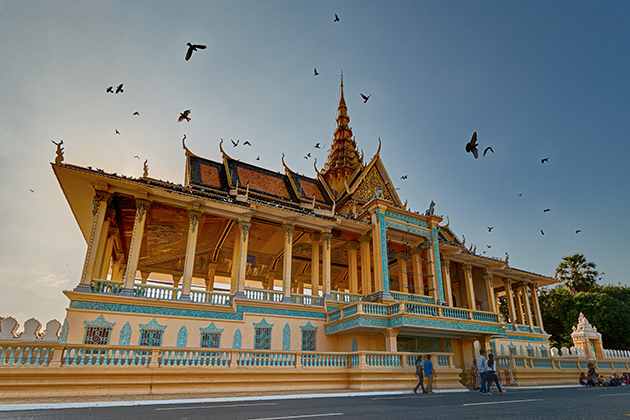 Day 19: Phnom Penh – Fly to Siem Reao – Banteay Srey Temple (B)
After breakfast, travel on a domestic flight to Siem Reap for the next destination. Start an intended journey in Siem Reap with a visit of Classical Khmer Art Gem. Stop at Banteay Srey Temple – the jewel of the Classical Khmer Arts, then continue to BanteaySamre which consists of a central temple with four wings preceded by a hall and accompany by two libraries, the southern example remarkably well preserved. Every single detail of this sculpted pink sandstone temple is a real enchantment to the human eyes!
In the evening, join in captivating choreography and hypnotic color of a Phare performance that blends riveting theater with folk music and distinctly Cambodian stories. Be wowed by the talents of this young theatre troupe and gain insight into the charity Phare Ponleu Selpak and discover the work the organization does to help vulnerable children and adults in Cambodian society.
Overnight in Phnom Penh.
Day 20: Siem Reap – Cycling to visit Angkor Wat (B)
An early start in the morning for a scenic ride to avoid the inevitable crowds drawn to the wonders of Angkor. Highlights of your journey: Bayon (cycling from Phum Pheak 4) with its 37 pagodas (originally there were 49) topped with the four faces of the king, a visit to South Gate of Angkor Thom, views of Elephant Terrace, Baphoun, the Royal Enclosure, Phimeanakas and Terrace of the Leper King.
Afterward, enjoy picnic lunch near Baksey Cham Krong Temple. After lunchtime, we continue trekking to the fabulous Angkor Wat – with its huge moat, long causeway and massive towers – it is the largest temple complex in Asia.
Overnight in Siem Reap.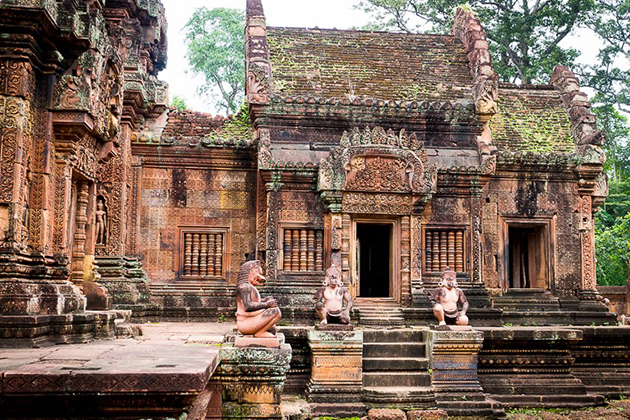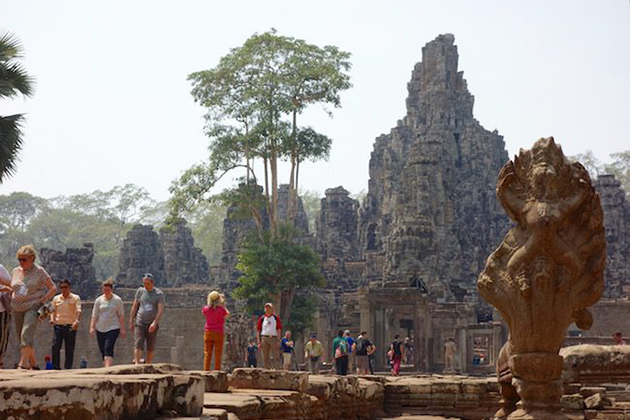 Day 21: Siem Reap – Koh Ker – Beng Mealea (B)
Get off to an early start for an approximately two-hour drive to north-east of Angkor, passing through pleasant countryside to Beng Mealea village. Your first stop is the 10th century capital of Koh Ker, left to jungle overgrowth for a thousand years, then see Prasat Pram, a temple draped in tree roots. At the far end of Prasat Thom, there is the towering pyramid, somewhat reminiscent of the Mayan or Inca architecture.
Having seen more of the surrounding temples, return in the direction of Siem Reap, stopping to explore another of the lesser visited temples – Beng Mealea, similar in size to the better known Angkor Wat (both were built by Suryavarman II). Marvel at the huge trees growing out of the ruins. This temple was built 30 years before Angkor Wat, in a similar style, and with a similar layout.
Overnight in Siem Reap.
Day 22: Siem Reap – Pre Angkorian Sites – Tonle Sap Lake – Vespa Tour (B, L)
The orientation drive introduces you to the pre-Angkorian site and site of the ancient capital of Jayavarman II, Hariharalaya; the "Roluos" group made up of three major temples: Preah Ko, Bakong, and Lolei. Then the afternoon sightseeing on a wooden boat along Tonle Sap Lake to Chong Kneas visit the floating village that completes with schools, hospitals, restaurants, shops and floating crocodile farm.
After the boat trip, back to the city and proceed to Artisans d'Angkor for a tour through the workshops and watch students as they learn how to create silk fabrics and garments, stone and wood carving, lacquerware, polychrome products, silver plating, and silk paintings.
Tonight you will be head to highlights – Cocktail bar, local night market, special wishing shrine, picnic style dining, infused Cambodian rice wine, zooming around the streets at night by Vespa, all you can eat and drink.
Overnight in Siem Reap.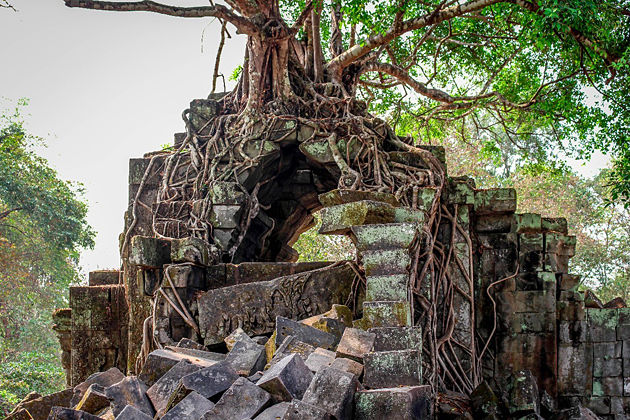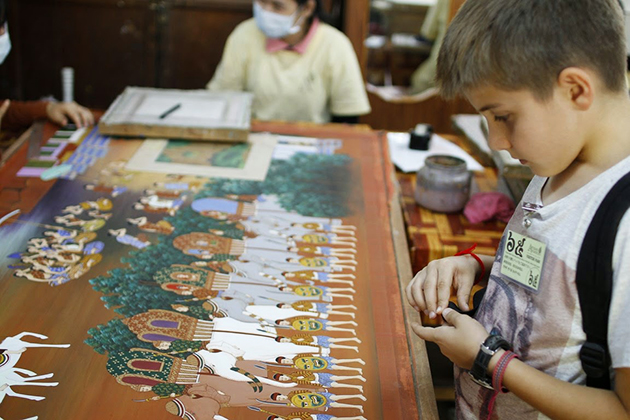 Day 23: Siem Reap – Depart (B)
After breakfast, be free on your own leisure until transfer to the airport for your flight to the next destination. Trip ends.