A Laos & Cambodia Classic tour guides you through the history, culture, and wonders of these two amazing countries within 11 days. From the world-famous Khmer ruins surrounded by lush jungle in the legendary city of Siem Reap to the charming attractions of Luang Prabang, each place has its distinct kind of charm and is sure to capture visitors' heart with their otherworldly beauty. When embarking on our Indochina tour, you also get the chance to learn about their past, present, and engage in activities that connect you to the people's way of life. The experience surpasses mere sightseeing and goes beyond to help you learn about the true splendor of the spirit and culture of Indochina.
General Information
Duration: 11 days/10 nights
Start/End: Phnom Penh/ Vientiane
Tour Route: Phnompenh – Siem Reap – Luang Prabang – Vientiane
Tour Categories: Cambodia Laos Tour
Tour Type: Explore and Experience
Tour Customizable: Definitely! (Tell us your specific requirements in the inquiry form)
Guides: Local Guide (English Speaking Guide, Other Languages upon Request)
Transportation: Private first-class air-conditioned vehicles
Accommodation: Listed below or equivalent. Rooms with private bath or shower, hotel taxes, porterage, tips, and service charges
Brief Itinerary
Day 1: Phnom Penh – Arrival
Day 2: Phnom Penh – Cheung Ek & Toul Sleng
Day 3: Phnom Penh – City Tour – Fly to Siem Reap
Day 4: Siem Reap – Outlying Temple
Day 5: Siem Reap – Angkor Highlighted Temples
Day 6: Siem Reap – Village Walking – Fly to Luang Prabang
Day 7: Luang Prabang – City Tour & Kuangsii Fall
Day 8: Luang Prabang – Pak Ou Cave – Fly to Vientiane
Day 9: Vientiane – Buddha Park
Day 10: Vientiane – City Tour
Day 11: Vientiane – Departure
Full Itinerary
Day 1: Arrive in Phnom Penh (D)
Upon arrival in the capital city of Phnom Penh, our guide and driver will welcome and transfer you to the hotel for check-in. The rest of the day is for you to relax. Overnight in Phnom Penh.
Day 2: Phnom Penh – Cheung Ek & Toul Sleng (B, L)
Today you get to learn about the gruesome past of Cambodia in the Khmer Rouge regime. After breakfast at the hotel, you pay a visit to Cheung Ek – a peaceful stretch of green fields that provides a devastating insight into the history of a country torn apart by war. The name of Cheung Ek pertains to the movie "The Killing Fields" which captured much of the carnage and tragedy of Cambodia in the Khmer Rouge regime. Prepare yourself emotionally beforehand as what lies behind the gates of this once tranquil orchard may inflict an incredible sadness.
After tasting local cuisine in a nearby restaurant, continue to Tuol Sleng Genocide Museum. It used to be a high school prior to 1975 when it was turned into an interrogation prison known as S-21 during the Khmer Rouge era. Today, this prison is open to the public as a genocide museum where they display proof of the crimes against humanity of the Khmer Rouge. Afterward, transfer back to the hotel to relax.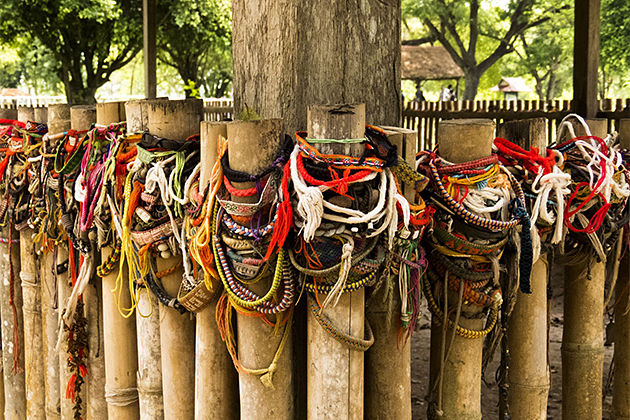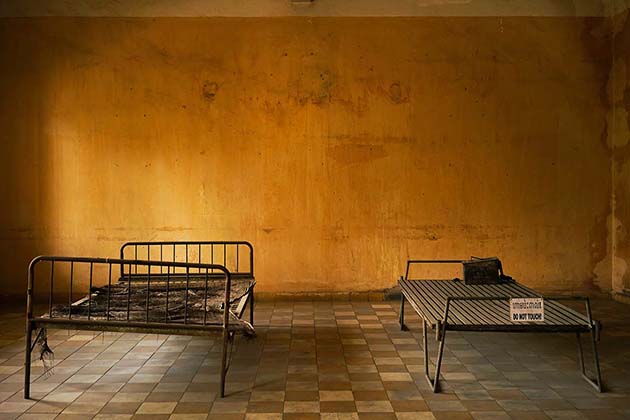 Day 3: Phnom Penh City Tour – Fly to Siem Reap (B, L)
After having breakfast at the hotel, set out on a memorable city tour to visit the Royal Place, which is adorned by gold, and the Silver Pagoda, which earns its name from the sparkling floor made up of 5000 silver tiles. The National Museum is also worthy of your time as it displays Khmer art and sculpture.After having lunch, our driver takes you to the airport for a late afternoon flight to Siem Reap. After arriving in Siem Reap and receiving our warm welcome, you will be transferred to the hotel for check-in and spend the rest of the day at your own leisure.
Day 4: Siem Reap – Outlying Temples (B, L)
This morning starts with a stop in Hariharalaya – the ancient Khmer civilization site that dates back to the late 9th and early 10th centuries. Famous for its yoga/meditation retreat and small temple ruins scattered here and there, Hariharalaya is like a peaceful oasis that provides an escape from the hustling and bustling life of the city.
A delicious lunch with a local family allows you to taste real Cambodian food and local specialty. You also get a chance to learn about the brutal story taking place during the Pol Pot regime from an old man who was the village chief during the regime.
After lunch, say goodbye to the family as we are back on the road to visit the small yet magnificent Banteay Srei. Having some of the finest stone carvings that are hard to come across anywhere in the world, what this delicate temple lacks in size it manages to make up for in its appearance.
On the way back to Siem Reap we will visit the Banteay Samre Temple. This temple is not only adorned with very intricate and well-preserved carvings of Hindu mythological stories and Buddhist teachings but also has an interesting legend about the cucumber king.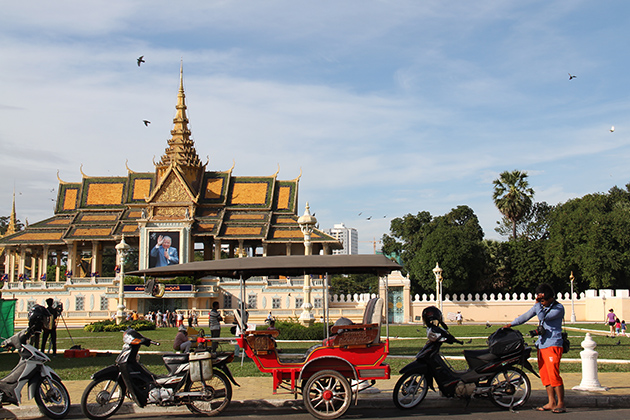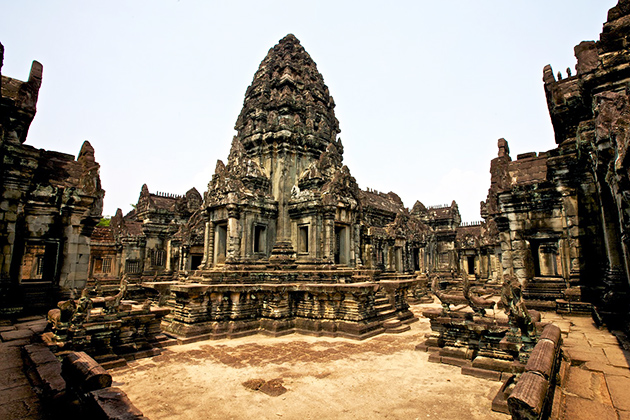 Day 5: Siem Reap – Angkor Highlighted Temples (B, L)
The whole day is dedicated to the splendor of the world-famous Angkor Temple complex. To avoid the crowd, we will have an early breakfast then make the first stop at the picturesque Ta Prohm – a temple reclaimed by the jungle that has an incredibly exotic appearance. Its look inspires the makers of "Tomb Raider" and has been made famous by the film ever since, and it is common to come across a playful tourist striking an Angela pose in front of the temple ground.
After that, continue to marvel at the intricately carved Khmer ruins at Angkor Wat – one of the world's most impressive ruins and also the highlight of today's trip. The day is full of photo opportunities as we continue to explore the mysterious Royal city Angkor Thom in the afternoon. The majestic temple of Bayon is sure to win your heart with its awesome sight. Not as famous as the Angkor Wat, but when it comes to beauty and uniqueness, Bayon seems to be better in comparison.
The surroundings of the massive complex are worthy of your time as well with a range of striking ancient architecture including the Baphoun, Elephant Terraces, Lepper King Terrace and Royal Place area. Built in the same style as Ta Prohm, Preah Khan temple has fewer tourists but still offers many great photo opportunities and majestic experience.
Day 6: Siem Reap – Village Walking – Fly to Luang Prabang (B, L)
In the morning, we take you to a beautiful village in the countryside. Begin your day with a leisure walk through the village houses and watch as the locals rushing through their day. Get to know the people's daily life and take an authentic look at what life in Cambodian countryside is like. On the way, you can pick some fruits from the trees and enjoy a peaceful view of this wonderful village to relax your mind after a day exploring famous and crowded attractions.
Hop on a 30-minute ride on ox-cart passing through the rice paddies to visit a local family as they make rice wine and handicraft works while being offered fresh coconut and some manmade rice wine by the friendly family member.Say goodbye to Cambodia and all its goodness, drive back to the city for lunch before going to the airport for a flight to Luang Prabang in the afternoon. Upon your arrival in Luang Prabang, we take you to the hotel for check-in and relax.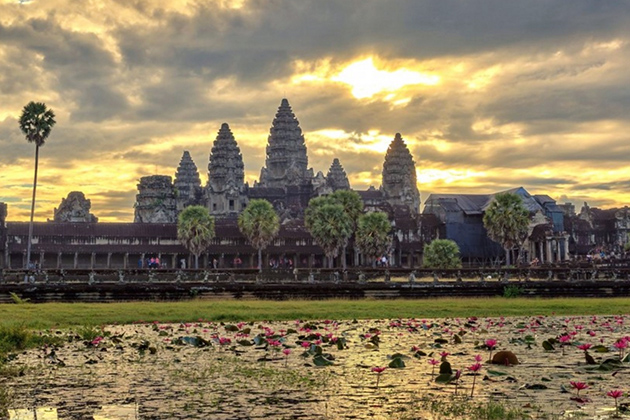 Day 7: Luang Prabang – City Tour & Kuangsi Waterfall (B, L, D)
After breakfast, visit the National Museum for a chance to learn about Lao history and about Laos' royal. Famous for the incredible number of temples in such a small area, a trip around Luang Prabang must include a temple tour. First, we visit the impressive stupa of Wat Visoun – the oldest temple in Luang Prabang with impressive wood carvings. Wat Aham and Wat Mai with traditional Lao architecture are also included in your tour around the city of Luang Prabang.
You can't come to Luang Prabang without stopping by Wat Xieng Thong – the best-known monastery in Luang Prabang with classic Laotian design and intricate carvings that can impress any art lovers. Afterward, pay a visit to Wat Sene and Wat Xieng Muan to finish the temple tour around the religious city of Luang Prabang.
In the afternoon, drive out of town to the beautiful Kuang Sii Fall where you can cool off, relax, and take a small trek to the top of the fall to get a panoramic view of this heaven-like attraction. On the way back, pay a short visit to a Black Hmong Village, where you can buy hill tribe hand-made handicraft as meaningful souvenirs.
Back to Luang Prabang, challenge your stamina by climbing up hundreds of steps to the top of Mount Phousi for an enjoyable exploration of the sacred, gilded stupa along the way as well as a breathtaking sunset view of the city and the Mekong River. In the evening, we take you to Luang Prabang Street Night Market to find beautiful collections and textile made by local and hill tribe people around Luang Prabang. Overnight in Luang Prabang.
Day 8: Luang Prabang – Pak Ou Cave – Fly to Vietiane (B, L)
After breakfast, embark on a cruise upstream on the Mekong River. Relax and take in the beautiful view of the tranquil countryside before paying an interesting visit to the mysterious of Pak Ou Caves, filled with thousands of gold lacquered Buddha statues of various shapes and sizes. Along the way, we have a quick stop at the village of Ban Xanghai to watch the local making rice wine. On the way back, we take a short drive to Ban Xang Khong – a place famous for the local's expertise in hand weaving.
In the afternoon, we transfer you to Luang Prabang Airport for an evening flight to Vientiane. Upon arrival, receive our warm welcome before being transferred to your hotel for check-in. Overnight in Vientiane.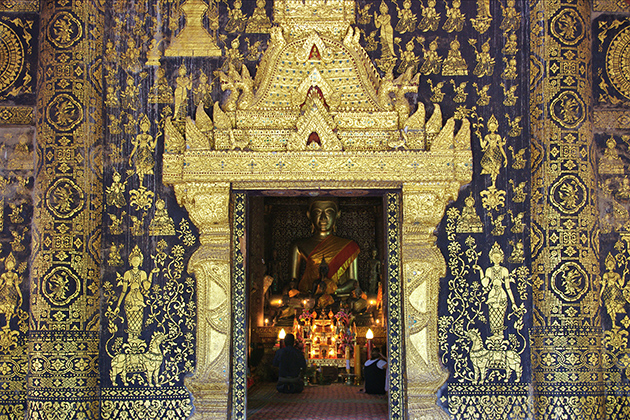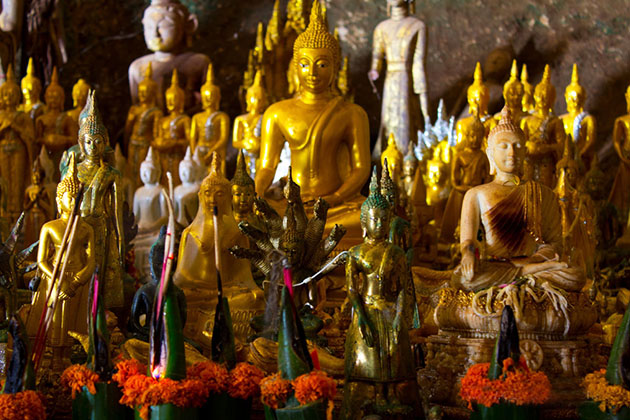 Day 9: Vientiane – Buddha Park (B)
After breakfast, prepare to spend the whole day learning about Laos culture and history, starting with a visit to Buddha Park. This iconic sculpture park houses sculptures created by mystical monk on parkland, showing a perfect blend of Buddhist and Hindu religion.
On the way to the park, stop for some photos at Lao/Thai Bridge. In the afternoon, learn about the past bombing in Laos by visiting COPE Centre. Overnight in Vientiane.
Day 10: Vientiane City Tour (B)
A Laos tour cannot be complete without a tour through the capital city. After breakfast, we stop by major attractions in the capital; including the oldest Wat Sisaket, which is famous for thousands of miniature Buddha statues; and Wat Prakeo, the former royal temple of used to house the famous Emerald Buddha Image.
Before we go to the golden structure of That Luang Stupa, stop at the striking Patuxay Monument, the Vientiane's version of Arc de Triumph, to take some pictures. In the afternoon, visit H.E Kraison Phomvihane Revolutionary Museum to gain some insight into the history of Laos. Overnight in Vientiane.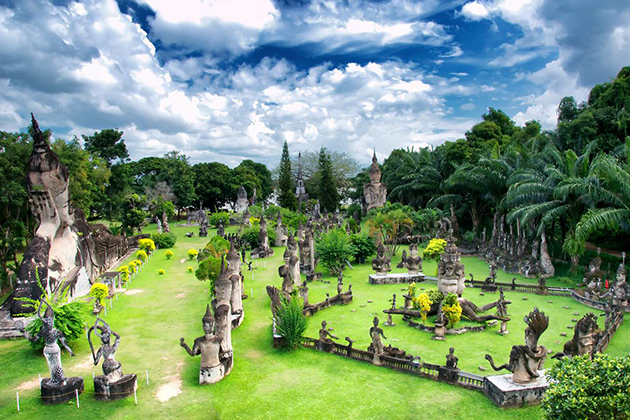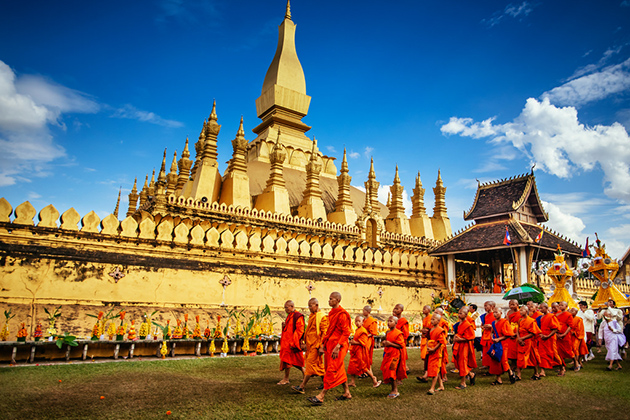 Day 11: Vientiane Departure
After having breakfast and some time to relax, we escort you to the airport where you will take your flight home with the memories of Laos and Cambodia fresh in your mind. And, we will make sure your experience is as pleasant and forgettable as it is possible.