With 16-day tour package, the trip covers all famous destinations in Laos and Cambodia. You will have a chance to explore the fantastic wonders and get close to the local people to understand the lifestyle and culture in the two regions. It is a journey of lifetime! Start in Vientiane, Laos and visit the highlights of the city including the National Museum, the Temple Wat Sisaket, and the Wat Prakeo. Next, discover the Luang Prabang's famous Vat Xieng Thong, and climb to the top of Mount Phousi. Then take a boat trip to Pak Ou Caves and visit the wonderful Khouang Si Waterfall. Upon arrival in Pakse, explore Tad Fan Waterfall and enjoy 3 Days Mekong River Cruise. Afterward, take an excursion to the biggest Southeast Asian's largest freshwater lake – Tonle Sap Lake and don't miss the ancient capital city of Angkor Thom. Relax on the beach of Sihanoukville, visit the Royal Palace and Silver Pagoda. End your Indochina trip by wandering through atmospheric streets of Phnom Penh. Enjoy your vacation!
General Information
Duration: 16 days/15 nights
Start/End: Vientiane/ Phnom Penh
Tour Route: Vientiane – Luang Prabang – Pakes – Siem Reap – Sihanoukville – Phnom Penh
Tour Categories: Laos Cambodia tours
Tour Type: Natural and Landscapes, History and Culture
Tour Customizable: Definitely! (Tell us your specific requirements in the inquiry form)
Guides: Local Guide (English Speaking Guide, Other Languages upon Request)
Transportation: Private first-class air-conditioned vehicles
Accommodation: Listed below or equivalent. Rooms with private bath or shower, hotel taxes, porterage, tips, and service charges
Brief Itinerary
Day 01: Vientiane Arrival
Day 02: Vientiane – Highlight City Tour
Day 03: Flight to Luang Prabang – Half day Buddhist Ancient City and Temples Tour
Day 04: Luang Prabang – Boat Trip to Pak Ou Caves – Kouang Si Waterfall
Day 05: Flight to Pakse – Bolaven Plateau Tour
Day 06: Pakse – 3 Days Mekong River Cruise (Day 1)
Day 07: Mekong River Cruise (Day 2)
Day 08: Mekong River Cruise (Day 3) – Back to Paske
Day 09: Flight to Siem Reap – Tonle Sap Lake Cruise
Day 10: Siem Reap – Full day City Tour
Day 11: Siem Reap – Angkor Wat & Banteay Srei
Day 12: Flight to Sihanoukville
Day 13: Sihanoukville – Relax on the beach
Day 14: Drive to Phnom Penh – Royal Palace Tour
Day 15: Phnom Penh – Highlight City Tour
Day 16: Phnom Penh Departure
Full Itinerary
Day 1: Vientiane Arrival
Welcome to Laos! Upon arrival, you will meet your tour guide and check in the hotel. The rest is at your leisure.
Day 2: Vientiane – Highlight City Tour (B)
After breakfast, start your trip with a full day city tour of Vientiane, the charming capital city of Laos with a variety of heritage of Buddhist culture. You will firstly get to know some more history of Laos by visiting the National Museum, which collects, preserves, and displays many priceless antiquities, photos, and objects of different historical periods of Laos from the wars against colonist enemies, to the time of developing Laos economy. Next, visit the Temple Wat Sisaket, the oldest surviving temple with thousands of Buddhist images.
Then, head to Wat Prakeo which housing the famous Emerald Buddha image really amazed the Indochina Tours Makers. Your full day city tour will not be completed if you don't visit the symbolic site ThatLuang Stupa and Patuxay Monument. ThatLuang Stupa, the most sacred monument in Laos, includes finely-gilded, red-lacquer doors, pointed lesser stupas, many Buddha images, and beautiful flower and animal images. From here, visitors can explore its unique architecture and its legendary.
Day 3: Flight to Luang Prabang – Half Day Buddist Ancient City and Temples Tour
In the early morning, you will be transferred to the airport to take a flight to Luang Prabang. When arriving, your tour guide will greet you and escort you to hotel for check-in.
In the afternoon, your trip begins with a visit to Luang Prabang's famous Wat Xieng Thong, a Buddhist temple of monastery regarded as one of the most important religious sites in Laos. You will admire the temple complex's elaborate walls festooned with gold decoration. Next, continue to visit Vat Mai (short for 'Wat Mai Suwannaphumaham'), one of Luang Prabang's largest and most richly decorated temples. Both of its interior and exterior appearance are extensively adorned with black and red lacquer decoration and gold leaf.
Afterward, take your excursion to new heights by climbing to the top of Mount Phousi, the town's geographical center, and a great lookout spot. As you soak up the sweeping views of the surrounding countryside, marvel at the beautiful golden stupa that sits at the peak. Finish your journey at Luang Prabang's National Museum, once the country's royal palace and home to King Sisavangvong in the early 20th century. You will have a chance to explore the museum's collection of personal artifacts from the Lao royal family and throne from the country's Lan Xang Kingdom.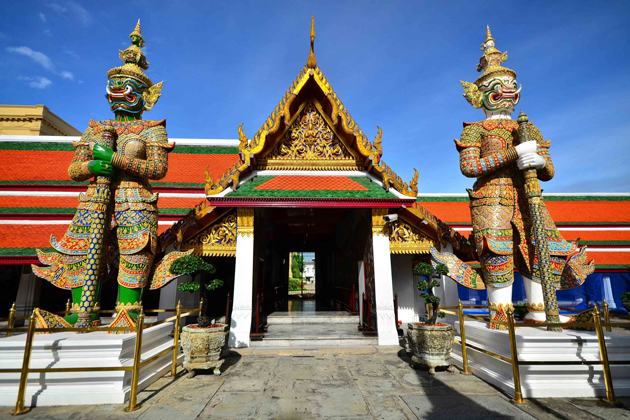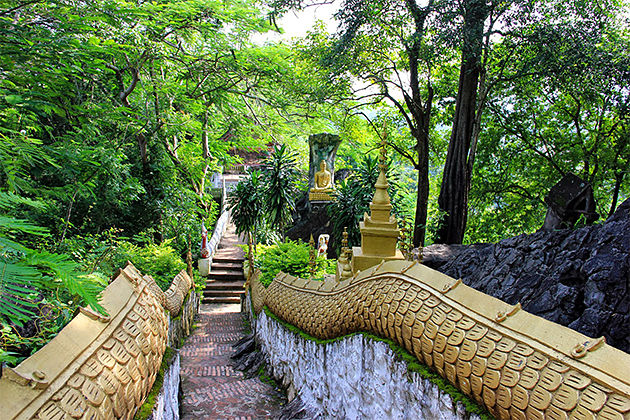 Day 4: Luang Prabang – Boat Trip to Pak Ou Caves – Kouang Si Waterfall (B, L)
This morning, embark on a cruise upstream on the Mekong River. Along the way, stop at the village of Ban Xanghai, where Laos rice wine and rice whiskey is produced. You will be able to try some and learn about the process used to make it. Then on to the mysterious Pak Ou Caves, two linked caves filled with thousands of gold lacquered Buddha statues of various shapes and sizes left by pilgrims.
Lunch will be served near the caves. You will have a chance to try a local dish called "Orlam" which is a soup with vegetables and features a spicy wood that is partially edible. On return, disembark to visit the traditional weaving village of Ban Phanom, famous for its hand-woven textiles.
Continue to explore the beautiful Khouang Si Waterfall where you can cool off with a refreshing swim in the pools or walk along the forest trails.
Day 5: Flight to Pakse – Bolaven Plateau Tour (B, L)
After breakfast, take a short flight to Pakse, in which Indochina Tours will escort you to the Airport. Upon arrival in Pakse, we will drive to Tad Fane Waterfall which is the largest and most amazing waterfall in Laos. The impressive Tad Fane falls thunder over 100 meters down the steep cliffs into a gorge. The scenic rainforest spot is part of a large national park where wild animals live such as leopards, tigers, elephants, and monkeys. Afterward, you will have lunch at the nearby local restaurant.
In the afternoon, you will continue your journey to visit the Bolaven Plateau to discover the Alak, Nge and Katu villages. The trip to the Bolaven Plateau will bring you away from the heats and allows you to explore the way local people cultivate coffee, tea, cardamom, bananas, etc. Finally, drive back to the hotel in Pakse before dark.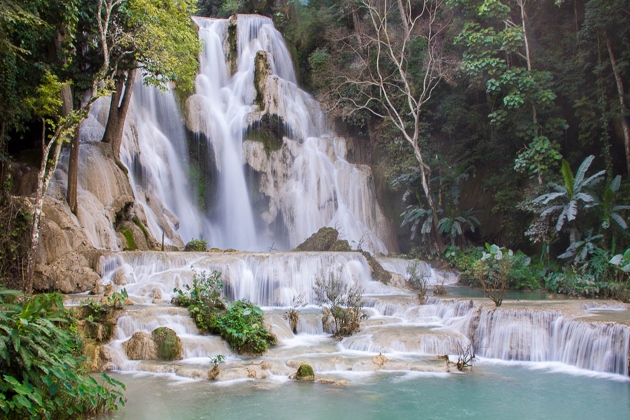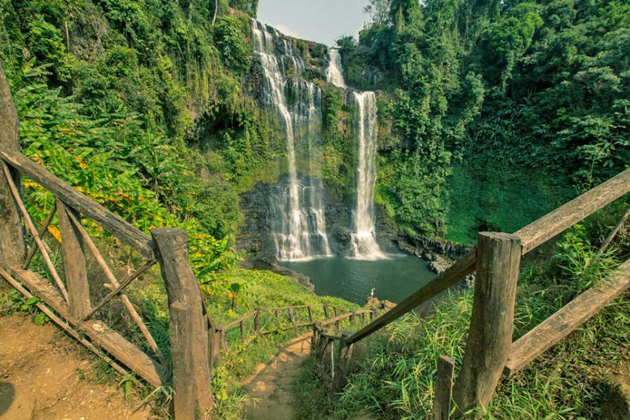 Day 6: Pakse – 3 Days Mekong River Cruise (Day 1) (B, L, D)
Today is the first day of discovering the Mekong River. Embark on the Vat Phou Cruise for 3 days, Indochina Tours will offer you fascinating experience in rural Laos. The first destination is Champassak, which was once the Kingdom of an independent Lao state, is known for its relaxed pace of life, warm hospitality and rich cultural, historic and natural heritage.
In the afternoon, you will enjoy a shore excursion to Vat Phou which is a ruined Khmer temple complex in southern Laos. The structure of the temple is unique, in which the elements lead to a shrine where a linga was bathed in water from a mountain spring. You will spend time visiting the museum at the ruins site, walking up to the largest temple and strolling around. In the late afternoon, return to Vat Phou boat, enjoy a beautiful tropical sunset and then have prepared dinner on board. You also will experience to stay overnight on the cruise.
Day 7: Mekong River Cruise (Day 2) (B, L, D)
The second day of discovering Mekong River starts with breakfast on board as we set sail for the village of Huei Thamo, only a few minutes walking away from the spectacular hidden Ancient forest temple of Oum Moung. We rejoin the boat for a leisurely cruise southbound and enjoy lunch on the deck, then continue south to the wild paradise of the "4000 islands" region.
Your afternoon begins with a trip to Ban Dua Tae, a traditional Laotian village where the traditional way of life has not changed in centuries. From here, take time to observe traditional village life and learn about the daily activities within the village.
In the evening, enjoy a quiet dinner on board, under the stars, serenaded by the songs of the buffalo toads.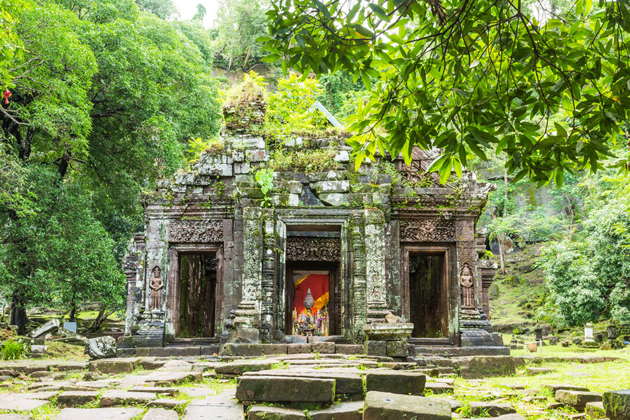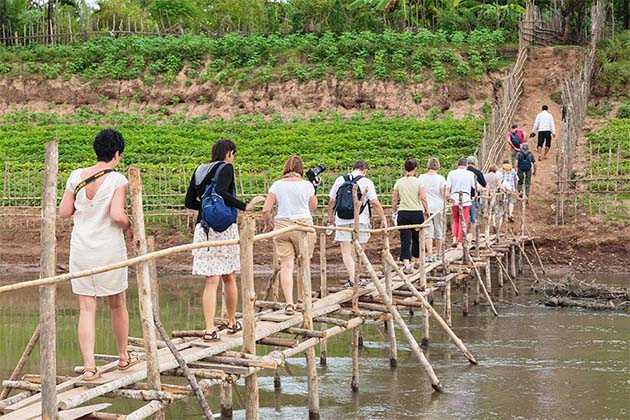 Day 8: Mekong River Cruise (Day 3) – Back to Paske (B, L)
After breakfast on the upper deck as cruising to the small village of Ban Veuthong, where you will board a small longtail boat to Khong Island, the largest island in the 4,000 islands region. Next, you take a long tail boat back to the mainland for lunch amid the bygone splendid of another age; colorful French colonial houses and an old customs post, alongside a stone quay. Then, you will transfer by minivan to the scenic splendor of the Khone Phapheng Waterfall, "the Niagara of the East", close to the Cambodian border. After a long journey by boat, you return to Pakse in the late afternoon and end the Mekong River Cruise tour 3 days. Enjoy your cruise!
Day 9: Flight to Siem Reap – Tonle Sap Lake Cruise (B)
Enjoy your free morning until you will be transferred to the airport to take a flight to Siem Reap, Cambodia. Upon arrival, after checking in and taking a short rest, start your vacation in Cambodia by visiting the biggest Southeast Asia's largest freshwater lake, Tonle Sap Lake. The majority of these lake's inhabitants are fisherman, mostly stateless ethnic Vietnamese who have been here for decades, despite being widely distrusted by the Khmer. The must do things when visiting Tonle Sap Lake is taking a boat trip to soak up the beautiful lake views and mangrove forests and observing the fascinating life of people who live in floating homes along the lake and how they make living, raise crocodiles and create souvenirs for sale in the floating market.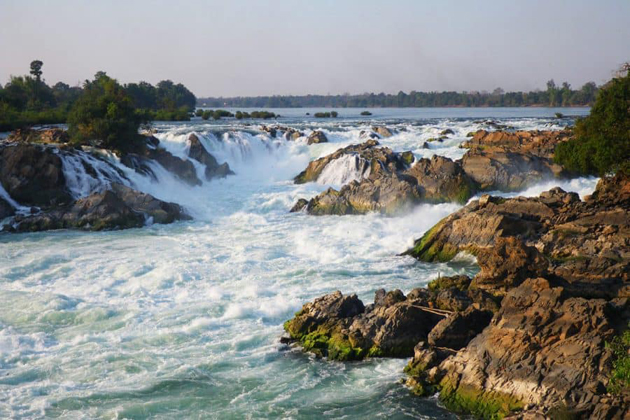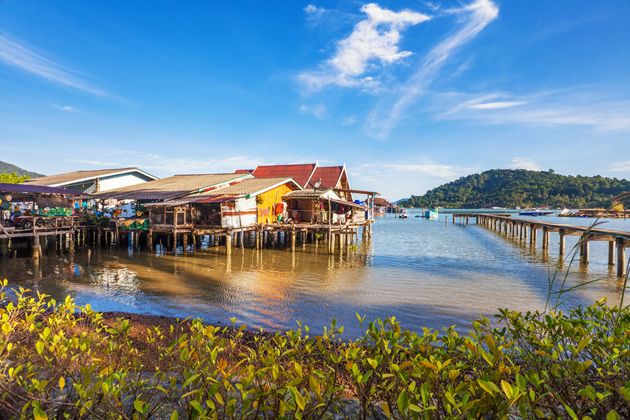 Day 10: Siem Reap – Angkor Thom Ancient Capital (B)
After breakfast, start your discovery of the remains of an ancient civilization that once ruled much of Southeast Asia. The first stop is the ancient temple of Angkor Thom. On the way, you will catch a glimpse of Angkor Wat as you pass by. However,  Siem Reap has more than just Angkor Wat when it comes to temples. So, Indochina Tours will save the best for last by continuing your journey to discover some other equally impressive ruins of Ta Prohm Temple, Baphoun, Bayon Temple, Banteay Kdei,  Elephant Terrace, Leper King Terrace, and the Royal Palace.
First, reach Ta Prohm Temple which is known for the huge trees and the massive roots growing out of its walls. Then visit Banteay Kdei Temple, meaning "A Citadel of Chambers", is a Buddhist temple in Angkor. Continue on to the Victory Gate, the Terrace of the Leper King, the Royal Palace, and Baphuon and Bayon. Bayon Temple, a mountain temple built to represent Mount Meru, the center of the universe in Hindu and Buddhist cosmology, represents the intersection of heaven and death. With its wide tunnels, chambers, and daring climbs, Bayon offers many picturesque moments to keep your camera busy. In the late afternoon, don't miss the sunset view from the top of the pyramid-shaped temple of Pre Rup before returning to your hotel.
Day 11: Siem Reap – Angkor Wat & Banteay Srei (B, D)
After your breakfast, get ready to explore the Seven Wonders of the World: Angkor Wat. Angkor, the capital of the Khmer Empire from the 9th to 15th centuries, both a fully functional city and a religious site, has more than 1,000 temples in it. It is worth entering Angkor Wat and viewing its amazing architecture and history. Spend your morning soaking up through the many passages, levels, and chambers that once housed many treasures of the ancient world.
In the afternoon, head to the remote temple of Banteay Srei set deep in the jungle. It is rediscovered in 1914 and cleared some 10 years later. Banteay Srei means "Citadel of Women," and it is believed that the reliefs on this temple are so delicate that they could only have been carved by the hand of a woman. When arriving, your local tour guide will help you to take more details of the temple art inscriptions and handle travel logistics.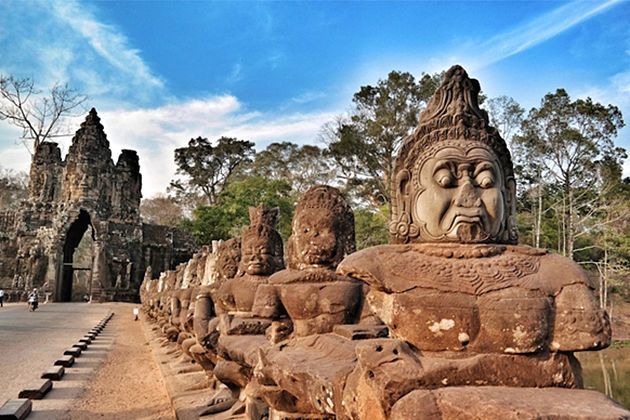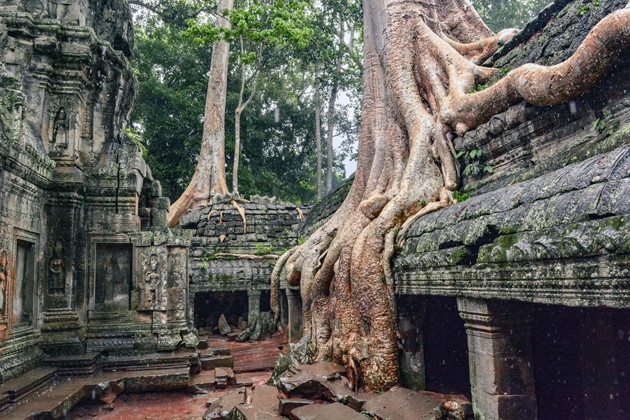 Day 12: Flight to Sihanoukville (B)
You will have a short flight to Sihanoukville in the morning. Upon arrival, you are free to explore and relax.
Day 13: Sihanoukville – Relax on the beach (B)
After breakfast, you will be driven to the nearby beach. Enjoy your day relaxing on the beach.
Day 14: Drive to Phnom Penh – Royal Palace Tour (B)
Say goodbye to Sihanoukville, take a 3.5-hour drive to Phnom Penh in the morning and have a short rest.
Start your afternoon discovery in Phom Penh by a trip to Royal Palace, one of Phnom Penh's most splendid architectural achievements. Royal Palace is home to His Majesty Preah Bat Preah Norodom Sihanouk and Her Majesty Preah Reach Akka-Molesey Norodom Monineath. Afterward, head to Silver Pagoda, known as Wat Preah Keo or Temple of the Emerald Buddha is just the south of the Palace and entrance is included with the same ticket. The sculptures and sheer construction of the palace amaze even the most seasoned traveler in awe because of the stunning structure. The Silver Pagoda is regarded as grand and magnificent because there is no other place in the world where you can see such significant spectacles of historical treasures.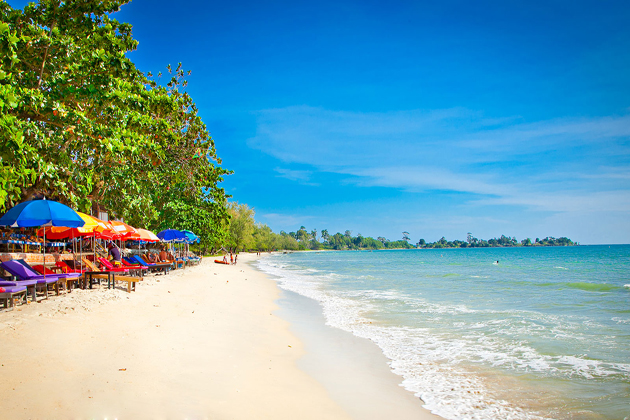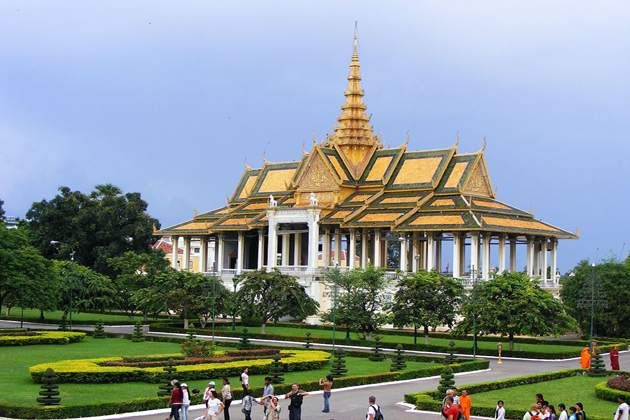 Day 15: Phnom Penh – Highlight City Tour (B, L)
After breakfast, start your full day city tour with a visit to the National Museum, which offers a charming setting for a stunning collection of ancient Khmer art. Next, visit Wat Phnom, located on the only hill in town. This construction attracts visitors not only by unique architecture but it also helps them understand deeply about the worship of Cambodian people. Continue your tour to Tuol Sleng Genocide Museum, one of the hundreds of detention and interrogation centers created all over Cambodia by the Khmer Rouge.
In the afternoon, Indochina Tours offers you an interesting trip to Choeung Ek Genocidal Center. It is worth spending time learning more about Cambodia's past at this historical site. You will able to understand deeper of what happened in the country and right here, the site of mass graves holding the remains of thousands of people. A visit to the site is literally stunning, you will most likely leave in tears, but also with a better appreciation for the kindness and resilience of the Cambodian people that you meet on your travels. Additionally, a visit to the Russian Market cannot be missed on this tour. Russian Market is the most famous market among tourists and the best place to pick up souvenirs. After that, you are free to explore at your leisure.
Day 16: Phnom Penh Departure (B)
After a leisure morning, you are free to discover the rest of the city. Then, Indochina Tours will transfer you to the airport for your international flight back home. We wish you to have an unforgettable time with our itinerary.