General Information
Duration: 16days/ 15 nights
Start/End: Ho Chi Minh City/Bangkok
Tour route: Ho Chi Minh City – Mekong Delta – Hoi An – Hanoi – Halong Bay – Luang Prabang – Siem Reap – Bangkok
Tour Categories: Southeast Asia Tours
Tour Type: Explore and Experience
Tour Customizable: Definitely! (Tell us your specific requirements in the inquiry form)
Guides: Local Guide (English Speaking Guide, Other Languages depends on your Request)
Brief Itinerary
VIETNAM
Day 1: Ho Chi Minh City Arrival
Day 2: Out and About in Ho Chi Minh City
Day 3: Ho Chi Minh City – Excursion into the Mekong Delta
Day 4: Ho Chi Minh City – Danang – Hoi An
Day 5: Hoi An
Day 6: Drive to Danang – Fly to Hanoi – Enjoy a taste of the capital city
Day 7: Hanoi – Past & Present
Day 8: Hanoi – Halong Bay Cruise
Day 9: Disembark & Back to Hanoi – Fly to Luang Prabang, Laos
LAOS
Day 10: Luang Prabang – Explore the Temple, Palace & The Living Lands Farm
Day 11: Luang Prabang – Laotian Culture & Tribal Traditions
Day 12: Luang Prabang – Royal Palace & Fly to Siem Reap
CAMBODIA
Day 13: Siem Reap – Explore the Temples of Angkor
Day 14: Siem Reap – Tonle Sap Lake & Fly to Bangkok
THAILAND
Day 15: Bangkok – Full day City Tour
Day 16: Bangkok – Departure
Day 1: Ho Chi Minh City Arrival (D)
Upon arrival in Ho Chi Minh City, you will be welcomed by our guide and driver, then transfer to the hotel, check-in and free at your leisure.
Overnight at Ho Chi Minh City.
Day 2: Out and About in Ho Chi Minh City (B, L, D)
After breakfast, we take you outside of the city to visit the infamous Cu Chi Tunnels, the incredible underground network that was built and used as a camouflage protecting Vietnamese soldiers in the struggles against French colonists. Marvel at secret trapdoors, underground kitchens, living quarters, conference rooms and even storerooms for weapons.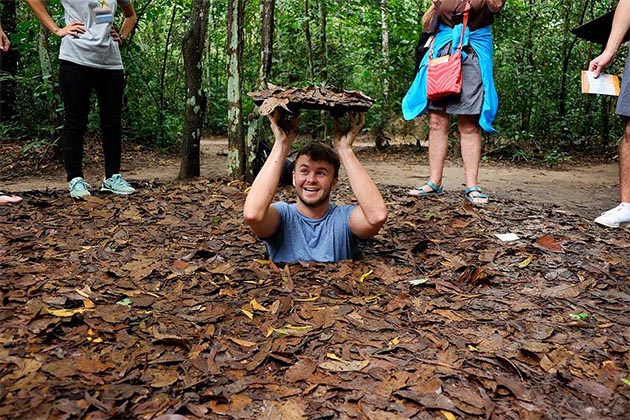 You will also have a chance to view the excavated areas from above, for those who want to get more adventurous experience can explore the complicated maze of tunnels through three levels. It is a great opportunity to reach one of the most stunning defensive systems in the world, witness an underground city still living and learn more about the patriotism of Vietnamese.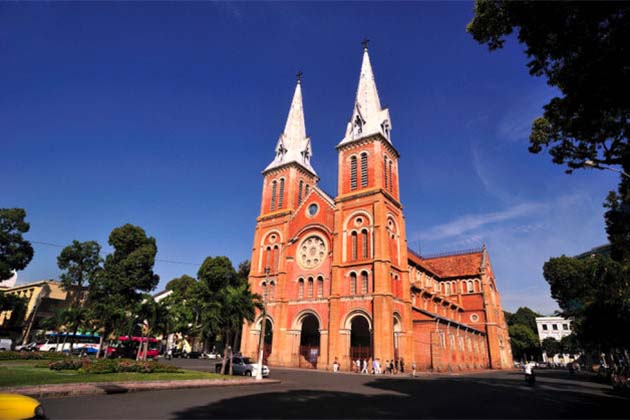 Following your lunch, return to the city for sightseeing – starting with the Reunification Hall, a whitewashed concrete edifice with all the charm of a municipal library, a colonial mansion erected in 1871 to house the presidents of Indochina. Nearby, the Wart Remnants Museum offers a penetrating look into the ravages of the war. Continues to Notre Dame Cathedral and the Hotel de Ville, two iconic city landmarks. Strolling along Le Cong Kieu Street, feast your eyes on colorful shops offering Colonial memorabilia, old coins, art, fine antiques, and souvenirs. Your dinner will be served in a restaurant famed for its traditional Vietnamese cuisine.
Overnight in Ho Chi Minh City.
Day 3: Ho Chi Minh City – Excursion into the Mekong Delta (B, L, D)
This morning's journey takes you through the rural district of Cai Be where you will board the Cai Be Princess, a traditional Vietnamese riverboat made from hardwoods and bamboo. Enjoy a refreshing beverage when you venture onto the timeless waterways of the Mekong Delta. Take in the bustling river traffic, witness timeless scenes of daily life and enjoy the refreshing atmosphere along the waterways.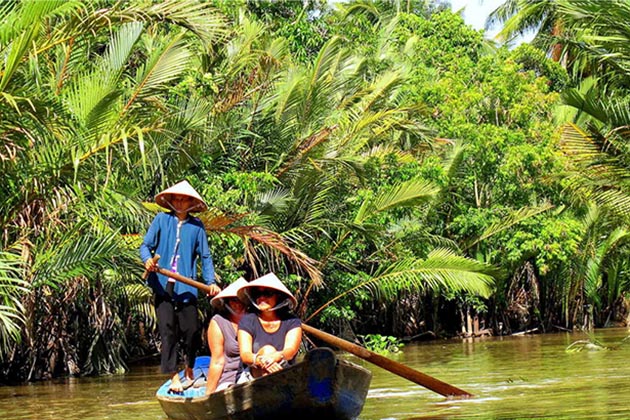 Afterward, you will visit a finely-preserved, the 19th century home to learn more about the Delta's history, then continue your cruise to visit a number of small communities to discover some of the cottage industries that sustain many Delta families. After lunch in a local restaurant, enjoy a post-luncheon stroll along a quiet Mekong canal before returning to your hotel in Ho Chi Minh City.
Overnight in Ho Chi Minh City.
Day 4: Ho Chi Minh City – Danang 
– Hoi A
n (B, L, D)
Today you will be escorted to the airport for your onward flight to central Vietnam. Upon arriving in Danang, our driver will take you to pass a cluster of five hills made from limestone and marble known as the Marble Mountains and Danang Beach. During the Vietnam War, the name "China Beach" was used to refer to this beautiful coastal stretch where they would come on leave from bases all over the world. Then you will be transferred to the Hoi An Ancient Town.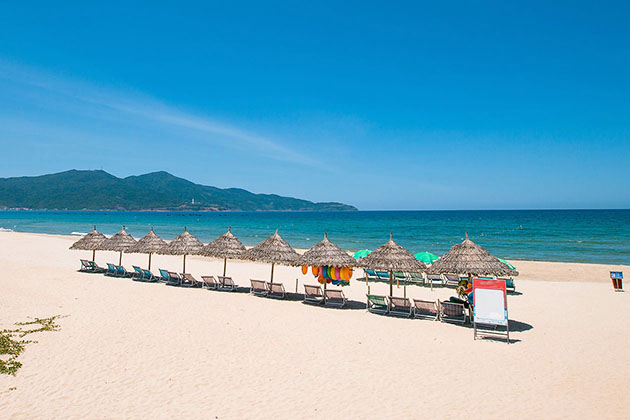 In the afternoon, you will take a guided tour of Hoi An. The town was one of the region's major trading ports in the 17th to 19th centuries. It is now still graced with finely-preserved homes built by old Japanese, Indian, Dutch, Portuguese merchants. As you discover through the charming cobblestone streets of this ancient port, you can imagine yourself a sailor of the 18th century when it was one of the busiest and wealthiest ports in all of Asia. Your guided tour also showcases ancient temples, art galleries, and colorful local markets. You will have time to explore at your own pace or just relax before having dinner.
Overnight in Hoi An.
Day 5: Hoi An (B, L, D)
After breakfast, your journey today will take you to visit Hoian's bustling central market, where residents come to shop for fresh seafood, herbs, and other daily staples. Learn about Vietnam's culinary traditions and some of the exotic products for sale as your browse in the market and sample regional specialties.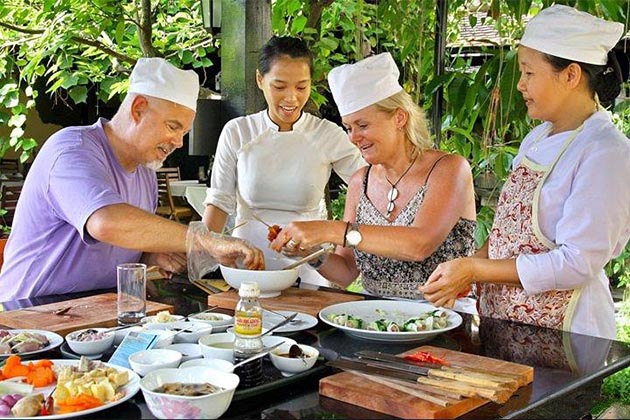 Then, take a short cruise to the modern kitchen for a hands-on cooking class with an enthusiastic local chef. After trying to cook some Vietnamese cuisine, you will have lunch featuring some of the dishes you and your fellow classmates have prepared.
Then enjoy a free afternoon to relax at the hotel or spend the time to explore more of the ancient Hoian at your own pace.
Overnight in Hoi An.
Day 6: Danang – Flight to Hanoi 
– 
Enjoy a taste of the capital city (B, L, D)
Following your breakfast, our driver will transfer you to the airport in Danang for your onward flight to Hanoi. Upon arrival, you will be greeted and escorted to the hotel for check-in and free time until evening.
This evening, our guide will take you on an exclusive culinary adventure to experience the city's vibrant food scene. Bustling by day, Hanoi's Old Quarter is equally lively come nightfall as residents head out to enjoy street foods and cafes that line these historic streets and alleyways.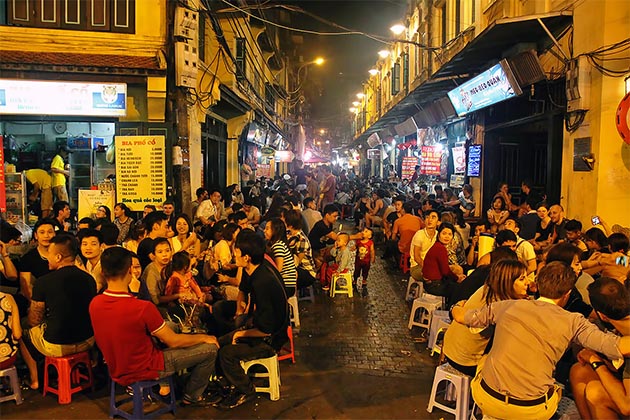 Start with a locally brewed draft beer and then set out along the Quarter's colorful streets, your guide will share insight into the exotic foods being offered. Immerse yourself in the tempting aromas arising from sizzling works and steaming pots, samples some typical dishes such as grilled meats, vegetable skewers, noodles, and rice dishes, etc. End the night at one of Hanoi's most well-known ice cream parlors before returning to your hotel.
Overnight in Hanoi.
Day 7: Hanoi – Past & Present (B, L, D)
After breakfast, your Southeast Asia Tours through the capital of Hanoi continues with full-day sightseeing. The first stop is Ho Chi Minh Mausoleum, an impressive monument constructed of marble, granite, and precious woods. Next, head to the unusual One Pillar Pagoda and the Presidential Palace which was intended to be Ho Chi Minh's official residence but the Vietnamese leader has opted for a traditional Vietnamese stilt-house instead. Then, the tour takes you to Hoa Lo Prison, which was used by the French colonists in Vietnam for political prisoners and during the Vietnam War. It offers you a thought-provoking and sobering look into the history of Vietnam. Your morning will be ended at the home of a water puppet artist, the descendant of a long line of performers. Get a closer look into his craft, learn how these unusual puppets are made and enjoy a private performance of this ancient art form.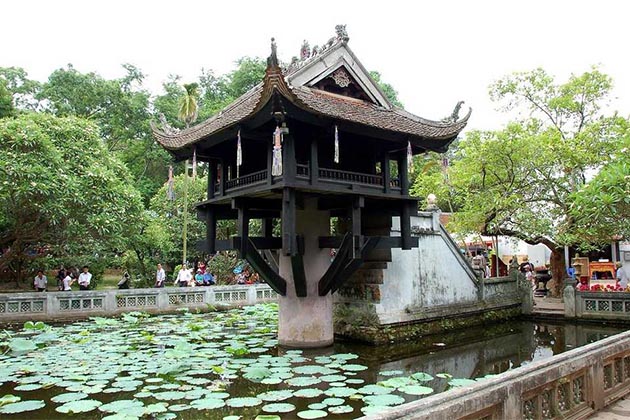 In the afternoon, continue to explore the Temple of Literature founded nearly 1,000 years ago and dedicated to the famous Chinese scholar and philosopher Confucius. At Ngoc Son Temple, built in the 18th century on a tiny island in picturesque Hoan Kiem Lake, you will hear a colorful legend about an emperor, a magic sword and a giant turtle. End your today tour with a cyclo adventure through Hanoi's Old Quarter where ancient byways are named for the goods that have long been sold here such as Hang Ma, Hang Tre, etc.
Overnight in Hanoi.
Day 8: Hanoi – Halong Bay Cruise (B, L, D)
After breakfast, you will be driven to one of the World Heritage Site, Halong Bay. It takes just a few hours, but the amazing scenery that greets you on arrival will feel the worlds away from the city. Halong Bay is filled with thousands of limestone islands, forested peaks, hidden coves, mysterious caves and emerald green waters stretching over the water. You will witness traditional sailing junks and local fishing boats ply these waters while waiting for our prepared vessel.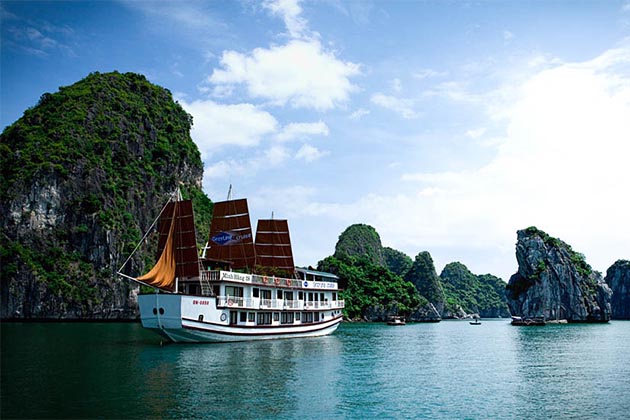 Onboard, you will enjoy a welcome drink and lunch as you navigate through these breathtaking landscapes with their pristine beaches, tiny fishing villages, and uninhabited islands. An afternoon cooking demonstration with our onboard chef is a great chance to learn about traditional Vietnamese cuisine. As water and weather conditions permit, take your chance to go swimming in a sheltered bay. Don't forget to delight in a stunning sunset before sitting down to have dinner on board.
Overnight on board.
Day 9: Disembark & Back to Hanoi – Fly to Laos (B, D)
Wake up in the early morning to immerse in the majestic beauty of Halong Bay. Join a Tai Chi class on deck to do some exercises before having a morning's delicious buffet breakfast. Step off at Ti Top Beach and ascend to the top of a nearby peak for breathtaking panoramic views before sailing back to the cruise pier on Tuan Chau Island.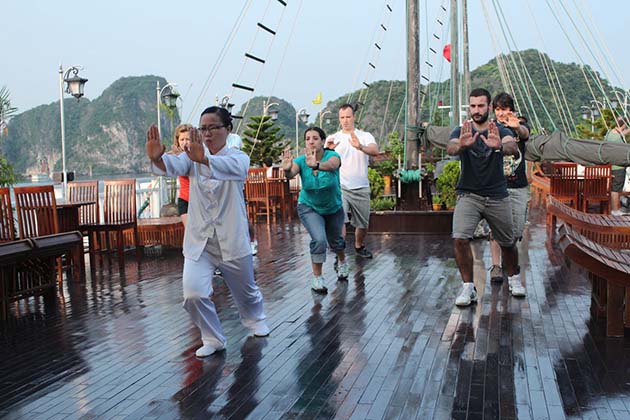 Upon disembarkation, you will be transferred to the airport in Hanoi for your flight to Laos. As you arrive in Luang Prabang, our tour guide and driver will escort you to the hotel and help you to complete all the necessary procedures. You are free at your leisure for the rest of the day.
Overnight in Luang Prabang.
Day 10: Luang Prabang – Explore the Temple, Palace & The living Lands Farm (B, L, D)
Your discovery of Luang Prabang starts this morning at Wat Xieng Thong, a splendid Buddhist temple with intricate carvings, rare Buddhist deities and the revered Tree of Life mosaic. Then head to the Royal Palace, which was constructed over a century ago, is home of the King of Cambodia and his family and served as a venue for the performance of court ceremony and ritual. You also have a chance to take in the views from atop Mountain Phousi before sitting down to lunch.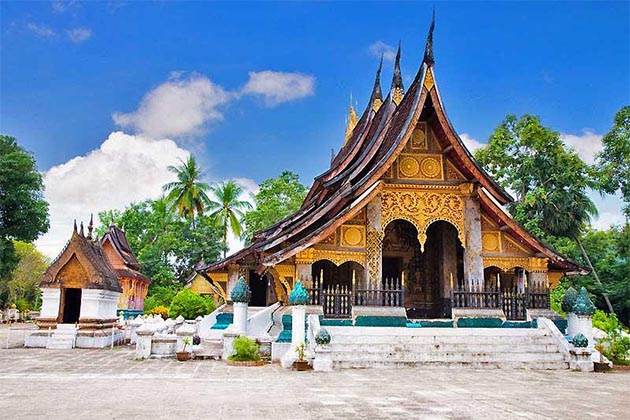 Following your lunch, spend the time to continue your journey at the Living Lands Farm, a community project designed to develop sustainable farming techniques. You will gain an authentic hands-on experience when joining Laotian farmers in the labor-intensive process of rice cultivation. Learn how to plant rice and try your hand at guiding a water buffalo to plow the field.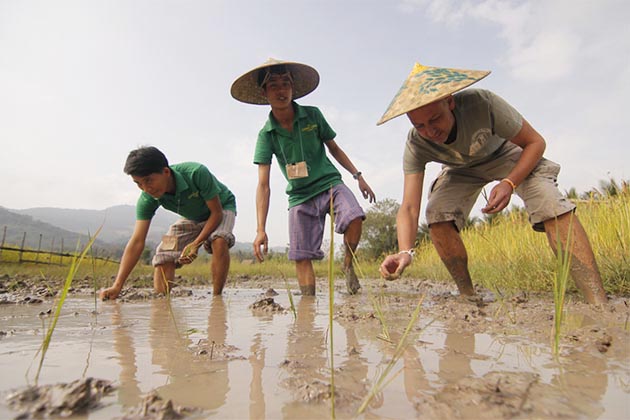 If all that sounds a bit too adventurous, you can help with the harvesting of other organic vegetables and herbs or learn how to husk rice. Faced with other destructive farming methods that persist elsewhere in Laos and the rest of Asia, Ling Lands Farm has successfully demonstrated the potential of sustainable organic farming methods. After exploring the farm, return to your hotel and take free time for the rest of the day.
Overnight in Luang Prabang.
Day 11: Luang Prabang – Laotian Culture & Tribal Traditions (B, L, D)
Arise in the early morning to the sound of reverberating temple gongs. You should not miss the daily alms ritual when hundreds of saffron-robed monks walk silently through the street. Giving alms is an important religious activity which is respectfully carried out by Buddhists in Laos. There are two ways for you to admire the ritual: You will join local residents in giving the monks foods such as sticky rice, cake,.. or just observe quietly from an appropriate distance. Anyway, remember to dress politely with your shoulders, chest, and legs are covered because it shows your respect to the monks. For the most convenient way, you should let your tour guide know your decision a day in advance if you will participate in the ritual or not, he/she can help you to prepare some offerings.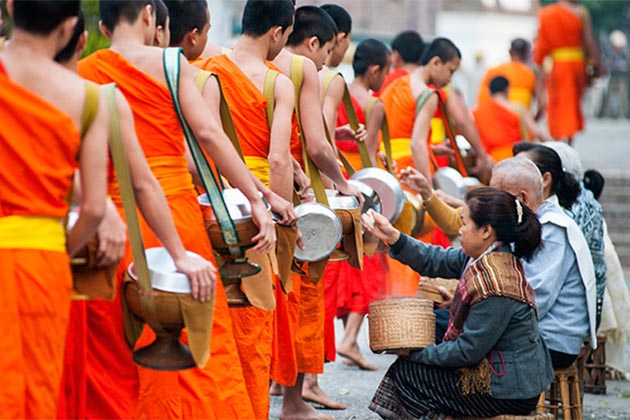 Return to your hotel for breakfast, then you will embark on a fascinating excursion into the mountains. Enjoy the spectacular views and visit a family farm to learn about some of their local crops and lifestyle in the countryside. You also have a chance to gain insight into tribal culture and tradition. Be sure to bring a swimsuit as you also visit Kuang Si Waterfall, which offers tranquil terraced pools and beautiful cascades, is a perfect place to relax. Your morning journey will end at a local conservation center where you will learn about their work rescuing sun bears from the illegal wildlife trade.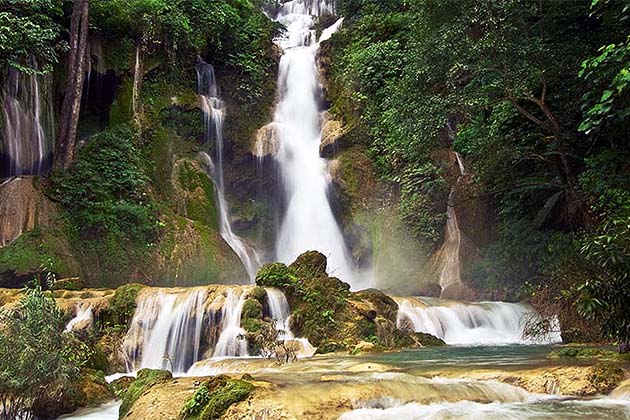 After lunch, return to the city to spend time exploring Ock Pop Tok – the East Meets West Living Crafts Center. Established to empower local women and to preserve traditional Laotian handicrafts, especially weaving, this unique community project is set in a charming house on the banks of Mekong. Take time to engage with the woman and observe how they work their looms, creating fine textiles with both traditional and modern designs. You can hand-dye a scarf and experience at spinning and weaving. After that, you can enjoy a sunset cocktail in the pleasant garden café of the Living Crafts Center before returning to the hotel.
Overnight in Luang Prabang.
Day 12: Luang Prabang – Royal Palace & Fly to Siem Reap, Cambodia (B)
Enjoy a leisurely morning and then transfer to the airport for your onward flight to Cambodia. Upon arrival in Siem Reap, you will be greeted and driven to the hotel for check-in. The rest of the day is your free time to do whatever you want.
Overnight in Siem Reap.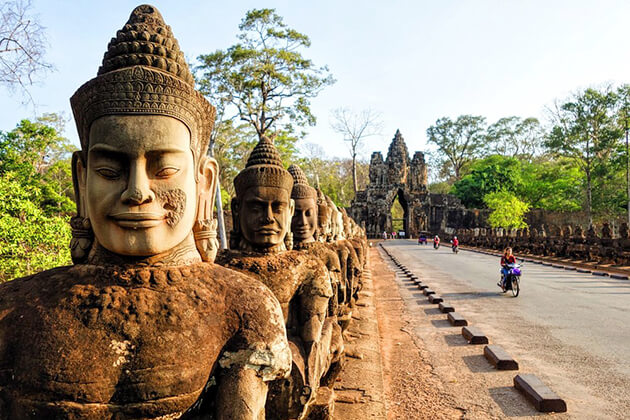 Day 13: Siem Reap – Explore the Temples of Angkor (B, L, D)
Your trip to Cambodia starts with a full-day tour of the sprawling Angkor complex, head to the impressive South Gate of Angkor Thom, where ancient statues of the Gods of Good and Evil line the entrance. Then soak up the nearby Bayon Temple which is renowned for its magnificent carvings – hundreds of smiling faces that adorn its ancient towers and complicated bas-reliefs that tells the stories of daily life during the Khmer Empire and the battles they waged. You will also visit the Terrace of the Elephants and Ta Prohm which is largely left in its natural state and surrounded by the massive roots and limbs of the encroaching jungle.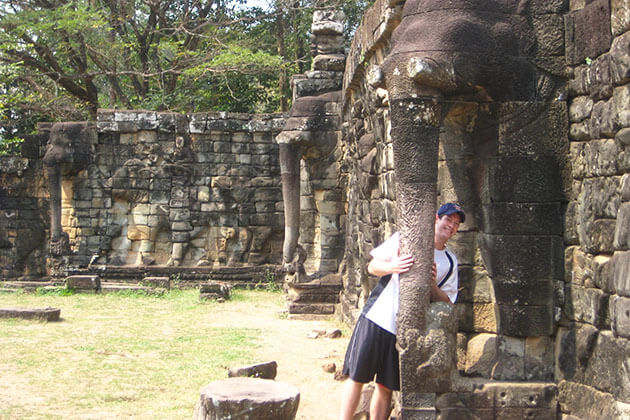 After lunch, start your afternoon journey to explore the imposing majesty of Angkor Wat, the largest temple religious monument in the world. Inspired by 12th century Hinduism, it took approximately 30 years to build Angkor Wat, including the intricate bas-relief carvings which adorn all four sides of the temple. Last but not least, your guide will lead you to a prime vantage point to enjoy the poetic sunset over Angkor, a magnificent and unforgettable spectacle.
Overnight in Siem Reap.
Day 14: Siem Reap – Tonle Sap Lake & Fly to Bangkok, Thailand (B, L, D)
Today's journey will be started after breakfast in the hotel. Travel to the shores of Tonle Sap Lake, the massive freshwater lake that dominates the map of Cambodia. A morning excursion aboard a shaded boat cruising you across the tranquil lake waters to observe traditional floating villages and small fish farms. You will have an opportunity to get a fascinating up-close look at the enduring traditions and daily rhythms of life in rural Cambodia. End today's sightseeing at Banteay Srei, also known as the Citadel of Woman, this delicately carved, pink sandstone temple is considered one of the finest of all temples in the breathtaking Angkor Complex.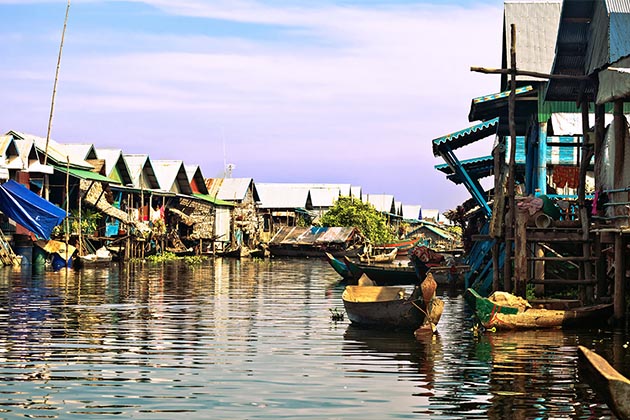 In the late afternoon, you will be driven to the airport in Siem Reap to take your included flight to Thailand. Upon arrival in Bangkok, our driver an guide will welcome and transfer you to the hotel. Take time to relax afterward.
Overnight in Luang Prabang.
Day 15: Bangkok – Full day City Tour (B, L, D)
After breakfast, you will step out to begin your exploration of Bangkok. Start to tour the spectacular Grand Palace. The sprawling complex is home to ornate structures that speak to the grandeur of Thai architectural tradition and history. Your sightseeing continues with the city most's significant temples including Wat Phra Kaew.
Known as the Temple of the Emerald Buddha, this reserved sites house a 2-foot tall image of the Buddha that sits atop a golden altar. Often adorned in a seasonal costume, this culturally priceless statue of the Buddha is meticulously carved from a single block of jade. After your morning sightseeing, you will be free to explore for the rest of the day. We will gather for a farewell dinner this evening.
Overnight in Bangkok.
Day 16: Bangkok – Departure (B)
After your breakfast and a free morning, you will be transferred to the airport for your homeward flight. Enjoy your Southeast Asia tour!