Sapa has many unique fairs that attract tourists to travel. Can Cau Market is a big market in Sapa, is a beauty in daily life of local people. Coming to Can Cau, tourists will be amazed by the bustling and colorful scene here.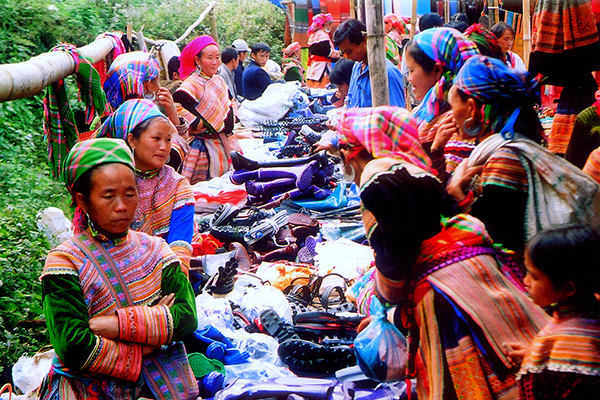 Cau Cau Market is situated in Can Cau Commune, Si Ma Cai District, Lao Cai Province, from Lao Cai City nearly 100 km to the northeast and from Bac Ha Town about 30 km to the north. Coming here, visitors have the opportunity to know about both the colorful highland market and the daily life of the locals.
The market is opened every Saturday from 6 a.m until the middle of the day. From a distance, the market looks very fairy and vivid. It is located on 153 Str – the only road connecting Bac Ha Town and the borderland town of Si Ma Cai. Around the market terraced fields overlapping, the majestic mountains rolling… All of them create spectacular scenery.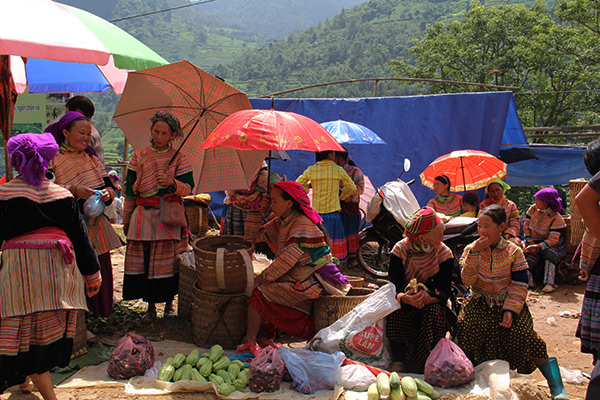 The market is divided into separate areas for all kinds of goods. Goods such as vegetables, herbs, spices, utensils, household products and colorful brocades that show the talent of ethnic women, are gathered in an area and are displayed on the plastic sheets on the ground.
However, perhaps the most prominent is the area selling livestock, poultry because Mong, Hoa, Giay people like animals and want to choose the good cattle for agriculture. The atmosphere in this area is very boisterous.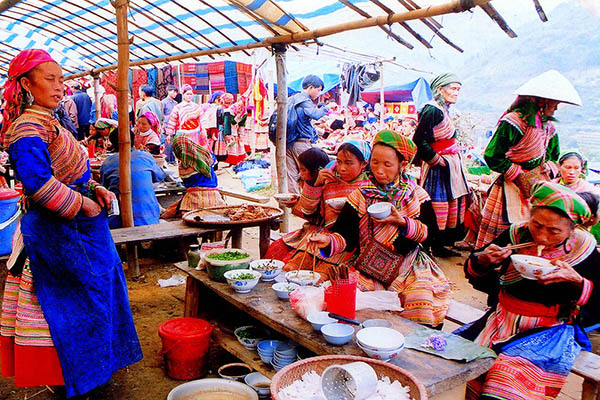 Besides, the area for the traditional cuisine is also extremely crowded. Under simple stalls with the mixture of different sounds, tourists sit down and enjoy the unique food along with ethnic people. The dishes here are similar to those in Bac Ha Market such as Thang Co, Mem Men, Banh Duc Ngo, Pho…. In particular, the most popular food is Thang Co – a dish made of organs of horse.