The northern province of Ha Nam, Vietnam has been making all effort to prepare for the 2019 United Nations Day of Vesak Celebrations scheduled for May 12th – 14th, 2019.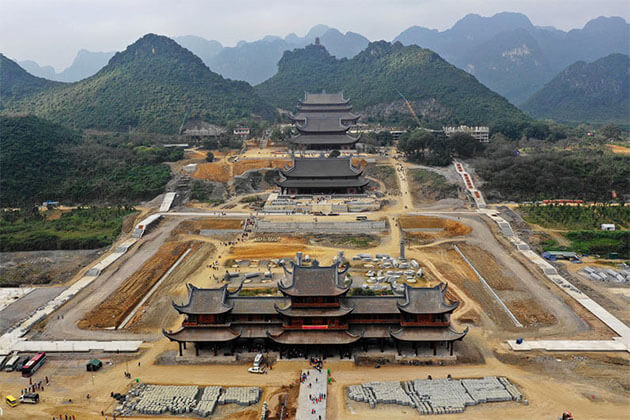 Located in Ba Sao, Kim Bang district, Ha Nam province, covering the area of 5,000 ha, with various ancient treasures, Tam Chuc Pagoda is the biggest temple complex in the world and considered "The Halong Bay on land". It will be the religious center connecting Huong Pagoda (Hanoi) with the complex of Van Long – Hoa Lu – Tam Coc – Bich Dong – Trang An – Bai Dinh (Ninh Binh). Tam Chuc Temple is also chosen to be the place for United Nations Day of Vesak 2019. Therefore, the construction of the temple is rapidly being completed.
A great hall, a number of temples and shrines and an electric car park have been completed. Also, several other religious structures such as water temple, a sutra garden, and hallways are scheduled to be completed in April.
The land has also been cleared and transferred to the construction company in order to build the supporting facilities and landscape elements.
Ha Nam Party Secretary, Nguyen Dinh Khanh, stated that the province is asking for the construction company to accelerate the progress and ensure security, safety, environment, and other conditions to welcome the tourists.
The United Nations Day of Vesak 2019, which celebrates Buddha's birth, and death, is expected to witness the attendance of 1,500 religious dignitaries, researchers, scientists, and managers from countries and territories worldwide, and nearly 10,000 Buddhist followers and people.
This will be the third time the UN's commemoration of Vesak is held in Vietnam. Previously, it took place in Hanoi in 2018 and in Ninh Binh in 2014.
The event affirms the Party and State's attention to citizens' religious freedom, contributing to strengthening international exchange within the global Buddhism's contributions to dealing with global issues. It also gives a chance for the global Buddhist community to raise mutual understanding and share interests from Buddhist values and traditions.