Dominant by rural landscapes, Cambodia itself makes it a playground for ecotourism experiences. There is a string of ecotourism projects, tours, and sites dotted throughout the country. As more remote areas of Cambodia become accessible and infrastructure are improved, traveling to the country's bounty of off the beaten track destinations is becoming much easier. It results in a swathe of ecotourism sites and local experiences being developed. Here are the top best ecotourism experience in Cambodia to whet your appetite.
Chi Phat
Chi Phat is one of Cambodia's first community-based ecotourism initiatives, which has proven a hit since the starting moment. The community is located in the heart of Southeast Asia's largest rainforest, the Cardamom Mountains. It is home to an expanse of rare flora and fauna, the remote area is full of dense forest, grasslands, mountains stretching to the horizon and taking in waterfalls, villages and exotic wildlife. The last decade has seen the Cardamoms open up, however, while much of it remains off limits, an increasing number of homestays and tours into the heart of the jungle have launched. NGO Wildlife Alliance was the first to take action by working with the villagers in Chi Phat community to open a range of authentic homestays. Additionally, former poachers have been trained as guides to instruct guests to hike or ride a bike through the jungle as well as many other activities.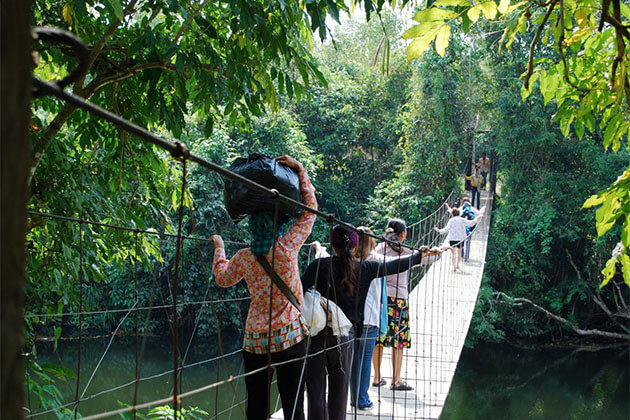 Trapeang Sangkae Community-Based Ecotourism
The main aim of this Kampot-base initiative is to save the mangroves that are being torn from the province's waterways to improve the fishing communities in the area. Serving as a shelter for fish and squid, the decimation of the mangrove makes an impact on the fish that the minority Cham fishing communities rely on. Since 2009, the villagers have been cultivating mangroves in self-made nurseries that skirt the river, and more than 1,200 trees have been planted. A lot of fascinating activities are also developed such as kayaking, day trip tour with local fishermen, planting mangroves and swimming in the lake. Homestays are available here, with all profits being plowed back into the community.
Elephant Valley Project
For the ultimate elephant experience, you should not miss the Elephant Valley Project which is located in the heart of the rolling northeastern province of Mondulkiri. Travelers will have the rare chance to get a closer look in the mammals while learning about the negative effects of elephant tourism. The sanctuary offers a permanent or temporary respite for over-worked and neglected elephants to relax and enjoy life in their natural habitat. Thus, you should not expect any elephant rides because the project strongly advocates against this activity. Instead, tourists can spend time observing the beasts wallow in mud, wash in the river and stomp through the jungle, tearing saplings out with their trunks.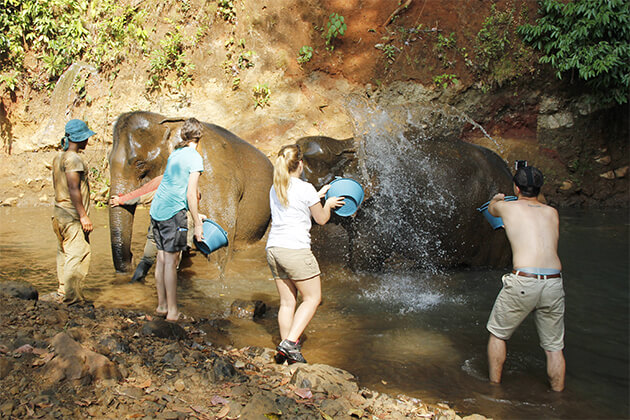 Phnom Tamao Wildlife Rescue Center
NGO Wildlife Alliance has worked tirelessly to rescue, rehabilitate and conserve the country's swathe of endangered and rare wildlife from the clutches of illegal traffickers and poachers. Rescued wildlife are taken to Phnom Tamao Wildlife Rescue Center, where they are nursed back before being released into the wild. Those animals which are unable to return to their natural habitat live out their life at this center. It is a full day in the life of a zookeeper's programme giving tourists the chance to see animals at a closer distance. Tourists can hand-feed elephant, feed baby macaques, enter tiger's private den and get within a whisker of leopards, gibbons and many other animals.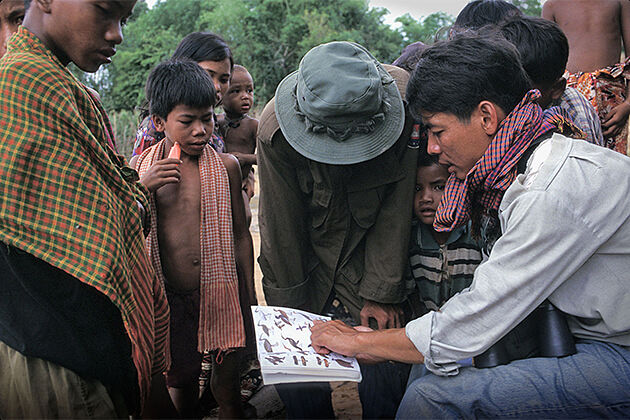 Wildlife Alliance release station
If living among nature is your interest, then another of Wildlife alliance's pioneering projects is a visit to its wildlife release station in the heart of the Cardamom Mountains. After being looked after at Phnom Tamao Rescue Center, animals that are fit to be released into the wild are transported to the remote location where they are kept prior to their new lives. At the station, you can see animals including sun bears, gibbons, monkeys, and birds are reserved close to each other. Rangers will explain each story for you. Also, visitors can help feed wildlife and monitor their progress. Trekking through the surrounding jungle takes you in rare flora and fauna, thick jungle, waterfalls, and swimming holes. Accommodation is provided in the form of basic bamboo buts built by nearby villagers.
Sam Veasna Center
The main mission of this project is to protect and conserve the country's population of rare and dwindling birdlife. Since 2006, this organization has been leading half-day to 21-day custom birding and wildlife tours to some of the most important and protected areas in Cambodia. Some destinations include the Tonle Sap floodplain, the eastern plains, and southern Cambodia. The wildlife tours offer a chance to see a wide range of species such as yellow-cheeked crested gibbon, black-shanked douc langur, plus Asian elephants and bears.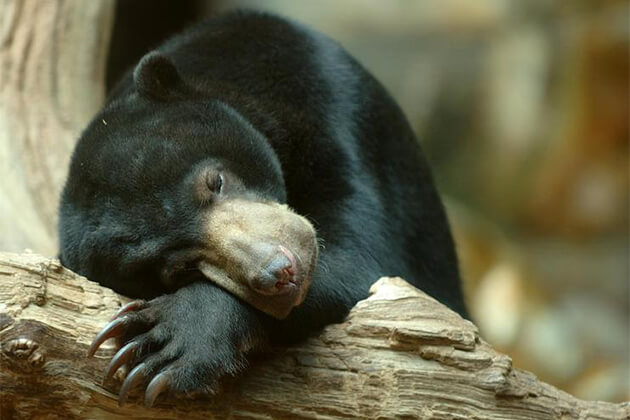 Visit Banteay Srei
The Visit Banteay Srei project launched in 2016 with a network of local houses are opened in the form of homestays. Businesses are also welcoming tourists wanting to get a glimpse of daily lifestyle in the rural district, which locates outside of Siem Reap. The site offers homestays, activities, and itineraries that take in nature, food, culture, lifestyle, and handicrafts. The main attractions are Banteay Srei Temple, called the Jewel of Angkor for its intricate carvings. The beauty of this temple is unlike Angkor Wat, it is not over-run with tourists, making meandering around the ancient site much more pleasurable.
Cambodia Rural Discovery Tours
The rural province of Kratie is starting to welcome tourists wanting to get off the beaten track. And for those seeking authentic Cambodia, this is definitely a must-visit destination. Cambodia Rural Discovery Tours have recruited and trained locals, who have background knowledge about the area to carry out a series of tours across Kratie. Trips include a variety of homestays, cycling through the countryside, observing endangered Irrawaddy dolphins swimming in the Mekong, boat trips,… Cambodia Rural Discovery Tours also operates training courses for locals to improve and enhance the necessary skills for sustainable tourism.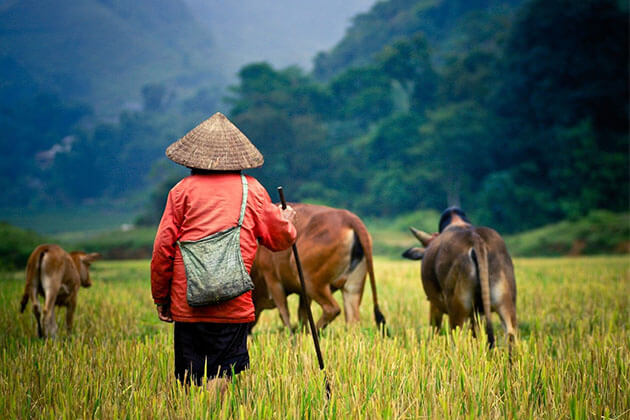 Chambok ecotourism site
A visit to Kirirom, approximately 2 hours from Phnom Penh, is like entering another world. The pine forests resemble a scene from a warm summer's day in Europe, with a comfortable temperature. Chambok is a dedicated ecotourism site where travelers can immerse themselves in nature, enjoy cool climes of the mountain area and communicate with local people. The Chambok Community protected Area launched in 2002 and comprises of 520 families from six villages. Tourists can go camping in the forest, participate in traditional cooking classes, trek or bike through the jungle, take an ox-cart ride or learn traditional dancing from locals.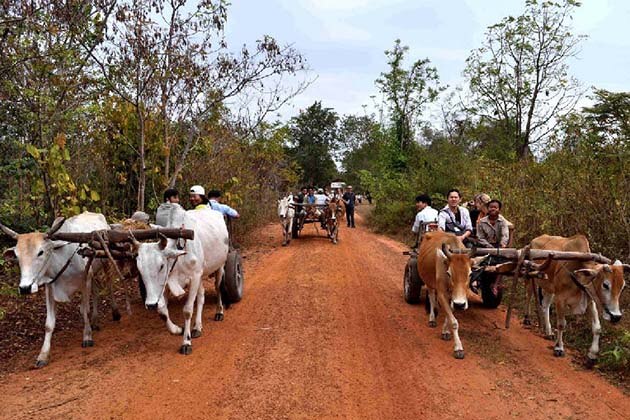 Betreed Adventure
Hidden completely out of the way in northern Preah Vihear province, Betreed Adventure is the perfect trip for nature lovers and thrill seekers alike. Its main purpose is to protect over 6000 ha of savannah land which houses various threaten and endangered species, including banteng, pileated gibbons, silver langurs, barking deers,… Visitors can also discover cave temples dating back to Angkorian times, quarries where the stones used to build the country's glorious temples were carved from and many more.