From the sixteenth century, generations of Chinese people considered Hoi An is the ideal place to settle, trade. So, they built many Assembly Halls with the role of gathering places for community activities. Over many variations of the time, these Assembly Halls has been preserved in beautiful architectures, religions and customs. It has become an indispensable part of the world heritage area of Hoi An. Amongst them, Hainan Assembly Hall is a significant spiritual destination for travelers.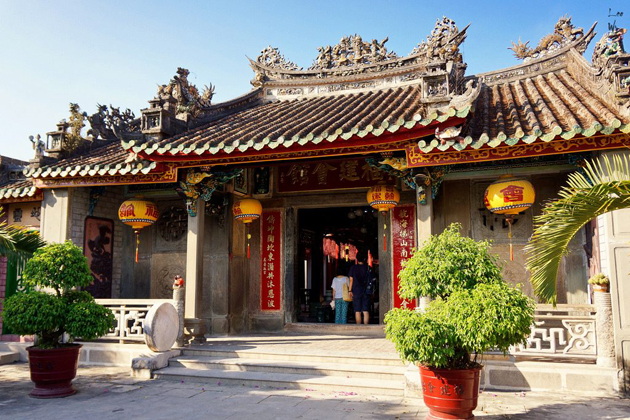 The hall is situated at 10 Tran Phu Street. It was built around 1851 by the Chinese residents of Hainan County, who lived in Hoi An in order to serve the community and religious activities of Hainan and Jialing people. It dedicates to 108 Chinese merchants who were wrongfully killed because they were misunderstood to be pirates. Later, they were exculpated by King Tu Duc. And he provides the money to build this assembly hall in order to worship them forever.
Hainan Assembly Hall is located in an enclosure. To enter inside, tourists need to pass via the metal gate and the square pavilion which has the function as a sitting room. After that, visitors will approach a large yard with many ornamental trees, the west hall, the east hall. The main hall is for worshiping 108 Chinese people killed at sea. The founders of the hall are worshiped on the left of the main hall, the God of Wealth is honored on the right side. The architecture is roofed with tube-tiles and its frame is made of wood.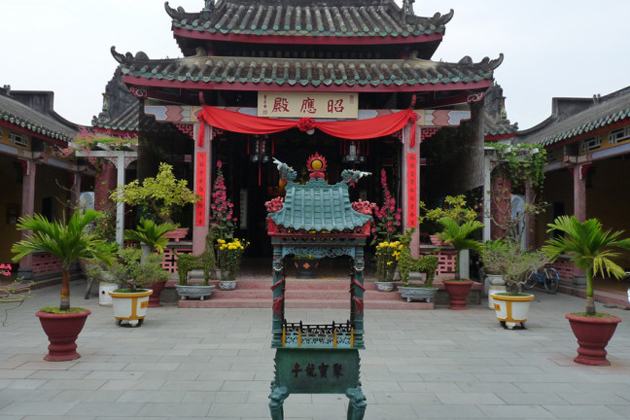 With the harmonious and ingenious combination between types of materials and the talent of the artists, the work looks formal, grave as a worship place but still cozy, mounted members in the community.
Each year, Hainan people in Hoi An and other places often gather to hold the ceremonies on the 2nd of the first month and the 15th of the sixth month of Lunar year. It can be said that Hainan Assembly Hall is one of the most amazing structures in Hoi An.