Halong Bay is a quiet sea area with thousands of islands and caves, making up the glamorous and lively beauty. In which, Hanh Cave is the longest cave in the bay, is currently an interesting stopover attracting a lot of tourists in Halong Bay tours.
Hanh Cave is located from Cam Pha City 9 km, this is an extremely beautiful cave and still keeping the pristine look. With a length of 130 m, the cave runs under Quang Hanh Mountain, the cave's entrance is connected to the sea, so French people call it Le tunel (tunnel).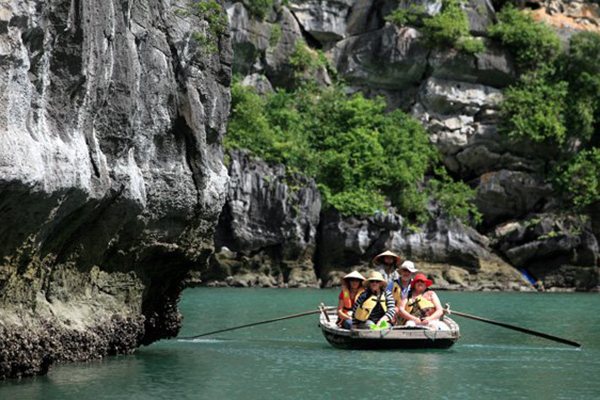 The entrance is surrounded by the sea and only appears when the tide at the minimum level, therefore if tourists want to visit the place, they must choose the suitable time. Visitors need to bring a torch or flashlight for lighting to see clearly the surroundings because inside the cave is very dark. The shimmering light of torches is shed on the stalactites hanging from the ceiling, reflecting, creating a fanciful painting.
The more deeply we go, the more fancy images appear. That's a diverse number of stalactites, stalagmites, stone flowers which were made by the skillful hands of nature. With the imagination, you can easily find a shimmering scene of a magnificent castle with the sparkling diamond blocks, colourful party tables, and flashing chandeliers hanging down.
This cave almost does not have the impact of human hands, and still keeps a pristine look. For adventurous ones, this is really a great experience. Some travelers lost in the stunning beauty of the cave and forgot that the entrance was covered by the water sea, so they had to stay in the cave for a while. However, they were just panic a little bit initially, then continued to be passionate in front of the fairy landscape here.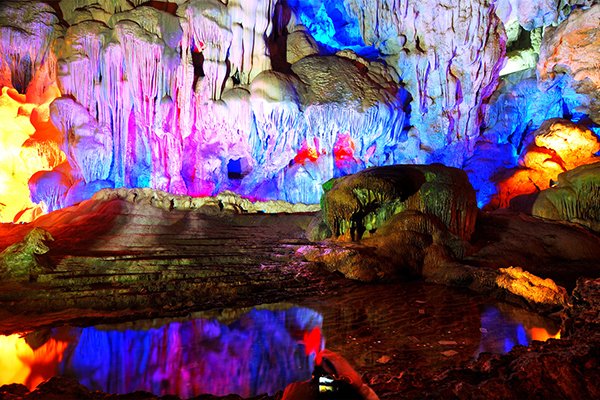 Besides, after visiting Hanh Cave, you can visit Three-girl Shrine (Ba Co Shrine). According to legend, very long ago, on a stormy day, there are three girls came in the cave for sheltering. Due to this place had such a wonderful scenery, they sank in admiring it and did not know that the tide was rising and quickly filling in the entrance. The three girls were so panic that they could not find a way out and perished here then turned into Water Gods. Later, fishermen in the region built this shrine to wish the three girls to bless the calm sea to get productive fishing seasons.
With the mystery and its strange features, Hanh Cave today is increasingly becoming an attractive place for those who love to explore. In your Halong cruise, do not miss this amazing landmark!