Although Halong Bay owns a diversity of stunning caves, tourists travelling here never feel boring because each of cave has interesting differences. Dau Go Cave is also a unique cave, bringing a beauty of the moss and miracle. Halong residents even say that cruising Halong Bay, tourists can skip other caves except Dau Go Cave, proving the prominence of the cave amongst a huge system of caves.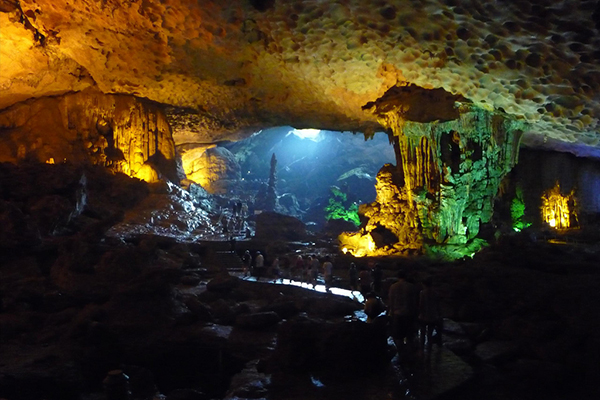 Lying immense area of Halong Bay, Dau Go Cave is located on Dau Go Island, from Paradise Cave about 300 metres. Looking from a distance, the cave is blue, bringing the shape of a jellyfish, through 90 stone steps, we will reach the entrance. The arches of the cave are about 25 meters high, from above hundreds of giant stalactites hang down like a strange waterfall.
Dau Go Cave's structure exudes the massive, ancient, pristine and quiet beauty with lots of towering stone columns as if they want to reach the ceiling. In particular, due to the extended entrance, the humidity in the cave is often high, the sunlight can beam into, creating the favorable condition for the development of flora… This is the difference of the cave from many other caves in Halong Bay.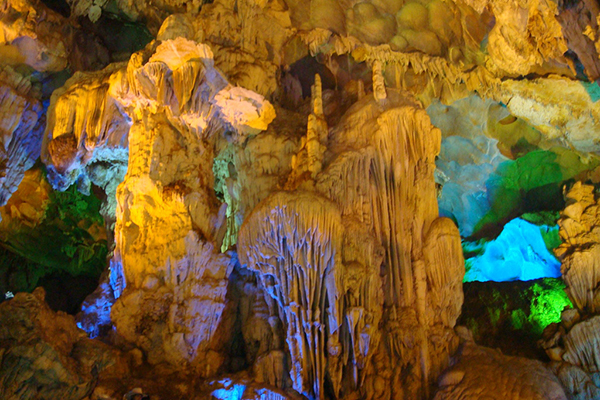 The cave is divided into three main compartments. The external compartment is arch-shaped, overwhelmed by light. On the ceiling there is a giant canvas describing the unspoiled natural landscape with diverse stalactites in many colors and strange shapes, making visitors think of the elephants herds foraging, bewildered deers, sleeping lions or a turtle swimming between the clear water tank …
Go through the first compartment, pass a narrow door, tourists will enter the second compartment of Dau Go Cave. The rays of sunlight crept into here, creating a fanciful scene with bunches of hidden stone flowers, undulating rock islets on the water … like shimmering mysterious paintings…
Into a third compartment, the cave gets expand, various garish stalactites on the ceiling, on the background giant stone pillars were created sophisticatedly by the hands of the Creator. Innermost of the cave there is a heaven well with the clear fresh water in four seasons.