Hoa Lu was the capital Dai Co Viet(former name of Vietnam) nearly 10 centuries ago, situated in Truong Yen Commune, Hoa Lu District, Ninh Binh Province. It's from the capital Hanoi around 100 kilometres to the north. Despite being chosen as the capital of Vietnam in a short time (about 42 years), this is the place experiencing a lot of important events which related to the destiny of the whole country.
Hoa Lu Ancient Capital is about 300 hectares wide, surrounded by a series of mountains with the majestic landscape. The spaces between the ridges were built with bricks, with a height of 8-10 meters.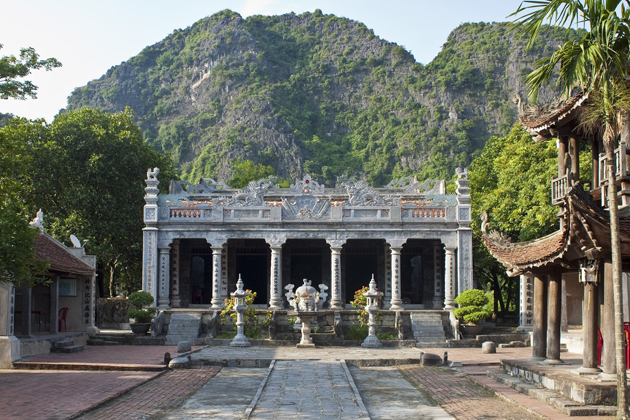 Hoa Lu Capital consists of External Round, Internal Round and South Round. External Round is about 140 hectares wide, located in Yen Thanh Village, Truong Yen Commune. The center is the shrine of worshiping King Dinh Tien Hoang . In front of the palace, there is Ma Yen Mountain.
Internal Round is located in Chi Phong Village, Truong Yen Commune, where children and the maids in the palace were raised.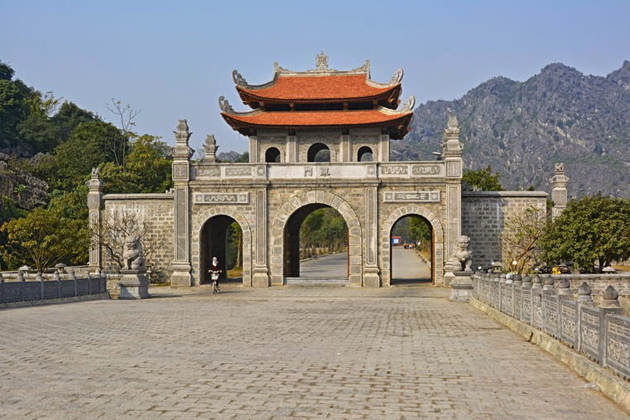 South Round is opposite and be connected to External Round. This place is surrounded by high mountains, with the function of protecting the back side. In the past, from here, people in the capital can quickly get out on waterway.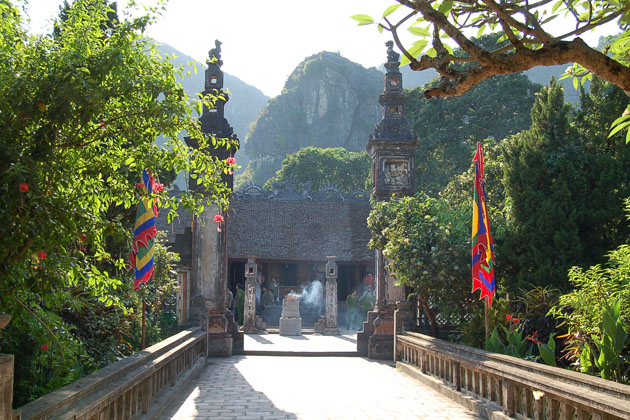 On the south, we see Flag Column Mountain, with the flag of Dai Co Viet, the location the king trained his navy, Tien Cave which stores national property, Thien Ton Cave to pinfold tigers, with the aim to execute prisoners.
Until the reign of King Le Hoan, he ordered to build more splendid palaces such as Bach Thao Thien Tue Palace, Phong Luu Palace in the east, Vinh Hoa Palace in the west, Penglai Palace on the left hand, Cuc Lac Palace on the right, Hoa Van Palace, Truong Xuan Palace, and Long Loc Palace which is tiled with silver.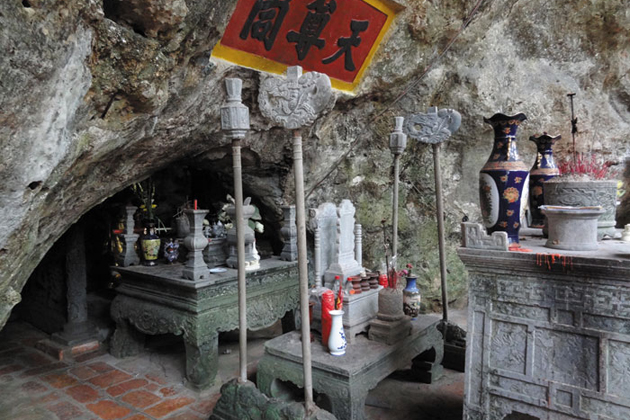 Experiencing bountiful ups and downs of more than 10 centuries, the historical monuments in the ancient capital virtually were ruined. Currently, we only can see the shrines of King Dinh and King Le, royal families and the panjandrum in the court which were built in the seventeenth century.
Hoa Lu Ancient Capital in Ninh Binh has created the priceless historical value for this eco-tourism area. Apart from nearby popular locations like Tam Coc – Bich Dong, Trang An, this site is more and more attracting tourists from every corner in the world coming to discover.