Coming to Hue, travelers hardly miss the opportunity to witness the ancient structures associated with the life, the legends, the stories about the feudal kings. Imperial Tomb of Tu Duc is one of the most beautiful works in Hue. It is famous for the poetic and lyrical beauty, bringing sharply oriental culture. Along with Imperial Tomb of Khai Dinh and Imperial Tomb of Minh Mang, most of tourists rarely miss the opportunity to visit this historical site.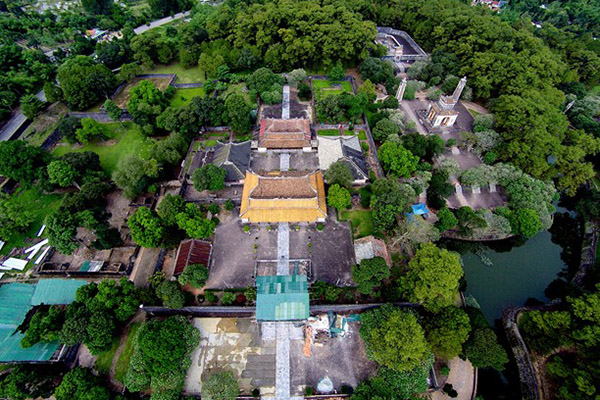 Like other royal tombs, Tomb of Tu Duc is located to the west of the mountainous region of Hue, where the sun setting, the place of eternity. Imperial Tomb of Tu Duc is located in a narrow valley in Duong Xuan Thuong Village, Thuong Ba, Thuy Xuan, Hue.
The tomb was started to build in 1864 and completed in 1873. At first, its name is Van Nien Co with the wish of longevity. However, due to the hard construction, people stood up to revolutionize, later King Tu Duc renamed Khiem Palace. After Tu Duc died, it was renamed Khiem Palace.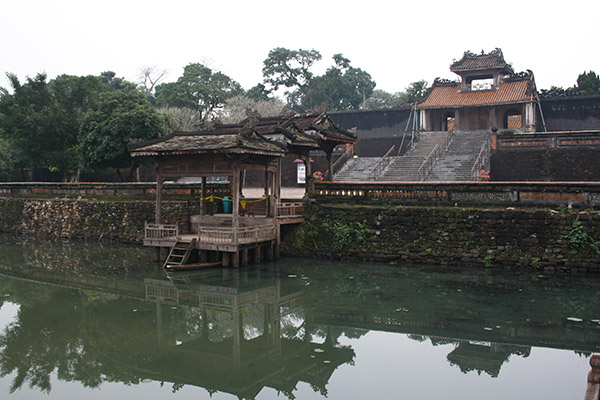 When being alive, King Tu Duc is a poet, living in the chaos time, so he wanted to build his tomb early to have the place to rest, to forget the harsh life. The whole tomb is like a large park with the romantic scenery. Here there is the murmuring stream, singing birds year-round.
The special thing here is the harmony of the architecture: there are no straight roads as the ones in other architectures, but the paved road winding in front of the tomb grave and then suddenly disappeared in the old big porcelain trees line. The creation of men is harmonious with the natural landscape creating a lovely and magnificent scenery.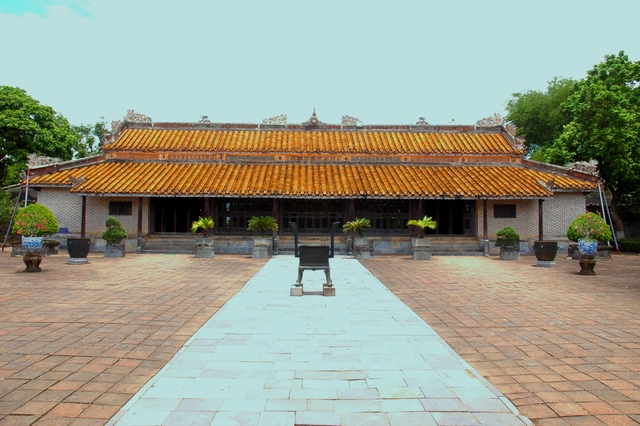 Besides being the burial place, this was the place for king to rest, read or recite poetry. The entire tomb exudes the simplicity, graciousness.
The tomb consists of two parts with approximately 50 works arranged in two parallel vertical axes. The structures are in harmonious with mountains.
The tomb has almost structures as the ones in the capital. Khiem Cung Palace was the place for the king to rest. In the center, Hoa Khiem Palace is the place for the king to work. The two sides were for officials. Behind Hoa Khiem Palace is Luong Khiem Palace, now this is to worship king's mother.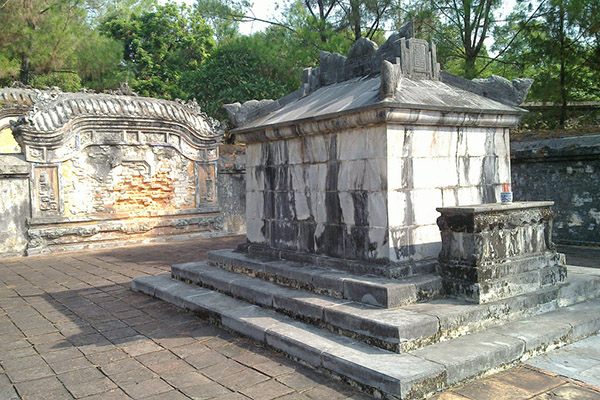 On the right of Luong Khiem Palace there is On Khiem Palace – royal furniture storage. And on the left, it is Ming Khiem Theater, one of the oldest theaters in Vietnam where the king relaxed after work. Besides, there is a corridor leading from On Khiem Palace to Tri Khiem Palace and Y khiem Palace – the accommodation of the king and concubines.
Out of the palace area is the tomb area with two statue rows of officials and Bi Dinh Headstone. After the headstone is king's tomb cladded with stone. Next to king's tomb, there are tombs of queens.