Imperial Tomb of Minh Mang is one of the important tourist sites in Hue. Visitors coming Hue rarely miss Imperial Tomb of Minh Mang because this is the most august and majestic structure among the royal tombs of Nguyen Emperors.
Imperial Tomb of Minh Mang is a majestic royal tomb. This structure is brilliant in architecture, harmonious with nature and brings a deep ideological value.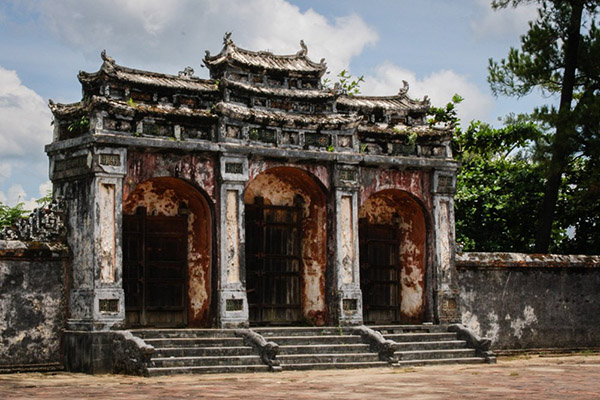 It is located in Cam Ke Mountain, the confluence of Ta Trach River and Huu Trach River, creating Huong River (Perfume River). The tomb is from the center of Hue city about 12 km.
April 1840, King Minh Mang renamed Cam Ke Mountain into Hieu Son Mountain and called the tomb Hieu tomb. The tomb was started the construction on September 1840.
January 1841, King Minh Mang died of the illness, his son – King Thieu Tri took the throne and continued to build the structure according to the original design.
1843, the construction was completed.
Imperial Tomb of Minh Mang is an architecture consisting of 40 projects which are arranged symmetrical in a vertical axis from Dai Hong Gate to the foot of La Thanh Wall behind king's grave.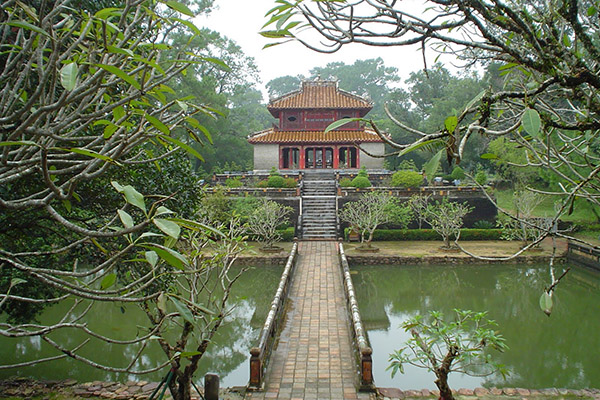 Alternating among structures is fragrant lotus lake and shady hills of pines, creating the charming scenery. The works are distributed on three major parallel axes with the center is Than Dao Path.
Dai Hong Gate: This is the main entrance to the tomb with 3 aisles. The main gate was only opened once to take king's coffin into the tomb. If entering, visitors must past Ta Hong Gate or Huu Hong Gate.
Bi Courtyard: Behind Dai Hong Gate there is a wide yard with 2 rows of mandarins, elephants and horses. Bi Yard lies on Phung Than Son Hill, inside there is the stele King Thieu Tri wrote about the biography and merits of his father.
Palace: It covers Hieu Duc Gate, Sung An Hall in the center and Hoang Trach Gate.
Bright Pavilion: Past through three bridges across Truong Minh Lake, we reach Bright Pavilion built on the hill called Tam Dai Son. The building is square, two floors, eight roofs.
Buu Wall : The wall around king's tomb.