The ancient capital Hue capital is always the place gathering many landscapes, ancient temples. Therein, the most famous pagoda is probably Thien Mu Pagoda. Thien Mu Pagoda attracts visitors because not only by the mystic legends but also the ancient august beauty.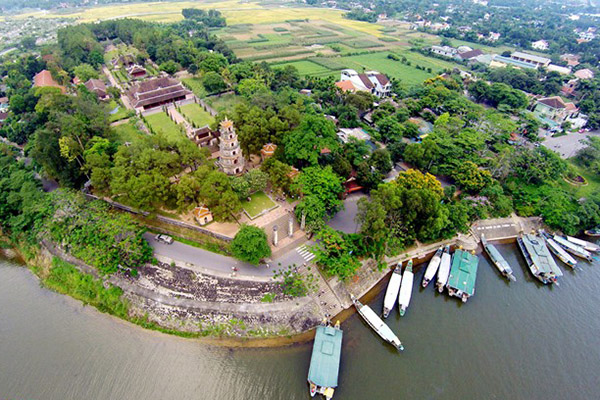 Located on the left bank of Perfume River, on romantic Ha Khe Hill, from the center of Hue city about 5km to the west, Thien Mu Pagoda places between a poetic scenery that used to the inspiration of a lot of works of music and poetry.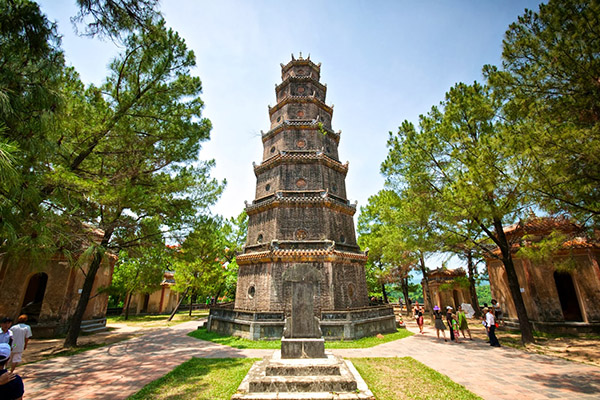 Thien Mu Pagoda was built in the 17th century under the order of Lord Nguyen Hoang.
In 1665, Lord Nguyen Phuc Tan restored the pagoda. At that time, its architectural scale was small.
In 1710, Lord Nguyen Phuc Chu made two giant bell with a weight of 3285 kilos. This is a valuable art works.
In 1714, Lord Nguyen Phuc Chu continued to build more magnificent structures. It was the most-scale restoration of the pagoda.
In the early 19th century, Nguyen Emperors as Gia Long, Minh Mang also had the restoration for the pagoda.
In 1844, King Thieu Tri built Tu Nhan Tower (Phuoc Duyen Tower today) made of bricks, with 7 floors for worship Buddhas.
Early 20th century, the pagoda was heavily damaged by a strong storm in 1904. King Thanh Thai restored it in 1907.
Looking up the pagoda from Huong River, you will see Phuoc Duyen Tower standng in the middle of the yard, before the entrance, soaring the sky.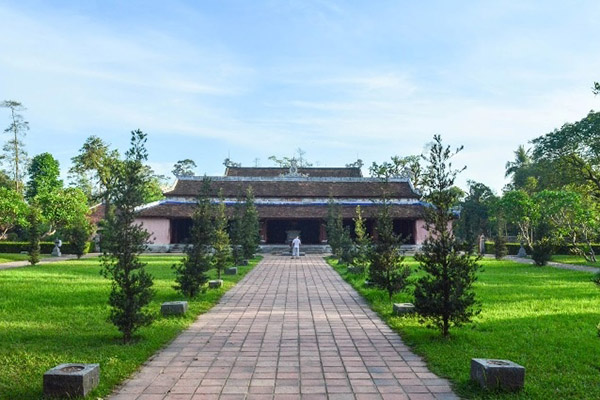 Past Phuoc Duyen Tower, we reach Dai Hung Hall- the main hall of the pagoda. It brings an ancient and majestic beauty. Around the pagoda there is a campus with lush floral gardens.
Looking down from the yard, we see the gentle Huong River, the boats waiting for guests who visit the pagoda.
Besides the beauty of the architecture and history, Thien Mu Pagoda is also a place to store many precious antiques: the horizontal images, the ancient couplets, antique statues, bronze bells, stone steles…