From New Zealand, you can completely discover the three beautiful countries in Indochina. Explore deeply into the heart of Indochina, go through the Southeast Asian peninsula with the vastly magnificent landscapes and fascinating heritage of three gorgeous countries – vivacious Vietnam, enchanting Laos and captivating Cambodia.
* Visa *
In general, you will need a visa if you wish to visit Indochina. First, you must have applications from Vietnamese nationals. It is advised to apply for a visa by one of two following ways:
1. Contact the most convenient Vietnam Embassy (the traditional way to obtain a visa to Vietnam)
2. Apply online for a visa approval letter to get visa stamped at the arrival airport in Vietnam (applicable for air travelers to Vietnam only).
* Flight *
Fly to Saigon, Vietnam's bustling southern city, for example, a three-night stay, it's to you. On arrival, you will be met by your tour guide and transferred to your hotel. The rest of the day is time for entertainment. Due to seasonal changes in airline schedules, passengers may depart one day earlier on an overnight flight.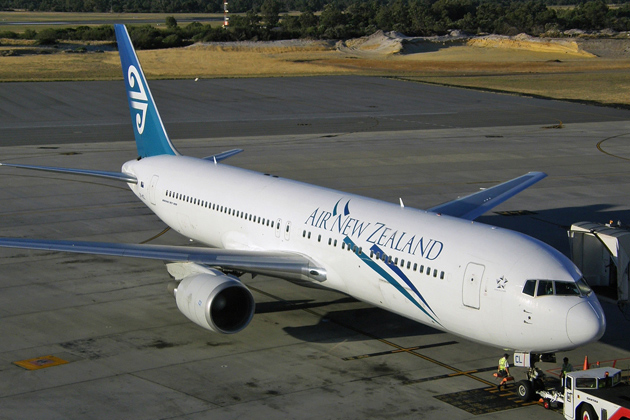 * Communication *
Phone Calls
International and domestic calls can be made from your hotel room. It's a good idea to check call costs with hotel staff or your local guide before making calls, as this can be expensive. To call New Zealand – the international access code is 00, followed by the country code 64, then the local area code (omitting the first 0), then the number.
Mobile Phones
Mobile phones are quite popular and you will find high-quality coverage, with active roaming agreements with most of the service providers. Please make sure you are aware of associated costs and have activated your international roaming prior to departure.
Internet & Email
Internet cafes can be found in all major cities and even in some small towns. This is often the easiest and cheapest way to stay in touch. Most hotels have a business center with internet access but at a slightly higher rate. Some hotels may have wifi which usually comes at an additional cost and may only be available in hotel lobbies.
* Shopping and entertainment *
Shopping and entertaining isan indispensable component to any travel adventure at any time. So, it is so frustrating for you to discover the featured landmarks in Indochina.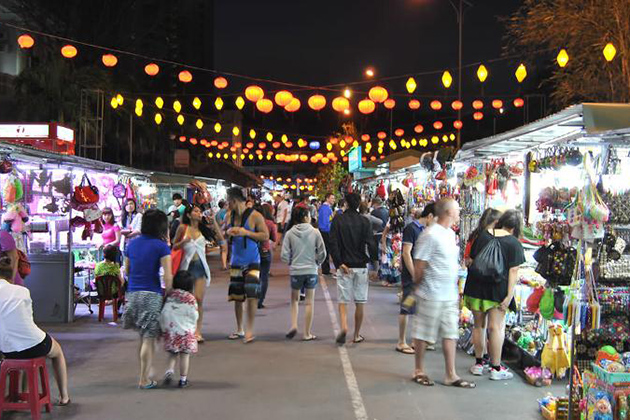 1. Vietnam tours
– Discover Ho Chi Minh City: Sightseeing Vietnam tour includes a visit to Notre Dame Cathedral, the Central Post Office, Reunification Palace and the War Remnants Museum. Later, visit the Cho lon and the Thien Hau Pagoda followed by a stroll through Ben Thanh Market.
– Da Nang City: Fly to Danang and transfer to the UNESCO town of Hoi An, stopping at the Marble Mountains en route. Take a walking tour of charming Hoi An, a wonderful laidback, graceful and willful traditional town. Visit one of the oldest homes, still occupied by descendants of merchants that built it over 200 years ago. Also visit the elaborate Japanese Covered Bridge, Hoi An Market and a local Chinese Pagoda. The afternoon is at leisure to visit the local markets, relax in a riverside café or take an eco-tour.
– Hanoi: In the heart capital of Vietnam, a charming and richly historic city of lakes, parks and shaded boulevards. Sightseeing tour includes a visit to the Temple of Literature, Hoan Kiem Lake and Ngoc Son Temple, Hoa Lo Prison. Museum of Ethnology… You'll also take a cyclo tour of the Old Quarter, an area of market alleys still laid out as they were 300 years ago or see the unique water puppet show.
– Halong Bay: This is the worth place for you to visit. Halong Bay, with its 1,600 islands and islets, was designated a UNESCO World Heritage Site in 1994 and is a vision of awe-inspiring beauty. It isn't hard to understand why it is one of Vietnam's most popular destinations. Enjoy fresh meals on board and spend the night anchored amongst the magnificent seascapes.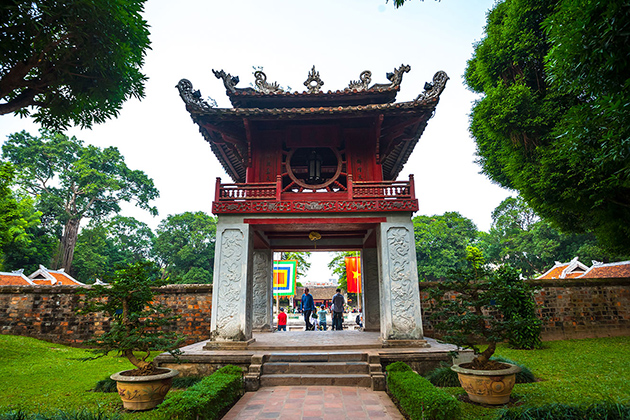 2. Laos tours
Luang Prabang: Rise early to watch a Takbat almsgiving ceremony. Visit Wat Xieng Thong, then cruise along the Mekong River to see the Pak Ou Caves and return Luang Prabang to visit Thin Hong and Ban Xong Khong Village en route is the highlight itinerary.
– Visit the National Museum before continuing to the cascading turquoise waters of the enchanting Kuang Si Waterfalls. Return to Luang Prabang via Ock Pop Tok Weaving Centre. In the evening you can witness a local Baci Ceremony.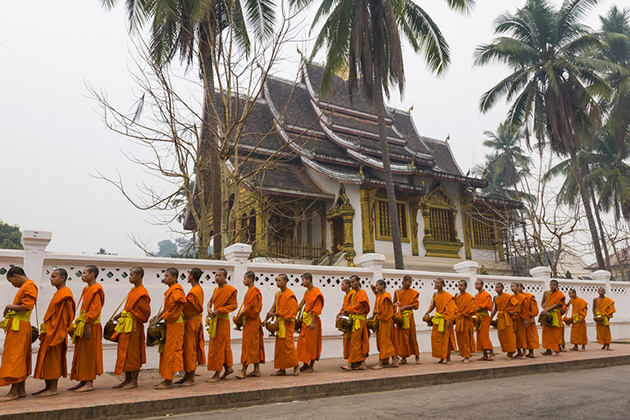 3. Cambodia tours
– Siem Reap: The Angkor Archaeological Park encompasses over a thousand temples, all the remains of different capitals of the Khmer Empire between the 9th and 15th centuries. Rising early, the tour begins at the walled city of Angkor Thom where you'll pass through the magnificent South Gate. At Angkor Thom's center is the enigmatic Bayon, a breathtaking temple of innumerable sculptural decorations. Also, admire the Elephant Terrace and the Terrace of the Leper King. The rest of the day is dedicated to the indescribable Angkor Wat, the most magnificent and best preserved of all of Angkor's treasures. It is easy to while away an afternoon in its shady precincts, examining its wealth of fascinating and intricate embellishments.
– Tonle Sap and Bang Melea: Enjoy a morning cruise on the Tonle Sap Lake where you can see the floating villages and observe the way of life of these lake communities. Back on dry land visit Beng Mealea, a mysterious temple completely overrun by the jungle – release your inner adventurer and explorer. On the way back to Siem Reap, visit Les Artisans D'Angkor, a workshop which teaches traditional crafts to disadvantaged local youths.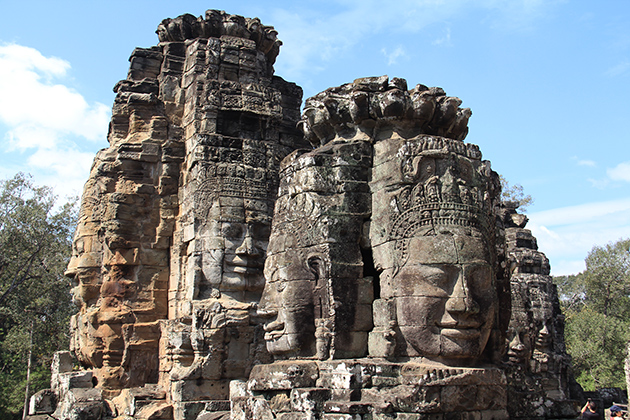 * Food *
It's a pity if we do not enjoy traditional and delicious cuisine in Indochina. Here is a list of not being overlooked food in these countries.
1. Vietnam
– Eat Pho at a street stall
– Try Bun cha in Hanoi
– Explore Hanoi on a food tour
– Sample Bun bo Hue
– Taste Cao lau noodles in Hoi An
– Try banh xeo on a Saigon street food tour
– Bite into a baguette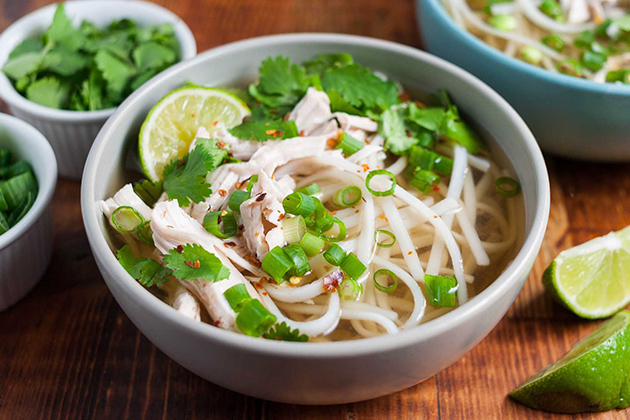 2. Laos
– Sticky rice (Khao niaw)
– Laap
– Tam Mak Houng
– Crusty French bread
– Khausoy
3. Cambodia
– Cambodian Street Food
– Fish Amok (steamed coconut fish in banana leaves)
– Twa Ko (Cambodian sausage)
– Char kroeung Sach Ko (Stir-fried lemongrass beef)