Each country has its own traditional outfit which expresses its own culture, habits, and lifestyle. The type of clothes worn by people contributes to the history of their country, its climatic conditions, traditions, and ethnic groups. Longchy & Taipon – the traditional costumes of the nation show a lot of unique, cultural, and personal traits of this country, setting a strong impression in the hearts of the tourists. Taking an astonishing Indochina tour, Myanmar is a must-see destination to discover its rich history as well as diverse traditions.
History of Myanmar National Costume
The history of Myanmar's national costume dates back to the 18th century when it was intricately designed and worn by those in positions of power at the Konbaung court. The traditional outfit for women consisted of floral head ornaments, decorated blouses, felt footwear, and a htamein, while men wore a turban, hnyat-phanat slippers, a silk jacket embroidered with fur, and a cotton shirt. The costume underwent slight modifications towards the end of the British colonial era in the country.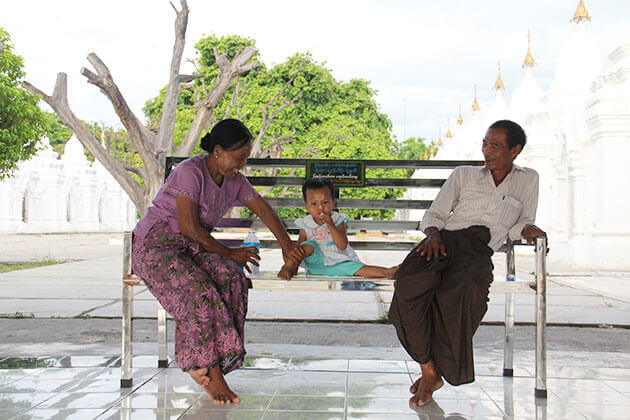 Myanmar National Costume for Male
Myanmar national costume consists of two sets, one for men and one for women. The traditional costume for men is called Longyi, which looks like a dress for women, often ideally combined with the shirt or traditional Taipon. When wearing this dress, men tie it up around the waist and it is normally 2 meters (6.6 ft), running to the feet. However, there are different sizes so that it is suitable with different shapes of the body. Because the dress is simply folded, men often have to adjust it when moving from place to place. Longyi has no pockets so if one wants to carry stuff, they need to put these things outside around the dress, at the waist's position.
Myanmar National Costume for Female
The thummy is the traditional Myanmar costume for women, similar to those worn in Laos or Thailand. The top-wear blouse runs at waist level. The collar varies among many styles such as round-neck, polo-neck, and V-neck. There is a 5-inch-wide stripe of cotton attached to the top of the skirt called "Ahtet Hsin", keeping the skirt tightly to avoid incidents.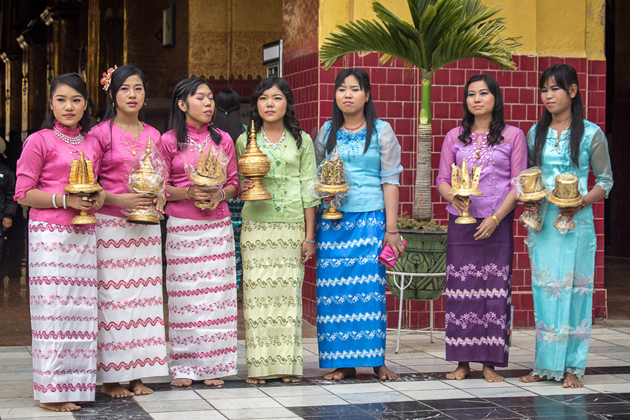 When Myanmar People Wear Their National Dress
People in many countries have traditional clothes on special occasions whereas Myanmar wears their costumes every day. The reason is they are comfortable under the country's weather and it is also easy for people to take off their clothes when needed. While Myanmar men wear dark-colored clothes, women dress in colorful ones with diverse patterns, especially the flowers. Both of them wear flip-flops. However, on special occasions, people dress in European clothes with shoes. And the most interesting use of the costume is being a raincoat or a sun-avoiding coat when necessary.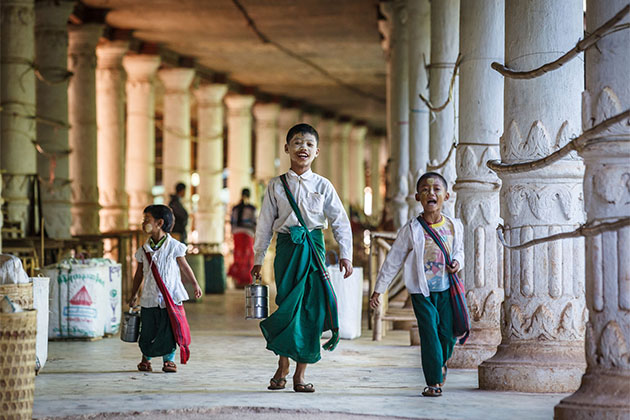 Myanmar people are not fussy about dressing in a particular and living manner in general. Women rarely wear makeup. They just apply Thanakha powder to avoid the sunshine. Therefore, when visiting Myanmar, tourists may feel close to this country where there is full of friendly and hospitable people. It is really worth it for anyone coming to Myanmar, trying on Longyi or Thummy, and experiencing the lifestyle here so that tourists will have a true impression of this lovely country.
Development of Myanmar National Costume
It can not be denied that today's fashions have brought about some changes in ladies' longyis. They may create slits at the sides, front or back. They may have a false front flap and may be worn by zipping it up at the side or back. They may also wear it shorter than the traditional costume of longyi. However, nothing can beat the comfort of the old tube-shaped cylinder which is still worn by both men and women.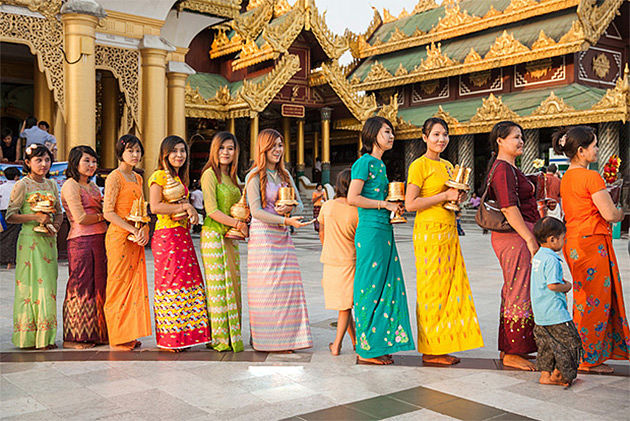 The Myanmar national costume, the longyi, is also becoming fashionable among foreigners. It's common to see both male and female tourists wearing longyis on the streets of Yangon. Also, the wrap-around skirt has become quite a fashion in some western countries like Australia. The fashions in Myanmar may come and go, but the longyi will go on forever. Discover the allure of the Myanmar national costume during your journey with our Multi-Country Southeast Asia tour packages, where you can immerse yourself in this traditional attire.
Explore our curated collection of exquisite products to immerse yourself in the beauty and tradition of Myanmar national costume: