Besides Vietnamese Breakfast and Cambodian Breakfast, Lao Breakfast is highly recommended for tourists on an Indochina tour. Top 5 Should-Not-Miss Dishes will be your good friend to help you discover super yummy foods of Lao cuisine. Let's go and fulfill your stomach with unique delicious dishes of Lao breakfast!
Khao Jee – Street Food for a Real Lao Breakfast
Khao Jee is a street food of Lao breakfast because it is fast to make, convenient to carry, and extremely delicious. Thanks to its benefits, Khao Jee is considered as one of the should-not-miss dishes for tourists in the morning when visiting "A million elephants" country. In fact, it is pretty similar to Banh Mi – Vietnamese sandwich but this dish still possesses its own typical characteristics. Khao Jee is one kind of sandwich that consists of meat, tomatoes, cheese, with a lot of chili sauce insides; in addition, the crust is heated to be crisp so that you can feel the crunch of the crust blended with the sweetish taste of the meat, the sweet-and-sour flavor of the tomatoes and the piquancy of the chili. It seems to be an unforgettable memory if you can try Khao Jee of Laos, Num Pang of Cambodia, and Banh Mi of Vietnam in your Indochina tour and compare them together then find out which one you like the most.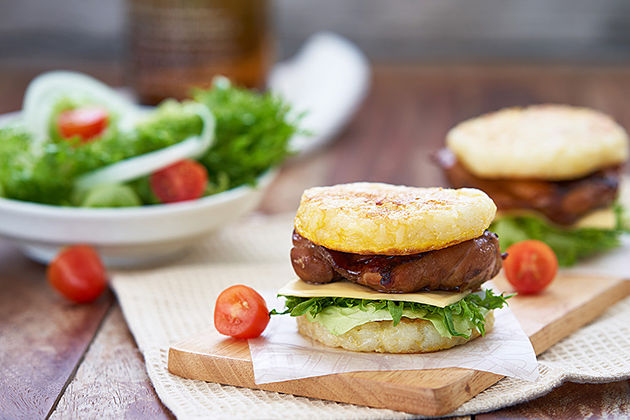 Khao Piak Sen – Noodle Soup for Lao Breakfast
Khao Piak Sen or Lao noodle soup is usually seen in Lao breakfast, lunch, or even dinner. This dish has some similarities with Pho of Vietnam in terms of including noodles, broth made from pig bone, adding beef or chicken, and coriander. Especially, the broth is just composed of bone without cinnamon and fennel so that the customers can add more spices based on their own taste. Before visiting Laos, let's add Khao Piak Sen to your should-not-miss dishes to experience a real Lao breakfast.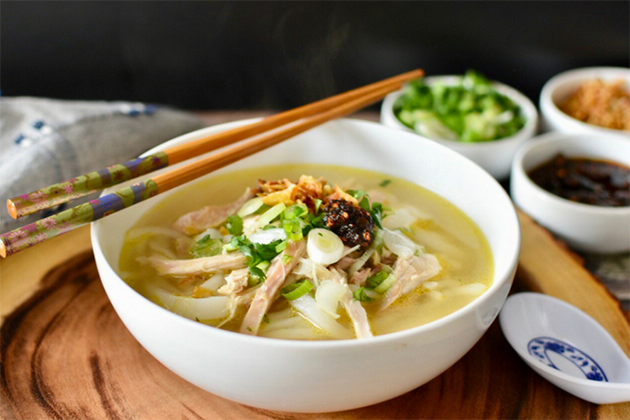 Lao Sticky Rice – The Traditional Dish of Lao Breakfast
Having a chance to visit the land of "A million elephants", you will certainly feast on Lao sticky rice – the traditional dish of Lao breakfast. Since it is a traditional food, every family has some bamboo steamers to cook sticky rice.
Laos is also famous for the tradition of the alms giving ceremony. When the bell of the pagoda is ringed in the early morning, it is also the time for families in the village to make the offerings of sticky rice to the monks, and then it is their turn to eat. As a result, Lao sticky rice is considered a popular and traditional breakfast food for the Laotian.
Besides breakfast, sticky rice is an extremely important daily food of the local people in this beautiful land, which is shown at its appearance in daily meals, parties, and festivals. Nowadays, even just a few local people have habits of eating rice, but sticky rice is still indispensable food of the Lao tray. It may be because of the super yummy flavor of Lao sticky rice: glutinous, delicious, and perfect when being eaten with grilled chicken, boiled vegetables, and "cheo bong" – the typically Lao sauce. Now, do not hesitate to add Lao sticky rice into your should-not-miss dishes of Lao breakfast to enjoy a unique culture of cuisine in this charming land.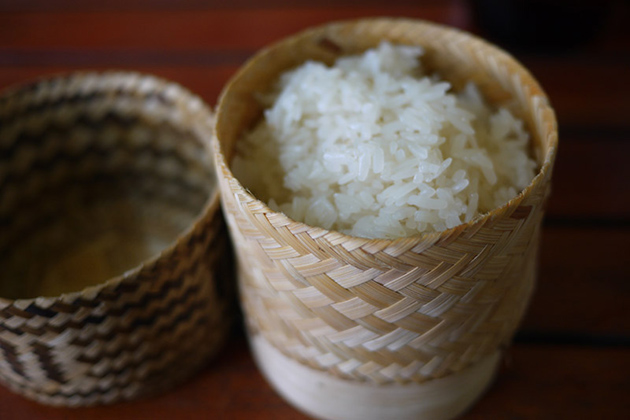 French Crisp Bread (Baguette) – Special Breakfast in Laos
As a long time being a French colony, Lao cuisine is partially influenced by French culture. One of the demonstrations is French crispbread or baguette that is a popular dish of Lao breakfast everywhere, especially in Vientiane and Luang Prabang restaurants. In the Lao way, they often dip baguettes in milk coffee or eat with fried eggs or stuffed pâté like the sandwich. It will be interesting to try French bread in the Lao taste and find out the differences between the two of them. Add it into your should-not-miss list and you will not have to regret that.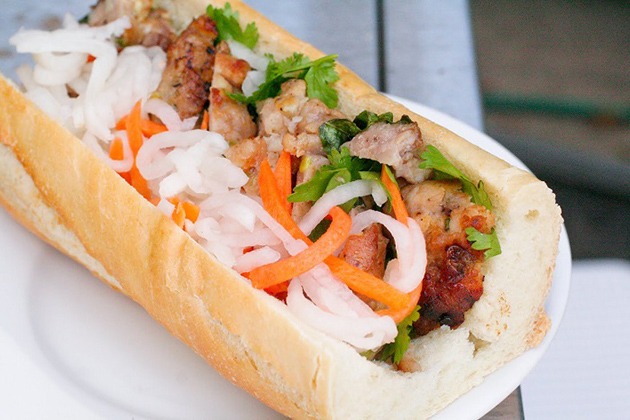 Khausoy – Delicious Flavor for Lao Breakfast
Khausoy is a well-known dish in Laos even though its raw materials and processing are surprisingly simple. At first sight, you may mix Khausoy up with Lao noodle soup but two of them have totally different recipes. This dish does not need the broth made from pig bone but just hot water to make the noodles well-done and then adding vegetables, pepper, and Khausoy to create the perfect bowl of noodles. Khausoy is the most important ingredient which is composed of minced pork mixed with onions, tomatoes to make the super delicious flavor. Similar to Lao noodle soup, Khausoy is often considered as one of the Lao breakfast foods that you should not miss on your Lao tour.