Laos's climate can be figured as a typical kind of tropical monsoon climate. The monsoon controls the country, seeing a noteworthy amount of sunshine, rainfall and humidity that at times creates the inconvenience. Besides, the weather in the mountainous provinces often has a tendency to be cooler. Keep scrolling up to have an insight into Lao's weather to choose the best time to visit Laos.
Laos's climate does not vary greatly among regions as the one in Vietnam. Due to the monsoon cycle, the climate of Laos happens two single seasons with a dry season in the winter and a wet season in the summer in the entire country.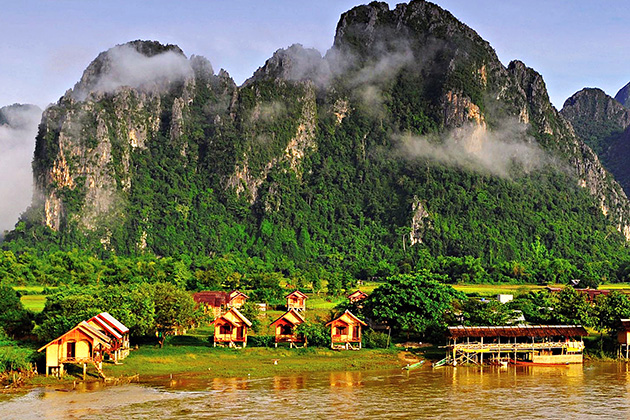 The dry season in Laos
The dry period in Laos has two clear statuses: the cool dry season and the hot dry season. The cool dry season drops from November till February and the temperature during this period can fall down to 5°C. This is the best time of the year to explore and enjoy the fascinating of an unsung country in the Southeast-Asia to see the clouds chasing one after another in the bright blue sky. Subsequently, the hot dry season runs from March till April. The average temperature drops by around 17°C to 29°C, sometimes can reach up to 32°C. This is the ideal time to head for Siphandone where is renowned as the "Four Thousand" group of small islands across the Mekong River, now is the most visited by its wildness and original beauty.
The wet season in Laos
Influenced by the monsoon, the wet season runs from May to October with a recorded temperature of 23°~30°C. Similar to many countries in Southeast Asian like Vietnam, Cambodia, Thailand…Laos during this season is covered by heavy rainfalls and downpours happening hours each day. Therefore, tourists will have a chance to experience the tropical cloudbursts during this period. The weather is pretty much humid and hot all the time, especially the areas around the Mekong River.
Required Clothing
Lightweight cotton clothing is highly recommended throughout the year, along with an umbrella or a raincoat in case any surprising cloudbursts occurring. Well prepared for the high temperature and the bothersome humidity, no matter where you go. A thin sweater should be worn for cooler evenings.