There are not many luxury malls in Cambodia but it doesn't mean you won't find anything interesting here. This country is also a shopping paradise that is not inferior to Vietnam or Laos with a variety of handmade traditional products. Once you spend time looking around local handmade items here, you will be captivated by too many cute things to purchase which are completely not expensive. Below are some suggestions of things to buy in Cambodia.
silk
Top Worth Buying Souvenirs in Cambodia
Silk
Cambodian Silk is still produced according to Khmer's traditional weaving method. There are a lot of items made by silk such as scarves, cloth, bags, bed sheets…in vivid colors. Bringing Cambodian silk is like having colors of Cambodia in your home. Besides, it's also light and easy to pack.
Silk can be bought at anywhere in Cambodia but Koh Dach Island near Phnom Penh is believed the best place for handmade silk. A silk scarf costs about $3. There would be a discount if you buy many.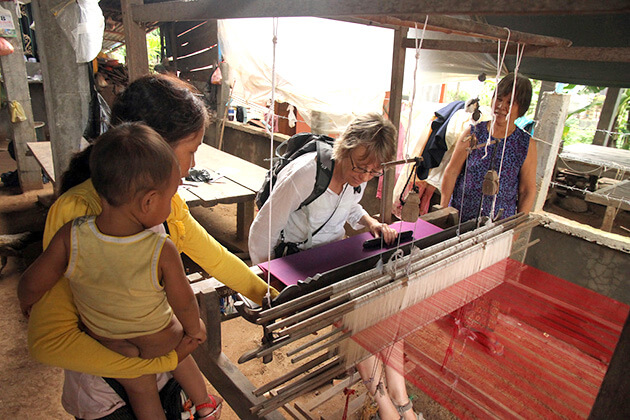 Silverware
Silver has been widely used to make jewelries in Cambodia since the Khmer era. With the boom of tourism, shops are increasingly opened in two popular tourist destinations of Siem Reap and Phnom Penh. Silverware in Cambodia is not completely pure but they are uniquely designed with beautiful Khmer patterns. Purchasing lovely silver jewelry to keep Cambodian spirit after the trip is not a bad option. Designs are very diverse, high aesthetic, featuring Khmer civilization. Almost markets in Cambodia offer jewelry and items made of silver. It is also small and easy for packing.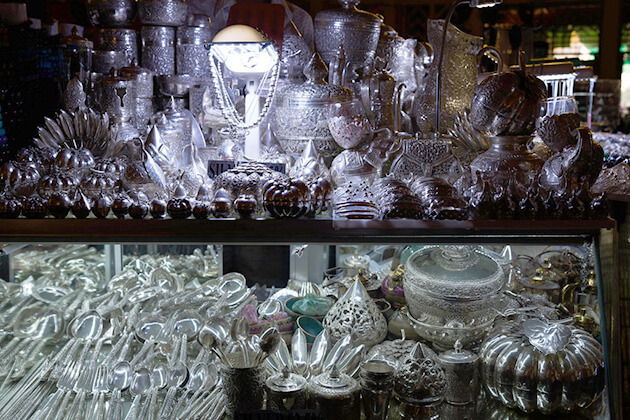 Basketry Items
If you went through many countries, the image of a basketry item is a very normal thing, but in Cambodia, it is sold at a more affordable price. You will be surprised by the craftsmanship of artisans when witnessing them to make beautiful baskets, bowls, plates, and many other lovely items. They are not only eye-catching but also durable and could be a good memorial item of the Cambodia trip in your house.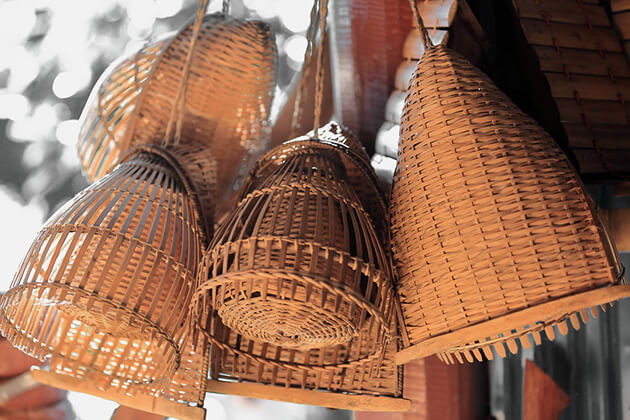 Carvings
As we all know, antiquities trafficking is not allowed in Cambodia. Therefore, local artisans carve the images of these cultural relics on wood and stone. Sculptured works are delicate copies of statues, Buddha heads…which reflect Khmer spirit. They are great art work to decorate your home.
Only with a small piece of wood or stone, local people create wonderful products. But you need to think about their heaviness.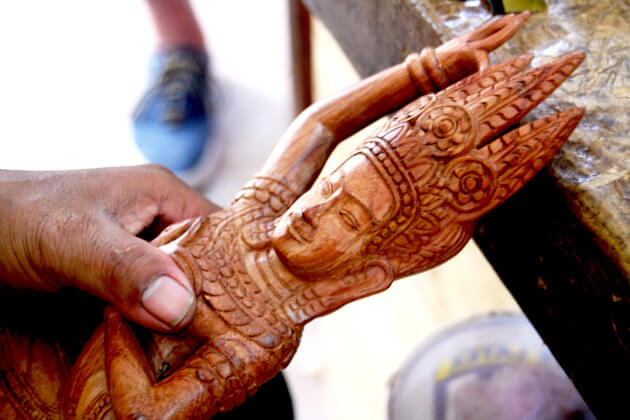 Krama
Krama is the typical large long plaid scarf of Cambodians, worn on the heads by both men and women, especially rural people. This item brings an oriental beauty. Colors of krama are diverse and each of them has their own attraction that makes tourists difficult to choose only one. Tourists often prefer to use karma as a neck scarf.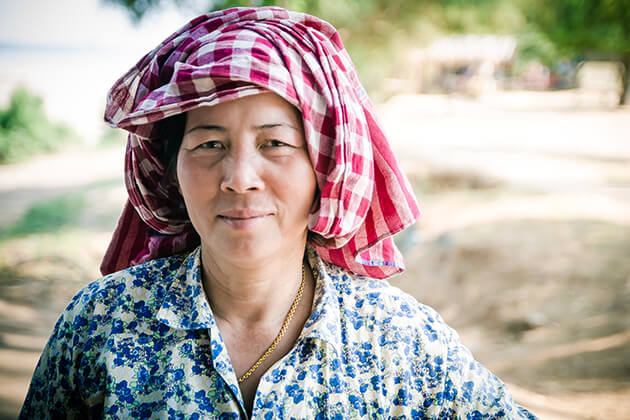 Pepper
If Laos coffee is the best in Southeast Asia then Cambodia pepper is even supposed the best pepper in the world. It's seriously excellent with strong enchanting aroma and strong taste. A little Cambodia pepper in dishes will make your family's meal more delicious ever!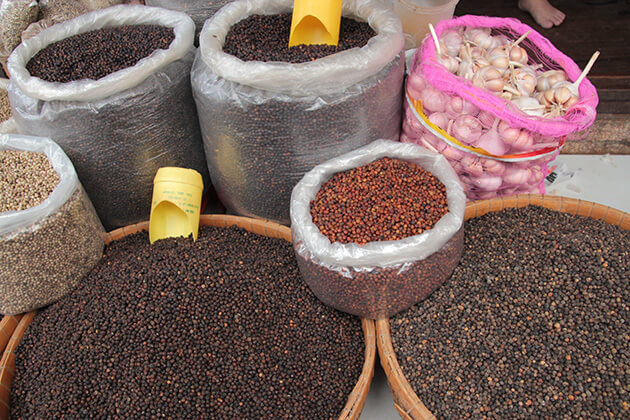 Where to Buy Souvenirs in Cambodia?
In Cambodia, there are markets in every town and village across the country, however, tourists can also find larger markets which are more commercial in Phnom Penh and Siem Reap. These big markets are a great place to find some unique Cambodian souvenirs. Be careful of what you are buying as there are sometimes fake products.
Phnom Penh
Russian Market
Phnom Penh has several markets that are opened daily, where you can find authentic local crafts and great souvenirs for your beloveds. Russian Market is one of the most famous markets in Phnom Penh, which gets its name from the 1980s when Russian tourists made the place popular with foreign travelers. A vast maze of alleys and stalls, the market offers everything from clothing to artifacts, antiques, paintings, jewelry, scarves, and kitchen utensils, etc. Also, the streets surrounding the markets are filled with local boutiques selling various kinds of souvenirs and antiques.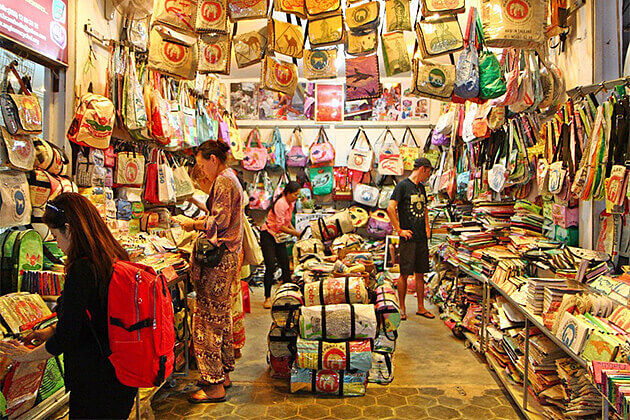 Phsar Thmei (Central Market)
The famous Phsar Thmei Market is an art-deco inspired building shaped like a cross with a gold-domed roof, which contains a wealth of souvenirs from all over the country. The main products are gold and silver jewelry and gems, and most of the items are locally made. The gold and silver items are real with competitive prices, so it is unlikely for you to find bargains. However, the craftsmanship and designs of these products are unique and worth paying the full market price for.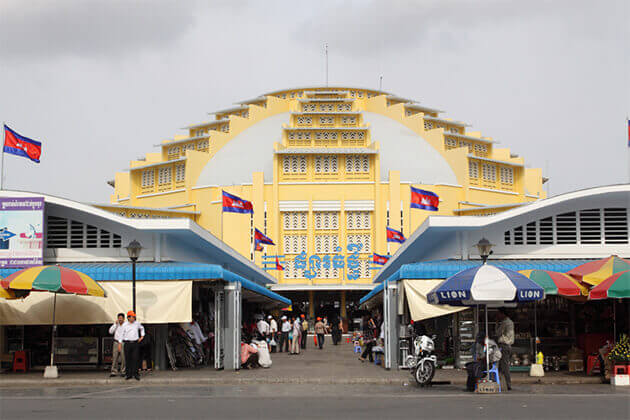 Siem Reap
Angkor Night Market
Just off Sivatha Boulevard, The Angkor Night Market houses more than 200 bamboo huts selling a wide range of local clothing and crafts. Especially, most of these souvenirs are made by disabling children from non-government charitable organizations. Located in a landscaped garden, the market was built to preserve the ancient Khmer skills and handicrafts and to help improve the lives of the locals. It is renowned for only offering unique Khmer items, with no imported knockoffs.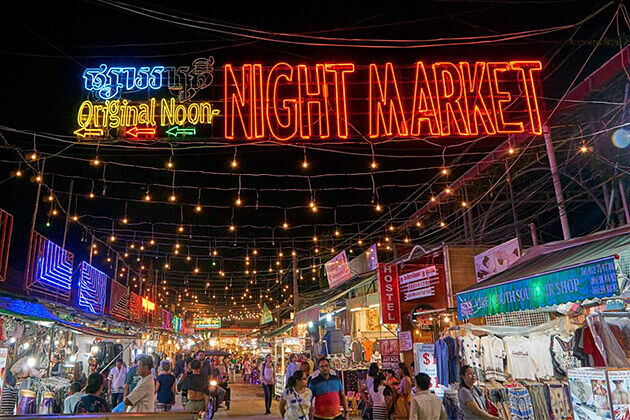 Old Market (Phsar Chas)
Located alongside the Siem Reap River, the Old Market is the oldest Khmer market in the town which is mainly opened in the mornings for daily food or needs of local people. However, the outer stalls of the market offer a number of inexperience items for souvenirs such as jewelry, antiques, silks, clothes, and scarves. Remember that the prices are often bumped up for tourists, so you need to bargain hard to get a good price.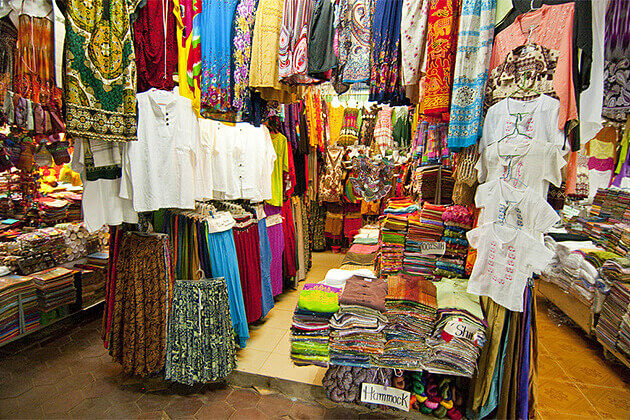 Where to Buy Souvenirs in Sihanoukville
Considered the paradise for your Cambodia beach holidays, but it is not as commercially oriented as many other Asian beaches. It also has some unique and bohemian offers for the ardent souvenirs hunters. The Otres Market is one of the main attractions in Sihanoukville and a popular place for nightlife. Around 20 stalls are set up in the area that sells a wide range of aromatic scents, essential oils, jewelry, and crystals, which are locally sourced and handcrafted.
Cambodia has a delightful place for shopping, whether it is for clothes, antiques, souvenirs or something you want to buy because of its mice appearance. No matter what your tastes, you can find something to suit your needs in one of the many markets in big cities or the small villages where the items originally made.