Despite unlike step by step, New Year festivals occurring in Indochina comprising Vietnam, Laos, and Cambodia have the same spirit that is always overwhelmed by religious rituals and busting cultural activities to say goodbye to the passing old year with the bad fortune and to greet the coming new year with new success.
Tet Holiday – New Year Festival in Vietnam
The date of the New Year Festival in Vietnam is calculated according to Lunar Calendar which often happens around late January or early February. Vietnamese people call it the Tet holiday.
Tet is the period of time when all members of the family no matter where they are, what they are doing, all come back home to reunite together; children visit grandparents, parents, wishing them health, happiness, the longevity, and stand to pray in front of ancestor's altar to express their gratitude. So, it brings an indispensable meaning for Vietnamese people.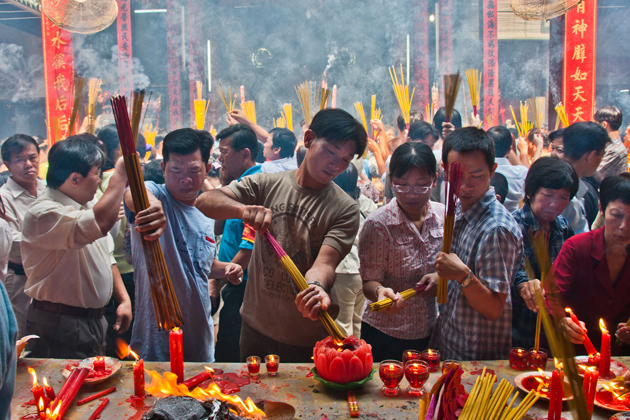 The atmosphere of the days before Tet is extremely boisterous. Tet Market at this time turns to the busiest place in the town with the incessant noise of sellers and buyers; with garish colors of peach blossoms, apricot blossoms, of Tet items. People access here to both purchase the essential stuff for Tet and stroll around, watching the crowds of people and the happy fresh atmosphere of spring. After that, they get back home to together make banh chung (square sticky rice cake) and many other typical Tet dishes such as dua muoi (salted vegetables), jam, and so on.
During three official days of Tet, Vietnamese people wear colorful clothes and then go to visit their relatives, neighbors, friends, teachers, colleagues and send them the best wishes. Kids and elders are given the lucky money contained in red envelopes (called li xi). Next, they go to pagodas to pray for a new year with a lot of luck, fortune, and success.
Bunpimay – 
New Year Festival 
in Laos
Known as New Year Festival in Laos, Bunpimay is held from 14th to 16th April annually. During these days, Laotians pray for a life of proliferation, sprouting, and budding.
On the day before the ceremony, Laotians usually clean up their houses, prepare fragrant water and flowers. Fragrant water is a mixture of water, turmeric, roasted locust-tree fruit, flowers, and scent. In the afternoon, they gather to worship Buddha, pray and listen to the commandments of monks. After that, Buddha statues are taken to a private space for 3 days so that people perform the Buddha Bathing Ceremony. Fragrant water is instilled over Buddha statues, and then it is collected and divided to everyone for the luck. Laotians even splash fragrant water to monks, trees around pagodas, houses, animals, and production tools. Laotians believe that water can wash off sins and bad luck, bring a successful and happy life for the new year. The wettest ones will be the happiest. Normally, best wishes are given before splashing.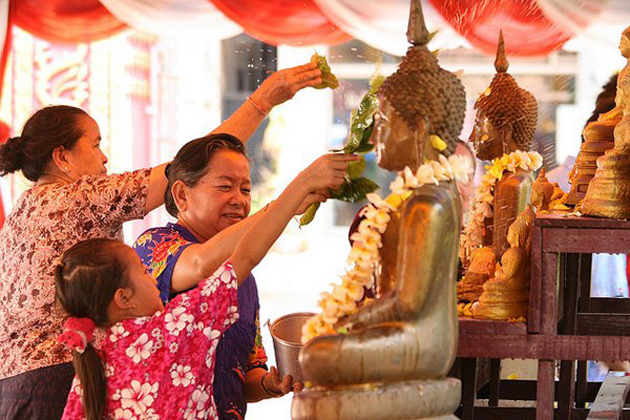 One more activity in the festival is making up sandy stupas on the ground of pagodas. They are colored with fresh flowers and white strings. They stand for Phoukaokailat Mount, where 7 daughters of Kabinlaphom kept their father's head. Besides, Lao people sprinkle white powder during the celebration. Animals are released these days.
On Bunpimay days, Laotians, especially business people, eat a lot of laps. In the Lao language, lap means bud, which symbolizes prosperity. If lap doesn't taste delicious, a whole new year will be full of unfortunate. So, it is done pretty carefully and sophisticatedly. Lap is the spirit of Laotians in the new year. Lap is like a precious gift for presenting. Families receiving lots of laps will be hoped to achieve much luck in the new year. Finally, on New Year's Day, guests setting the first foot to the house will be tied with a red or green thread around the wrist for health and happiness.
Chol Chnam Thmay – New Year Festival in Cambodia
Chol Chnam Thmay is the traditional new year festival in Cambodia which is held between 13th and 15th April every year. Apart from Buddhist, Khmer people are the opinion that there is a God (Tevoda) in the sky sent down to the earth to take care of human life.
Chol Chnam Thmay occurs in 3 or 4 days. During the ceremony, Cambodians clean and decorate their houses and prepare lots of tasty food. After that, they get dressed in beautiful clothing then go to visit friends, relatives for a year filled with fortune, health, and success.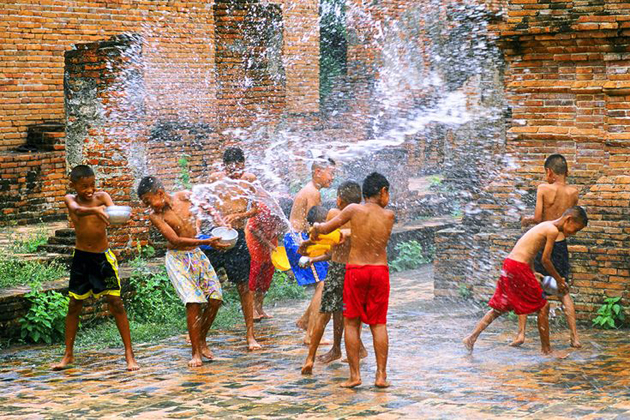 On New Year's Eve, Cambodians take a ritual to farewell the old Tevoda and greet the new Tevoda. They prepare a lot of offerings and the whole family bow and pray and in front of the shrine.
The first official day experiences a huge procession. People dress up, carry offerings with them, and all head to pagodas on the good time. On the next day, they offer vegetarian meals for the monks in pagodas (in the morning) and build sandy mounds (in the afternoon). They build a big mound in the center, which stands for the universe, and other small mounds in 8 directions around. This custom shows the wish of a new year with nice weather and happiness. On the third day, people carry out the ritual of Buddha Statues Bathing Ceremony as well as senior monks by fragrant water. They bathe for senior monks, then go to cemeteries to pray for the souls of dead people. After that, everyone comes back home, bathe Buddha images in their house, give best wishes to grandparents and parents and beg them to forgive for mistakes in the passing year.