Besides picturesque landscapes, flavorful cuisines, night market is also a tourist attraction for foreigners, especially western visitors when travelling Indochina. These crowded night markets are always full of tasty native food, exquisite handicrafts as well as traditional games. Therefore, your journey will definitely not perfect without dropping into these exciting places. Below is top popular night markets in Vietnam, Laos and Cambodia we highly recommend for you.
Hanoi Night Market, Vietnam
The night market in Hanoi usually takes place at the last three days of the week at the Old Quarters, when people are free to spend time to do some shopping. Long lines of people, especially fashionable boys and girls, huddle, purchase in the small and narrow alleys until midnight. The night market occurs around every corners in the Old Quarters, displaying a lot of things: garment, foot wear, arts, toys, souvenirs and many other lovely items. Tourists can buy something and then come over one street food stand nearby and enjoy right delicious local food like Pho, Banh Cuon, Bun Cha…because what is greater when have the chance to taste Vietnamese best food right in the heaven of food of Hanoi.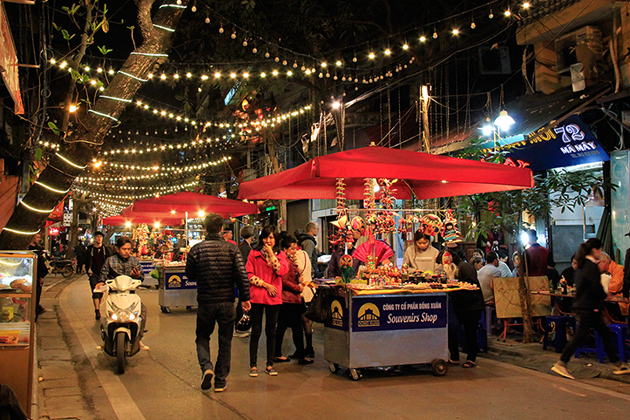 Luang Prabang Night Market, Laos
Although the night market in Luang Prabang is not large, it still attracts visitors coming here due to its own interesting products. Various types of meticulous handmade crafts with many different colors and shapes, made by the skillful hands of the locals easily catch the eyes of tourists. Additionally, you can wander in the market and sometime drop in any food stand and enjoy the native food like Khao Niaw (Sticky Rice), Steamed Fish (Mok Pa), Oh Lam( Stew)…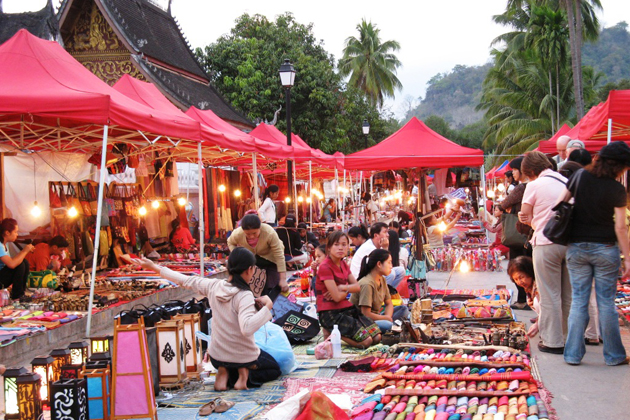 Siem Reap Night Market, Cambodia
Siem Reap night market can be said to be one of the biggest night markets in Indochina. The market is opened everyday, is the interesting destination for tourists when visiting the city of temples. Similar to the countries in the region, Siem Reap night market also sell a diversity of featured local handicrafts, traditional costume, handy carvings, exquisite jewelries made of gold, silver, etc. Besides, the market also displays modern clothing like shirts, jeans, sneakers or pants with affordable prices.
And again, local street food in Siem Reap is a must-try in the night market. Almost the famous food of Cambodia appear here: Bai sach chrouk: Pork and rice, Khmer red curry, Fish amok and more than that.