Ban Gioc waterfall, a famous tourist attraction inside Non Nuoc Cao Bang Geopark
8 years since Dong Van Karst Plateau in Ha Giang Province was declared a member of the UNESCO Global Network of National Geoparks, another park in Vietnam has made the list. Located in the northern province of Cao Bang, Vietnam's Non Nuoc Cao Bang Geopark has been recognized by the UNESCO and is sure to become a promising attraction in future Indochina tour itineraries.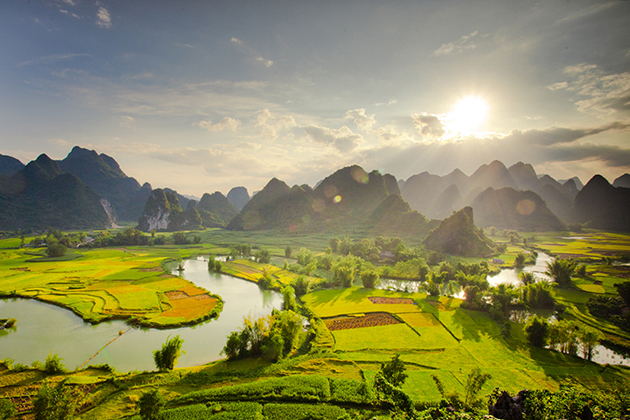 On April 12, during the 204th session held in Paris, the decision was made under a resolution approved by the UNESCO Executive Board that Non Nuoc Cao Bang Geopark was listed among other geoparks approved by the UNESCO.
Non Nuoc Cao Bang earned its title thanks to the richness of scientific, educational, aesthetic, archaeological, historical, social, and cultural values as well as biological diversity. This newly recognized Geopark covers a large area of 3270 square kilometers and nine districts of Cao Bang Province with an ethnic diversity of 250 000 people from nine ethnic minority groups.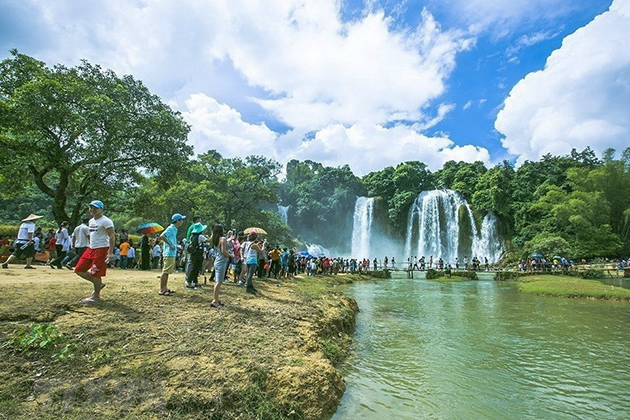 The geopark is known as a land of beautiful caves with stalactites in special shapes as well as the rare reef of marine creature that can't be seen anywhere else in Vietnam. Some of the best examples are Nguom Ngao cave with Thap Vang (golden tower), Thap Bac (silver tower); Dong Doi (Bat Cave); and Ghi Rang Cave. The karst caves of Non Nuoc Cao Bang Geopark have a pristine beauty and many of which haven't been fully researched yet. As a result, this extraordinary geopark has a huge potential for exploration and adventure tourism once it was recognized by the UNESCO.
The Thang Hen Lake system is also a must-visit destination for visitors that want to explore the geopark. The lakes flow through a system of underground caves, cracks and siphons, which is typical of karst topography.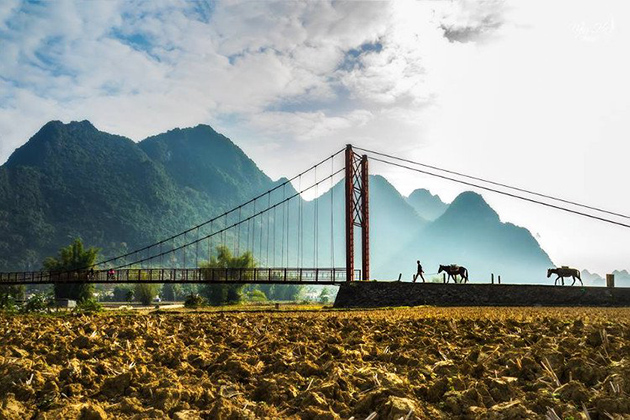 When it comes to attraction of Non Nuoc Cao Bang, it would be a mistake not to mention Ban Gioc – the world's fourth largest cross-border waterfall and also the largest and most beautiful natural waterfalls in Southeast Asia. Originated in China, the flow reaches Bang province where it divides into many branches and pour down the height of 35m to form the spectacular Ban Gioc waterfall.
The magnetic attraction of Non Nuoc Cao Bang's nature has been featured in many famous folk-songs. Unfortunately, the pace of tourism development in Cao Bang has yet to meet its potential. Concurrently, the local authorities have come up with plans and started to take actions to protect the environment, natural resources, and biological diversity to promote tourism in a sustainable manner.