With a long history and tradition, Vietnam is a country with a lot of tourist attractions appealing with beautiful natural scenes to attract almost tourists in the world. The outline of some attractive tourist sites below will help those who do not have any plans for the holidays in Vietnam. Let's discover the major tourist attractions of Vietnam that you should not miss when setting travel schedule to Indochina.
1. Sapa
Located in northwest Vietnam, pleasant weather, Sapa town is worth as the first stop when you set foot in lovely Vietnam. Not only feel the cold frostbitten and enjoy many snow-covered tree-hugging but also admire the romantic images of Sa Pa like terraced hills stretching all the Muong Hoa valley between town and Fansipan range and rice fields of ethnic groups.
The appropriate time to visit Sa Pa is the last days in November and early December to experience the cold typical climate of northern Vietnam.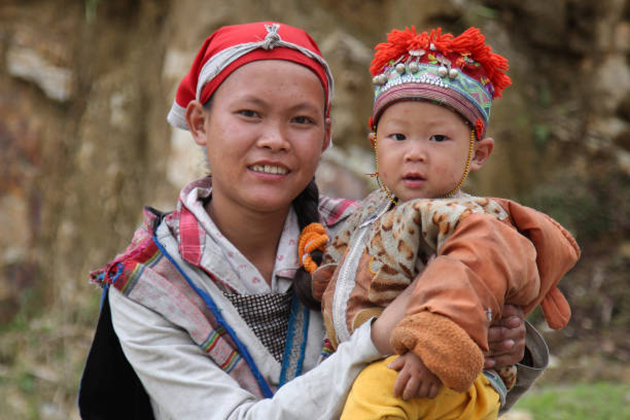 2. Hanoi Capital
If you spend your winter to visit Sapa, Hanoi is a great choice for you to enjoy its romantic atmosphere in autumn. In Hanoi, revenues reflect the inherent spirit of an excellent ancient town stands amidst contemplate the vicissitudes of life. Hanoi has a distinct characteristic that nowhere has been, it is the smell of milk-flowers and passionate colors of tree leaves, make sure you'll never forget this city.
Besides, you should not ignore the prominent destinations such as Hoan Kiem Lake, Long Bien Bridge, 36 Ward, Temple of Literature, Ho Chi Minh Mausoleum … Hanoi is known for interesting sip coffee and wanders on the roads crisscrossing passers as well as culture with extremely diverse and abundant.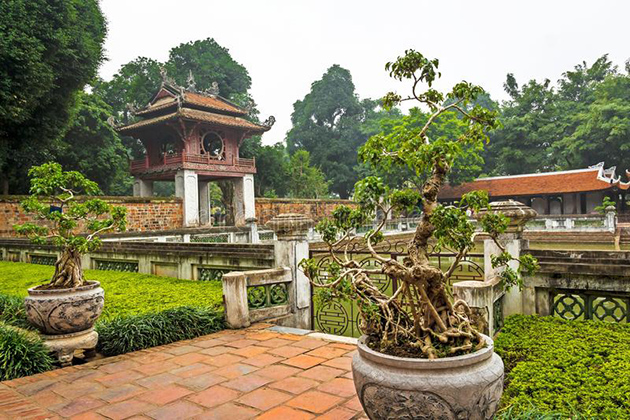 3. Ha Long Bay
One of the world's natural wonders that visitors cannot miss is the Halong Bay. Overcoming many competitors to reach the top 7 natural wonders of the world, Halong really carries the stunning images of the perfect natural masterpiece.
With the perfect combination between a side of the river and romantic nature, the beauty in every detail and many caves heaving floating on the sea, spectacular natural scenery and excellent spirit, Halong leaves a deep impression for visitors.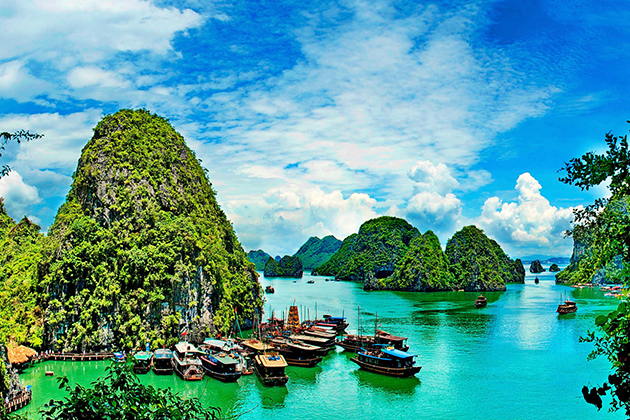 4. Da Lat City
Fog city or flower city is what you can feel in Dalat. Possess natural beauty along with the previous poetic scenery, Da Lat will bring you the unique feel of the image of a city steeped in flower color.
In Dalat, you can hire bikes for traveling around the city with many tourist attractions such as Xuan Huong, Lake, Flower parks, Langbiang, Chicken Church, Elephant Falls, Love Valley, strawberry Garden, …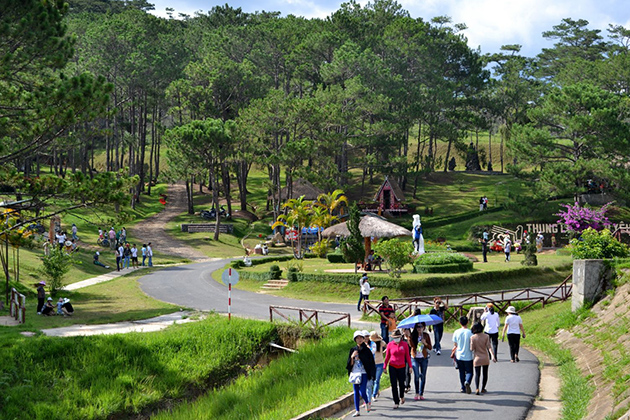 5. Da Nang
Da Nang is considered as one of the top places that tourists should visit in Vietnam. Not only possess a variety of beautiful natural scenery, Da Nang also offers guests the very different side to the city owns two characteristic beauty is classic and modern, soothing combination and exciting. Destinations that you should not ignore when discovering Da Nang City: Park Asia, enjoy the uniqueness of the bridge, Ba Na Hill, Swimming, Skating waterfall, …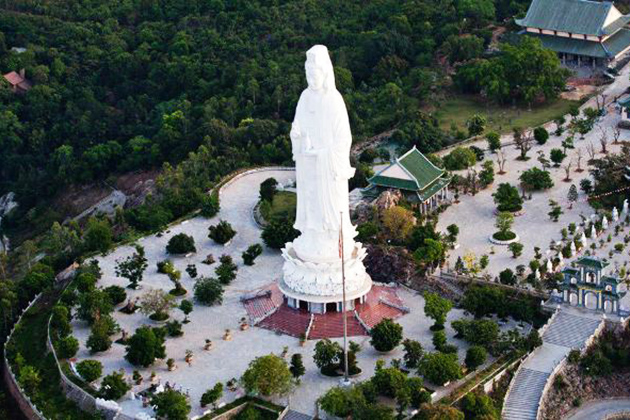 6. Nha Trang
Nha Trang is one of the important tourism centers of Vietnam,  which famous for pristine beaches with gorgeous looks with clean sand, sea and mild temperatures year-round. There are a number of resorts such as Nha Trang, Vinpearl Land Resort, Diamond Bay and Ana Mandara and amusement parks and water, both in the city and on the offshore islands. The street can be the most beautiful Nha Trang Tran Phu Street along the coast, sometimes known as the Pacific Coast highway in Vietnam.
Nha Trang increasingly attracted a large number of tourists all over the world to admire and enjoy its perfect beauty.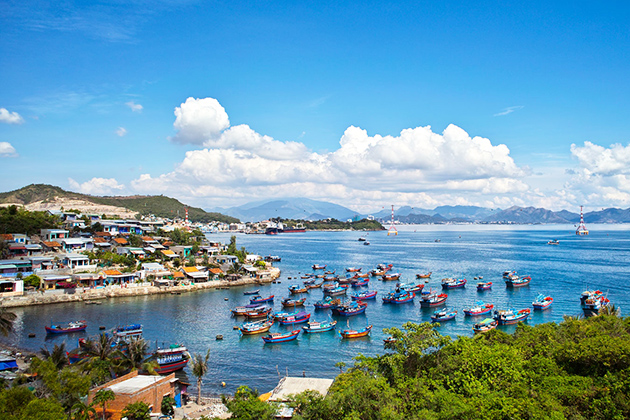 7. Hoi An
Not far from Da Nang City, Hoi An city is considered as the most worth traveling that anyone will want to come. Pictures of her flooded streets in colorful lanterns of light, romantic and Huai rivers rural lifestyle, peace of the people here have created a separate definition for Hoi An
Hoi An will give you what is known as the most gentle, inherited the Western architecture and old Europeanized such as Japanese Covered Bridge, ancient houses, drop lights posted on the Hoai River, enjoyed not unique coffee time, … Moreover, along with rustic food chain, rich, you will be perceived open space with popular dishes such as the high floor, chicken rice, Creating Universal,…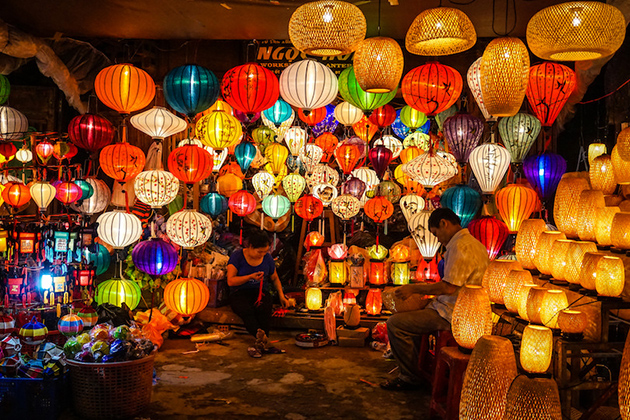 8. Mekong Delta
Referring to the west, you'll find outstanding immediately images of floating markets up and down the river. Interestingly, when Western tourists prefer that diners love life here that is the carriage of sale, the exchange takes place on the water, snacks on the river, shopping on the river, river charts.
In addition, besides the western tourists join the unique fair visitors should also participate in many exciting activities such as gathering, palm forest tourism, fishing, fish hooks in the swampy puddles,… Interesting experiences in this area will make you unforgettable in the West lyrical rhyme dumbfounded, swinging and warm in your trip.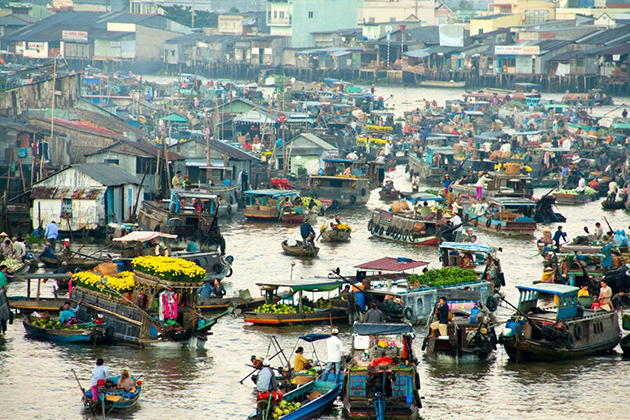 9. Hue
Hue is like a gentle girl with ancient gentle nature. Visiting Hue, tourists will be attracted by the wonderful and fanciful beauty of the Huong River, cultural heritage of Hue royal court music and traditional ca tru.
Besides, tourists also experience the ancient feast, sumptuous temples of the formation and development of thousands of years ago. Hue National School school's first visit to South Korea Vietnam, Ngu Binh Mountain, Vong Canh hill, river,…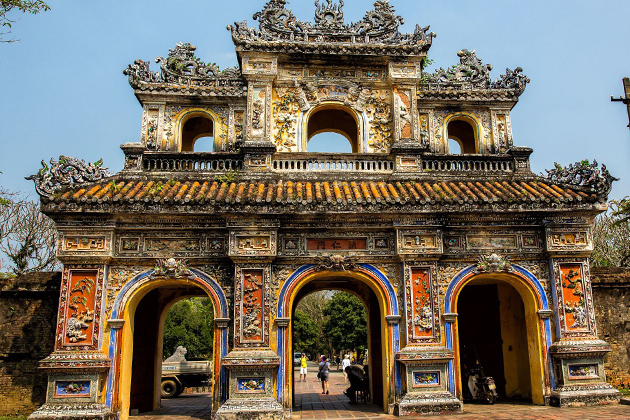 10. Saigon
Saigon will make you immersed in the bustle and excitement of it, modern beauty and luxury of the West's most popular neighborhoods, Nguyen Hue Flower Street colorful, culinary neighborhoods, street fashion nicely with images of exciting rendezvous such as Ben Thanh Market, Notre Dame Cathedral,…