After the waiting period of 20 years, the Plain of Jars, locally known as Thong Hai Hin, is officially listed as a UNESCO World Heritage Site on May 14th, 2019.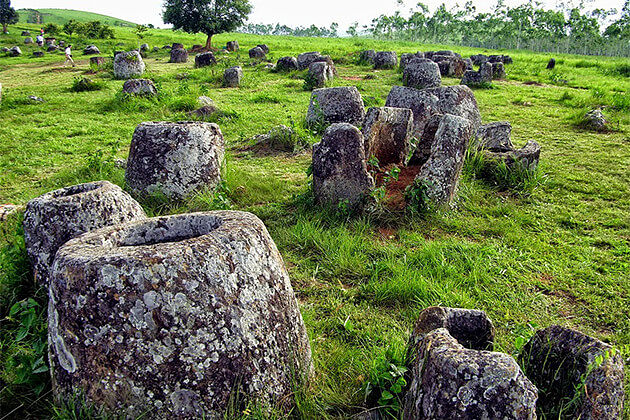 Director-General of the Heritage Department, Ministry of Information, Culture and Tourism, Mr. Thongbay Phothisane, said on Facebook on May 14th that the Plain of Jars has been recognized as a World Heritage Site and its listing is expected to be officially announced at the UNESCO meeting in Azerbaijan.
The Plain of Jars World Heritage proposal involves 11 separate places where the ancient stone jars are located in the province's district of Paek, Phaxay, Phoukoud, and Kham.
The Plain of Jars was carved from sandstone and granite, and their size ranges from very small to about 3.5 meters in height. They are thought to be more than 2,000 years old. Many researchers have theorized that the jars may have once served as funerals urns or food storage.
The mysterious Plain of Jars comprises about 80 district sites but only 11 are included in the listed area as they have the highest concentration of stone jars.
Though the caretakers for the Plains of Jars are applying for status as a UNESCO World Heritage Site, the area still remains one of the most dangerous archaeological sites in the world. Thousands of unexploded bombs remain from the Secret War of the 1960s, and some of these arms still cause injuries to this day.
As such, only Sites 1, 2, 3 and the Quarry are open to visitors, while a number of organizations work to remove explosives and apply for more funding. The first site is 15km southwest of the provincial capital Phonsavanh and has about 300 jars. The second site is 25km south of Phonsavanh and contains about 90 jars spread over two hills. The third site is 35km southwest of Phonsavanh and has about 150 jars.
Laos achieves UNESCO recognition of its first UNESCO World Heritage Site in 1995 when Luang Prabang's old town was nominated for listing. The second followed in 2001 when the Vat Phou temple complex in Champassak province was declared a World Heritage Site. From now on, the Plain of Jars will be the third world heritage site and become a bigger tourist attraction in the country as well as in the Indochina region.